If you're deciding between colors for your standing seam metal roof or wall system, you might feel inclined to choose a neutral shade that allows for greater versatility — such as gray.
In the last 20 years, gray has experienced a steady climb in popularity. In fact, Charcoal Gray has been holding strong in the top five most-sold colors at Sheffield Metals for the past several years.
So why choose gray? What might make one of these colors good for your project?
---
---
Sheffield Metals always monitors color trends and tracks which metal sheet and coil colors are most frequently requested. Plus, with a full-time Architectural Department composed of individuals with extensive backgrounds in the architectural metals industry, we frequently provide design assistance for various projects.
Let's review options, advantages, disadvantages, and project examples for gray metal roofing.
Gray Color Options Available From Sheffield Metals
Before diving into the significant benefits and drawbacks of choosing a gray metal roofing system, let's look at the variety of gray color options available at Sheffield Metals.
Currently, we offer several different gray shades.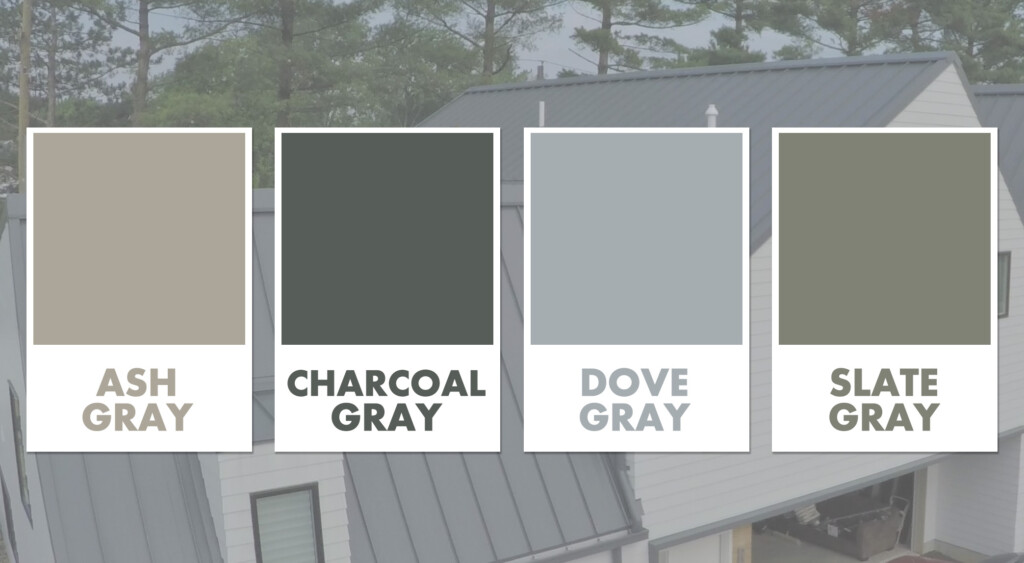 In 24-gauge standard gloss material:
Ash Gray
Charcoal Gray
Dove Gray
Slate Gray
In 26-gauge low gloss material:
Ash Gray
Dove Gray
Dark Gray
Slate Gray
For the purposes of this article, we're mainly discussing 24-gauge material.
Benefits of Choosing a Gray Metal Roof or Wall
Warm & Cool Gray Options Available
One of the benefits of gray metal roofing colors is that they can come in cool and warm shades. Cooler grays have blue, green, and purple undertones, while warmer grays might have red, orange, or brown undertones. On top of that, there are also neutral grays, which are simple mixtures of white and black.
At Sheffield Metals, our most popular gray is Charcoal Gray, a darker and cooler shade of gray. Dove Gray is also on the cooler side. Conversely, Ash Gray and Slate Gray are the color options that are a little on the warmer side of the gray spectrum.
Warm, cool, and neutral grays can all fit in as a metal roof or wall; it's solely dependent on your style, surroundings, and what you envision working best on your business or home.
For example, suppose you live in a desert region that experiences significant sunlight and warmth and want your roof to match that environment. You might want to choose a lighter and warmer gray tone, like Ash Gray.
Neutral, Natural, & Versatile
For many years, beige was the most used neutral color, but in the 2000s, gray became the new neutral cornerstone. Due to its warm and cool shades, you can pair gray with nearly any other color. You commonly find grays in exterior color palettes, as this family of colors resembles similar grays found in nature (think stones, mountains, clay, etc.).
Plus, some property owners choose gray tones because they resemble natural metals, such as Charcoal Gray (looks similar to zinc) or Dove Gray (looks similar to silver).
In the end, you can do much more with your exterior elements if you have neutral colors as the key building pieces — including your roof and siding. For example, suppose you have a gray metal roof and white siding. In that case, you can easily style your property's exterior by applying various textures and colors to your trim, front door, fencing, landscaping, etc.
Suitable for Numerous Architectural Styles
Due to gray being a mix of white and black, gray is one of the most versatile colors you can use in architectural projects. Plus, it conforms to several building styles in residential and commercial spaces, including:
Modern
Contemporary
Craftsman
Cape Cod
Victorian
Ranch
Additionally, choosing a color like gray allows for a more extended design lifecycle, which is essential because metal roofs are engineered to last for four or more decades. The timelessness and versatility of neutrals like gray give you flexibility if you decide to update or change your exterior style in the future.
Range of Shades Available
If you know you plan to choose a gray roof or wall system, one of the benefits you'll have is the sheer number of gray shades that most manufacturers offer on their color charts. For reference, if you wanted a red or blue metal roof, you would typically only have one or two color options.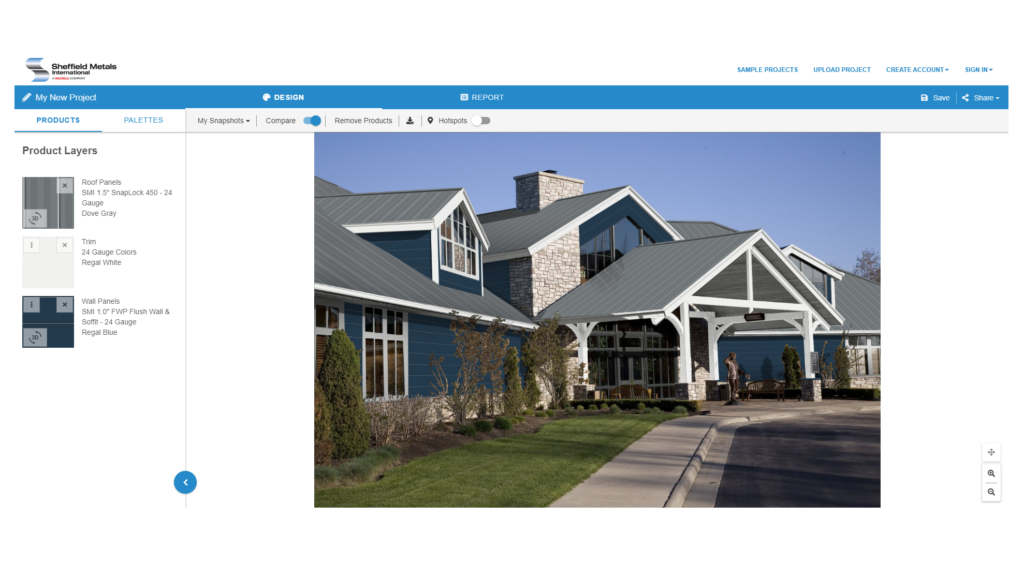 As we've covered above, you can choose from eight gray options, four in 24-gauge and four in 26-gauge, at Sheffield Metals. If you're struggling with choosing one of these options, there are actions you can take to get a better idea of what it will look like on your project, including:
Using our free Color Visualizer tool to upload a photo of your home or building to see how different gray color options look on your property.
Requesting physical color chips to see what the color looks like in person.
Discussing color options with your architect, contractor, or manufacturer to see if they have any recommendations or limitations regarding color.
Mid-range SRI (Solar Reflective Index) Options
As you read on, you'll notice that there are benefits and drawbacks relating to SRI because our gray shades are different and therefore have differing SRI values.
A couple of the grays available have mid-range SRI values:
Ash Gray has an SRI of 41
Dove Gray has an SRI of 56
For a bit of background, cool metal roofing is painted or coated metal products that reflect the sun's energy to dissipate heat. Cool roofs help reduce the heat transferred into the building, which can result in total cooling cost energy savings ranging from 7% to 15%, according to the Green Building Alliance.
One of the primary measures of cool metal roofing is the Solar Reflective Index, a surface's ability to reflect the sun's solar energy (solar reflectance) and emit heat (emissivity). SRI is measured on a scale from 0 to 100. An SRI value closer to 0 indicates a darker or black surface, and a value closer to 100 indicates a brighter or white surface.
Ash Gray and Dove Gray have mid-range SRI values, which will likely result in medium energy savings.
Subtle, Yet Modern & Sophisticated
Gray is a color that doesn't jump out to the eye and blends in well, especially on homes and buildings. Despite their subtle nature, grays are often considered modern, sophisticated, and generally comforting, which might make them a good choice for your roof or wall system.
Drawbacks of Choosing a Gray Metal Roof or Wall
Dark & Glossy Finish Issues (Charcoal Gray)
Glossy roofs, especially in a darker color swatch such as Charcoal Gray, reflect more light and can show visual imperfections in the flat of the panel — especially oil canning. If you're concerned about oil canning on your metal roof, one of the ways to minimize its appearance is to install a system in a lighter color with a lower gloss finish. Or, if you still want a glossy finish, ensure your roof panels have striations or another rib roller rollformed into the flat area of the panel.
Glossy and dark finishes can also make scuffs and scratches more visible. This sometimes occurs during the shipping or installation of panels, so it's critical to look out for it.
Additionally, Sheffield Metals offers gray color options in both 24-gauge standard gloss and 26-gauge low-gloss options. You can help mitigate some of the issues with glossy finishes by choosing the 26-gauge low-gloss finish. If you're wondering about this, please discuss material and color options with your installer. Please note that engineering will vary depending on the material thickness. If you want or need to purchase an engineered metal roofing system, you'll want to use 24-gauge metal or thicker.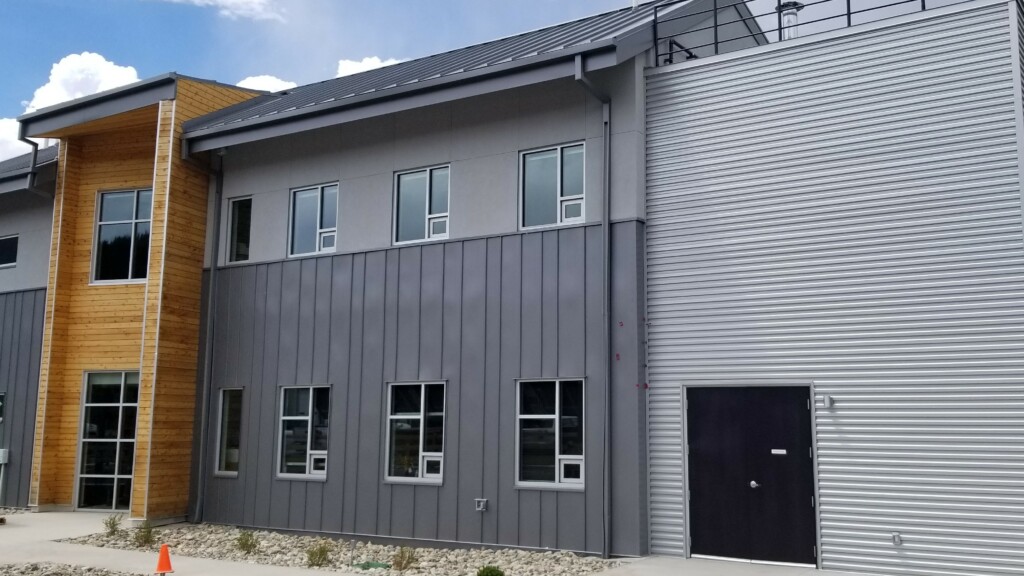 Low SRI Options
As we discussed before, there are gray material options with relatively good SRI values, and there are some options with a lower SRI, including:
Charcoal Gray has an SRI of 28
Slate Gray has an SRI of 33
These lower SRI values will translate to lesser energy savings in the long run when compared to colors with higher SRI values. However, metal itself is one of the most sustainable and eco-friendly roofing materials, so despite the slightly lower SRI value, you're still using a smart building material and contributing to conservation efforts.
Dull or Little Visual Interest
Sometimes, gray appears dull and is therefore thought to be boring. While you likely don't want your roof or wall to stand out completely against the other homes or properties in your neighborhood, you probably still want it to be eye-catching and noticeable.
This drawback is more of a consideration and something to weigh against your design interests and what you envision. If you're worried about a gray metal roof or wall blending in too much or being too "boring," you can use other exterior elements to create more visual interest with different colors, textures, etc.
Gray Metal Roof & Wall Examples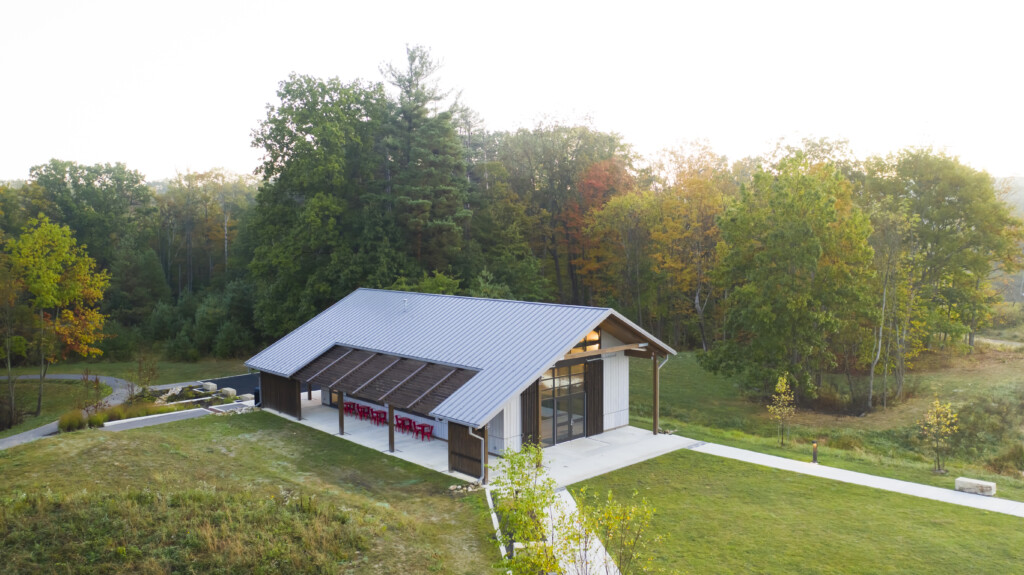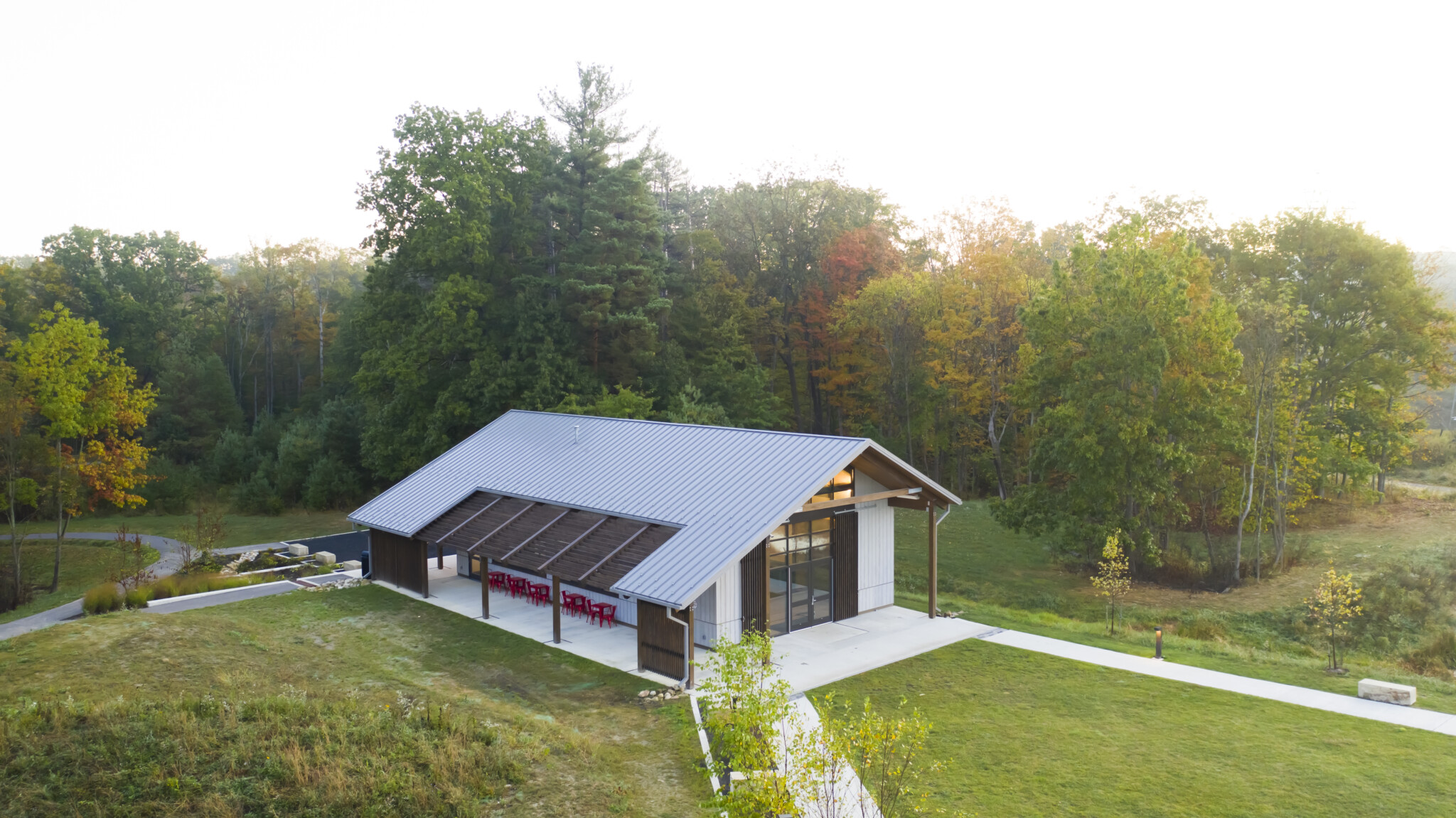 Holbrook Hollows – Geauga County Park District | Bainbridge Township, Ohio | Color: Slate Gray
---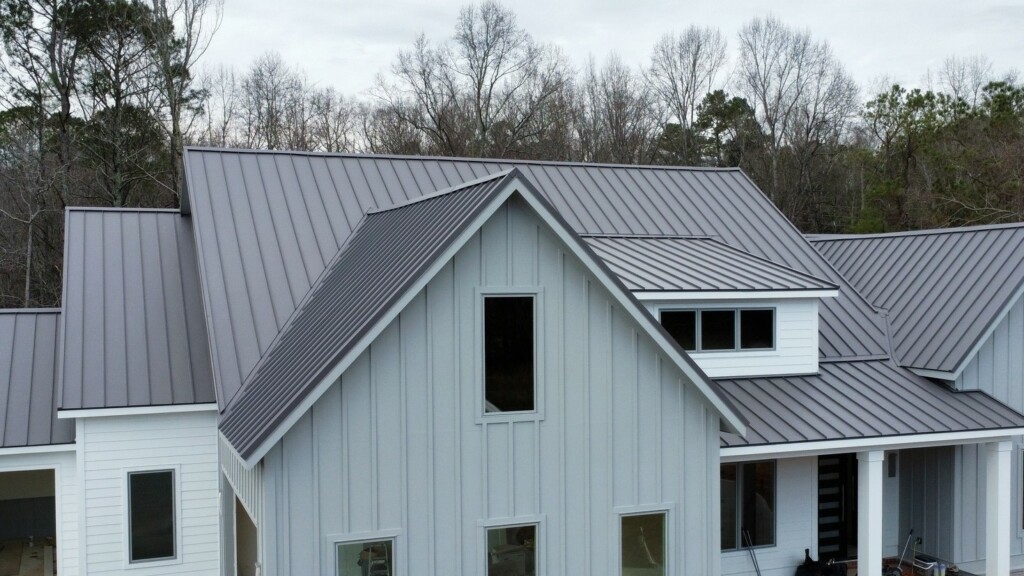 Residential Home | Milton, Georgia | Color: Dark Gray (26-gauge) | Photo courtesy of Roof Authority LLC
---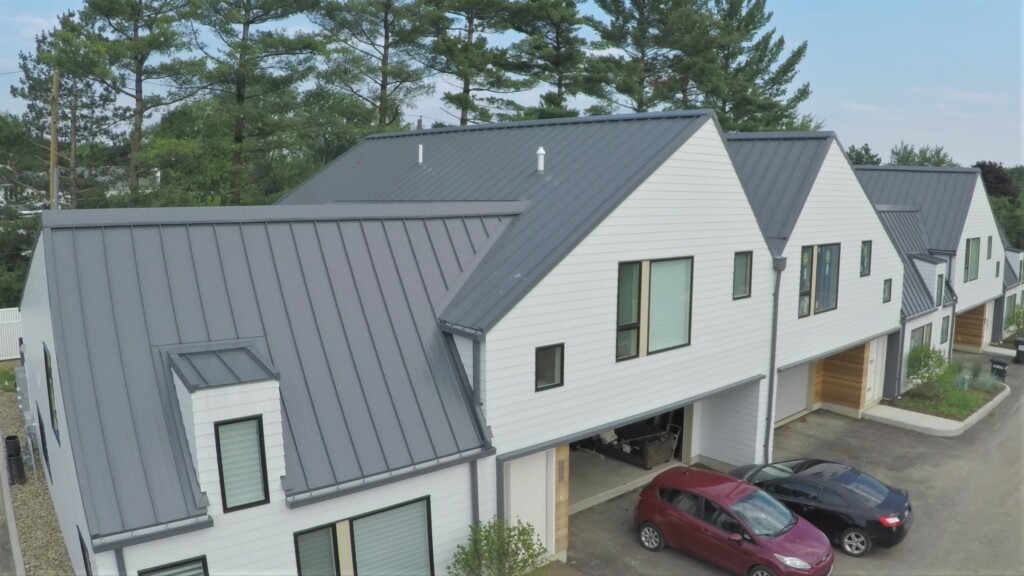 Condominiums | Beachwood, Ohio | Color: Charcoal Gray
---
Residential Home | Florida, U.S.A. | Color: Ash Gray
---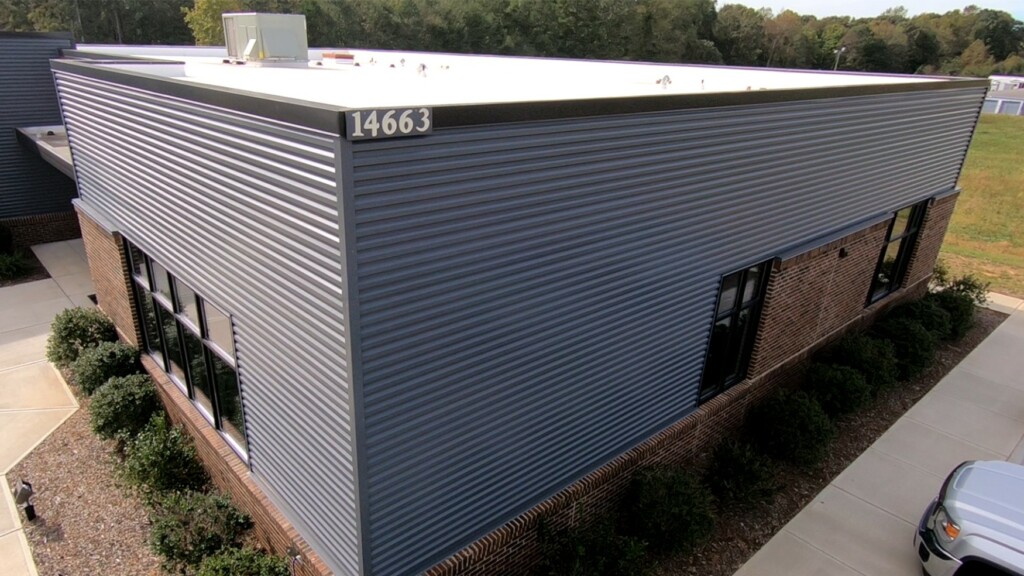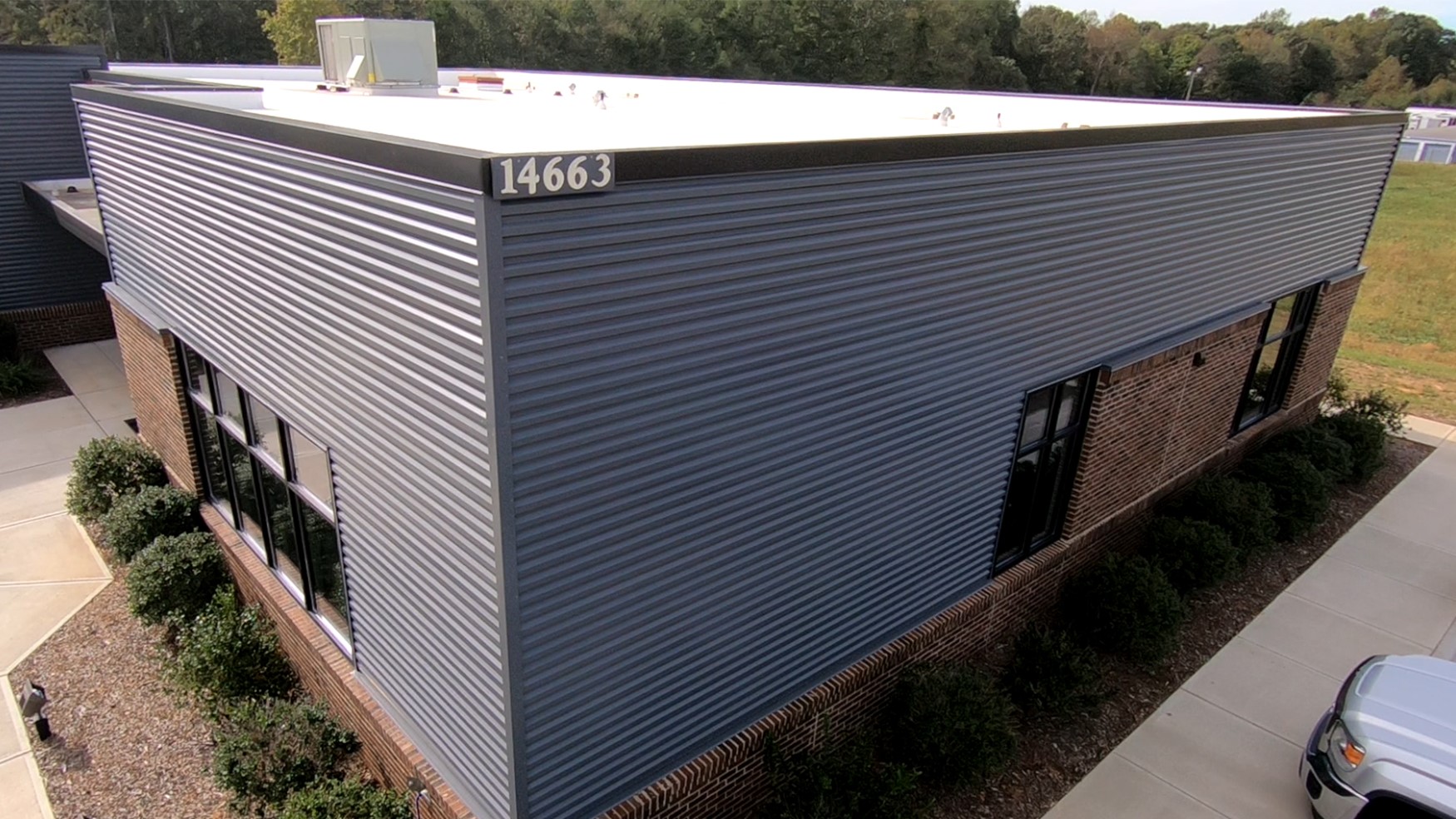 Commercial Building | WAV Wall Panel | Color: Charcoal Gray
---
Final Thoughts on Gray Roofs & Walls
So, is Charcoal Gray, Ash Gray, Slate Gray, or Dove Gray the right color for your metal roofing project? It depends on several variables, including your likes and dislikes, building design, style or aesthetic, environment, SRI requirements, and more.
If you're on the fence about whether you want to choose gray or another color option, here are some helpful methods to narrow down your choices:
Explore color palettes, photo galleries, and examples of properties similar to yours.
Look at manufacturers' color cards and compare/contrast with your expectations.
Use a Color Visualizer tool to upload a photo of your actual structure and explore how different colors look.
Request physical metal color chips from manufacturers.
Discuss the options with your architect and/or contractor and ask for their professional opinion.
Sheffield Metals is a leading supplier of painted and non-painted metal sheet and coil products in the architectural metal roof and wall panel industry. And we know that gray is and will continue to be a highly demanded color option for metal roof and wall systems.
So, are you weighing your color choices or feeling stuck? Our dedicated Architectural Team can provide you with any design assistance you need; contact us today!
---
---