"Metal roofing." It's a general term that covers a broad scope of roofing options, products, and choices.
When someone references "metal roofing," he or she could be talking about shingles or tiles made of metal, an exposed fastener roofing system that is common for agriculture buildings, or maybe even a standing seam metal roofing system.
Out of all the metal roofing types, standing seam is becoming more and more popular as property owners look for products that last a long time, look modern, and protect their structure.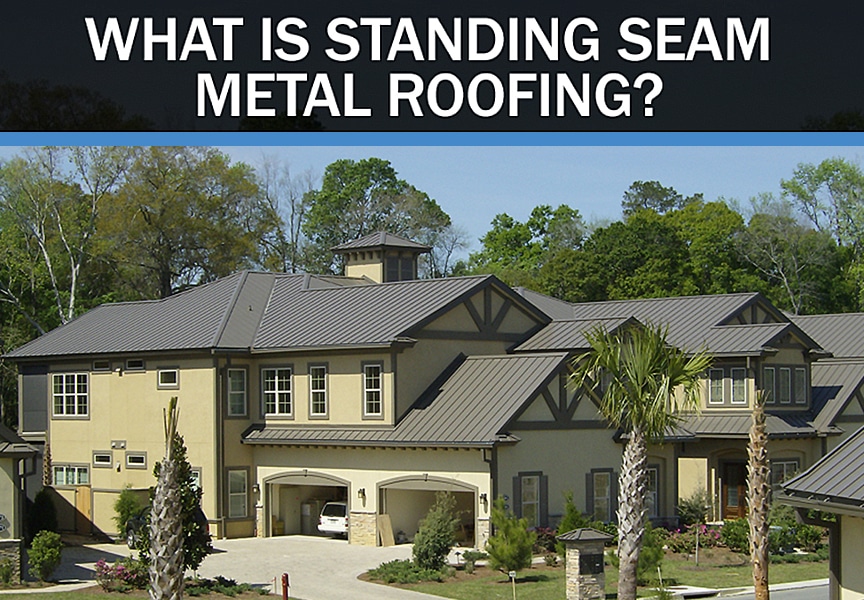 However, how much do you know about standing seam metal roofing? At Sheffield Metals, we pride ourselves in being a distribution leader of standing seam metal roofing and wall systems for architects, contractors, manufacturers, and home/building owners. In other words: We know standing seam metal roofing.
In this article, expect to learn about:
What standing seam means
The different types and uses for standing seam panels
Advantages and disadvantages associated with standing seam metal roofing
What Is Standing Seam Metal Roofing?
Standing seam metal roofing is defined as a concealed fastener metal panel system that features vertical legs and a broad, flat area between the two legs. It's also described as having raised seams, or vertical legs, that rise above the level of the panel's flat area. Standing seam systems can be used for either metal roofing, which is the most common, or metal walls.
The main idea to remember for standing seam systems is that the fastener is hidden, whether the panel is attached to the roof deck using a clip or is directly fastened to the decking material under the vertical leg using a fastener flange.
Standing Seam Profile Types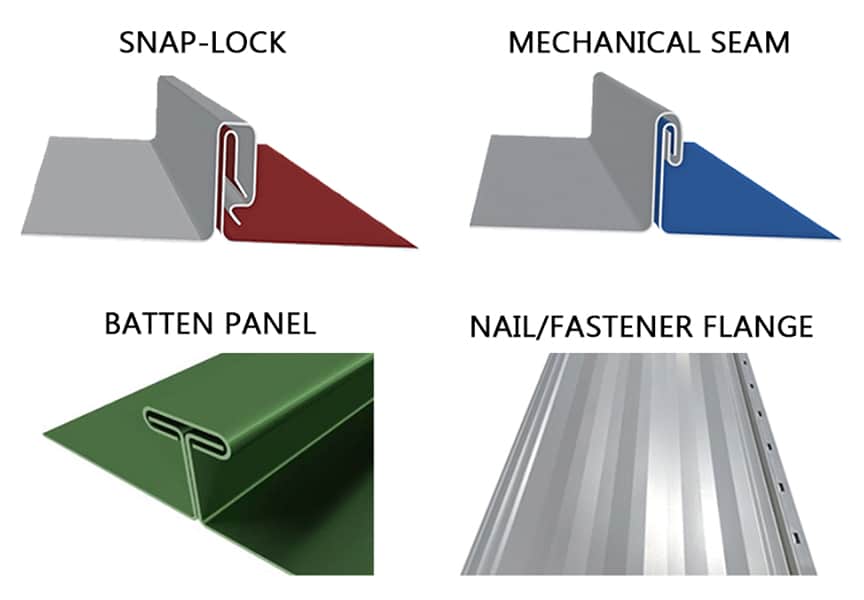 One of the most significant selling points of standing seam metal roofing is the variety of choices and options for customers. These choices stretch far beyond just the color of the panel to include the length, width, profile, shape, thickness, and more. Let's go through some of the most popular types and uses.
Panel Profile Types
A panel profile refers to the shape and way two or more panels are seamed together. Depending on what type of roof you have, how steep it is, what environment your property is in, and a variety of other factors, it will dictate what profile you should pick with the help of a contractor or architect. Many panel profiles make up the standing seam category, including:
Snap-lock Profiles
Snap-lock profiles consist of panels that have been carefully rollformed with specifically shaped edges, a male and female leg, that snap together and do not require hand or mechanical seaming during installation. Snap-lock profiles are attached to the roof deck using a clip that attaches to the seam and fastens underneath the panel. Fastener flange panels (discussed below) use a similar locking mechanism; however, we do not consider fastener flange a snap-lock because a true snap-locks allow for the system to float freely with its clip system.
Snap-lock Quick Facts:
Snap-lock systems should only be installed on roof pitches (slope) of 3/12 and above, unless otherwise approved by the manufacturer.
Snap-lock panels can be used in any environment as long as it's installed correctly.
These systems require less labor and are generally cheaper to install because no mechanical seaming is required.
Engineered snap-lock panel systems­ deliver known performance, unlike non-engine­ered versions.
Mechanical Lock Profiles
Mechanically seamed panels are also rollformed with specific edges that line up with each other. Once the two panels are engaged, a hand or mechanical seamer is used to bend the edges and lock the panels together. There are two different versions of mechanical seams: Single lock 90-degree seams and double lock 180-degree seams.
Single Lock (90-degree seam) Quick Facts:
Single lock refers to ONE fold of the seam (or 90 degrees).
While single lock profiles won't perform as well as a double lock, single lock still performs well in milder environments. Again, check to make sure the engineering allows a single lock to be used.
Single locked systems require less labor, and it's easier to replace a damaged panel than double lock profiles.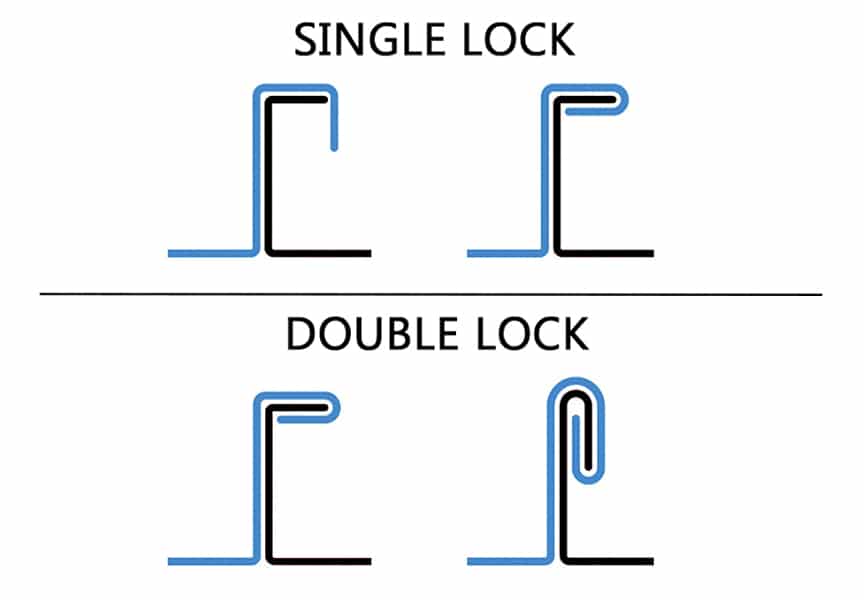 Double Lock (180-degree seam) Quick Facts:
Double lock mechanical systems feature TWO folds of the seam (or 180 degrees).
Double lock systems are suitable for low-slope applications needing extra weather-tightness.
Double lock panels perform better; plus, there is less of a chance for panels to come unseamed.
For properties in cold weather areas with freezing and thawing, double lock systems are good choices. As snow/ice freezes and thaws, it also expands and contracts, which could potentially disengage a snap-lock profile.
Double lock panels are more labor-intensive to replace.
When possible, you should use an expansion clip with a mechanical lock profile.
Batten Panel Profiles
A batten panel roofing system is when two legs of the panels are rollformed and then butted up next to one another. From there, a metal cap goes over the legs to create a seam, and either snaps on or mechanically seams into place. The part that goes over the legs varies quite a bit, but there are two common types: Tee seams and snap caps.
Tee Seam Quick Facts:
Tee seams mechanically seam into place, which means they'll perform well in harsh environments.
Tee seams tend to be more weather-tight than snap cap batten panels and usually have pre-installed sealant in the cap itself.
Works well in both steep and low slope applications.
Individual tee seam panels can be replaced or repaired in the field with relative ease.
Snap Cap Quick Facts:
As the name suggests, snap caps snap on over the panel legs without any mechanical seaming.
Snap caps are frequently used in curved panel applications.
The performance of snap cap panel systems is dependent on correct installation. The most common problem, especially if improperly done, is that the batten piece on top can slide off or down the seam.
Some snap cap systems will utilize an existing snap-lock or mechanical lock system to provide a more robust architectural look for the seam. These systems are more for aesthetics rather than function.
Nail Flange or Fastener Flange Profiles
Nail flange (also referred to as a fastener flange) is similar to a snap-lock panel system, but instead of using a clip to attach the panel to the roof deck, it is directly fastened down to the deck through the male leg of the metal panel. Once the fasteners are in place, the female leg of the panel snaps over the entirety of the male leg, which hides the fastener head.
Nail Flange & Fastener Flange Quick Facts:
Nail flange systems count solely on the head of the fastener to keep the panels attached to the deck, which could lead to problems in the future.
Nail flange systems are a popular choice for residential applications because it tends to be the cheapest option for standing seam due to less required accessories for installation.
Fastener/nail flange metal roofs are not the best performing systems and often lack engineering, plus they:

Follow the imperfections of the roof deck
Don't always accept roof clamps for snow retention or solar panels
Cannot go on low-slope applications
Are pinned, thus limiting expansion and contraction
Can be difficult to snap together
Can distort over time if formed in a rollformer where the drive and forming rollers aren't separate

These systems are also limited in length (25' in length)
---
---
Panel Sizing
In addition to different profiles to choose from, there are varying sizes that panels can be purchased at or rollformed to on-site. The specified size is typically dictated by performance requirements, how well the size works with the profile, and buyer preferences.
Panel Widths
Panel widths tend to vary by manufacturer, but most standing seam metal roof panels are between 12" and 18" in width, with approximately 16" being the most common. Unlike lap seam or other exposed fastener panels that can be purchased at big box stores like Home Depot or Lowe's, standing seam panels are not designed to be as wide as these counterparts, as doing so would impact the performance. Some rollforming machines can adjust to roll wider panels than 18", but be sure to check with your manufacturer or installer to verify that engineering is still valid if applicable.
Seam Heights
Equally as important as panel widths are the heights of the standing seam portion of the panel system, which may also be referred to as the rib height. Most standing seam systems can have anywhere from a 1" to a 3" seam. However, 1½" and 2" tend to be some of the most common choices. For snap-lock systems, 1¾" seams are the most architecturally specified panel, especially for commercial applications.
What is in a seam has a lot to do with the panel performance. For example, the 1.5" Snap-Lock 550 performs better in uplift situations than its not-so-distant cousin, the 1.75" Snap-Lock. They look very similar, but if you look closer at the Snap-Lock 550 (designed by New Tech Machinery), it not only utilizes a clip for performance, but has significant bends in the male leg of the metal for even better performance.
More Options for Standing Seam Systems
Striations or Stiffening Ribs
Striations, also called stiffening ribs or rib rollers, are the "patterns" rollformed into a metal roofing panel between the seams. These can be used to assist with the installation of a metal roof, to help reduce the visibility of oil canning, or just for curb appeal. In fact, we recommend using striations in standing seam panels, some available options include:
Flat – No indents between the seams
Striated – Small consistent indentation lines in the panel
Ribbed – Shapes or indentations between the seams

Pencil – Circular panel indents
V-Ribs – "V" shaped panel indents
Bead – Longer, rectangular panel indents

Clip relief – A stiffening rib adjacent to the seam that allows the space for a clip underneath
Thicknesses
The metal coil that is rollformed into panels comes in many different thicknesses; however, standing seam panels are typically somewhere between 22 and 26 gauge, with the most common Galvalume® (steel) thickness being 24 gauge and aluminum between .032 and .040 inches.
Advantages of Standing Seam Metal Roofing
Should Be No Exposed Fasteners
Easily one of the biggest benefits of standing seam metal roofing is the fact that no fasteners are visible on the surface, which means they aren't exposed to UV, moisture, wind, and other elements that can cause a fastener to wear or fail over time. Also, standing seam systems don't put holes in the panels that are protecting your structure. Plus, some people see fastener heads as unsightly, which is why using a standing seam system to hide them is common. (Note: There are flashing materials that require rivets and exposed fasteners to function properly.)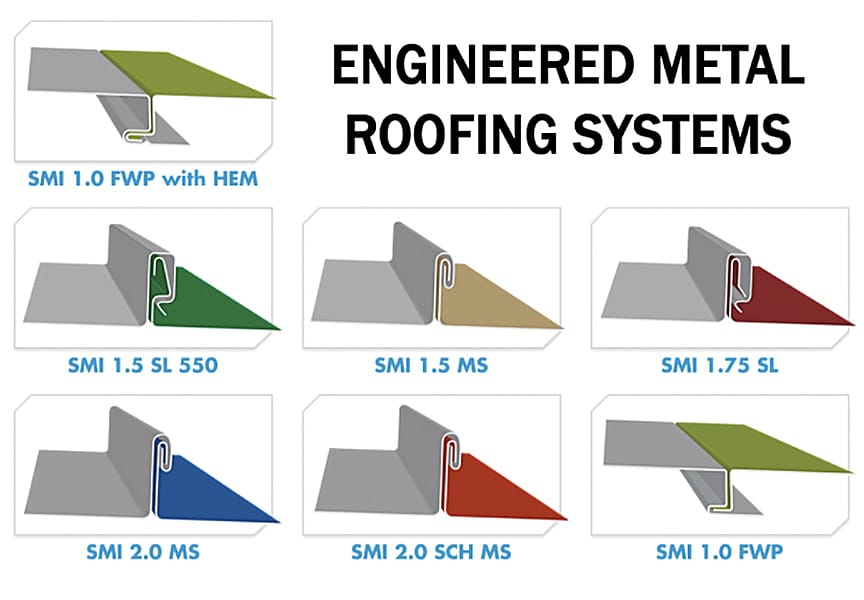 Option for Engineered Systems Tested to Perform to High Standards
Reputable manufacturers test their standing seam metal roofing systems to the high standards set forth by the industry, which means they are classified as engineered systems proven to perform in extreme weather. Having this engineered option is crucial in hurricane and high-wind prone areas.
Allows for Thermal Movement
When you restrict the expansion and contraction needed for proper thermal movement of a metal panel, you can run into problems, such as oil canning, fastener withdrawal, increased noise, and other issues. In standing seam metal roofing systems, the panels generally aren't pinned, meaning they can expand and contract better. This is especially true if slider/expansion clips are installed, or, if it's a snap-lock system, it can move freely with a clip.
Longevity & Lifecycle
Metal roofing is already a long lasting and low maintenance roofing solution, especially when compared to other roofing types, such as shingles or tiles. Since the fastener doesn't go through the metal's surface with standing seam systems, regular maintenance to check for loosening or damaged fasteners is even less frequent. However, maintenance on a standing seam roof is still essential, but will likely need to be performed by a professional maintenance contractor.
Warranties
Another safeguard of standing seam systems are the warranties, specifically the weather-tight warranties, offered by manufacturers that ensure their systems will not fail due to weather. Moreover, if it does fail, the manufacturer is responsible for making the necessary repair arrangements. Keep in mind that most weather-tight warranties are only available for commercial projects.
Sleek, Consistent, & Modern Look
Standing seam is becoming more and more popular in architectural applications because of its modern and clean look. In addition to the sleek, straight lines offered by these panel systems, the metal can come in virtually any color, including custom colors, to match any structure.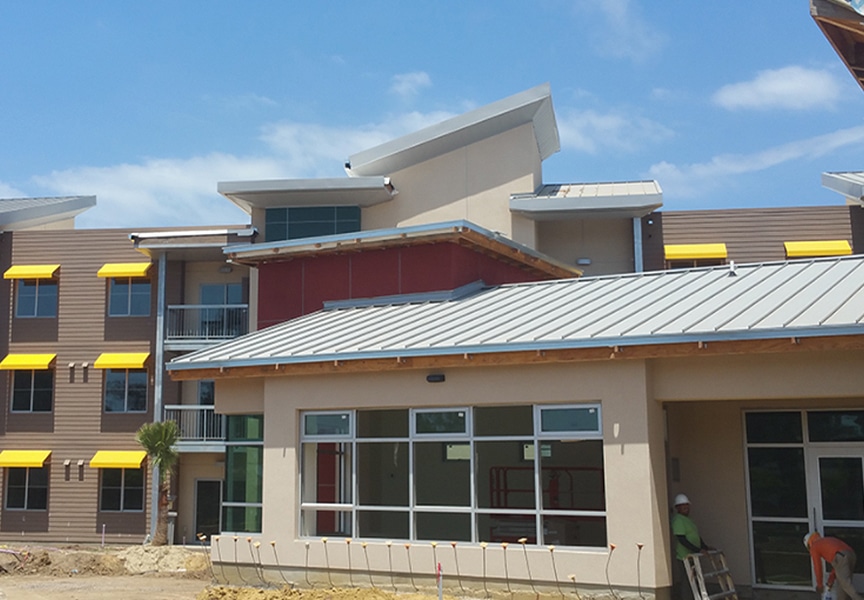 Architectural Freedom
Standing seam systems can be used on structures with many different planes and sophisticated, complex designs, which is another reason why architects are specifying standing seam profiles more and more.
Energy-Efficient
Standing seam systems are frequently made with cool roofing coil that have highly reflective pigments and highly emissive metal. This means these systems do an excellent job of reflecting the sun's rays and dispelling the associated radiant heat that other roofing types may retain. In other words, cool roofing can help a building's cooling systems work less to keep a building cool. You can also choose from a variety of ENERGY STAR® rated colors and finishes.
Different Material Options
Some consumers think that standing seam metal roofing is only available in Galvalume or other steel substrates. In fact, aluminum, zinc, and copper are all viable options for standing seam profiles. Remember to look for the engineered systems for these materials, as it will differ from the steel standards.
Mounting Options
One of the best parts about standing seam is the option to mount items, such as solar panels, snow retention systems, swamp coolers, or other rooftop addition, without ever having to penetrate or make any holes in the surface of the roof. For more about reliable mounting clamps and other hardware, check out our partners at S-5!
Disadvantages of Standing Seam Metal Roofing
Higher Cost
One of the most significant drawbacks to standing seam metal roofing is the fact that is can be more expensive when compared to other metal roofing types, especially exposed fastener systems. However, it's not always the highest price, as metal shingles and other stamped metal materials tend to come in at a higher price.
Less Qualified Contractors Have Experience Installing Standing Seam Roofing
Finding a contractor who is qualified, skilled, and experienced in metal roof installation is vitally important, especially because standing seam systems require careful craftsmanship. Since standing seam installations may be considered too complicated or tedious, there are far fewer contractors to choose from who have a proven track record and the relevant experience.
It's a Labor-Intensive Installation Process
For exposed fastener systems or even shingle installations, it's a relatively simple process of putting the material on the roof deck and nailing/screwing it down. For standing seam, it's much more complex and labor-intensive, and may include:
On-site rollforming of the metal coil to form panels
Appropriately spacing clips on the seam per the manufacturer's requirements
Fastening the clips down to the roof deck
For snap-lock systems: Aligning the panels and snapping the legs together
For mechanical seamed systems: Aligning the panels and hand-seaming or mechanically seaming the panel legs together
Making any necessary slits in the metal to account for roof plans, geometry, flashings, and other items
Cannot Be Used on a Flat Roofing Structure
Standing seam systems are not suitable for buildings or homes that have a roof below a .5/12 pitch. These flatter pitches do not allow water to adequately drain, which could lead to premature degradation, color changes, and the overall failure of the panel system.
Can Be Harder to Repair or Replace
If damage or another issue occurs with one panel or a smaller section of the roof, it can be tough to replace efficiently because each individual panel must be separated from the ones that are staying on the structure. This process can be especially tedious for mechanically seamed systems, as each panel will need un-seamed and the sealant will also need to be removed/broken through.
Other Special Precautions
Insurance and hail damage waivers – It's important to note that many home insurance companies offer "hail damage waivers," which lower premium prices but waives the insurance company from covering a claim for repairs or replacements caused by hail on a metal roof. Just be aware that these kinds of waivers exist and make sure to do your research or ask the manufacturer before signing.
Scratching – As is the case with any metal roof, the potential for scratching both during and after the installation is always a possibility. With standing seam metal roofing, specifically flat panels, it can be easier to see scratches. Always make sure to go outdoors often to check your roof for any signs of scratching or scuffing so you can take the appropriate measures to repair it (use a paint pen, call contractor, or even call the manufacturer).
Final Thoughts on Standing Seam Metal Roofing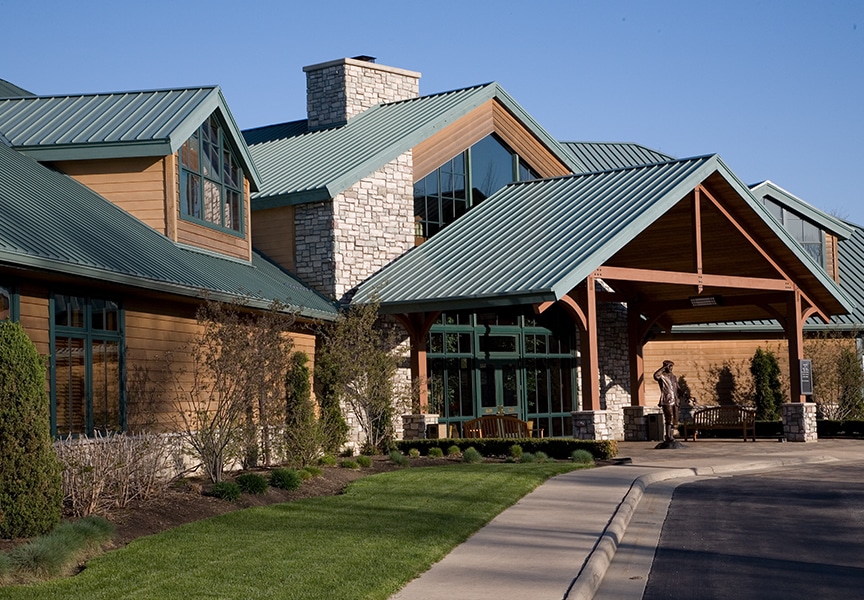 Standing seam metal roofing's variety of options and versatility makes it an excellent choice for virtually any building type, including commercial, residential, architectural, structural, and beyond.
To wrap up, what makes standing seam metal roofing different are these four parts:
A concealed fastener
Two vertical legs
A broad, flat area between the vertical legs
A seam that stands above the flat of the panel
With over 20 years of experience as a manufacturer that focuses on the distribution of standing seam metal roofing systems, Sheffield Metals wants to help answer all the questions you have about this topic.
---
---