If you're deciding between colors for your standing seam metal roof or wall system, you might feel inclined to choose a metallic or metal-like shade — such as silver.
These color options are often chosen because they provide visual depth, are neutral, and allow for greater versatility.
So why should you choose silver? What might make it a good choice for your specific project?
---
---
At Sheffield Metals, we continuously monitor color trends and keep track of the most popular metal sheet and coil colors. With our dedicated Architectural Department staffed by experienced professionals in the architectural metals industry, we are well-equipped to offer design assistance for a wide range of projects.
Now, let's dive into the options, advantages, disadvantages, and project examples specifically related to silver metal roofing.
Silver Color Options Available From Sheffield Metals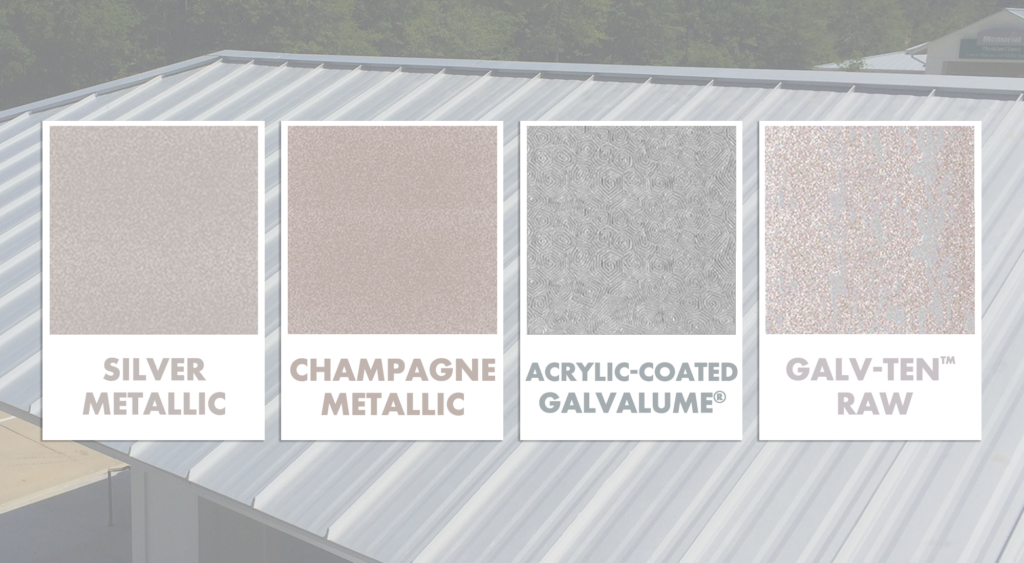 Before we examine the pros and cons of choosing a silver color for your metal roof or wall system, let's look at the silver sheet and coil color options offered by Sheffield Metals.
As of 2023, we offer four different shades that resemble silver on our standard 24-gauge color card:
Silver Metallic
Champagne Metallic
Galv-Ten™ Raw
We'll dive into the differences between each silver in the next section.
Benefits of Choosing a Silver Color for Your Metal Roof or Wall
Variety of Silver Color Options
As mentioned, our color card has four different shades, giving home and property owners several options to choose from during the buying stage. Plus, there are some other colors that are in the same family (gray) that can look similar.
Let's go through each option:
Silver Metallic

Silver Metallic is the color and finish that most closely resembles silver. The paint system has metallic reflective pigments that give it the shine and dimension of real metal.

Champagne Metallic

Similar to Silver Metallic, Champagne Metallic is another finish in the silver family and has reflective pigments. Champagne Metallic is warmer than Silver Metallic and is more of a light silvery gold.

Galv-Ten™ Raw

Galv-Ten™ Raw is a patterned PVDF finish from the United States Steel Corporation's Weathered Metal Series™. This finish is designed to resemble an aged steel/galvanized steel pattern.

Acrylic-Coated Galvalume®

Acrylic-coated Galvalume is the unpainted version of a metal roof (even though it has an acrylic coating), meaning that it matches the shiny gray metal color associated with bare metal. And while Acrylic-coated Galvalume more closely resembles steel, we included it because it's often used to mimic the look of silver.
Essentially, if you know that you want a silver-colored metal roof or wall for your project, you'll be happy to know that there are more than just one or two options.
Neutral, Natural, & Versatile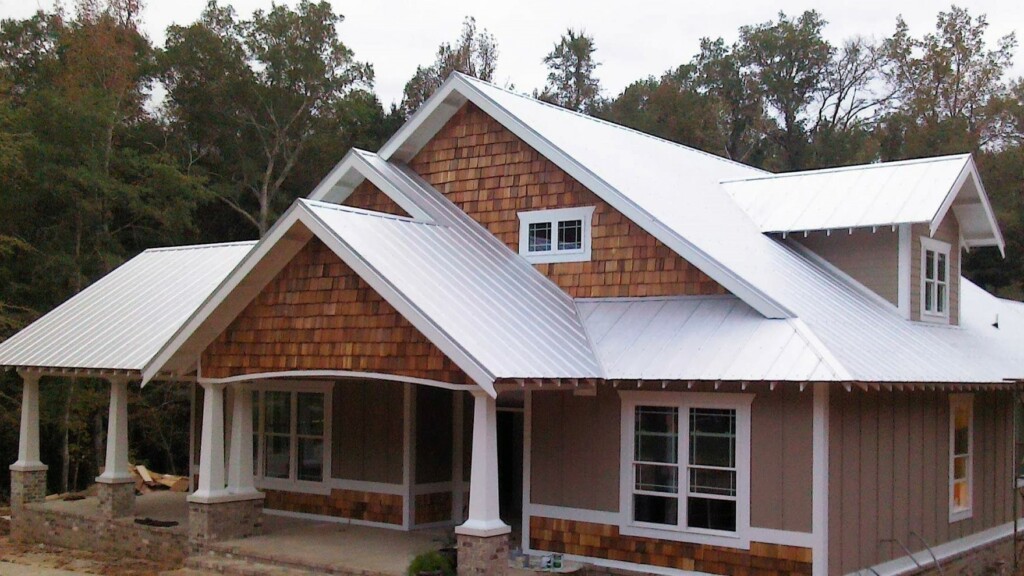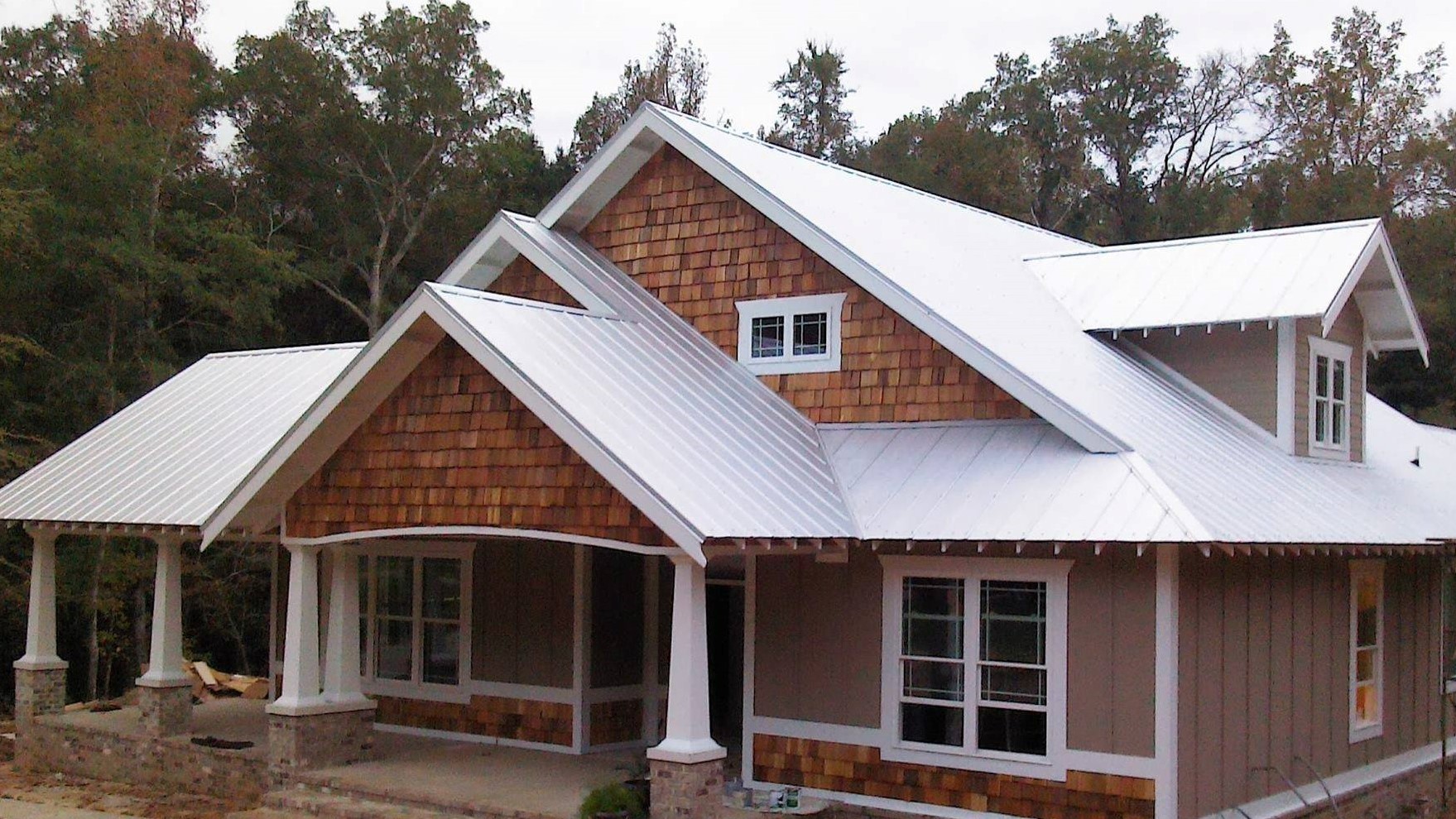 Gray tones, including silver, emerged as the dominant neutral cornerstone in the 2000s, surpassing browns and beiges. These grayish-silver colors are frequently found in exterior color palettes due to their resemblance to natural grays found in the environment and metallic elements — think zinc, silver, or other raw metals.
Ultimately, you can do much more with your exterior elements if you have neutral colors as the key building pieces — including your roof and siding. For example, suppose you have a silver metal roof and white siding. In that case, you can easily style your property's exterior by applying various colors, textures, and accents to your trim, front door, fencing, landscaping, etc.
Similar to the Look of Silver
Actual silver is unavailable as a metal substrate for standing seam metal roofs and walls. Plus, even if it were, it would be costly and not economical for most home and property owners to purchase.
Luckily, choosing a silver color to coat a Galvalume or aluminum substrate allows you to have that same look as silver at a much better price point. Plus, these Galvalume or aluminum systems have more warranty options, engineering, and longevity.
Due to silver being a mix of white and black, silvers and grays are some of the most versatile colors you can use in architectural projects. Plus, it conforms to several building styles in residential and commercial spaces, including:
Modern
Mid-century modern
Contemporary
Agricultural
Craftsman
Coastal
Victorian
Ranch
Opting for a color such as silver provides the advantage of an extended design lifespan, which holds significant importance as metal roofs are engineered to last for four decades or beyond. The enduring appeal and adaptability of neutral shades like silver offer flexibility if you refresh or modify your exterior style later.
Mid-range SRI (Solar Reflective Index) Options
As you read on, you'll notice that there are benefits and drawbacks relating to SRI because our silver shades are different and therefore have differing SRI values.
A few of the silvers available have mid-range SRI values:
Silver Metallic has an SRI of 67
Galv-Ten™ Raw has an SRI of 55
Acrylic-coated Galvalume has an SRI of 56
For a bit of background, cool metal roofing is painted or coated metal products that reflect the sun's energy to dissipate heat. Cool roofs help reduce the heat transferred into the building, resulting in total cooling cost energy savings ranging from 7% to 15%, according to the Green Building Alliance.
The Solar Reflective Index (SRI) is a key metric used to assess the cooling properties of metal roofing. It measures the surface's capacity to reflect solar energy from the sun (solar reflectance) and emit heat (emissivity). SRI values range from 0 to 100, where a lower value indicates a darker or black surface, while a higher value indicates a brighter or white surface
Silver Metallic, Galv-Ten™ Raw, and Acrylic-coated Galvalume have mid-range SRI values, likely resulting in medium energy savings.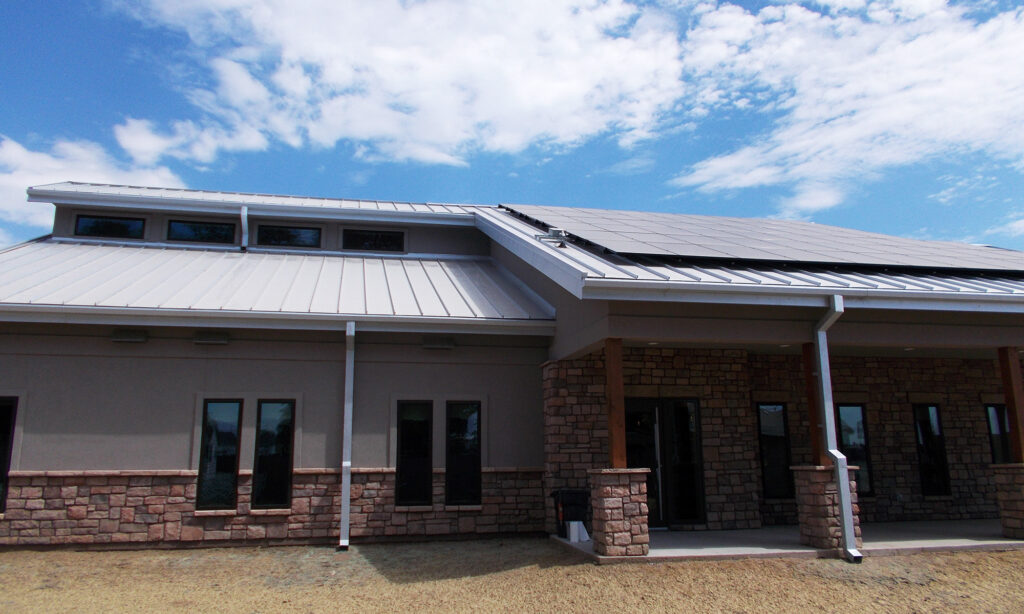 Drawbacks of Choosing a Silver Color for Your Metal Roof or Wall
Metallic Coating Drawbacks
One of the lesser-known issues with Metallic finishes — like Silver Metallic or Champagne Metallic — is that the reflective pigments in the paint are directional. This means the light reflects in only one specific direction. To help with this issue, there is an arrow on the back of Metallic-coated sheets and coils. This is critical for installers and manufacturers to pay attention to, as the roof or wall must all be installed in the same direction according to the arrows. Doing so ensures that light isn't reflected in different directions from panel to panel, which can create visual stripes if not correctly aligned.
Additionally, Metallic finishes cannot be measured for color changes (fading) due to the reflective pigments, meaning a paint warranty does not cover color changes.
Low SRI Options
As we discussed before, there are silver color options with relatively good SRI values; however, there is one with a lower SRI:
Champagne Metallic has an SRI of 37
These lower SRI values will translate to lesser energy savings in the long run when compared to colors with higher SRI values. However, metal is one of the most sustainable and eco-friendly roofing materials, so despite the slightly lower SRI value, you're still using a smart building material and contributing to conservation efforts.
Dull or Little Visual Interest
Sometimes, silver and other gray tones appear dull and are therefore thought to be boring. While you likely don't want your roof or wall to stand out completely against your neighborhood's other homes or properties, you probably still want it to be eye-catching and noticeable.
This drawback is more of a consideration and something to weigh against your design interests and what you envision. If you're worried about a silver or gray-colored metal roof or wall blending in too much or being too "boring," you can use other exterior elements to create more visual interest with different colors, textures, etc.
Silver Color Metal Roof & Wall Examples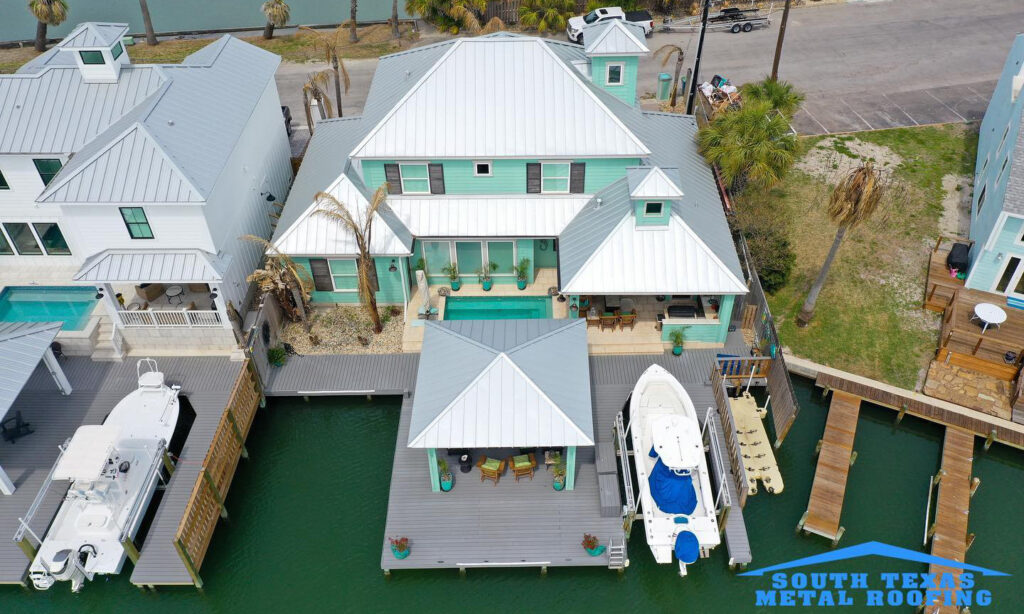 Residential Home | Rockport, Texas | Color: Silver Metallic | Photo courtesy of South Texas Metal Roofing
---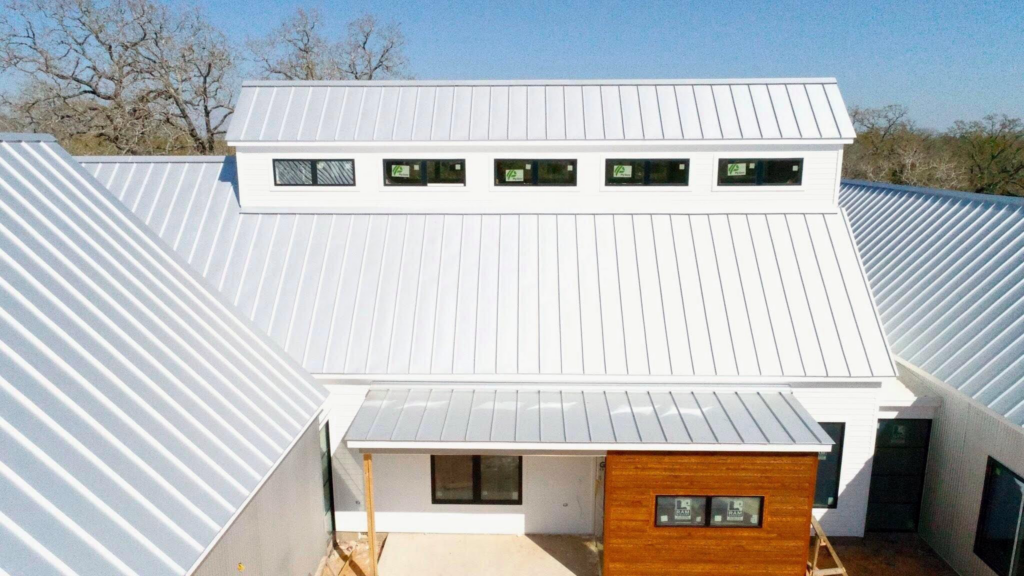 Residential Home | College Station, TX | Color: Acrylic-coated Galvalume | Photo courtesy of Lone-Star Roof Systems
---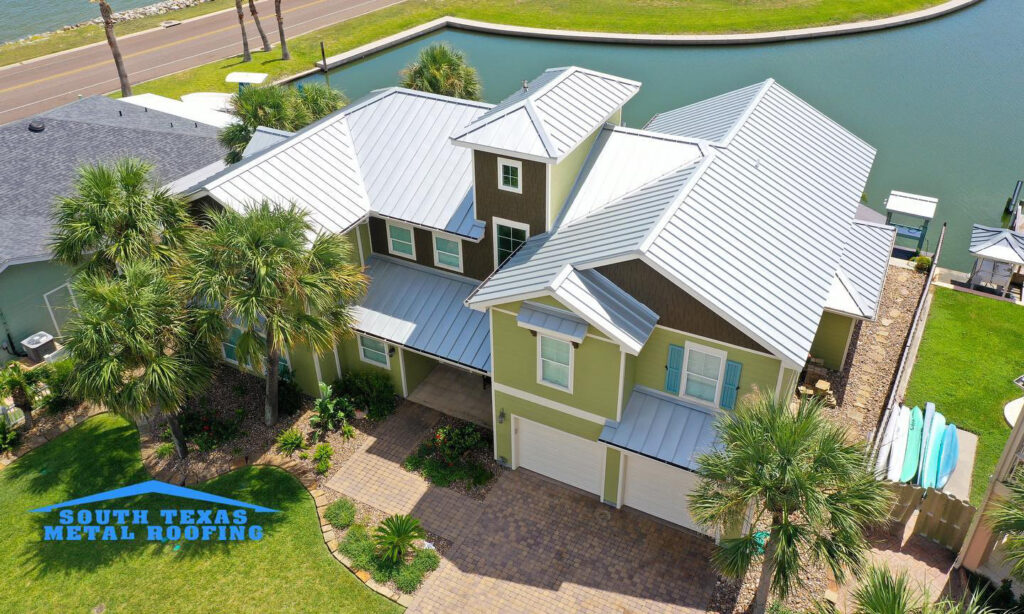 Residential Home | Rockport, Texas | Color: Silver Metallic | Photo courtesy of South Texas Metal Roofing
---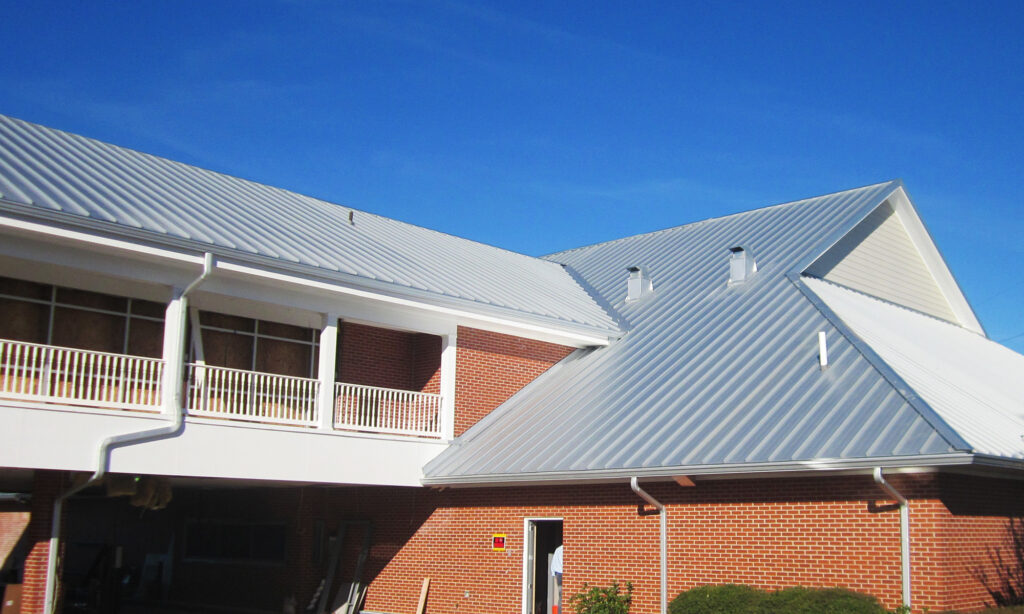 Paulding County Water Department | Hiram, Georgia | Color: Acrylic-coated Galvalume
---
Final Thoughts on Silver Color Roofs & Walls
Choosing the right color for your metal roofing project — silver or otherwise — involves considering various factors, such as personal preferences, building design, style, environment, SRI (Solar Reflectance Index) requirements, and more.
If you're unsure whether to opt for silver or another color, here are some helpful methods to narrow down your choices:
Explore color palettes, photo galleries, and examples of properties similar to yours. This can give you an idea of how different colors look in real-life applications.
Look at manufacturers' color cards and compare them with your expectations.
Utilize a Color Visualizer tool that allows you to upload a photo of your actual structure and experiment with different colors digitally. This can help you visualize how each color would appear on your specific building.
Request physical metal color chips from manufacturers.
Consult with your architect and/or contractor and seek their professional opinion. They can provide valuable insights and recommendations based on their expertise and experience.
At Sheffield Metals, we are a trusted supplier of painted and non-painted metal sheet and coil products in the architectural metal roof and wall panel industry. We recognize that silvers and grays are highly sought-after colors for metal roof and wall systems.
Our dedicated Architectural Team is available to provide you with the design assistance you require. Please feel free to reach out to us today!
---