Blue as an exterior building color is more common than you would think — especially if you:
Want your property to reflect a calming or trusting feeling.
Desire a bold exterior color option (or need to match a corporate color).
But why else should you choose a blue metal roof or wall system? What might make blue a good option for your project?
---
---
Sheffield Metals, along with our valued partners at Sherwin-Williams, continuously monitor color trends and track which metal sheet and coil colors are most frequently purchased. Plus, SMI's full-time Architectural Department is comprised of individuals with extensive experience in the architectural metals industry, and we often provide helpful design assistance for roof and wall projects.
Let's review the options, advantages, disadvantages, and project examples for blue metal roof and wall systems.
Blue Color Options Available From Sheffield Metals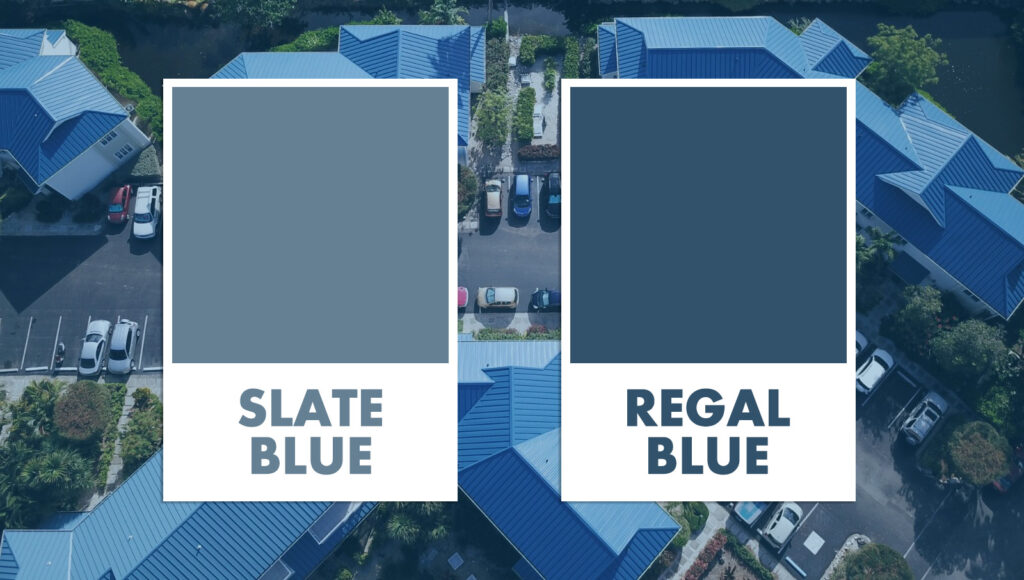 Before we examine the pros and cons of choosing a blue metal roof or wall system, let's look at the blue sheet and coil color options offered by Sheffield Metals.
As of 2023, we offer two different shades of blue on our standard 24-gauge color card:
We'll dive into the differences between these blues in the next section.
Advantages of Choosing a Blue Metal Roof or Wall System
Two Different Color Options
As mentioned, there are two different blue shades offered by Sheffield Metals, which gives home and building owners some options to choose from:
Regal Blue

Regal Blue is a medium blue color that resembles royal blue. Regal Blue is the more popular blue option.

Slate Blue

Slate blue is a lighter, more desaturated blue that could be described as bluish-gray.
If you want a blue metal roof or wall for your project, you'll be happy to know that there are a couple of options.
Positive & Unique Color Option
One of the common reasons that people choose to install blue metal roofs or walls revolves around the feelings that blue can convey — including peace, serenity, and trust.
According to colorpsychology.com:
"Calmness and peace are two words that come to mind when thinking about the color blue. It is a non-aggressive color that encourages serenity, orderliness, and tranquility. This could be because we associate oceans with blue, and it can be a mentally soothing color for some people."
In addition to the emotions that blue evokes, it can be a unique and bold color option that sets your property apart from others in the neighborhood.
So, if you want your home or property to match any of these calming emotions or feelings, choosing Regal Blue or Slate Blue could be beneficial.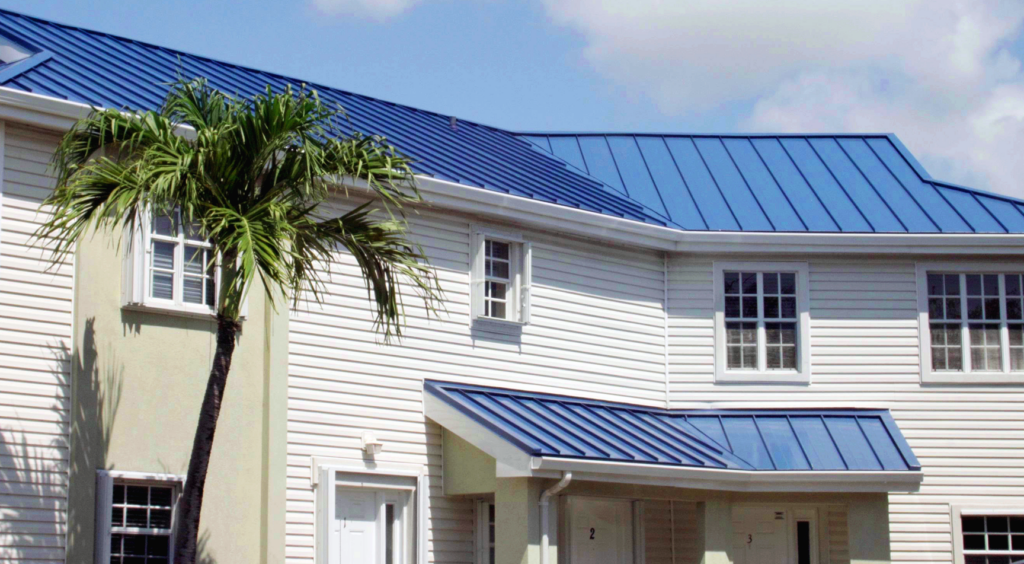 Another benefit of a blue metal roof or wall system is that it matches the architecture in specific locations — most specifically tropical and coastal areas.
In regions where tourism and vacationing are popular, many property owners want their homes, businesses, and buildings to match the laid-back "island" atmosphere. This is why you find more colors, including blue, used for the exteriors of buildings in tropical areas.
Suited for Several Architectural Styles
Beyond the environment your property is in, blue also works well for several architectural styles, including:
Craftsman
Colonial
Cape Cod
Coastal
Mediterranean (Greek)
Modern Farmhouse
Victorian
Corporate Color Similarities
Regal Blue, or brighter blues in general, are standard corporate colors — especially in the retail and restaurant industries. If you think of some corporate brands, many have a bright blue in their color schemes (i.e., IHOP, Walmart, or Domino's).
These brands often try to incorporate the bright blues from their logo into the architecture of the physical store or restaurant, which can be accomplished with a blue panel system.
Disadvantages of Choosing a Blue Metal Roof or Wall System
Low Solar Reflective Index (SRI) Values
One of the main drawbacks of choosing a blue metal roof or wall system is that these two pigments both have lower SRI values:
Regal Blue has an SRI of 24
Slate Blue has an SRI of 28
SRI measures a surface's ability to reflect the sun's solar energy (solar reflectance) and emit heat (emissivity). SRI is determined on a scale from 0 to 100. An SRI value closer to 0 indicates a darker or black surface and a value closer to 100 indicates a brighter or white surface.
The lower SRI values for both blues will translate to lesser energy savings in the long run than colors with higher SRI values. However, remember that metal is one of the most sustainable and eco-friendly roofing materials (especially when compared to asphalt shingles), so despite the slightly lower SRI value, you're still using a smarter building material.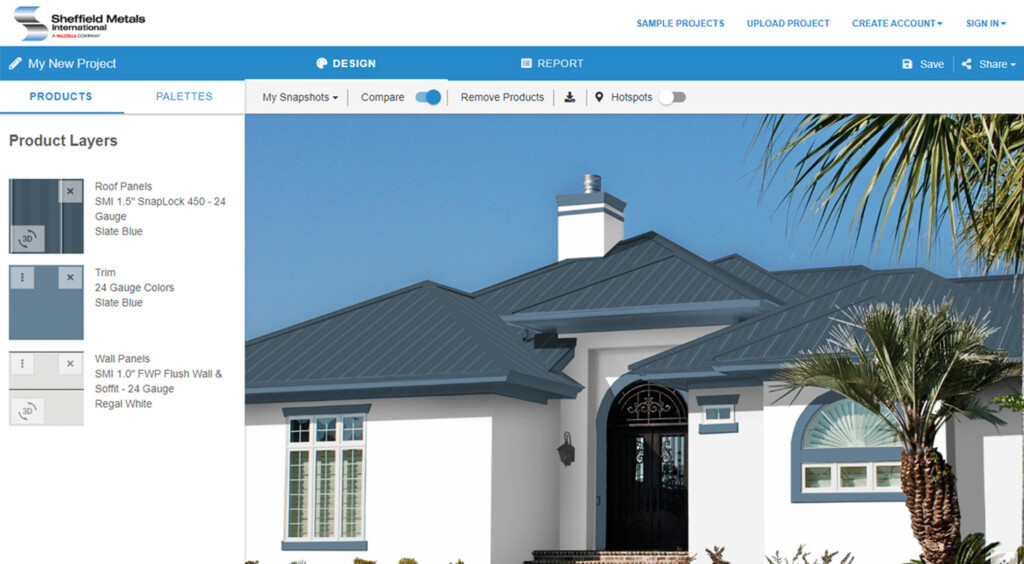 Design Flexibility Concerns
Another drawback to choosing a blue metal roof or wall system is that it locks you into that specific color for many years. Standing seam metal roof and wall systems can be engineered to last for four or more decades, so you should choose a color you will still like in a couple of decades.
Also, blue doesn't have the versatility of a color that matches or complements various other colors, such as neutrals (black, white, gray, brown, etc.). So, if you want to change your exterior building look a few years later, a blue roof or wall system gives you more limited design options.
Potential Color Fading & Chalking Concerns
A potential drawback to choosing a blue roof is that vivid colors often chalk and fade more "noticeably" than a lighter or duller pigment (like Ash Gray, Sandstone, etc.).
For a little bit of background on fading and chalking:
Fading – Fading on painted metal roofs occurs when substances like water, pollution, and chemicals in the atmosphere and specific environments react with and change the paint's pigment. Fading usually lightens the color, but it is known to darken or completely change particular colors.
Chalking – Chalking is the whitish residue that can become visible on a painted or coated metal surface over time. As a panel is exposed to sunlight and UV rays, the resin begins to break down, loses adhesion to the surface, and begins to turn white. These particles will eventually become visible to the naked eye on the metal's surface.
Unfortunately, that is just one of the drawbacks of choosing a more pigmented color for something regularly exposed to weather events and sunlight.
Note: All Sheffield Metals' blue colors have the same chalking and fading coverage as other stocked colors.
Not Suited for Every Architectural Style or Region
Blue is not a neutral color, making incorporating it into specific design aesthetics challenging.
For example, you usually don't find blue in the traditional color palettes of the following architectural building styles:
Modern
Contemporary
Tudor
Log Cabin
Additionally, as we discussed, a blue roof or wall can be very regional, meaning it's more prevalent in specific areas of the country. For example, you're more likely to find a blue roof or wall in a tropical or coastal region, such as Florida, The Carolinas, California, or the Caribbean Islands. It's less likely that you'll find a blue roof in a mountainous, forested, or desert region.
Blue Metal Roofing Project Examples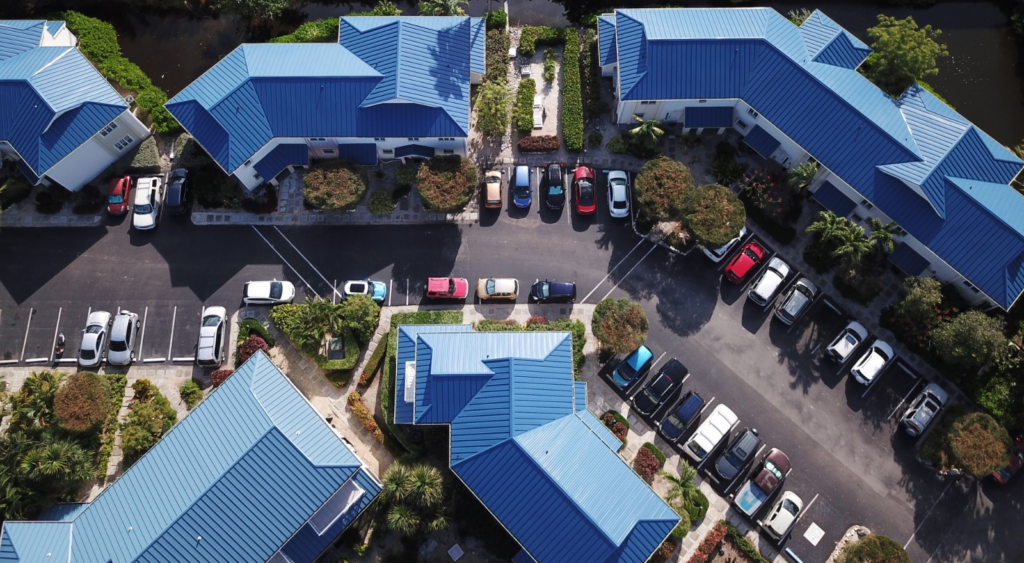 ---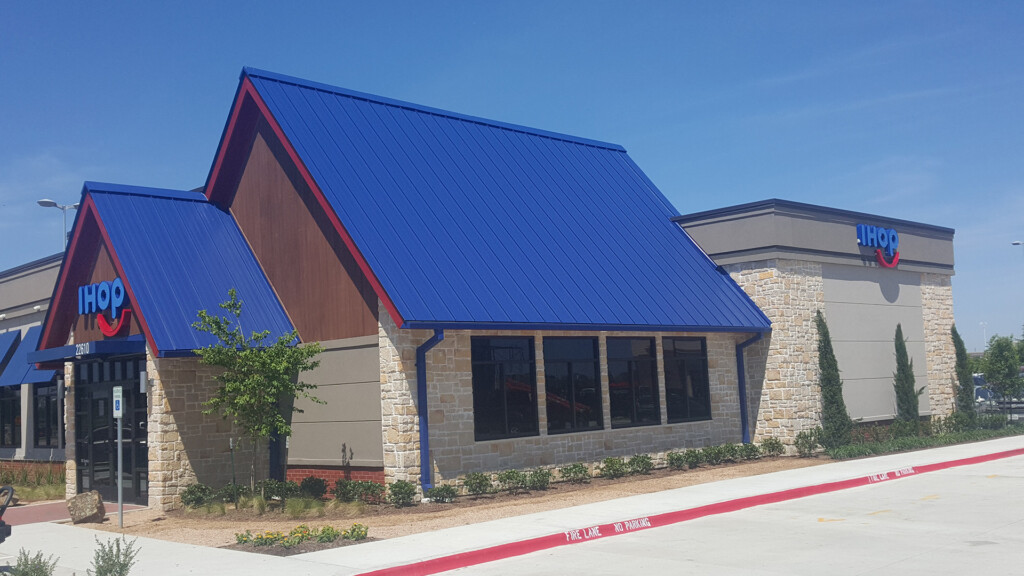 IHOP Restaurant | Richmond, Texas | Custom Color
---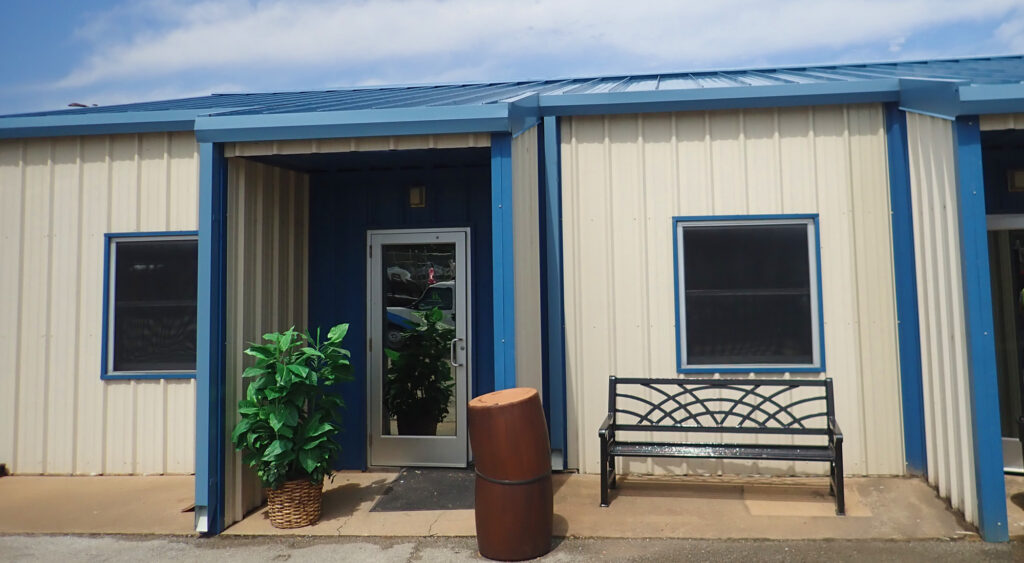 United States Army Corps of Engineers Lake Lewisville Ranger Building | Lewisville, Texas
---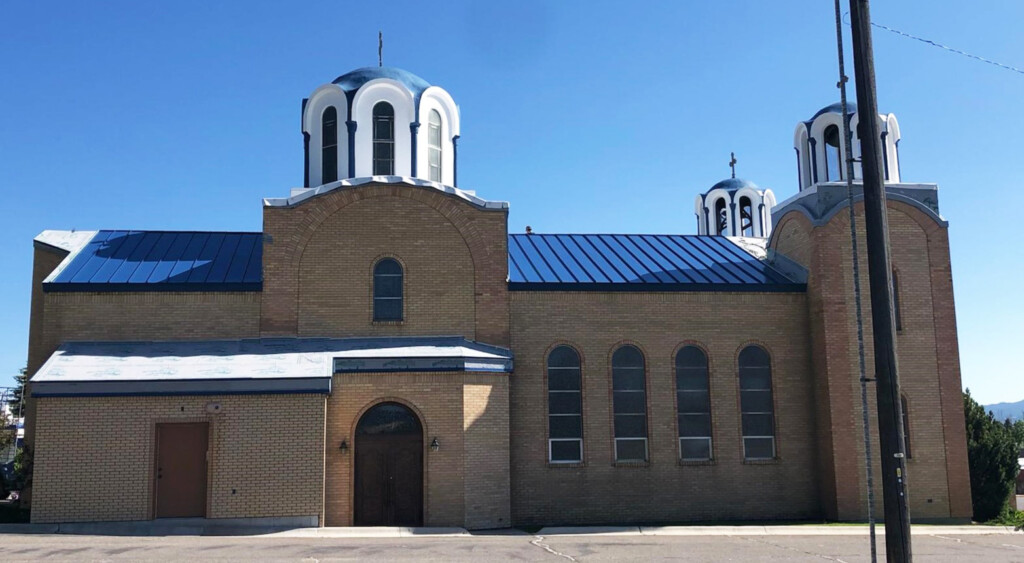 Holy Trinity Serbian Orthodox Church (Mid-installation) | Butte, Montana
---
Final Thoughts on Blue Metal Roofs & Walls
Is Regal Blue or Slate Blue the best color for your metal roof or wall project?
It depends on several design elements, including your architectural style, geographic location, SRI requirements, likes and dislikes, and beyond.
If you're on the fence about whether you want to choose blue or another color, here are some helpful methods to narrow down your choices:
Explore exterior color palettes, photo galleries, and examples of homes or buildings similar to yours.
Look at manufacturers' color cards and compare/contrast with your expectations.
Use a Color Visualizer to upload a photo of your structure and explore how different colors look.
Request physical metal color chips from manufacturers.
Discuss the options with your architect and/or contractor and ask for their professional opinion.
For over 25 years, Sheffield Metals has been a leading supplier of metal sheet and coil products (including blue) in the architectural metal roof and wall panel industry.
So, are you weighing your color choices or feeling overwhelmed by your options? Our dedicated Architectural Team can provide you with the design assistance you need; contact us today!
---
---