Whether you're an architect, designer, builder, spec writer, or otherwise, there are always key considerations you should consider when designing a project and specifying certain products.
This idea holds true with nearly every product, but specifically exterior building materials, as they are subject to harsher conditions such as water, wind, and other potentially damaging weather events.
One aspect that comes with its own set of critically important considerations is standing seam metal roofing and walls. If the design considerations we're going to discuss in this article are not adhered to, the entire system could fail, leaving you with added costs and an unhappy client.
At Sheffield Metals, we've put an emphasis on our programs and educational initiatives for the architectural and design communities so they can be the most successful when specifying our metal products. Plus, we have an entire department of seasoned architectural professionals dedicated to providing project and design support.
Let's discuss the core standing seam metal roofing design considerations to remember.
---
---
Design Consideration #1: Geographical Location
The geographical location of your project is easily one of the most significant factors to consider when specifying a standing seam roof or wall system. Location matters for several attributes that could affect a metal panel system, including:
Coastline distance
Extreme weather circumstances, such as hurricanes, blizzards, tornadoes, etc.
Local or state building codes and regulations
Coastline Distance and Metal Panel Systems
One consideration that can make or break a metal roofing system is a building's proximity to a coastline or saltwater environment. For some reference, it's recommended that all properties within a certain distance of a coast use an engineered aluminum roof system, as aluminum resists corrosion and rusting from saltwater (unlike steel/Galvalume) for much longer and still comes with both a 40-year paint warranty and a substrate warranty.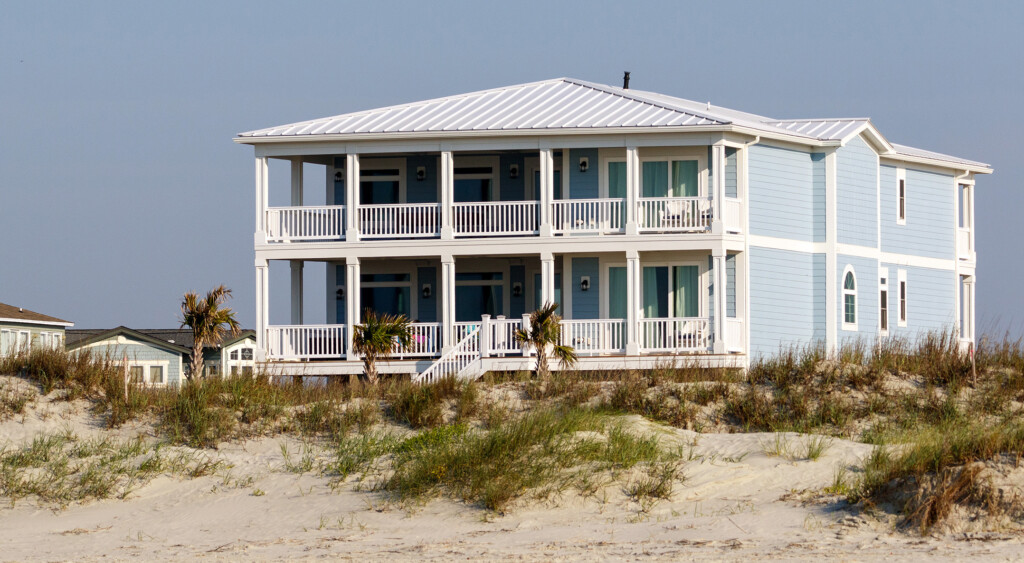 We recommend using aluminum panels for these coastline distances:
Within 1500 feet of a coastline with breaking surf
Within 800 feet of a coastline with a large bay
Within 400 feet of a coastline with a marsh
Typical Weather Patterns and Metal Panel Systems
Luckily, metal is one of the best-performing roofing materials available, so it's destined to work well in nearly all environments. However, there are still some design considerations to remember. For example, if the property is in a region that gets significant snowfall, you'll want to ensure the standing seam metal system you specify can be fitted with attachment solutions for snow guards or snow retention systems. Or, if the property is in an area with high sun exposure, you'll want to specify a metal that has a PVDF paint system, as it performs best and helps to prevent excessive chalking and fading.
Extreme Weather and Metal Panel Systems
Researching climate data is critical in the design stage. Not only will it tell you common weather patterns, but it will indicate any possible extreme weather events that the property could endure. We already discussed the recommended distances from a coastline when it comes to the metal material, but on top of that, you'll want to specify a roofing profile that is engineered to hold up against extreme weather (such as a double-locked mechanically seamed profile). Or, if your project is in a high wind zone from the threat of hurricanes or tornadoes, it's critical to specify a profile with a wind uplift engineering report that meets the design criteria for your project. Plus, the option to purchase a weathertight warranty is also a great added value.
Local or Regional Building Codes/Regulations and Metal Panel Systems
Last but not least, some cities, regions, and states have distinct building codes based on the location's specific needs, which means the roof or wall system you design must adhere to these regulations and requirements. This includes such requirements as the Florida Building Code (FBC), Miami-Dade County building codes, Texas Department of Insurance (TDI), and International Code Council Evaluation Services (ICC-ES).
Design Consideration #2: Metal Material Type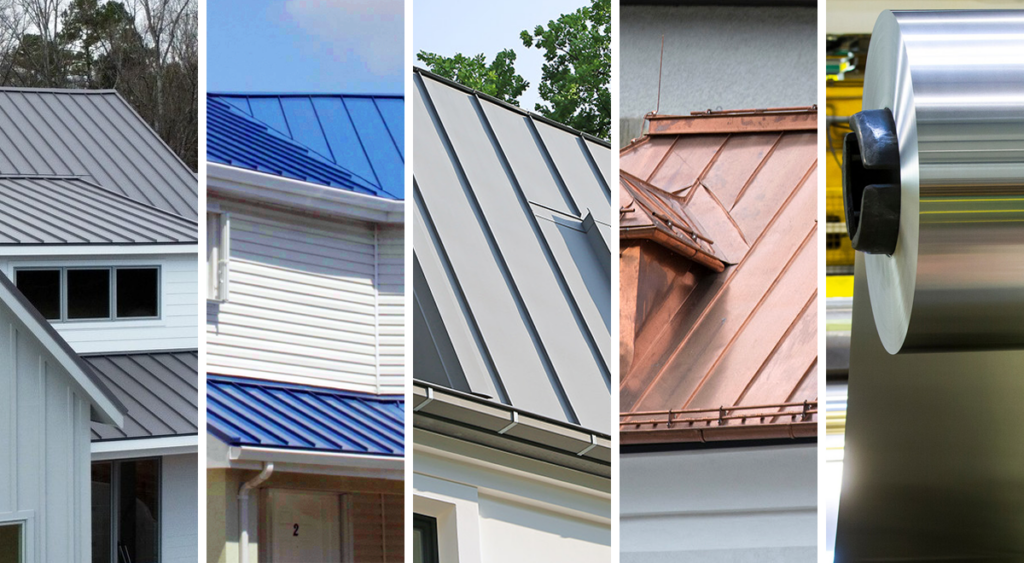 There are five common metals used for architectural metal roofing and wall systems:
Aluminum
Zinc
Copper
Stainless steel
Galvalume and aluminum are the two metals specified for the majority of projects, as both materials are highly recyclable (and frequently made from previously recycled materials), durable, and long-lasting. We explored the significant difference between these two options above in the fact that aluminum is always recommended on coastal properties, as it does not corrode or rust when in contact with seawater or saltwater. That being said, Galvalume is the most popularly specified metal material, as it's more rigid than aluminum, costs less, and is more readily available.
We could go on for a long time about the individual requirements, inclusions, exclusions, and beyond for each metal material. Fortunately, you can learn more about the topic of metal roof material attributes and comparisons here.
Design Consideration #3: Deck Substrate
Next on the list of design considerations is the deck substrate that the metal roof or wall is installed on. Decks are separated into two common categories: Open-framing and solid substrate.
Open-framing:
Solid decking/substrate:
Plywood
Oriented strand board (OSB)
Metal decking (often called B-Deck)
Metal decking with polyiso insulation
Not all standing seam profiles or metal types can be installed on every decking structure, as some materials have dissimilar properties that could corrode each other, others cannot be installed over specific assemblies, and some profile assemblies do not qualify for engineering on particular substrates. It's also important to note that you will need to check the thickness of the framing/substrate as well. For reference, the typical thickness of purlins is 16 gauge, the typical thickness of metal decking is 22 gauge, and the typical thickness of plywood or OSB will typically be around ½" to 5/8". Ensure you reference the uplift engineering report to ensure that all items in the assembly match the tested assembly.
It's critical to look closely at the manufacturer's recommendations and testing requirements for decking substrates, which are typically available where panel profile details are listed.
Design Consideration #4: Pertinent Testing Requirements
In the architectural metals world, testing and engineering of roofing and wall systems are almost a requirement. No designer or architect wants to specify a panel system that isn't backed by industry standards, so it's critical to apply the information you've collected about the location, metal material, and roof deck. Then, you should ensure it all fits together and was successfully tested by the manufacturer and approved by the standards organizations.
For a little background on the different tests you might encounter during the design phase, let's go through some of the common basic standards and project-specific tests.
Common or Basic Industry Standards & Testing
Wind Uplift Testing Standards
UL 580 / UL 1897 – Standard for Tests for Uplift Resistance of Roof Assemblies (solid decking)
ASTM E1592 – Standard Test Method for Structural Performance of Sheet Metal Roof and Siding Systems by Uniform Static Air Pressure Difference (open framing)
Water Penetration Testing Standard
ASTM E 1646 – Standard Test Method for Water Penetration of Exterior Metal Roof Panel Systems by Uniform Static Air Pressure Difference
Air Infiltration Testing Standard
ASTM E1680 – Standard Test Method for Rate of Air Leakage Through Exterior Metal Roof Panel Systems
Hail/Impact Resistance Testing Standard
UL 2218 – Standard for Impact Resistance of Prepared Roof Covering Materials
Fire Resistance Testing Standard (Most Common)
UL 790 – Standard Test Methods for Fire Tests of Roof Coverings
Check out this article for a detailed breakdown and explanation of these testing requirements.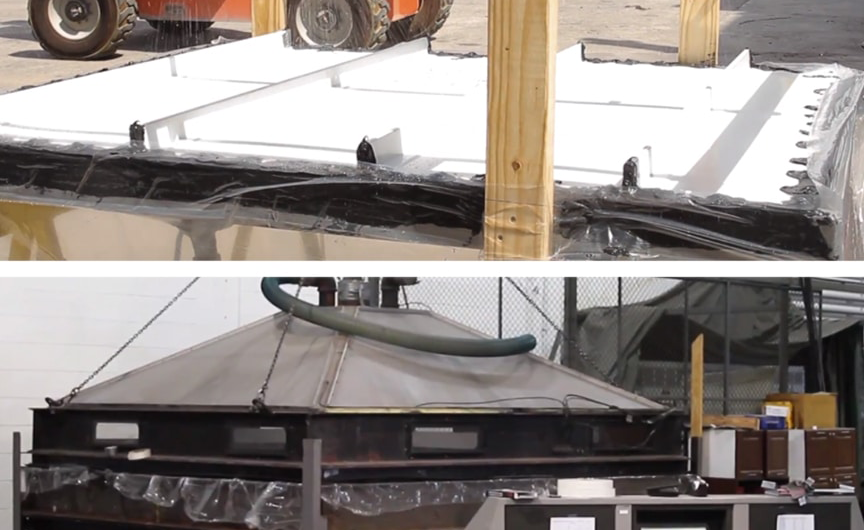 Project-Specific Industry Standards & Testing
Water Submersion Testing Standard
ASTM E2140 – Standard Test Method for Water Penetration of Metal Roof Panel Systems by Static Water Pressure Head (applies to slopes less than 2/12 pitch)
Missile Impact Testing Standard
ASTM E1886 – Standard Test Method for Performance of Exterior Windows, Curtain Walls, Doors, and Impact Protective Systems Impacted by Missile(s) and Exposed to Cyclic Pressure Differentials
Wind-Driven Rain Testing Standard
TAS 100 – Test Procedure For Wind And Wind-Driven Rain Resistance and/or Increased Windspeed Resistance Of Soffit Ventilation Strip And Continuous Or Intermittent Ventilation System Installed At The Ridge Area
Foot Traffic Over Purlins Testing Standard
FM 4471 – FM Approved Lap Seam Roofs

Evaluated under approval standard 4471, Class 1 panel roofs, which includes performance requirements for:

Combustibility above and below the roof assembly
Wind uplift resistance
Foot traffic resistance
Hail damage resistance
Design Consideration #5: Areas of Concern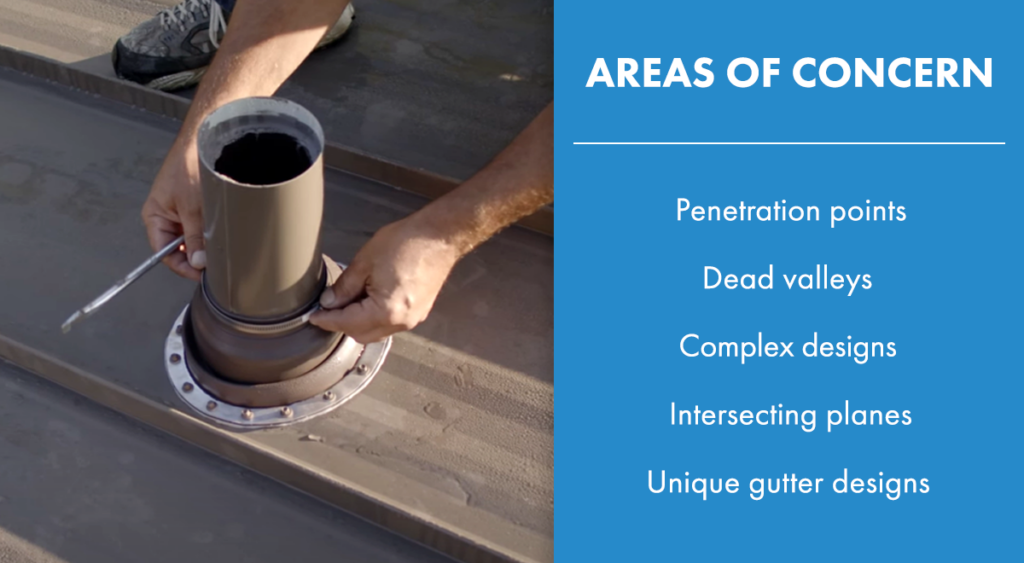 The final design consideration to keep in mind when specifying a standing seam metal roof or wall system are the areas of concern, some of which are common in architectural projects. Concerning areas can include:
Dead valleys or any area of the roof that water cannot get off of freely
Intersecting planes or complex designs

Especially those that don't allow for proper water drainage

Penetration points – i.e., skylights, chimneys, vent pipes, hatches, etc.
Unique gutter designs

Flange black gutters
Internal gutters
All of these are areas of concern because they tend to be the areas where the roof can fail in one way or another. This could be a leak at a complex flashing point or water/debris collecting in a dead valley, which can degrade the metal if standing water is present for a long time.
These design elements become a more significant issue when a weathertight warranty is included in the spec. Some conditions may not meet the qualifications for a weathertight warranty and would be excluded if a warranty was to be issued. If any of these areas of concern are a part of the design, but you still want a warranty, our Technical and Architectural Department representatives can work with you to ensure the warranty conditions are met.
Final Thoughts on Standing Seam Metal Roof Design Considerations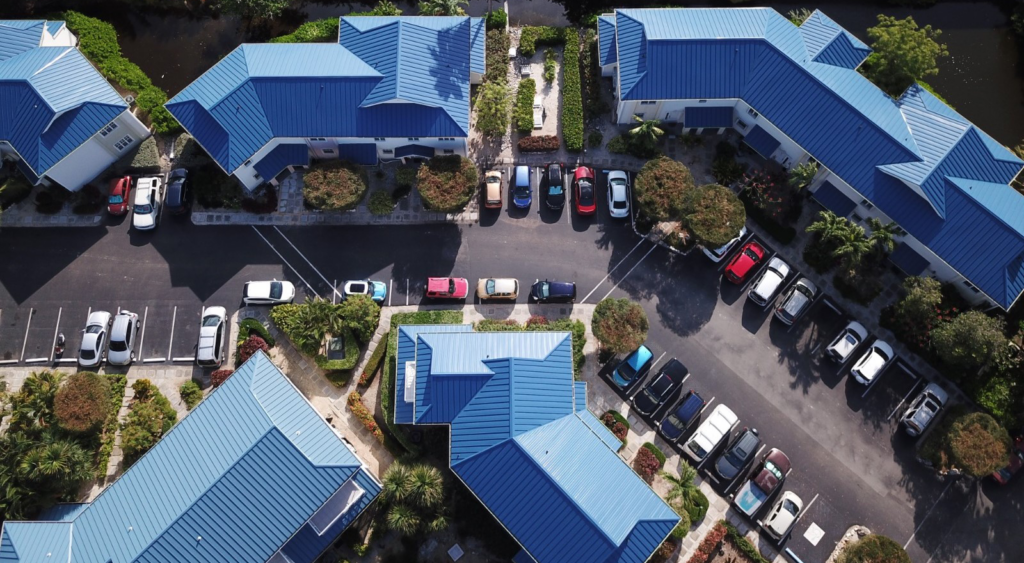 Designing and specifying a standing seam metal roof or wall panel system is one of the best ways to ensure a building looks fantastic, all while withstanding exposure and protecting the people and property on the inside. So, once you have identified all the topics above, you can then determine the panel profile options and pick the best one to meet your specific project conditions.
Remember:
Geographical location plays heavily into the engineering and building code requirements.
Galvalume and aluminum have different characteristics that work well in different regions.
Not all profiles can be installed on any roof deck substrate.
Industry standards and engineering reports for various standing seam profiles are available through the manufacturer.
Keep an eye out for areas of concern that could affect weathertight warranty approval.
For the past decade, Sheffield Metals has been dedicated to creating an architectural program that focuses on growing the businesses of architects, designers, and builders. We offer a tested and true selection of engineered profiles for standing seam metal roofs and walls.
On top of our product selection, our Technical and Architectural Departments have the knowledge and experience to help you with all of your projects. Contact us today to speak with one of our design representatives!
---
---