Your Metal Roof & Wall Product Supplier in Florida, Southeast U.S., & Caribbean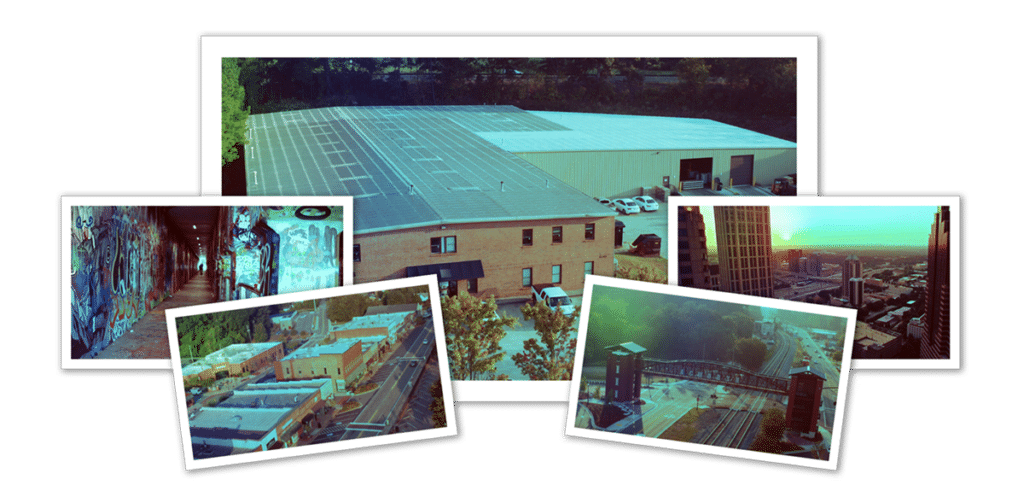 Welcome to the Sheffield Metals International branch in the Southeastern U.S.!
Sheffield Metals International is an industry leader in the distribution of painted, coated, and bare metal products used in the architecturally-driven metal roofing and wall industry. We specialize in providing engineered standing seam metal roof systems and profiles for contractors, manufacturers, architects, and homeowners' projects.
Our location just outside of Atlanta in Acworth, Georgia, was established in 1995, and serves as a central point between the Carolinas, Florida, and states in the southern U.S. Our location is built to support you and your business. That's why we're able to offer our customers with the complete package — quality products, decades of expertise, and continued support before, during, and after the most complicated projects.
---
Metal Sheet & Coil, Profiles, Rollformers, Accessories, & More — Available for Pick Up & Delivery in the Southeast U.S.!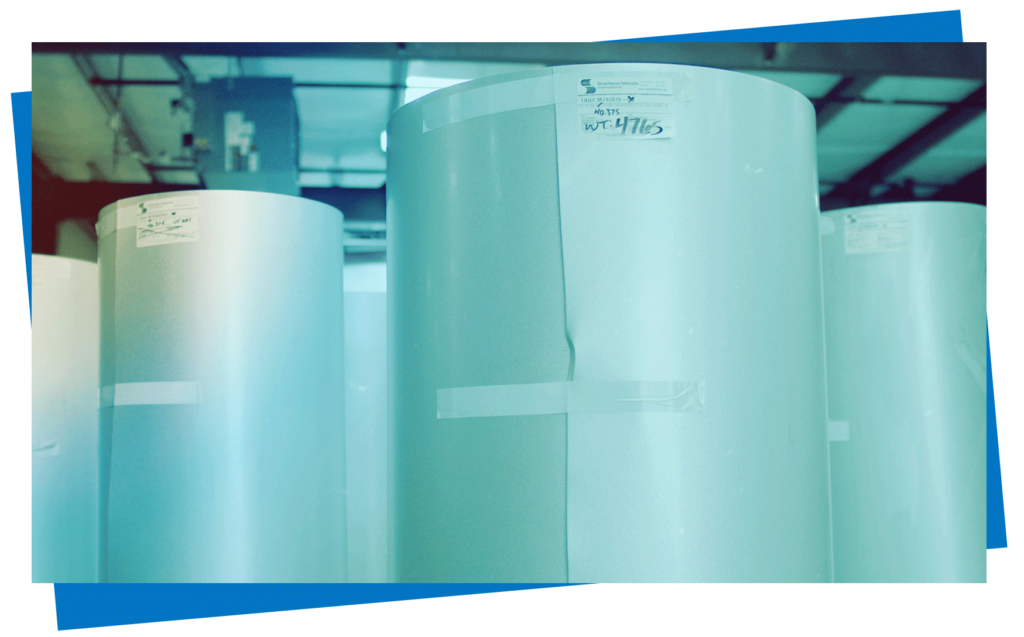 Painted & Bare Metal Sheet & Coil – Galvalume® & Aluminum
For over 20 years, Sheffield Metals has been supplying the architectural metals industry with painted and bare metal sheet and coil products to fabricate metal roof and wall panels, flashings, and trim. In addition to the traditional Galvalume roofing products, Sheffield Metals also offers aluminum roofing products through the Acworth branch to better suit projects on the coastline and in the Caribbean islands.
The Sheffield Metals Acworth location continuously stocks more than 35 colors and can order virtually any custom color to accommodate your project. Our painted Galvalume and aluminum sheet and coil are coated in Fluropon®, a high-quality and long-lasting PVDF resin paint system (Kynar 500® or Hylar 5000®) produced by our partners at Sherwin-Williams. We can also fulfill specialty sheet and coil, such as copper, upon request.
All orders for customers in the Southeast U.S. and Caribbean are cut-to-length in our Acworth facility, which has full coil and sheet processing capabilities. Metal is available in 40", 44", and 48" widths to minimize scrap and drop-cuts.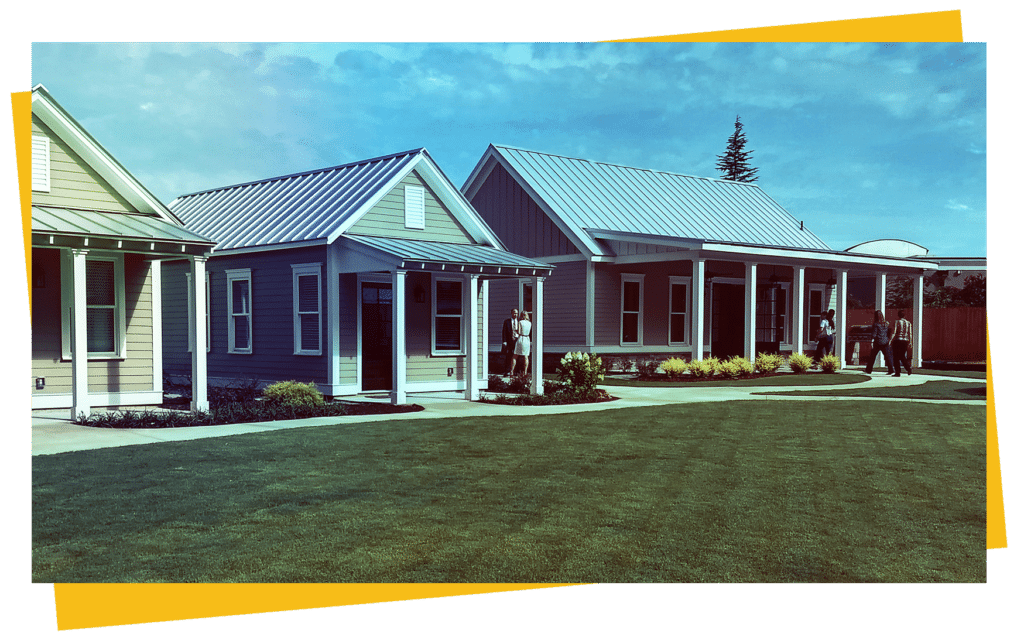 Engineered Metal Roof & Wall Systems
We offer a complete selection of engineered standing seam metal roof and wall systems and related accessories to use for all of your projects, including residential, commercial, solid substrate, and open framing applications. Our engineered systems have been tested to meet the strict industry standards set forth by the industry, including wind uplift, water penetration, water submersion, hail rating, fire rating, FBC approval, and more. All SMI panel profiles meet minimum UL-90 approvals.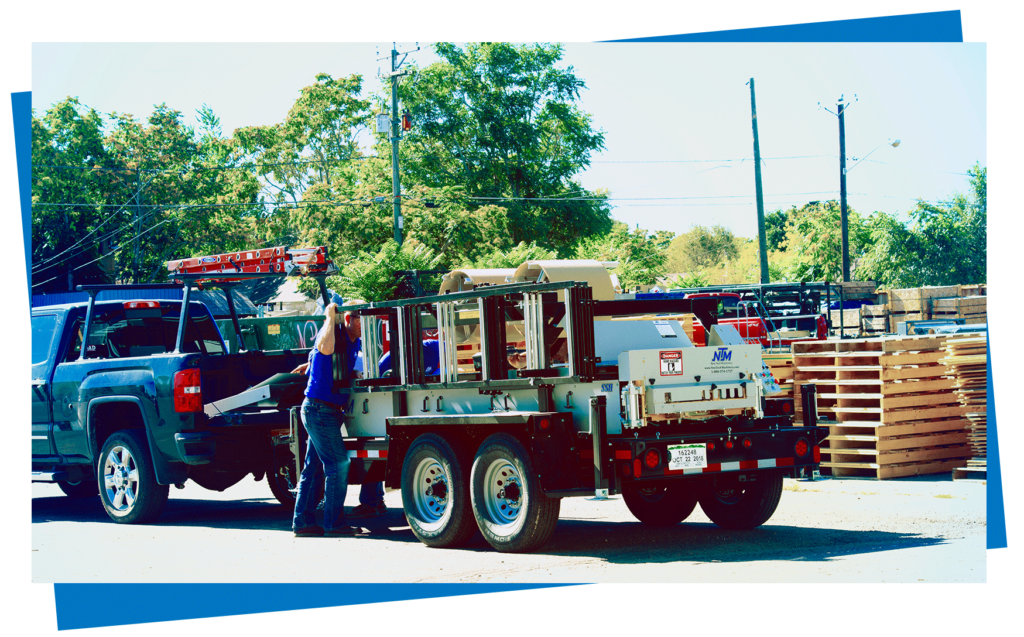 Portable Rollforming Machinery & Equipment
Providing an array of profile offerings, including engineered profiles, is one of the most efficient ways to garner more business and better serve diverse customers. Let Sheffield Metals' line-up of forming machinery and equipment create the right solution to help you meet your goals and complete projects:
New Tech Machinery rollforming equipment
Machinery training and support
Access to multiple brands of brakes and shears
Seamers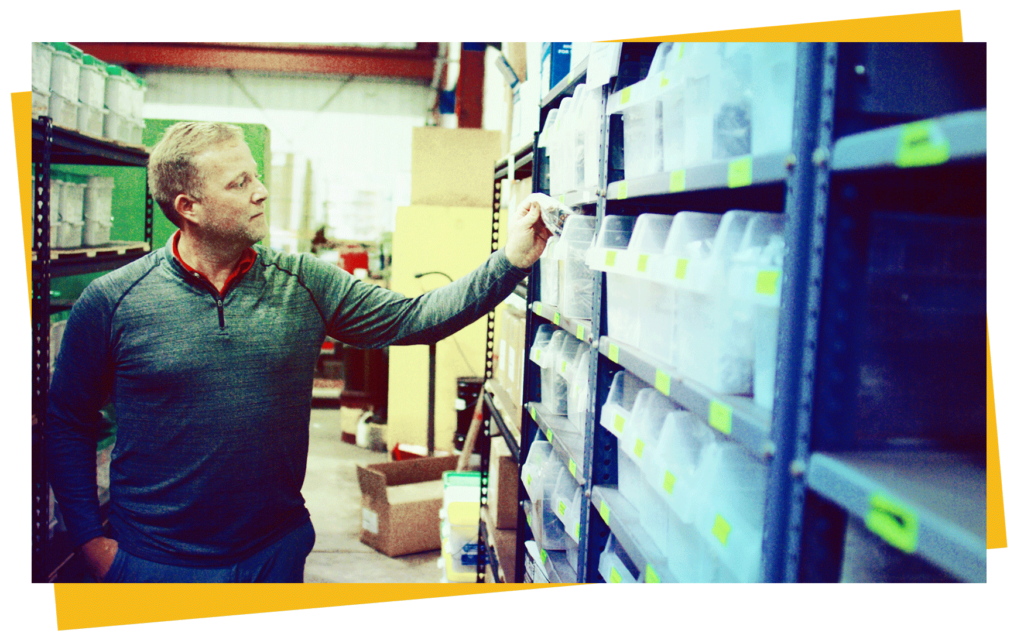 Accessories & Components for Metal Roof & Wall Systems
Incorporate our complete line of accessories into your architectural and engineered metal roofing systems! This branch stocks underlayment, sealant, butyl tape, pipe boots, clips, clamps, screws, rivets, and coated fasteners to match our color finishes. We also offer accessories to use with zinc and copper products.
---
Pick-Up & Shipping to Florida, the Carolinas, Southeast U.S., and Caribbean Islands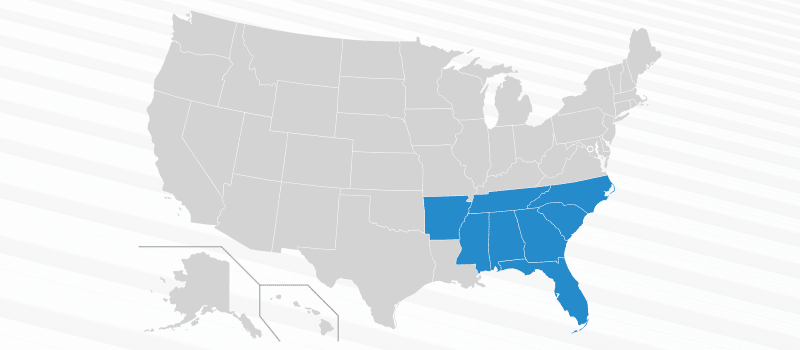 Whether you walk in to our facility or need your order delivered, Sheffield Metals Acworth location proudly provides the metal roofing products and services to the following cities, states, and regions:
Georgia – Including Atlanta, Columbus, Savannah, Sandy Springs, Roswell, & Albany
Florida – Including Jacksonville, Miami, Tampa, Orlando, Tallahassee, & Ft. Lauderdale
North Carolina – Including Charlotte, Raleigh, Greensboro, Durham, & Wilmington
South Carolina – Including Columbia, Charleston, Mount Pleasant, Greenville, & Hilton Head
Tennessee – Including Memphis, Nashville, Knoxville, Chattanooga, & Clarksville
Alabama – Including Birmingham, Montgomery, Mobile, Huntsville, & Tuscaloosa
Mississippi – Including Jackson, Gulfport, Southaven, Hattiesburg, Biloxi, & Meridian
Arkansas – Including Little Rock, Fort Smith, Fayetteville, Springdale, & Jonesboro
Caribbean Islands – Including Bahamas, Cayman Islands, Turks & Caicos, Jamaica, & beyond
Best of all: You can expect your order to be fulfilled within THREE (3) DAYS of order placement.*
If you or your business is not located in any of the states/regions listed above, please reach out to us! We can connect you with the Sheffield Metals location that is closest and most convenient for you.
*Dependent on standard color and project size.
---
Providing Aluminum Metal Sheet & Coil Products for Projects on the Atlantic Coast & in the Caribbean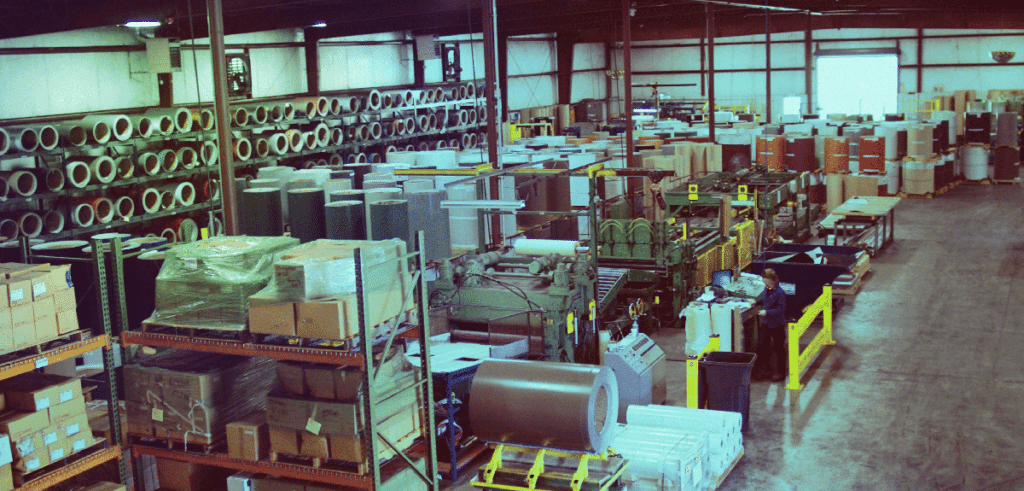 For properties in the Caribbean Islands, on the Atlantic coastline, and on the Gulf Coast, aluminum has become the trusted roofing material of choice. Aluminum has inherent properties that resist against corrosion from saltwater, and performs significantly better on the coast than steel-based materials.
Most aluminum products are produced, painted, and stored on the East Coast, which allowed the Acworth facility to steadily build up our aluminum program and stock the products needed to complete aluminum standing seam metal roof projects on any coastline or island. Best of all, your aluminum sheet and coil orders are processed on-site and available for pick-up or delivery to best accommodate your manufacturing or installation schedule.
Ask us about our aluminum program and how we can partner with you to create a solution that helps to grow your business!
---
Protect Roofing & Wall Projects with Weathertight Warranties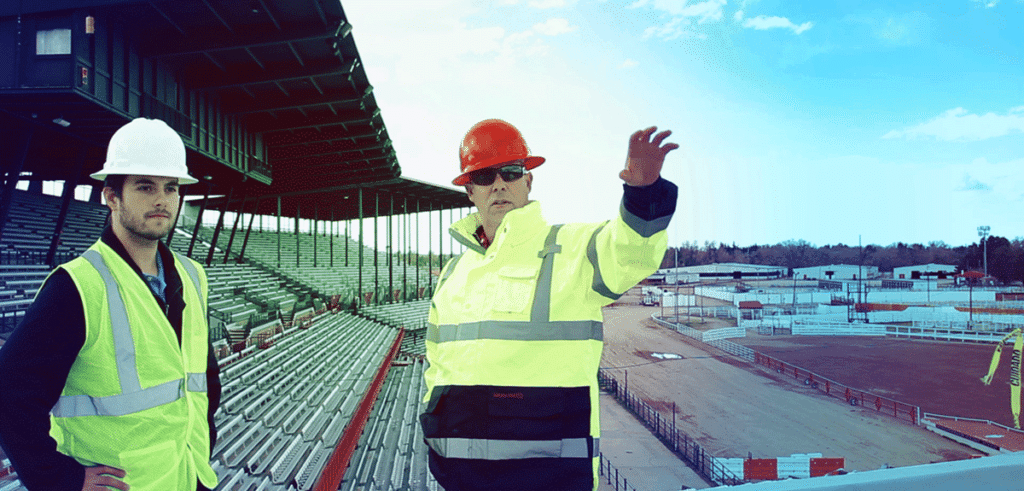 Weather in the Southeast U.S. can be harsh and often unpredictable at times, especially during hurricane season.
One of the best ways to protect your investment or your customers' investment is to have the option to purchase or specify a weathertight warranty on the new metal roof or wall system. These warranties promise that not only will the roof system not leak due to material defects, but that the roof or wall was installed according to the manufacturer's tested and proven standards/details, which means it'll live up to strict industry standards.
The SMI Technical Department controls all of our weathertight warranties in-house and is dedicated to approving, inspecting, and issuing weathertight warranties on your commercial, architectural, and structural projects. Sheffield Metals offers two distinct types of weathertight warranties:
Limited Weathertight Warranties — Covers repairs up to the dollar amount paid for the cost of the metal roof materials and installation. This is not limited or capped by a single issue if multiple events occur in the duration of the warranty. Year lengths available: 5-year, 10-year, 15-year, 20-year, 25-year, 30-year, and 35-year options.
No Dollar Limit Weathertight Warranties — If repairs for an affected roof or wall exceed that of the cost of the materials and installation, then the total cost of repairs will be covered. This is not limited or capped by a single issue should multiple events occur in the duration of the warranty. Year lengths available: 10-year, 15-year, 20-year, 25-year, 30-year, and 35-year options.
---
Exclusive Access to Experts in Sheffield Metals' Architectural and Technical Departments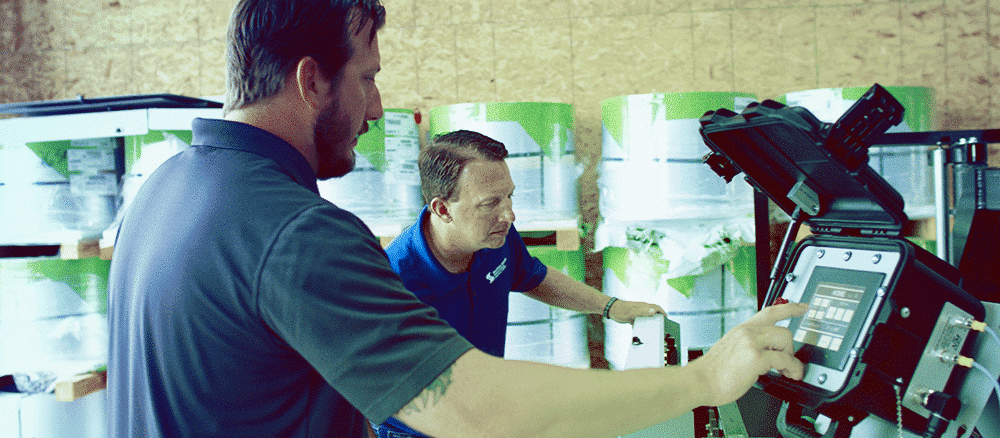 Sheffield Metals understands the importance of having technical and architectural resources available to answer your questions and assist with your specific project requirements. With more than 50 years of combined installation, technical, and architectural experience, Sheffield Metals has assembled the best Technical and Architectural Departments the industry has to offer. Our representatives in both departments have backgrounds in installing, bidding, design, and working with technically-driven architectural projects.
Our Architectural Department and Technical Department can assist with:
Architectural submittals & details
Proper panel profile selection
Design & bidding assistance services
Engineering requirements
Estimating services
Rollforming machine training & support
Any technical or installation questions
Some buildings located in Florida and other regions of the Southeast U.S. might need to adhere to specific technical requirements and building codes, such as FBC (Florida Building Code) approvals. Please don't hesitate to contact us should you have any questions or need assistance!
Location Information
---

4295 McEver Industrial Drive
Acworth, GA 30101
Direct Phone: 800-929-9359
Corporate Phone: 1-800-283-5262
National Account Manager: Tom Southerland
Account Manager: Ryan Osterhoudt
Inside Sales Representatives: Michael Marsh, Kristin Brooke, & Ramona Walker
Contact Us at this Location
---
Products, Resources, & More
---
» Engineered & Non-Engineered Profiles
» Paint & Weathertight Warranties
» Complimentary Take-Off Service