Buying a new roof can be an expensive project, no matter what material you end up choosing. That's why you should always know the considerations, pros, cons, and differences of all your buying options before you make a decision.
Two common roofing materials are stamped metal shingle roofing and standing seam metal roofing. We often get questions about the distinct differences between these two materials, especially because both are metal products, and if one is better than the other.
Well, it depends.
While our main product category at Sheffield Metals is engineered standing seam metal roofing, we 100% understand that this roofing material isn't suitable for every property owner. That's why we do our best to educate buyers with unbiased facts about the various metal roofing choices.
In this article expect to learn:
What stamped metal shingle roofing is, as well as the advantages and disadvantages of stamped metal shingle roofing.
What standing seam metal roofing is, as well as the advantages and disadvantages of standing seam metal roofing.
The different factors you should consider before you buy.
---
---
Stamped Metal Shingle Roofing – Characteristics, Advantages, & Disadvantages
Stamped metal shingles are smaller modular panels stamped/pressed to resemble the look of shingles, shake, tile, and slate roofing. Stamped metal roofing often utilizes a four-way interlocking system at all sides of the panel, which is then installed in staggered courses. Most stamped roofing is made from pre-painted PVDF-coated steel and aluminum, making it a premium roofing material for residential and small commercial applications.
Advantages of Stamped Metal Shingle Roofing
Traditional Aesthetic
One significant benefit to metal shingles is that it offers a more traditional look similar to that of asphalt shingles. According to www.roofingcalc.com, more than 75% of all single-family homes in the United States have asphalt shingle roofs (however, that percentage is shrinking thanks to more energy-efficient affordable metal roofing options). Many continue to purchase asphalt shingle roofs because property owners often don't want to deviate from the look of other properties in their area. With stamped metal shingles, you get that similar traditional look along with the other added benefits of metal roofing, including longevity, eco-friendliness, strength, and low maintenance.
Variety of Colors, Textures, & Finishes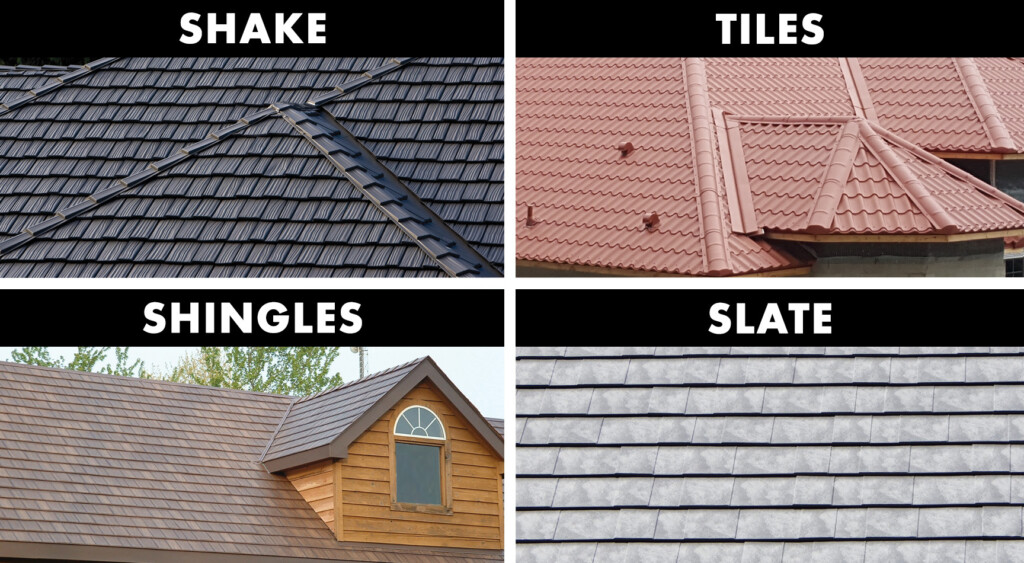 Despite often being called "metal shingles," stamped metal roofing encompasses much more than just the traditional shingle look. There are stamped metal roof panels designed to look like:
Asphalt shingles
Slate
Wood shake
Clay or concrete tiles
On top of the different styles and shapes, many stamped metal panels come in the same vibrant PVDF (Kynar 500® or Hylar 5000®) color coatings as standing seam metal roofing. There are even some additional textures, such as powder-coated, metallic, and matte options, that you can select from for a unique look.
For an idea of the range of stamped metal options, check out our friends at Classic Metal Roofing Systems.
Suited for Re-Roofing Over Asphalt Shingles
Most roofing projects are re-roofing or replacing the old roof on an existing home or building. Choosing not to tear off the old roof, which is often an asphalt shingle roof, is both economical and more environmentally friendly. In addition to avoiding the cost of a roof tear-off, you're also ensuring the asphalt shingle roof doesn't end up improperly disposed of in a landfill. Stamped metal shingles make good re-roofing materials because they have deep grooves that keep the panels up off the roof deck to create an airspace between the old asphalt shingles and the new metal shingles. This airspace allows forgiveness for how even the new roof will be, especially if the old shingles are cuffed, curled, cracked, etc.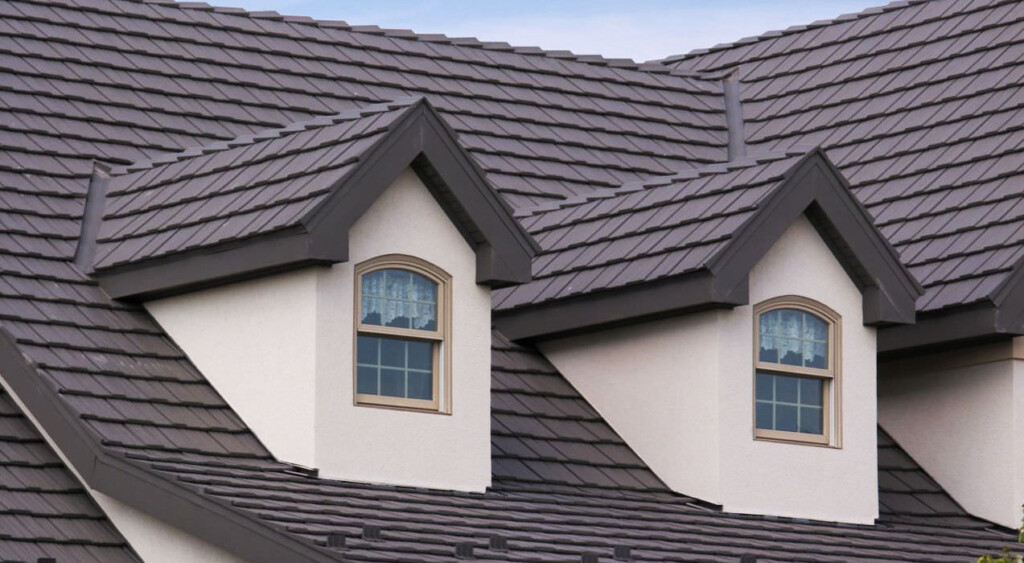 Allows For Clean & Simple Flashings
Metal shingles are low-profile and easier to handle when creating and installing flashing details, specifically where flared gables are involved. With metal shingles, every course or row of shingles can be brought out to the edge of the gable where there's a gable channel that runs up the length of the roof. From there, the shingles can be folded down into that gable channel to give it a stair/step look that allows water and debris to flow off the roof. Another benefit to metal shingles is that there are more pre-formed flashing materials that contractors can buy, so they don't have to bend the metal on-site during the installation.
Longevity
Like standing seam metal roofing, metal shingle roofing will last decades. Sometimes, one metal shingle roof may outlast three asphalt shingle roofs during its 40+ year lifespan. Plus, not only do stamped metal shingles actively engage with each other through interlocking sides, but many are attached to the roof deck through concealed fasteners. This ensures that the roofing screws/fasteners aren't exposed to elements that could cause them to weaken or withdraw, which could lead to significant problems (like leaking).
Energy-Efficient Roof Solution
Metal shingles are stamped from highly-emissive metal sheets coated in highly reflective paint systems. This means these systems do an excellent job of reflecting the sun's rays and dispelling the radiant heat that other roofing types may retain. In other words, cool roofing can help a building's cooling system work less to keep the indoors cool.
Home Owners Associations (HOAs) or Municipality-Friendly
As discussed, stamped metal shingles offer a similar look to traditional asphalt shingles, which are often what HOAs/municipalities want their properties to have. But if you want that longer-lasting, low-maintenance metal roof and need to adhere to HOA requirements, metal shingles are a good option.
Disadvantages of Stamped Metal Shingle Roofing
High Initial Cost
Like standing seam metal roofing, metal shingles come at a premium price. But realistically, most metal shingle roofs will be more expensive than standing seam roofs. Keep in mind that the cost is dependent on a lot of factors that will fluctuate the price, including the coating type, thickness, labor, customizations, and more.
Here's a pricing example for stamped metal shingles on a 3,000-square-foot roof: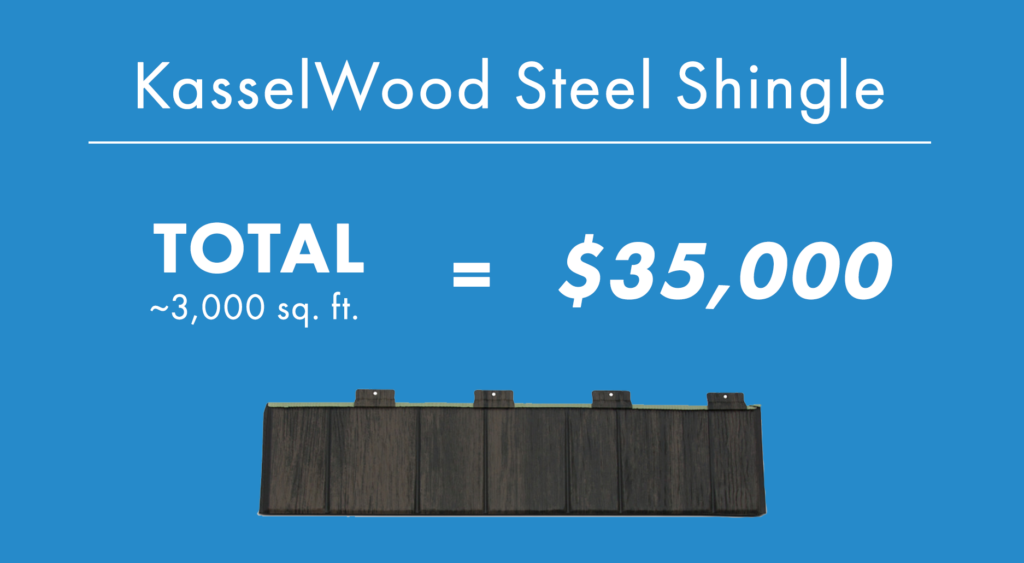 Believe it or not, stamped metal shingles use thinner metal than most standing seam systems. During the stamping process, there's a great deal of strength needed to put in the folds and texturing into the metal shingles, which works better when the metal is thinner.
For aluminum stamped shingles, you can typically expect either .019 or .024 aluminum.
For steel stamped shingles, you can typically expect 29-gauge steel.
Also, the thinner metal may make it difficult for installers or property owners to walk on without denting or bending the metal shingles. That's why it's recommended that you install a foam insert to take up space behind the shingle to make it more rigid and walkable.
Not For Use on Low-Slope Applications
One of the most significant drawbacks of stamped metal roofing is that it shouldn't be used on low-slope roofs. Most stamped shingles are not suited for roofs with a pitch below 3/12. This lower slope can cause the roof to hold water and make it difficult for adequate draining, which could be more of a problem in areas with high rainfall, snow, or extreme weather.
Warranty & Engineering Limitations
Compared to concealed fastener standing seam metal roofing, stamped metal roofing isn't typically tested to the same strict industry standards. That's why most stamped roofs come with a paint or substrate warranty, which is standard for most PVDF-coated metal products. There might be a few manufacturing companies that do uplift testing and impact resistance, but that's about it. There's often not the required testing done to offer any kind of weathertight warranty, which is usually an option for commercial standing seam metal roof projects.
Standing Seam Metal Roofing – Characteristics, Advantages, & Disadvantages
Standing seam metal roofing is defined as a concealed fastener metal panel system that features vertical legs and a broad, flat area between the two legs. It also has raised seams, or vertical legs, that rise above the level of the panel's flat area. Standing seam systems have hidden/concealed fasteners; the panel may be attached to the roof deck using a clip or directly fastened to the deck under the vertical leg (fastener flange). This type of metal roof is considered a high-quality system frequently installed on architectural and commercial buildings.
Advantages of Standing Seam Metal Roofing
Longevity & Lifecycle
Standing seam metal roofing is a system built to last for decades longer than many other roofing styles and types. Depending on the manufacturer, some say standing seam roofs could last 50+ years in some instances, especially if the metal is coated in a PVDF paint system. It also requires less maintenance, especially when compared to different roofing types, such as asphalt shingles or concrete tiles. Since fasteners don't penetrate the surface of the metal on a standing seam system, regular maintenance to check for withdrawing, loose, or damaged fasteners is less frequent. However, keeping up with the maintenance on a standing seam roof is still essential and typically needs to be performed by a professional contractor.
Engineered Systems & Industry Standard Testing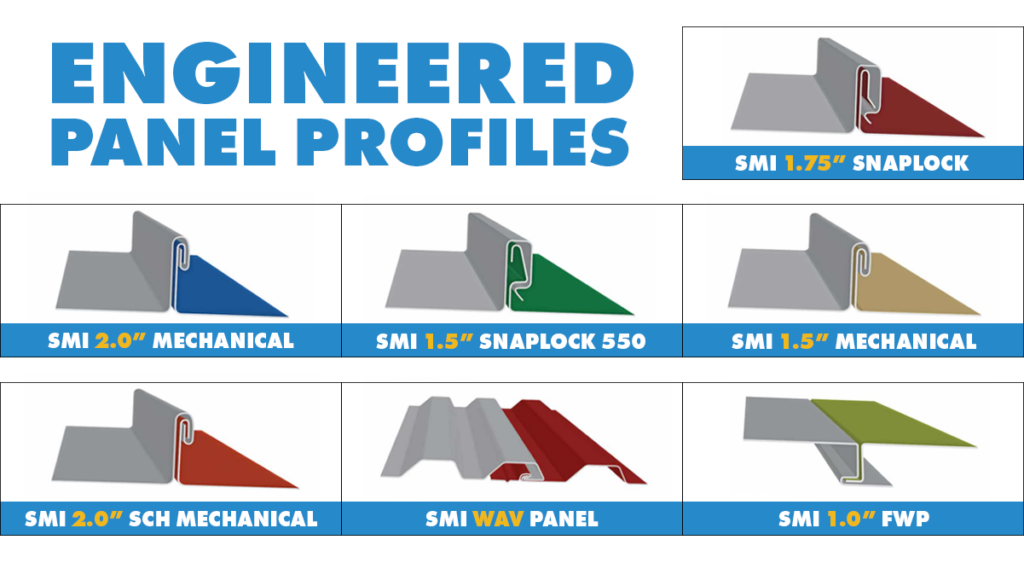 Engineered standing seam metal roof systems are tested to the high standards set forth by industry leaders, including ASTM, UL, and FM Approvals. Requests for engineered construction materials are becoming more prevalent, especially for structures in hurricane or high-wind zone regions. Engineered standing seam metal roofing systems typically adhere to testing standards for wind uplift, air leakage, water penetration, water submersion, fire/combustion resistance, and impact resistance, which are important for commercial structures. (Note: Residential panels can be tested for uplift and impact as well, so be sure to check it has been before you buy.)
Warranty Options
Another safeguard of standing seam roofing is the warranties, specifically the weathertight warranties, which are offered by reputable manufacturers. These warranties promise that the metal roofing system will not leak or fail during specific conditions; if it does, the manufacturer is responsible for fixing the issue. (Please note: Most weather-tight warranties are only available for commercial projects.)
Thicker Gauge Metal
When compared to stamped metal roofing, standing seam panels are thicker and a little sturdier, especially if a branch or other piece of debris were to hit the roof. Standing seam metal roofing comes in a variety of thicknesses (typically between 22- and 26-gauge) with the most common steel (Galvalume) thickness being 24-gauge and aluminum between .032 and .040 inches.
Options Available for Low-Slope Roofs
Standing seam metal roofing offers more options for low-slope roofing profiles but still depends on the type of standing seam profile. Snap-lock roofing systems should only be installed on roof pitches of 3/12 and above — unless otherwise approved by the manufacturer. On the other hand, mechanically seamed double-lock metal roof systems are suitable for low-slope applications: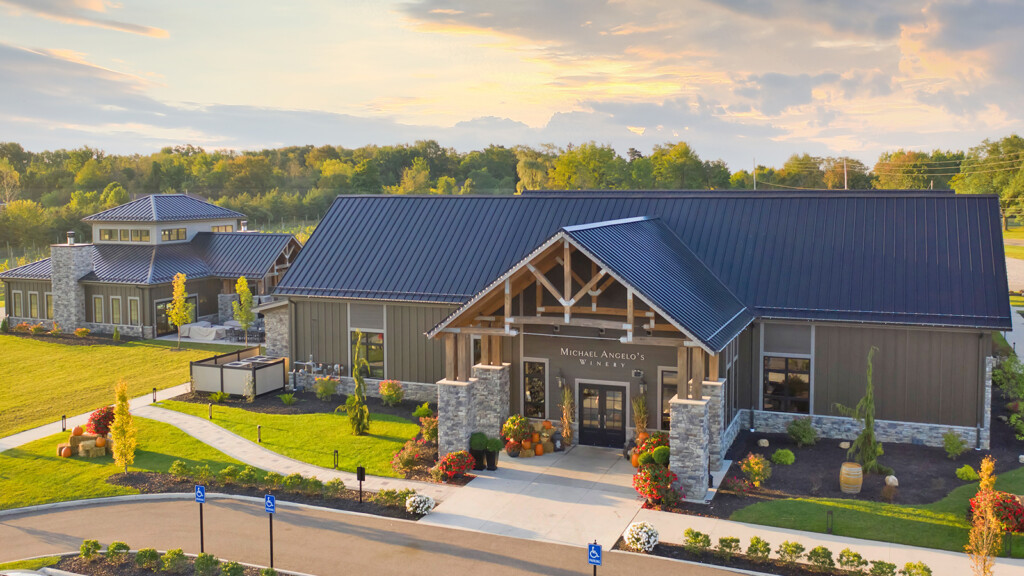 Architectural Design Freedom
Standing seam systems can be installed on structures with various planes and sophisticated, complex designs, which is another reason architects often specify standing seam. Plus, it's also gaining popularity in architectural applications because of its modern and clean look. In addition to the sleek, straight lines offered by these panel systems, the metal can come in virtually any color, including custom colors, to match any structure or design.
Energy-Efficient Roof Solution
Like stamped metal roofing, standing seam panels are also formed using cool roofing coils that are emissive and coated in highly reflective paint systems. This prevents the roof from absorbing too much heat and transferring it indoors, which can overwhelm the indoor cooling units and use energy.
Disadvantages of Standing Seam Metal Roofing
Mid to High Initial Cost
One of the most significant drawbacks to standing seam metal roofing is the fact that it can be more expensive when compared to other roofing types. However, it's not always the highest price, as metal shingles and other stamped metal materials tend to come in at a higher price.
For an example of pricing, here is a real quote for a 24-gauge snap-lock roof for a 3,000-square-foot home: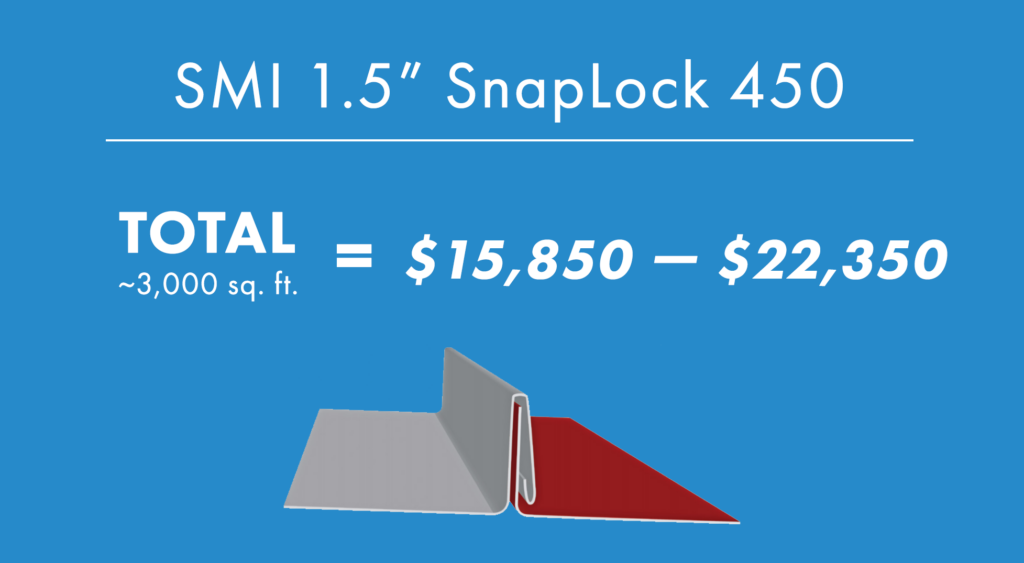 Fewer Contractors Qualified to Install
Finding a qualified, skilled, and experienced contractor to install a standing seam metal roof is crucial, especially because these systems require careful craftsmanship. Since standing seam installations may be considered too complicated or tedious, there are fewer contractors to choose from who have a proven track record and relevant experience.
For standing seam, it's much more complex and labor-intensive, and may include:
Forming the metal panels using portable (on-site) rollforming or buying from regional manufacturers.
Make any necessary slits in the metal to account for roof plans, geometry, and flashing areas.
Correctly spacing the clips on the panel legs and fastening each one down.
For snap-lock systems: Aligning the panels and snapping the legs together.
For mechanically seamed systems: Aligning the panels and hand or robotic seaming the panel legs together.
Municipality or HOA Issues
There are some communities or HOAs that do not allow standing seam metal roofing to be installed on new or existing homes within its jurisdiction. While many HOAs are coming around to the idea of standing seam metal roofing, here are some of the most common reasons for the ban:
Standing seam (and metal generally) is often considered "industrial."
It's inconsistent or goes against the look of a neighborhood.
Metal can pose some high glare-related issues.
Oil Canning
Oil canning is an inherent characteristic of light-gauge, cold-rolled flat metal products and is described as the perceived waviness in the broad, flat areas of metal panels. While oil canning is only an aesthetic issue and will not affect the integrity of the roof system, some home and property owners see it as unsightly. Luckily, there are methods of reducing the likelihood that oil canning will occur.
What to Consider Before Buying Standing Seam vs. Stamped Metal Shingle Roofing
Your Budget
Best for economical budgets: Standing seam metal roofing
Best for higher or unlimited budgets: Stamped metal roofing
Both standing seam and stamped metal roofing are premium roofing materials. There is a price difference, as standing seam metal roofing will most likely be less expensive. If you have a limited budget, you might want to stick with a standing seam system. But if you're in a situation where you can splurge on a more expensive roof that gives you that traditional shingle look, stamped metal roofing is a good option.
Your Application: Residential vs. Commercial vs. Architectural
Best for residential structures: Both, but more likely stamped metal roofing
Best for commercial structures: Both, but more likely standing seam metal roofing
Best for architectural projects: Standing seam metal roofing
Standing seam and stamped metal roofing are both popular for different applications. Stamped metal roofing is more popular in the residential roofing market because it matches the asphalt shingles of many other homes. If a property owner wants a roof that looks like a slate, tile, or shake roof for their home, stamped metal roofing is the best option. In the commercial roofing market, standing seam is a more prevalent roofing option, as it offers more warranty options and looks a little cleaner. The same goes for architectural applications (often commercial properties) where standing seam metal can be a roof or wall system.
Your Roof Slope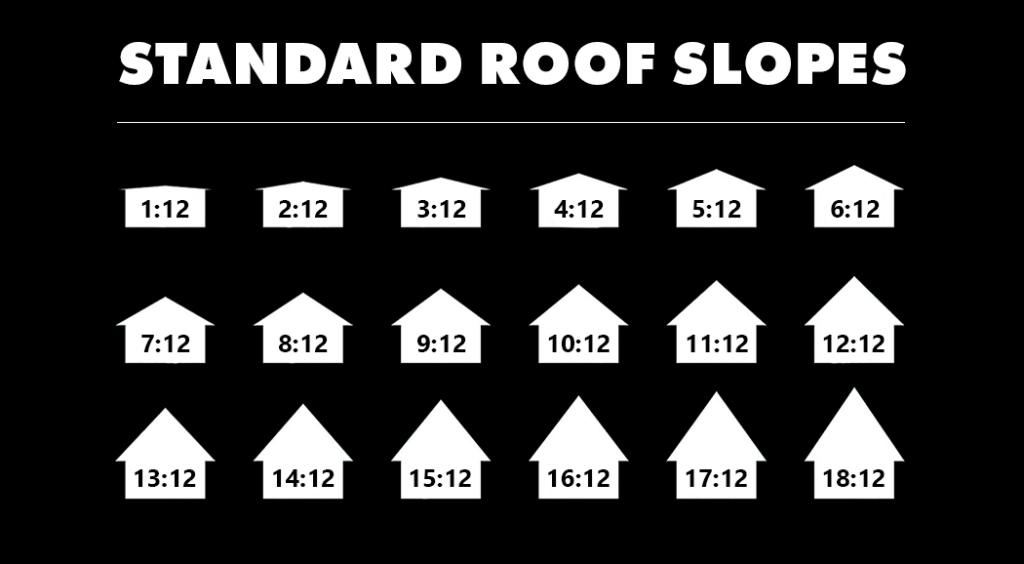 Best for low-slope roofs: Standing seam metal roofing
Best for steep-slope roofs: Both stamped and standing seam metal roofing
Both standing seam and stamped metal roofing are not suitable for flat roofs, but there are more strict slope requirements for stamped metal roofing. If you're installing a mechanically seamed metal roof (a standing seam type) with a double-lock, you might be able to go down to as low as a .5/12 roof slope. In contrast, stamped roofing isn't recommended on any roof below a 3/12.
Your Style or Desired Look
Best for a modern look: Standing seam metal roofing
Best for a traditional look: Stamped metal roofing
When deciding between standing seam and stamped metal shingles, it's helpful to know the style you like the most. These two materials have very different looks; standing seam tends to be a little more modern and sleek, whereas stamped shingles offer a more traditional look. One benefit of choosing a metal roof is that metal gives you more color options, which can help you achieve the best overall look.
Your HOA or Municipality
Best for stricter HOA or municipalities: Stamped metal roofing
Best for non-HOA or less strict municipalities: Both stamped and standing seam metal roofing
If you live in a neighborhood where you have an HOA or another municipal group, you should verify that the roof material that you choose is allowed. We've heard that standing seam metal roofing is sometimes discouraged in some communities, so it's best to know your restrictions.
Final Thoughts on Standing Seam vs. Stamped Metal Shingle Roofing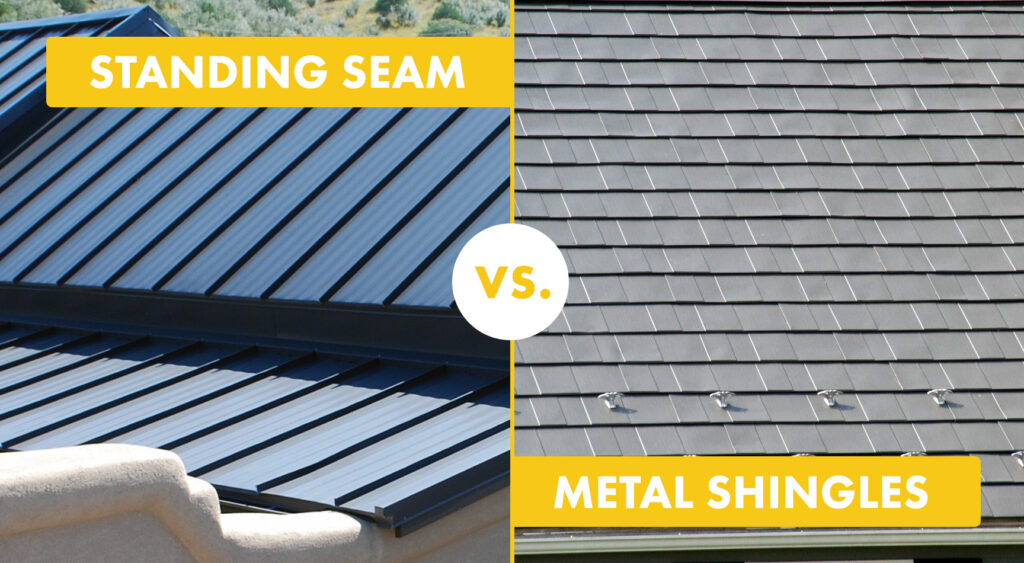 If you're stuck between a standing seam metal roof and a stamped metal shingle roof, the good news is that both make great, long-lasting, durable, and energy-efficient roofing systems.
Plus, if you've read through the advantages, disadvantages, and personal buying considerations outlined above, you'll be more equipped to make the right choice.
As a starting point, ask yourself these questions:
What is the slope of my roof? What are the material's minimum slope requirements?
How much money am I comfortable spending on a roof?
Are there skilled and qualified contractors who install these materials in my location?
What roof style is popular on other buildings or homes in the area?
What is the overall "look" that I want for my property?
Does my HOA or municipality restrict any roofing types?
With over 20 years of manufacturing metal roofing products, Sheffield Metals knows it's not always an easy decision to make on your own. Whether you're leaning towards buying a standing seam metal roof, stamped metal shingle roof, tile roof, or otherwise: We're here to help make sure you feel confident in choosing the roof that best fits your individual needs.
To learn more or to ask us your questions about selecting a new roof, contact us today to speak with one of our experienced metal roofing specialists.
---
---