Homeowners associations (HOAs) exist for a good reason; these organizations enhance communities, protect property owners, and make sure their communities flourish.
When you live in a municipality where you're part of an HOA, there are specific steps you have to take to make modifications or install something on your property. While each HOA will have different procedures, getting approval to install a new metal roof is a critical part of the installation process.
But what happens if your HOA or community association doesn't allow metal roofing or is concerned about how one could differ from the rest of the community? Do you know the key points to share with your HOA members to show them that a metal roof is a more than suitable roofing option?
At Sheffield Metals, we've come across dozens of home and property owners who needed to get approval from their HOA or other community association before they could install a metal roofing system. In fact, we've helped a number of them present their case to their HOA so they could get the approval they needed.
That's why we know how important it is to share the most important reasons why your HOA should allow you to install a metal roof. In addition, we'll share some helpful tips that could sway the HOA in your favor.
---
---
Reason #1: Metal Roofing Is Durable, Long-Lasting, & Comes With Warranty Options
One of the best parts of a metal roof, especially standing seam systems, is its longevity. These systems are tested and engineered to last decades longer than many other roofing styles and types, including asphalt shingles. Depending on the manufacturer, some say that standing seam roofs can last 50+ years, especially if the roof is in a geographic location with a milder climate, has a PVDF paint system coating, and is properly maintained over time.
If properly installed, metal roofing can withstand:
Strong winds
Debris (leaves, sticks, etc.)
Rain
Snow
Hail
UV exposure
Mold
Mildew
Rodents and other animals
Since metal roofing lasts for decades and has a higher one-time cost, installing a metal roof on a home can increase the property value (typically anywhere from 1 to 6% higher). This can also contribute to how easy it is to resell a structure, especially if the roof is in good condition and wouldn't need to be replaced by new owners.
If a home or property is in an area where severe weather is possible, such as Florida or Texas, having an engineered roof is crucial in maintaining the system's durability. Most concealed-fastener standing seam metal roof systems meet UL-90 wind uplift requirements at a minimum. However, there are standing seam panel profile options tested to meet more stringent industry standards, including impact (hail) resistance, fire rating, wind uplifts (tornado and hurricane zones), water intrusion, and more. Check with your HOA and local building department for specific roof requirements in your region.
Since metal roofs are typically high-quality and durable, most have warranty options, including paint and substrate warranties. We have an entire article dedicated to metal roof warranty types, but here's a recap of some options that will ensure that the roof not only looks good but also lasts for decades:
A paint warranty is a guarantee from a manufacturer/paint supplier that the paint system applied to the metal substrate will not degrade (chalking, fading, cracking, etc.) to a certain degree within a specific time frame.
A substrate warranty is a guarantee that the base metal (that a paint system is applied to) will not corrode due to rupture, fail structurally, or perforate within the specified terms when exposed to normal atmospheric conditions.
Reason #2: Metal Roofing Is Becoming More Common on Residential Properties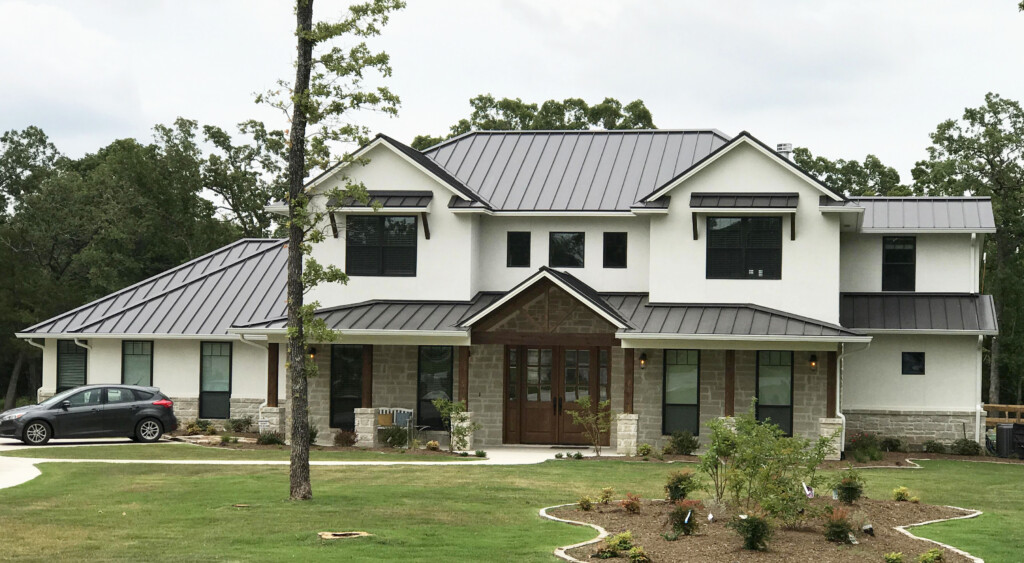 There's a common misconception that metal roofing is only for commercial, architectural, or structural buildings. In reality, metal roofs are regularly installed on residential homes because more homeowners seek high-quality building materials that will protect their property. Plus, installing a metal roof can significantly increase the value of a property.
According to BUILDER online and the Metal Roofing Alliance, metal roofing's total market share on residential properties is approaching 20% in the 2020s, versus the 3.7% market share in the late 1990s. One of the common objections or rejection reasons cited by HOAs is that metal roofing isn't common on residential properties. While this may have been true 20+ years ago, the tides have shifted to more sustainable, long-lasting roof materials, like metal.
Keep in mind that asphalt shingles are still the most dominant roof type for residential properties, but if you look around most neighborhoods today, you can almost always spot one or more homes that have a metal roof.
Reason #3: Metal Roofing Is Low Maintenance
The next reason your HOA should allow metal roofing is that they're low maintenance, especially when compared to other roofing types like shingles and tiles.
Many HOAs have rules and requirements for the outside appearance of homes within their jurisdiction, especially for keeping yards and external entities clean and well-maintained.
Luckily, metal roofs require minimal yearly maintenance if the contractor properly installed the roof. General roof upkeep includes looking for leaves, branches, and other debris that could get stuck on the roof and in the gutters around once or twice per year and after strong storms. Structural maintenance, which includes checking fasteners, panel engagements, flashing materials, etc., is always recommended to be performed by a professional every few years. Otherwise, maintenance is easy and minimal.
Plus, metal roofs can be cleaned if dirt or other stains do not come off with rain.
Reason #4: Metal Roofing Is Energy-Efficient & Sustainable
Sustainability and energy efficiency are crucial in the building materials and construction industry. Not only does sustainability benefit the homeowner, but it also benefits the Earth, the environment, and everything within it.
Many HOAs are working diligently to be more aware of energy usage and the reduction of non-recyclable waste within their communities, which is why metal roofing is a great option.
First, most metal roofing systems are made with cool metal roofing materials, painted/coated metal products that reflect the sun's energy to dissipate heat. Cool metal roofing is solely dependent on the inclusion of solar reflective pigments in the paint/resin system applied to the substrate during the manufacturing process. Cool metal roofs help reduce the heat transferred into the building, which can result in total cooling cost energy savings ranging from 7% to 15%, according to the Green Building Alliance.
Second, metal roofing is 100% recyclable, meaning that old panels, tear-off metal, and leftover metal scraps can be appropriately recycled and used in future metal products, such as appliances, cans, plumbing, etc. Plus, some coils and sheets used to make metal roofing panels may already contain previously recycled metals (especially aluminum). Using already recycled materials also cuts down on the amount of energy and resources required to produce a new coil or sheet from raw materials:
Recycled steel (Galvalume) uses 26% of the original energy.
Recycled aluminum uses 5% of the original energy.
Reason #5: Metal Roofing Comes With Options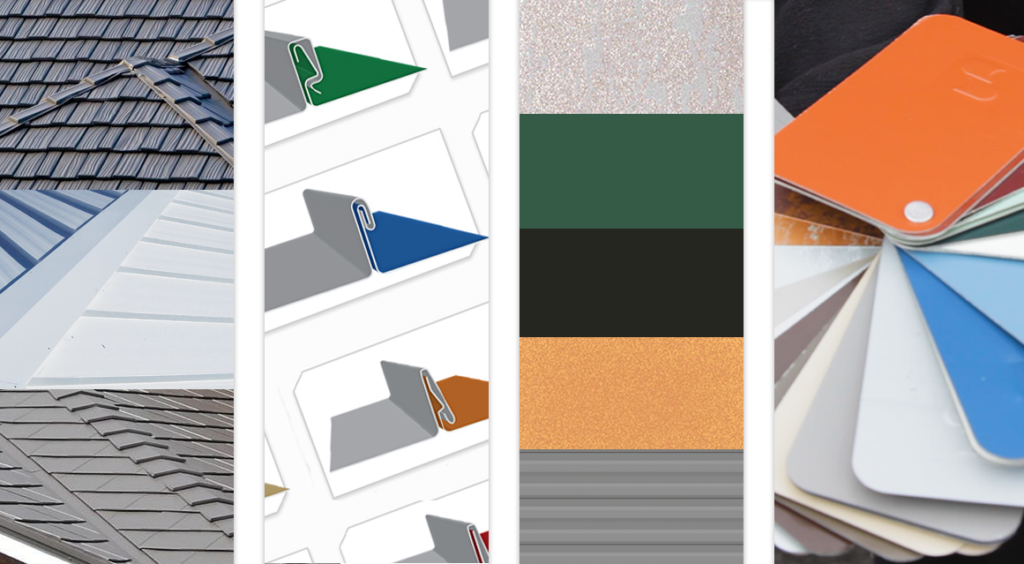 The last reason HOAs should allow metal roofs is that these systems come with a wide range of color, profile, and overall aesthetic options. One of the downsides to asphalt shingles, the most commonly used roofing material on residential properties, is that colors and style options are minimal.
Metal roofing systems are coated in a paint system that can come in virtually any color. While some homeowners will opt to purchase a brighter color or a custom color, most tend to stick to traditional roof colors, including brown, black, and gray — all of which are some of our most popularly sold coil/sheet colors.
In addition to the color differences, metal roofing has a variety of:
System types – standing seam, metal shingles, metal tiles, metal slate, etc.
Finishes & textures – matte, striated, rib-rolled, embossed, glossy, smooth, powder-coated, metallic, etc.
Profiles – snaplock, mechanical seam, staggered (metal shingles), corrugated, etc.
Most home and property owners don't want their property to differ too much from those around them aesthetically, but maybe they want a roof that will last longer or perform to a higher standard. There are distinct performance differences between metal roofing and asphalt shingles, but the overall aesthetic of any neighborhood/HOA community can easily be matched with metal.
Helpful Tips for Approaching Your HOA Before Installing a Metal Roof
Approaching your HOA can feel daunting, especially if your mind is set on installing a metal roof. To help make the process a little easier, consider the following tips.
Tip #1: Thoroughly read your HOA documents & understand the rules ahead of time.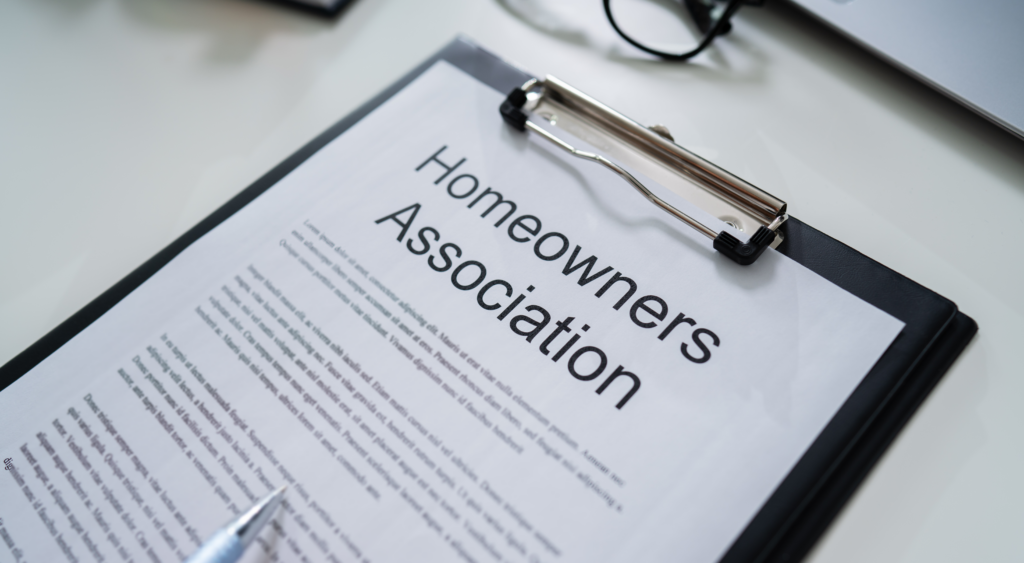 Before you start installing or replacing anything on your roof, you should familiarize yourself with your local HOA's standards and documentations.
The best thing to do is to thoroughly read your HOA's governing documents, also called Covenants, Conditions, and Restrictions (CC&Rs or CCRs). If there is a ban on a roof type, if you have to get your new roof project approved by the HOA, or any other specific rules/procedures for exterior home projects, it should be listed in the CCRs. These documents will also say if metal roofing is specifically banned and if the HOA allows homeowners to file for exceptions.
HOA rules vary drastically from one another, but many will require you to submit project plans so the HOA board can approve them. The approval process should be outlined in detail in the CCRs. Remember that approvals may be contingent on specific project attributes, such as contractor licensure/insurance, colors, styles, etc.
If there isn't a mention of roof replacements or installations in the CCRs, it's still best to verify that a metal roof is allowed. You don't want to fail to ask and then learn that you broke the HOA's rules, which could leave you with a fine and/or paying to redo the roofing project.
Tip #2: Show HOA members as many real metal roof examples & samples as possible.
One of the most common ways to get your metal roofing project approved is to include as many samples and examples of residential metal roofing as possible.
Here's a list of some examples to consider, including:
A color or roof visualizing tool – Most reputable manufacturers have a visualizer that allows you to create a digital mock-up of your project. For example, with SMI's Color Visualizer, you can upload a photo of your actual home or property to the tool and put various colors, profiles, trim, etc., on the structure to get a realistic idea of how the final product would look. You can even save the project, print it out, and share your designs with your HOA.
Show HOA members of properties in the area with metal roofs – In many regions, you can take a quick drive around a city or town and spot existing metal roofs. Metal roofing is growing in the residential roofing market, so it's not difficult to find a home with a metal roof. Physically showing people how great a metal roof looks and how it can fit in with most home styles is an excellent way to convince your HOA that metal roofing is a valid roof option.
Photos of real completed metal roofing projects – Another way to win over the HOA is by providing actual examples of metal roofs on homes or properties similar to your own. You can find hundreds of project samples with a quick online search.
Include metal color chip examples of the colors/materials you're considering – It can be difficult for some people to visualize the look of a metal roof. To help, you can request physical color chips from the manufacturer or contractor that you're working with, which you can then include in your approval request or exception submittal. Sometimes that physical representation is the catalyst that can get your project approved.
These items listed above will give the HOA members a more realistic idea of what you want to install and how it can fit in well with the neighborhood.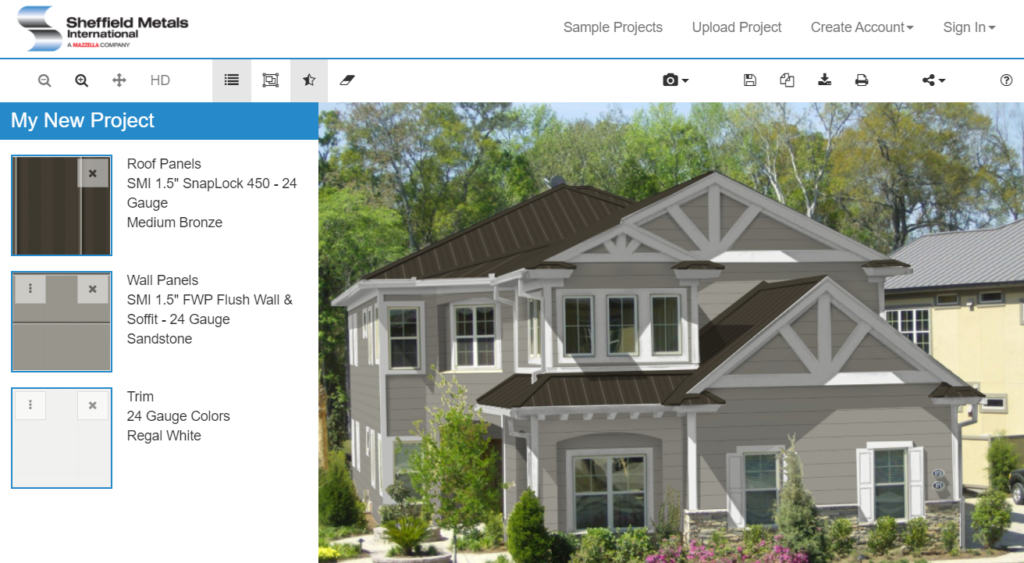 Tip #3: Rely on the facts & benefits of metal roofing, not emotions.
If you have to go through an approval process or file for an exception, it can be stressful. One of the best ways to get through it is by relying on the facts, features, and benefits of metal roofing to make your case.
There are no shortages of benefits and information about metal roofing, so you will have to choose the ones that you think will be the most compelling.
For example, suppose you live in a coastal region. In that case, you should include the engineering/testing information, coastal warranty documents, and stories about how metal roofs have performed in hurricanes or strong wind environments. Or, if you live in a region that is susceptible to hail storms or tornados, make sure to include hail rating testing results and wind uplift testing.
One of the most common mistakes that homeowners make is that they go into an HOA meeting upset or angry that they have to get approval or that they have to file for an exception. This could work against you, mainly because most HOAs approve or deny requests through voting. Try to stay calm and use information as your argument for allowing a metal roof.
Tip #4: Be patient.
Our last piece of advice is to be patient. Roof replacement and installation can be time-consuming processes as it is, but getting HOA approval can take even more time.
Keep in mind that many HOAs only meet once a month or every couple of months, so it might take some time to hear back about your approval or exception submittal. In other words, you won't get an answer overnight. The best thing you can do is be patient and only persistent when necessary.
Final Thoughts on HOAs & Metal Roofing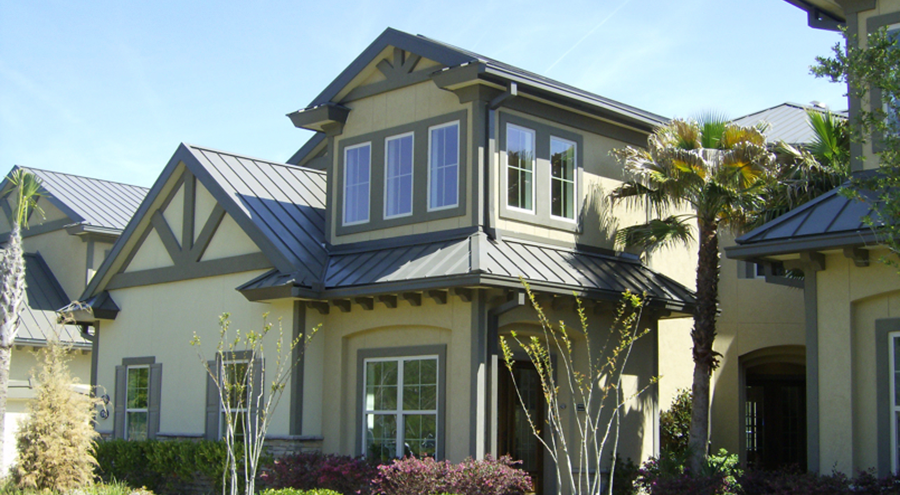 Many HOAs do allow metal roofs to be installed on homes within their neighborhood. This is good, because metal roofing is here to stay — as it's versatile, growing in popularity, and provides many significant advantages, including:
Increased durability

Especially in regions with extreme weather conditions

Longevity (50+ years in some locations)
Warranty options
Higher

sustainability

and recyclability

Lower required maintenance

An increased property value
More color and style options
However, if you find yourself struggling to get approval or are running into resistance from a municipality or an HOA, Sheffield Metals can help you on your journey to buying a metal roof.
We regularly assist homeowners with their builders, HOAs, and municipalities to help move metal roofing forward as a long-term sustainable option. Contact Sheffield Metals today to talk to one of our metal roofing specialists in your area!
---
---