In the last few years, natural or bare metals have been making a comeback in the exterior building products market.
Bare metal tones on a metal roof or wall offer a unique design aesthetic, complement many colors and materials, and still perform to high industry standards. One of these options is Acrylic-coated Galvalume.
So why choose Acrylic-coated Galvalume? What might make it a good choice for your project?
---
---
Sheffield Metals always monitors color trends and tracks which metal sheet and coil colors/finishes are most frequently purchased. Plus, with a full-time Architectural Department composed of individuals with extensive backgrounds in the architectural metals industry, we frequently provide design assistance for various projects.
Let's review the definition, advantages, disadvantages, and project examples for Acrylic-coated Galvalume metal roofs and walls.
What Is Acrylic-Coated Galvalume®?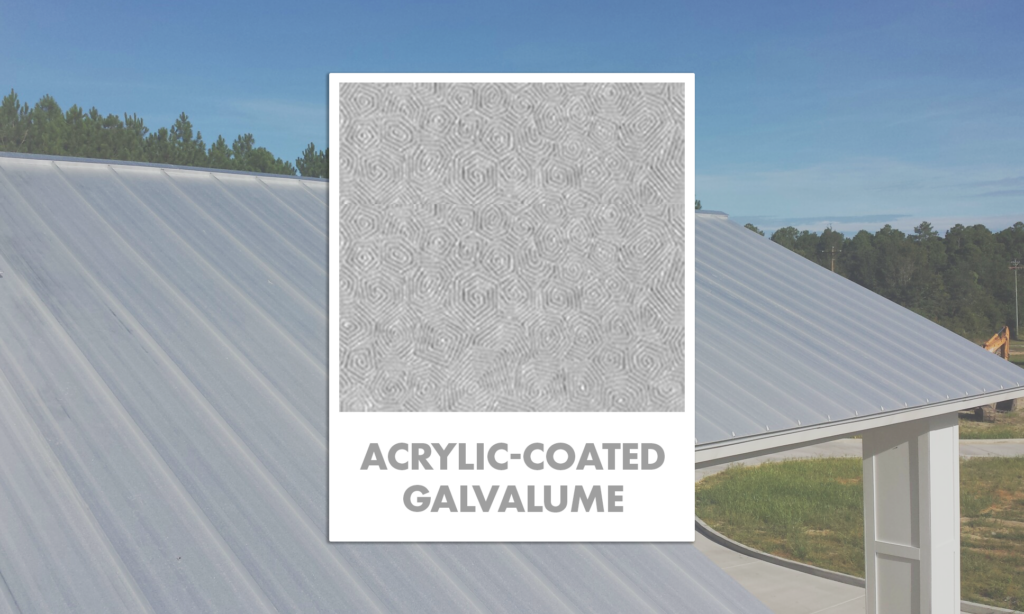 To explain what Acrylic-coated Galvalume is, we'll first have to explain what Galvalume is.
Bethlehem Steel introduced the Galvalume coating to the construction industry in the early 1970s. Galvalume has superior durability and corrosion resistance compared to the previously used galvanized metal, which is why 90+ percent of the metal roofing industry transitioned from galvanized to Galvalume substrates in the 1990s.
Galvalume combines three of the most high-performing and essential metals used in roofing today — steel, aluminum, and zinc. Manufacturers begin with a cold-rolled carbon steel base sheet that is continuously hot-dipped with aluminum and zinc alloys (AZ) until it reaches a coating of 55% aluminum, 43.4% zinc, and 1.6% silicone. This process allows one material to have some of the best characteristics of each metal, which is why it's become the most popular material used in metal roofing.
The coating weights often refer to the two commonly utilized Galvalume materials, AZ-55 and AZ-50.
AZ-55 = 0.55 ounces per square foot of the aluminum-zinc alloy coating applied to both sides of the substrate.

AZ-55 is the typical coating weight for bare or unpainted (Acrylic-coated Galvalume or Galvalume Plus®) sheet and coil products.
Acrylic-coated Galvalume has a slightly heavier coating weight and includes a light acrylic coating that protects the Galvalume coating in the manufacturing process. This acrylic coating will wear off over time with exposure. Though not painted, these products must be handled carefully, or you risk scuffing or perforating the coating.
AZ-50 = 0.50 ounces per square foot of the aluminum-zinc alloy coating applied to both sides of the substrate.
Acrylic-coated Galvalume is the unpainted version of a metal roof (even though it has an acrylic coating), meaning that it matches the shiny gray metal color associated with steel.
Similar Names for Acrylic-Coated Galvalume
If you've been in the metal roofing industry for a while, you'll know that Acrylic-coated Galvalume is called many different names. In the end, they're all the same or similar products.
Some common names may include:
Acrylic-coated Galvalume
Galvalume Plus®
Mill Finished or Mill Finish
AZ-55
Unpainted Galvalume
Zincalume® Plus
DREXLUME™
Aluzinc®
Advantages of Acrylic-Coated Galvalume®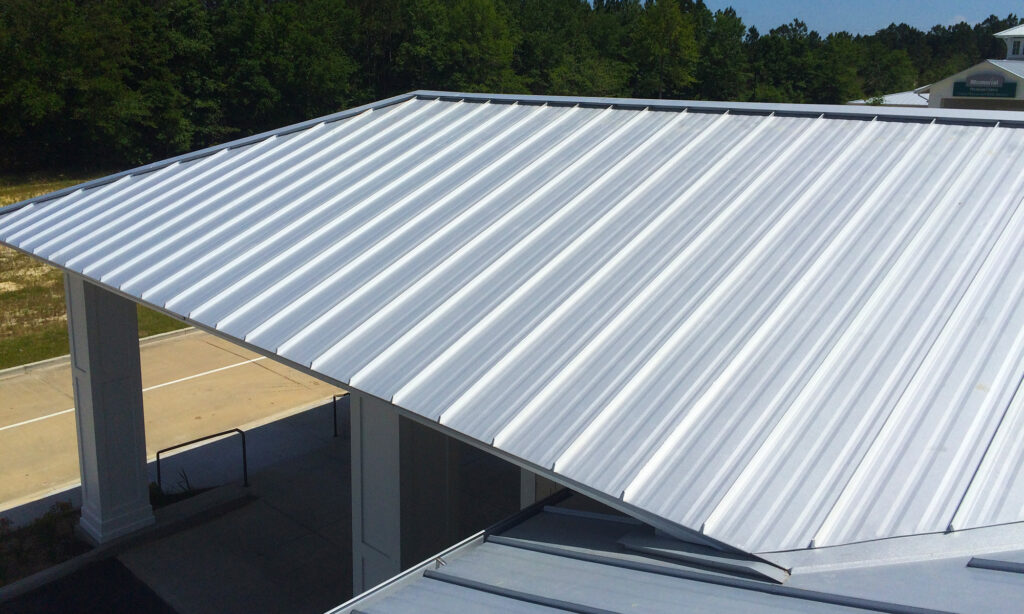 Adheres to Bare Metal Aesthetic
In the last few years, natural metals have been making a comeback in the exterior building products markets. Many home and property owners want their building materials to mimic or look like real or natural metal, which can be achieved with Acrylic-coated Galvalume.
Because this material is not painted, the finish is a medium gray color from the aluminum/zinc/silicone coating that makes up Galvalume.
Bare metal tones like Acrylic-coated Galvalume also make great accent portions of a roof and incorporate well into many different building styles, which leads us to our next advantage.
Neutral Tone Suitable for Numerous Architectural Styles
The silvery medium gray color of Acrylic-coated Galvalume is a neutral color, which makes it versatile for many different building and architectural styles, including:
Modern
Contemporary
Mid-century Modern
Colonial
Cape Cod
Victorian
Ranch
Agricultural
Choosing a neutral finish like Galvalume Plus allows for a more extended design lifecycle, which is essential because metal roofs are engineered to last for four or more decades.
Plus, the versatility of a neutral color provides flexibility if you decide to update or change your exterior style in the future. You can do much more with your exterior elements if neutral colors are the key building pieces — including your roof and siding.
For example, suppose you have a home with an Acrylic-coated Galvalume roof and white siding or an agricultural barn with an Acrylic-coated Galvalume roof and red siding. In both cases, you can easily style your property's exterior by applying various textures, materials, and colors to your trim, gutters, doors, landscaping, furniture, and beyond.
Corrosion Resistance & Self-Healing Properties
Galvalume's chemical formula was specifically designed to combine the toughness, strength, and self-healing properties of zinc with the rust-resisting properties of aluminum. That's why Galvalume's corrosion resistance is about two to four times better than galvanized steel.
Galvalume's self-healing characteristics help control the red rusting at any cut/exposed edges. Nearly all steel-based products will experience some expected edge creep from the exposed steel when the coil is cut, but it is minimal and will eventually stop with Galvalume. However, this edge creep might be more visible with Acrylic-coated Galvalume, as there isn't a paint system to cover any color changes.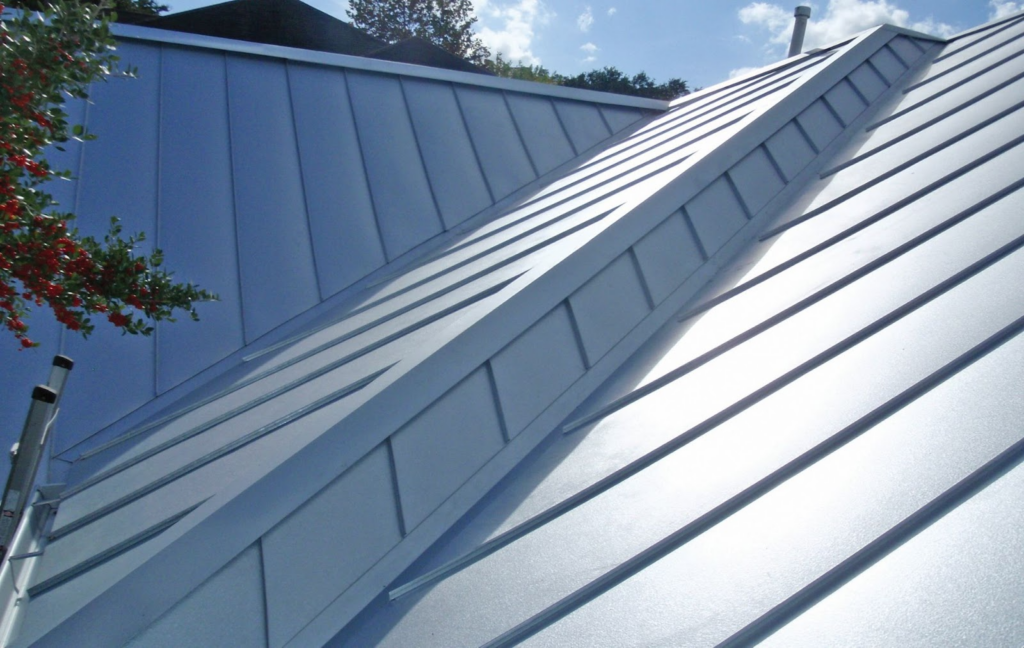 Warrantied Product
One most significant selling points of Galvalume is the 25.5-year warranty on the substrate, which is sometimes referred to as a perforation warranty. (Note: Substrate or paint warranties are NOT available for Galvalume products within 1,500 feet of a coast.)
Plus, commercial property owners can purchase a weathertight warranty for their Galvalume roofing structure, which ensures the roof is installed correctly and adheres to strict installation details.
Mid to Higher SRI (Solar Reflective Index)
Another advantage to Acrylic-coated Galvalume is that it has one of the mid to higher Solar Reflective Index values of 56.
For a bit of background, cool metal roofing is painted or coated metal products that reflect the sun's energy to dissipate heat. Cool roofs help reduce the heat transferred into the building, resulting in total cooling cost energy savings ranging from 7% to 15%, according to the Green Building Alliance.
One of the primary measures of cool metal roofing is the Solar Reflective Index, a surface's ability to reflect the sun's solar energy (solar reflectance) and emit heat (emissivity). SRI is measured on a scale from 0 to 100. An SRI value closer to 0 indicates a darker or black surface and a value closer to 100 indicates a brighter or white surface.
Suppose you're in a region that gets significant sunlight, or you need your building to adhere to specific SRI values. In that case, Acrylic-coated Galvalume may be an excellent option to help reduce the heat transferred into a building.
Disadvantages of Acrylic-Coated Galvalume® 
Acrylic Will Wear Off Over Time
Many property owners don't realize that the thin acrylic coating on top of Galvalume Plus metal is designed to wear off once it's installed and exposed to the elements. The acrylic is only meant to protect the material during processing, shipping, installation, etc.
Once it's up on the roof or wall, it will begin to break down and eventually disappear. Once the acrylic coating has worn off, the material will age and darken slightly.
This typically is not an issue because it usually ages somewhat uniformly; however, if there are scuffs in the material (discussed next), it can create splotchy spots that will age/darken differently from the rest of the roof.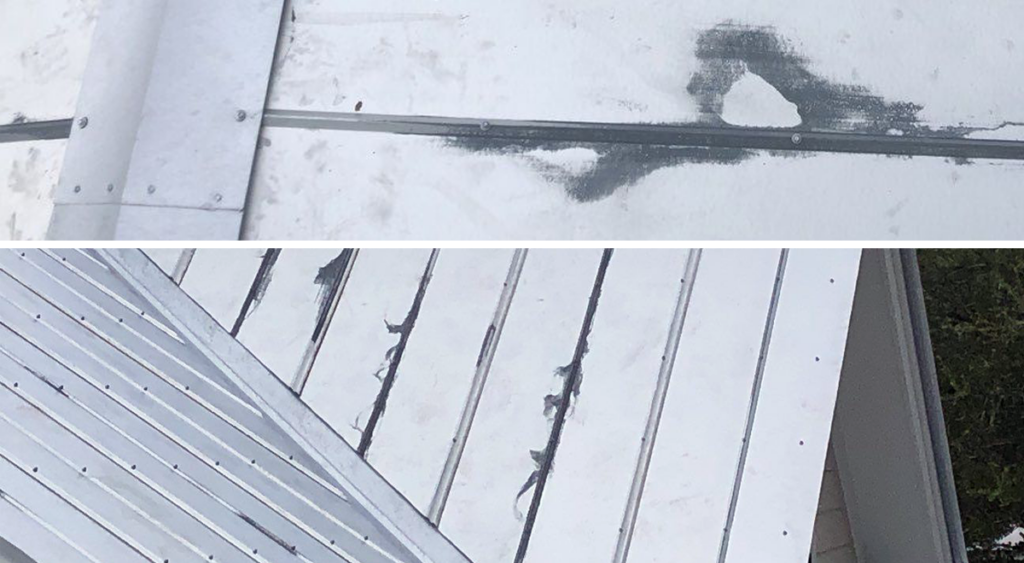 Unpainted Galvalume Can Scuff Easier
One of the considerations to remember when installing Acrylic-coated Galvalume is that installers and other people who access the roof can scuff off the acrylic coating in high-traffic areas. Once the coating is scuffed, there's not much that can be done to fix the issue other than immediately replacing the scuffed panels. If scuffed Acrylic-coated Galvalume is left on the roof, it may become splotchy as the scuffed/exposed parts of the roof age and weather quicker.
When installing unpainted Galvalume, it's best to:
Limit the foot traffic on newly installed panels.
Be aware of ladder placement.
Refrain from pivoting or pressing shoes/boots down too hard on the installed panels.
Not Recommended in Coastal Environments
Galvalume coatings and steel products do not stand up to coastal environment conditions, including breaking surfs, large bays, marshes, and other coastlines. Specifically, large amounts of salt, saltwater spray, and wind will degrade the Galvalume coating and lead to premature damage to the roof or wall.
Properties within a certain distance of a coastline are recommended to use an engineered aluminum roof system, as aluminum resists corrosion and rusting from saltwater for much longer.
Note: This disadvantage is not exclusive to Acrylic-coated Galvalume and includes painted Galvalume products too.
No Paint Warranty
Since there isn't a paint coating on Acrylic-coated Galvalume, it has no available paint or finish warranty. This might be a disadvantage for some people because a paint warranty is just another guarantee that your roof will remain protected in case of a manufacturer's defect.
There is NOT a finish warranty for the acrylic coating, as this is supposed to come off over time.
Acrylic-Coated Galvalume® Project Examples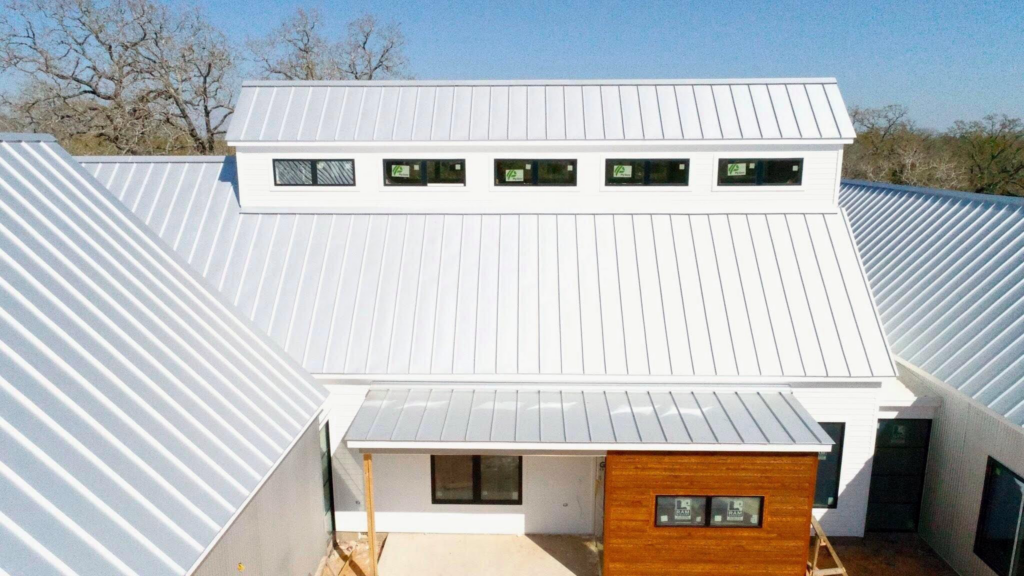 Residential Home | College Station, TX | Photo courtesy of Lone-Star Roof Systems
---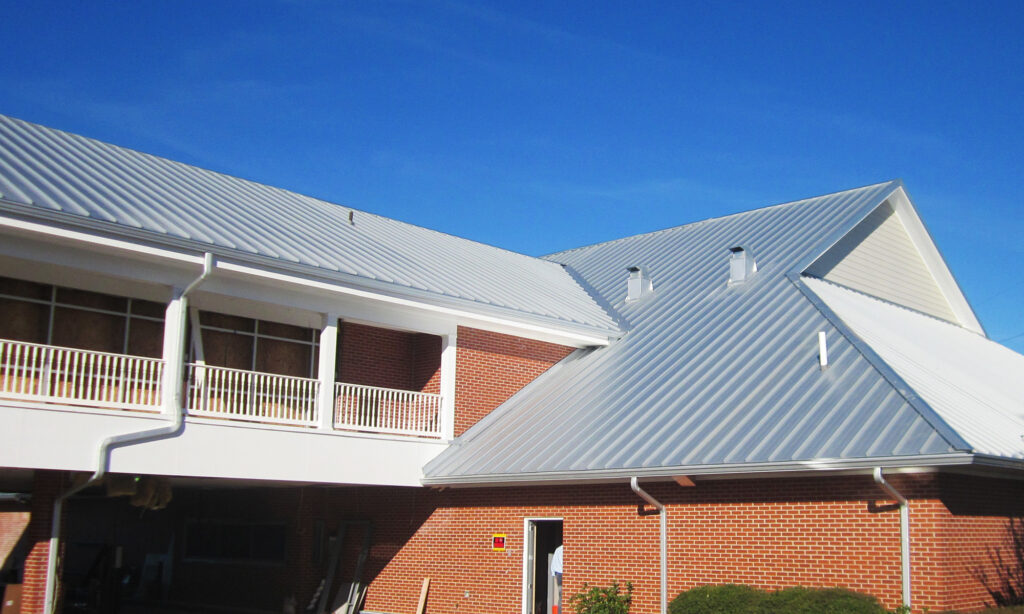 Paulding County Water Department | Hiram, GA
---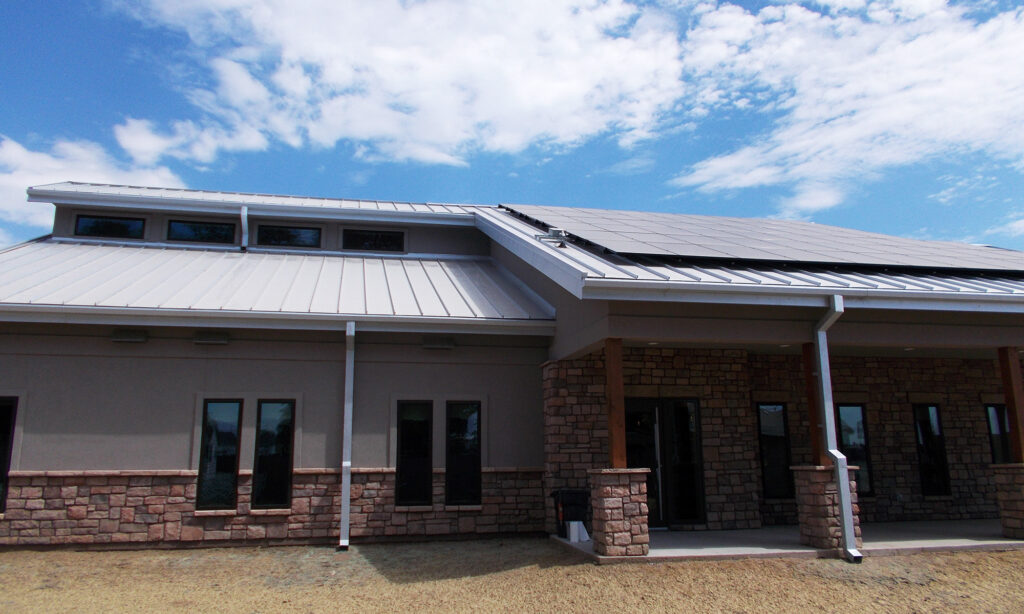 High Plains Library District – Nantes Library | Gilcrest, CO
---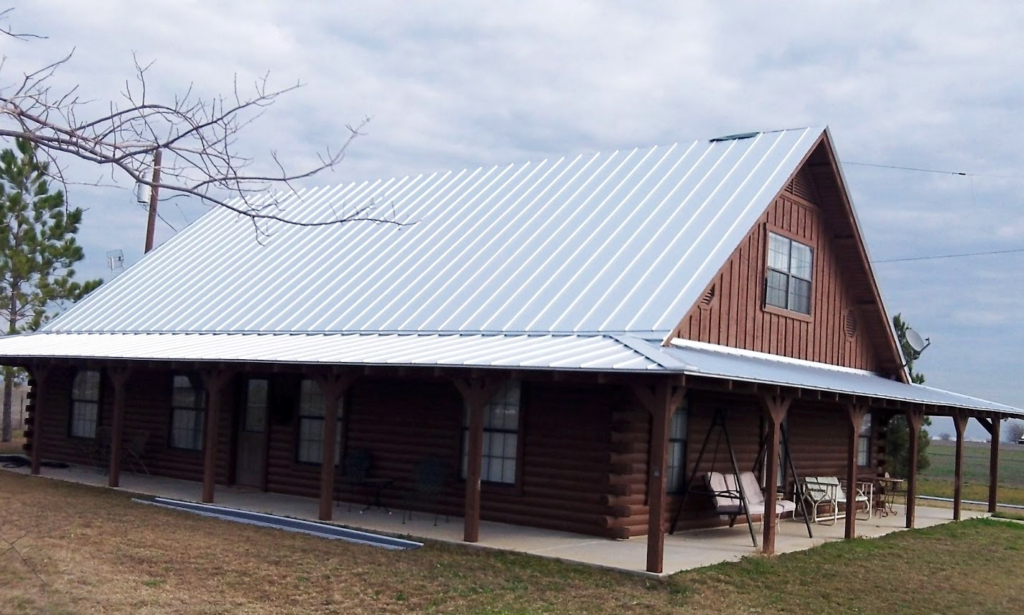 Log Cabin | Georgetown, TX | Photo courtesy of Builders Construction Services, Inc.
---
Final Thoughts on Acrylic-Coated Galvalume® 
So, do you think Acrylic-coated Galvalume is the right finish for your metal roofing project? It depends on several variables — including your likes and dislikes, building design, style or aesthetic, environment, SRI requirements, and more.
If you're still deciding whether you want to choose Acrylic-coated Galvalume or another finish or color, here are some helpful methods to narrow down your choices:
Explore color palettes, photo galleries, and examples of properties similar to yours.
Look at manufacturers' color cards and compare/contrast with your expectations.
Use a Color Visualizer tool to upload a photo of your actual structure and explore how different colors look.
Request physical metal color chips from manufacturers.
Discuss the options with your architect and/or contractor and ask for their professional opinion.
Sheffield Metals is a leading supplier of painted and non-painted metal sheet and coil products in the architectural metal panel industry. Plus, we know how popular Acrylic-coated Galvalume is and will continue to be, especially in specific regions of the United States.
So, are you weighing your color choices or still feeling a bit stuck? Our Architectural Team can provide you with any design assistance you need; contact us today!
---
---