One of the most prevalent requests from home/property owners, architects, and other design professionals is a metal roof or wall system in the color matte black. In fact, the Sherwin-Williams coil color Matte Black has experienced an average growth of over 20% in the past five years. 
So why matte black? What makes it such a widely purchased coil color?
Sheffield Metals constantly monitors color trends and tracks which metal sheet and coil colors are most frequently purchased — one of which is Matte Black. Plus, with a full-time Architectural Department composed of individuals with extensive backgrounds in the architectural metals industry, we frequently provide design assistance for a variety of projects.
Let's discuss some advantages, disadvantages, and project examples for matte black metal roofing.
Benefits of Choosing a Matte Black Metal Roof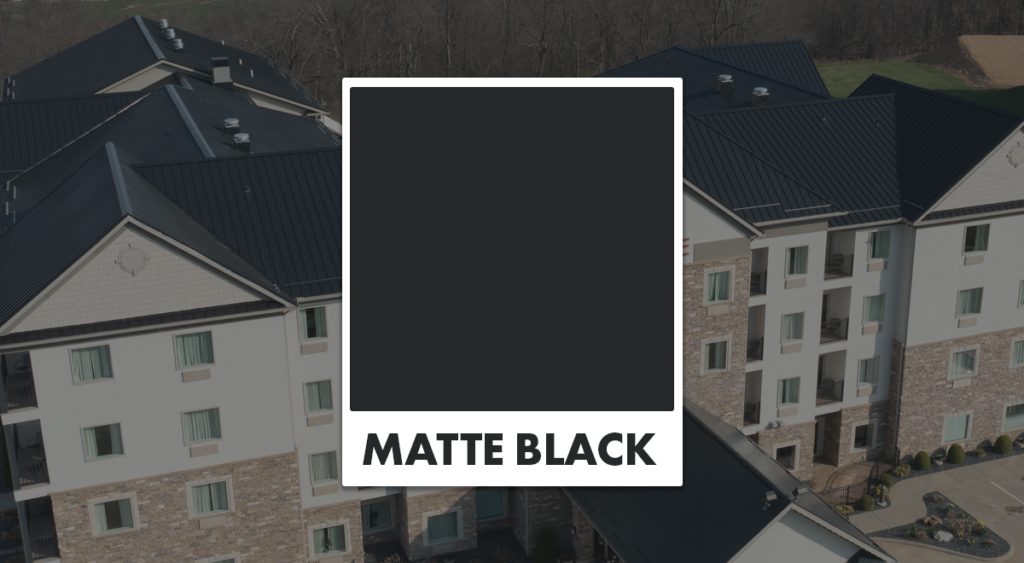 Versatile Applications
Black is versatile and can be used in several styles of architecture for both residential and commercial applications.
The modern farmhouse style still dominates the residential design and construction market in 2022. This decor style has been popular since the mid-2010s, but has become more mainstream due to its comforting aesthetic, ability to blend well with other elements, and frequent use in home renovation television. Many modern farmhouse exteriors feature white walls/siding and a black roof (or a black accent section of the roof).
Besides the modern farmhouse, matte black is a good roofing and wall color option for several other architectural building styles, including:
Modern
Contemporary
Craftsman
Cape Cod
Victorian
Tudor
Additionally, suppose you have a black metal roof originally meant to create a modern farmhouse home style. In that case, you can easily switch up the exterior architectural style (for example, to a Cape Cod or Craftsman style) without needing to replace the entire matte black metal roof.
---
---
Modern & Comforting Color
Black by itself offers a sleek and modern aesthetic. Plus, it's a color that will never go out of style in the interior and exterior architectural industry.
According to Sherwin-Williams, black combined with a matte finish creates a softer, more comforting, and welcoming feeling while maintaining its modern and contemporary edge. There is also some psychology behind black being a color that conveys safety and protection. This fact makes sense as to why it's frequently chosen — metal roofs are often installed to perform to high standards and provide the utmost protection for a building or home.
Subtle, Yet Eye-Catching
One of the most appealing parts about matte black is that it offers a dramatic look without being too bright or flashy. Black is different from roofs with more vibrant colors (such as red, green, and blue) because it's more subtle and natural.
That said, black doesn't just blend into the background; instead, it can provide a much-needed contrast against lighter or different colors, which helps draw the eye in and create a more profound visual interest.
For example, wood beams on a home's exterior (pillar, deck, etc.) will stand out even more when installed in contrast with a matte black metal roof. If you think about it, those wood beams won't stand out in the same way against a beige or brown roof, as they are too close to the wood color.
Complementary to Other Colors
Like how black can be used as a contrasting color, it also complements many other commonly used exterior colors, including whites, grays, greens, blues, and browns. Black is a neutral color, meaning that you can pair it with almost any other building or outdoor element, such as:
Siding or the color of the exterior walls
Exterior trim
Door frame(s)
Door(s)
Window frame(s)
Fascia board
Column(s)
Railing(s)
Signs
Nearby sheds and barns
Landscaping features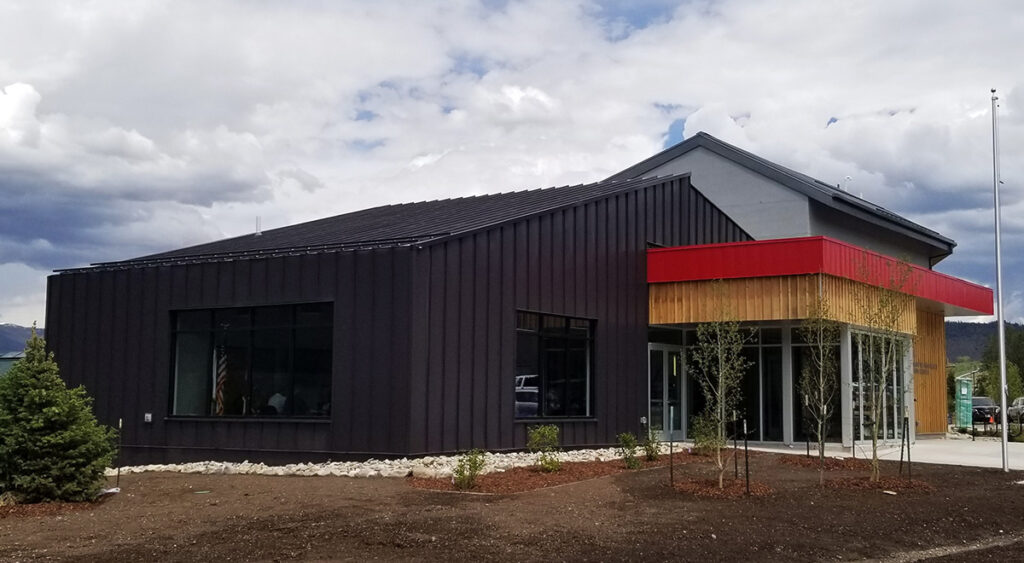 Choosing a color like matte black will give you much more design freedom for longer, which is important because metal roofs are engineered to last for four or more decades. The timelessness and versatility of a black roof give you flexibility if you decide to update or change your exterior style in the future.
Low-Glare Properties
Glossy roofs reflect more light and can show any visual imperfections that could be taking place in the flat of the panel — especially oil canning. If you're concerned about oil canning on your metal roof, one of the ways to minimize its appearance is to install a system in a low gloss or matte finish,
Matte finishes also make it a little easier to hide any minor scuffing or scratches during the shipping or installation of a metal panel system.
Drawbacks of Choosing a Matte Black Metal Roof
Low Solar Reflective Index
One of the most significant drawbacks to a matte black metal roof is that it has one of the lower Solar Reflective Index (SRI) numbers, which affects how much heat the roofing system will absorb and emit. For reference, the Sheffield Metals Matte Black coil color from Sherwin-Williams has an SRI of 27.
For a bit of background, cool metal roofing is painted or coated metal products that reflect the sun's energy to dissipate heat. Cool roofs help reduce the heat transferred into the building, which can result in total cooling cost energy savings ranging from 7% to 15%, according to the Green Building Alliance.
One of the primary measures of cool metal roofing is the Solar Reflective Index, a surface's ability to reflect the sun's solar energy (solar reflectance) and emit heat (emissivity). SRI is measured on a scale from 0 to 100. An SRI value closer to 0 indicates a darker or black surface, and a value closer to 100 indicates a brighter or white surface.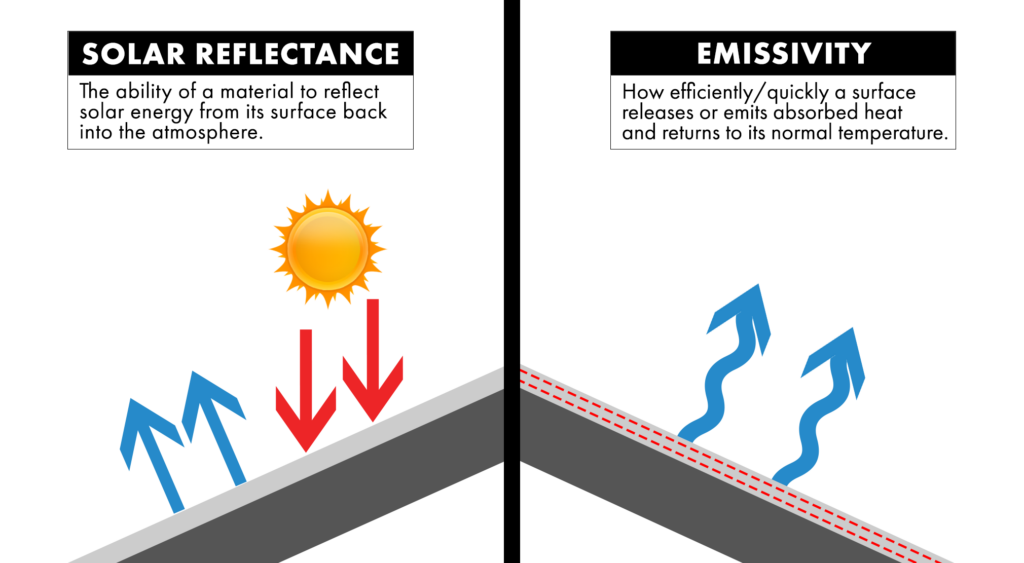 While our Matte Black metal color is still considered a cool metal roofing product, the energy savings will likely be less than a color with a higher SRI value.
Shorter Chalk & Fade Warranty
Another drawback to a matte black metal roof is that it often doesn't carry the same timeframe for chalking and fading as other not-as-vivid or pigmented colors.
For reference:
Chalking – Chalking is the whitish residue that can become visible on a painted or coated metal surface over time. As a panel is exposed to sunlight and UV rays, the resin begins to break down, loses adhesion to the surface, and begins to turn white. These particles will eventually become visible to the naked eye on the metal's surface.

Chalking is measured using one or more methods defined in the ASTM D-4214 standard. This standard also defines parameters for the numbering system, ranging from Number 1 to Number 10, with Number 1 being the worst and showing signs of extreme chalking.

Fading – Fading on painted metal roofs occurs when substances like water, pollution, and chemicals in the atmosphere and specific environments react with and change the paint's pigment. Fading usually lightens the color, but it is known to darken or completely change particular colors.

The standard for measuring the fade on a metal panel is determined using Hunter Lab's Delta E (∆E) unit, according to ASTM International standard D-2244. The number representing "E" in ∆E is the difference between a sample of the paint and the paint's original color.
While other colors carry a Number 8 chalk and a five (5) ∆E unit fade warranty for 30 years (including Sheffield Metals), the same chalking and fading units are only covered for ten years with Matte Black. In other words, Matte Black's pigment will not hold up as long as a lighter color, such as Sandstone or Dove Gray, as those have lighter pigments that will not be as visibly affected by chalking and fading.
Color Matching Challenges
There are many variations of black, both visible and invisible to the naked eye. These variations become more prominent when two different materials with a matte black finish are near or next to one another. For example, if you have a matte black metal roof and also want black trim, those two materials may look slightly different, especially if the finish is not the same (matte vs. glossy, etc.). Most of the time, the variation is not too noticeable if the finishes are the same, but it's still something for home and property owners to know.
Additionally, it's important to keep all black colors from the same paint runs together and not mix any material from different paint runs, as there can be slight color differences that could affect the overall aesthetic. By looking at the lot number printed on the coil, you can tell if the material is from the same paint run. This drawback is essential information for contractors and manufacturers who stock, rollform, and install matte black panels or material.
Matte Black Metal Roof Examples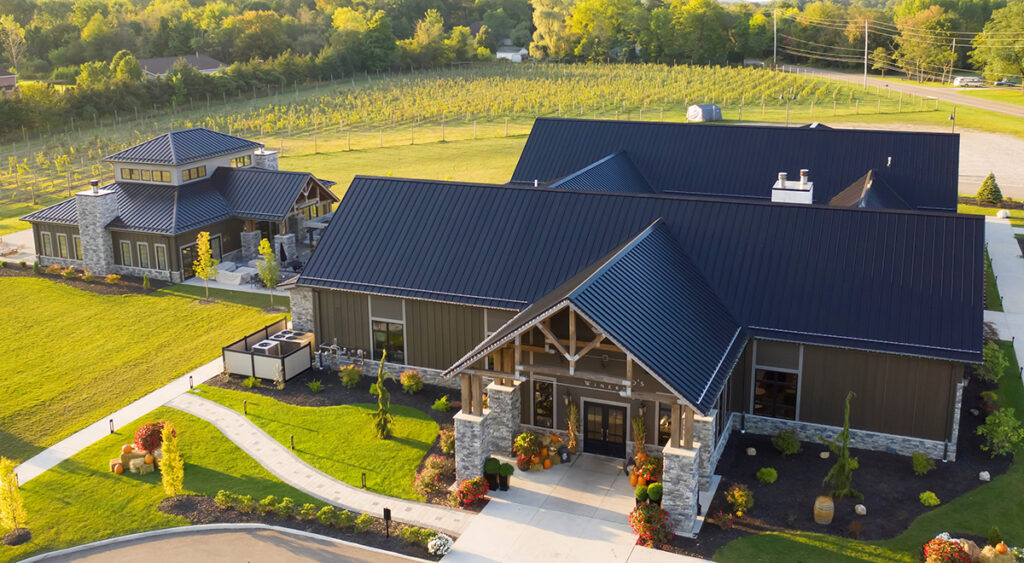 Michael Angelo's Winery | Richfield, OH
---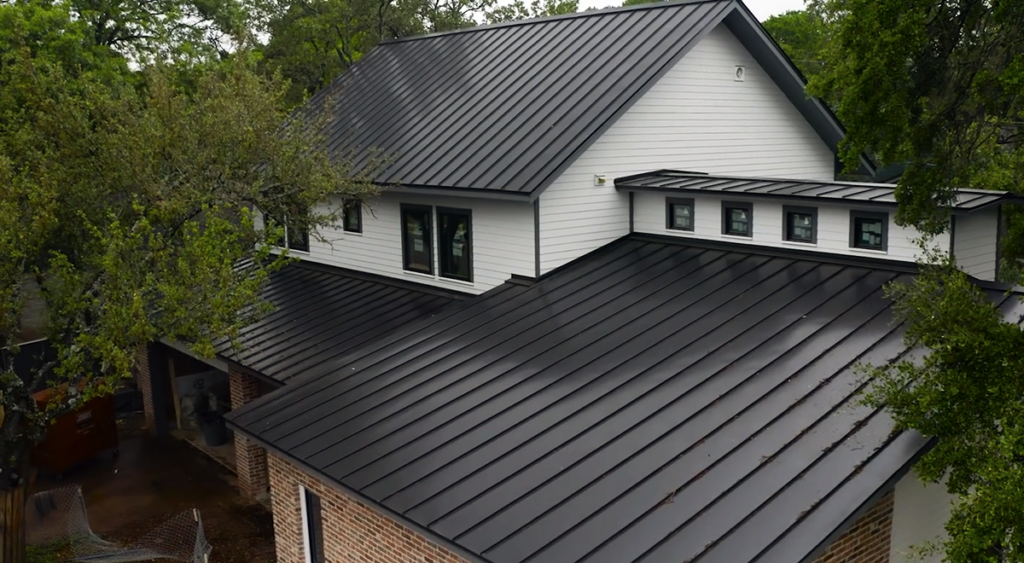 Residential Home (Matt Risinger) | Austin, TX
---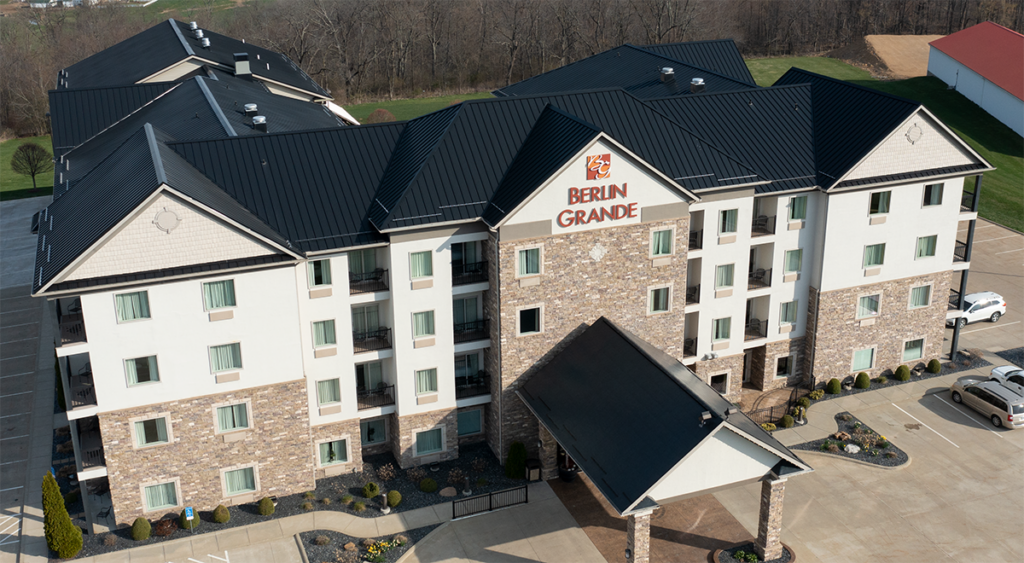 Berlin Grande Hotel | Berlin, OH
---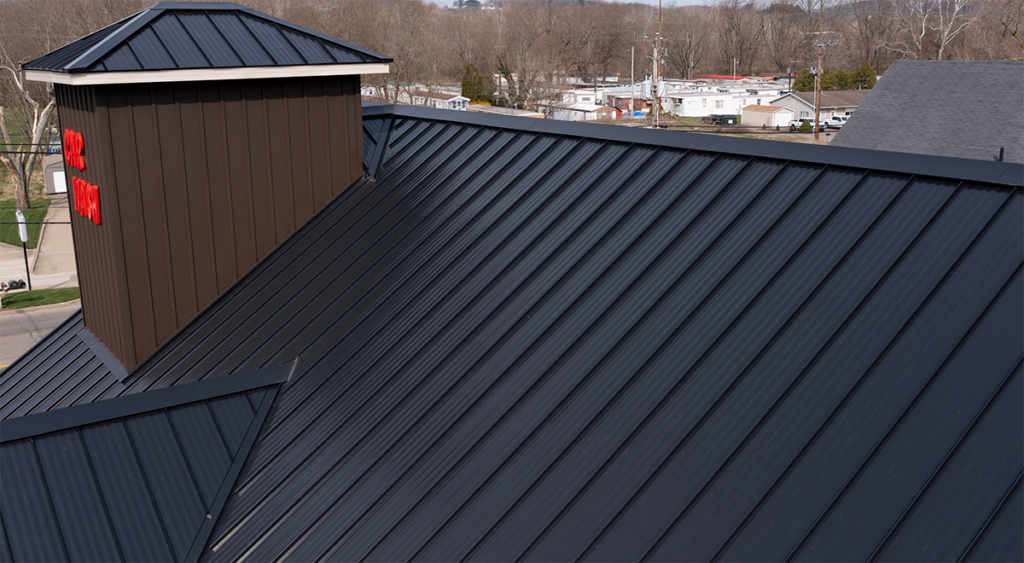 Star Brite Car Wash | Millersburg, OH
---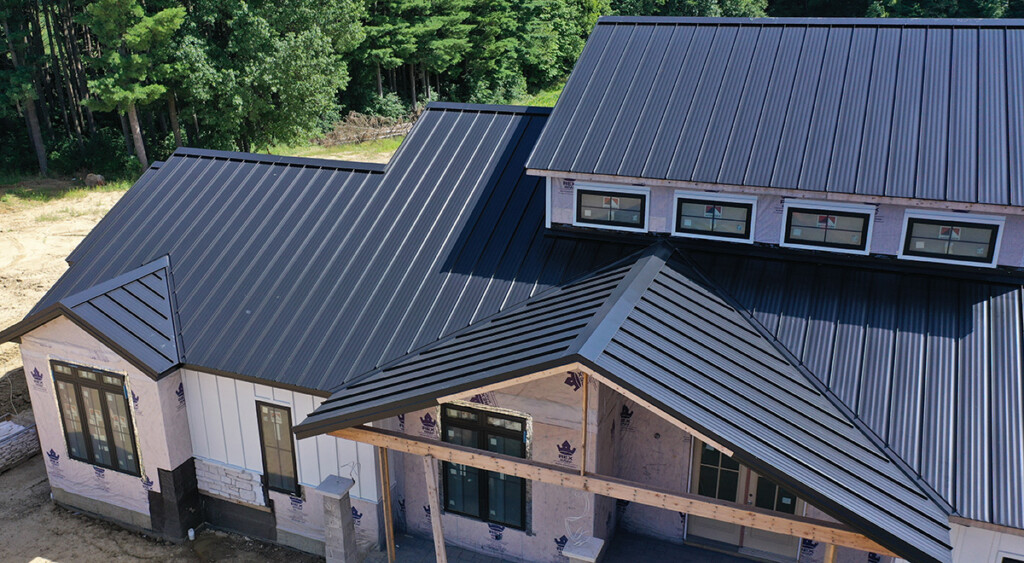 Residential Home – New Build | Ashland, OH
---
Final Thoughts on Matte Black Metal Roofing
So, is matte black the right color for your metal roofing project? It depends on various elements, including your building design, style or aesthetic, likes or dislikes, location, SRI requirements, warranty expectations, and more.
If you're on the fence about whether you want to choose matte black or another color option, here are some helpful methods to narrow down your choices:
Explore exterior color palettes, photo galleries, and examples of homes or buildings that are similar to yours.
Look at specific manufacturers' color cards and compare/contrast with your expectations.
Use a Color Visualizer to upload a photo of your actual structure and explore how different colors look.
Request physical metal color chips from manufacturers.
Discuss the options with your architect and/or contractor and ask for their professional opinion.
Sheffield Metals is proud to be a leading supplier of Matte Black metal sheet and coil products (and several other colors) in the architectural metal roof and wall panel industry.
Are you weighing your color choices and want a second opinion? Our dedicated Architectural Team can provide you with the design assistance you need; contact us today!
---
---