Neutral colors are frequently chosen for exterior building materials, as they are versatile and virtually never go out of style. One of these neutral colors is brown.
It makes sense why our coil colors Dark Bronze and Medium Bronze — both brown shades that resemble darker bronze metal tones — remain high on our most purchased/popular color list.
So why choose Dark or Medium Bronze? What might make one of these colors good for your project?
Sheffield Metals always monitors color trends and tracks which metal sheet and coil colors are most frequently purchased (including our dark brown colors). Plus, with a full-time Architectural Department composed of individuals with extensive backgrounds in the architectural metals industry, we frequently provide design assistance for various projects.
Here are some advantages, disadvantages, and project examples for brown metal roofing.
Benefits of Choosing a Dark or Medium Bronze Metal Roof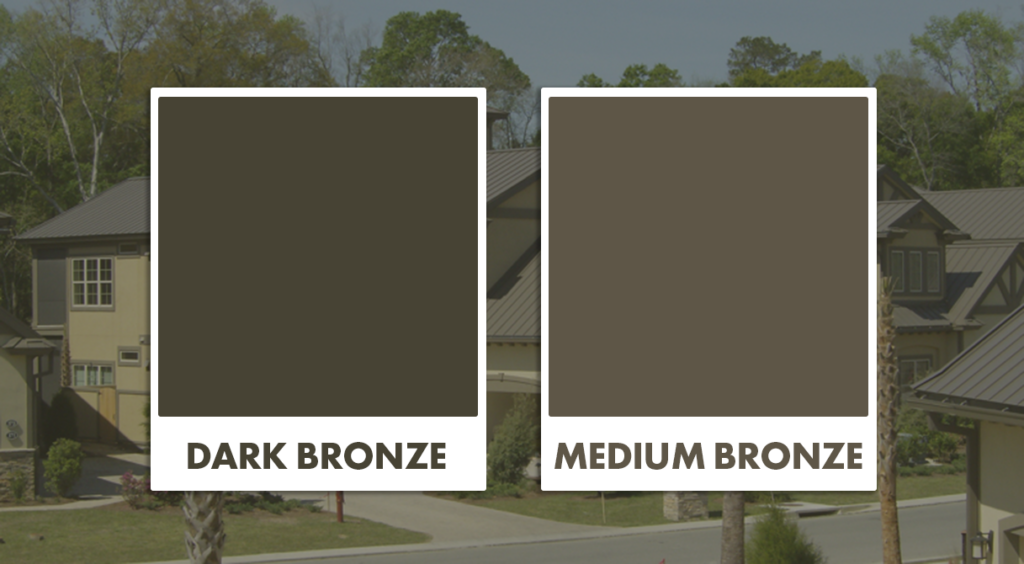 Natural Earth Tone
Medium and darker brown colors are often associated with the Earth, as these tones resemble the color of soil, stones, trees, and other natural elements.
Many property owners want their homes or buildings to match the geographic surroundings and not stand out negatively. So, if your project is located in a forest or mountain environment, utilizing an earthy brown color, such as Dark or Medium Bronze, as the roof or wall system is a no-brainer. These two colors create a cohesive aesthetic that doesn't stray from the overall "nature and natural" feeling of these regions.
Warm & Welcoming Shade
To go along with the natural earth tone characteristic, incorporating brown into the exterior of your home or property is a way to convey a warm and welcoming feeling (as brown is a warm color).
According to verywellmind.com, brown brings characteristics and feelings of warmth, comfort, and security, and is "often described as natural, down-to-earth, and conventional."
Neutral Color Allows for Design Longevity
Choosing brown, a neutral color, for your roof will give you design freedom for many years, which is essential because metal roofs are engineered to last for four or more decades.
Neutrals are considered "friendly" to other colors and pair well with many palettes and exterior styles. So, if you decide to change up the exterior of your property in a few years or so, Dark Bronze and Medium Bronze will likely be able to fit into a design with ease.
---
---
Complementary to Other Exterior Colors
Dark Bronze and Medium Bronze complement many other commonly used exterior building colors, including whites, blacks, greens, and beiges. As we mentioned, brown and bronze colors are neutrals, meaning that you can pair them with almost any other building or outdoor element, such as:
Siding or exterior wall colors
Trim
Door frames
Doors
Window frames
Fascia board
Columns
Railings
Signs
Landscaping features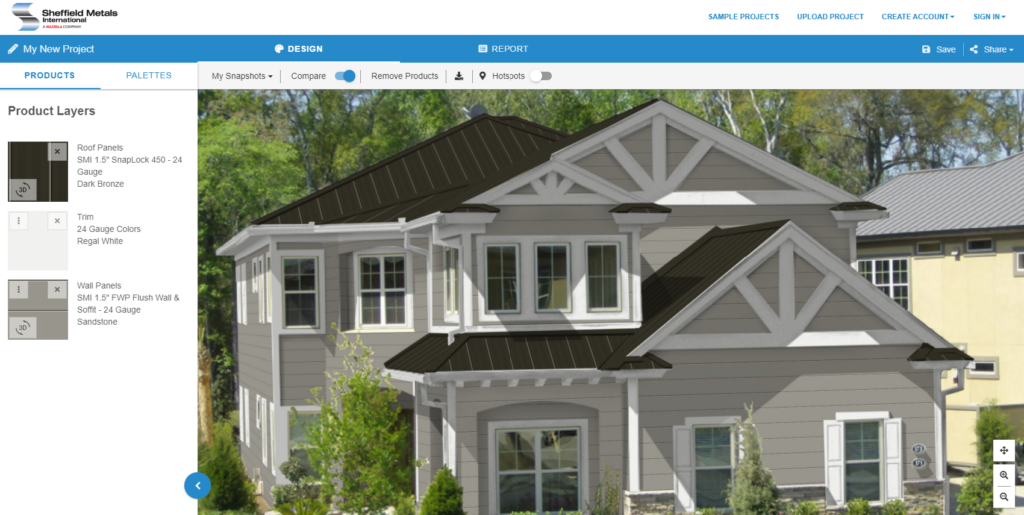 Metal tones like bronze are commonly used in interior and exterior designs, mainly because metal colors tend to contrast well against other colors and components of a space. So, incorporating a Dark or Medium Bronze accent on your roof or as the entire roof is simple and aesthetically appealing.
Plus, you can use most metal shades in nearly every color palette to complement exterior building material. If your building has exposed stones, bricks, vinyl siding, wood accents, etc., a dark or medium brown/bronze color roof will fit in well with the property.
More Economical & Useful Than Real Bronze
It's much less expensive to use a Galvalume or aluminum coated in a PVDF or SMP paint system with a color similar to a metal tone than the actual metal. Plus, bronze isn't recommended or even an available metal for standing seam metal roofing.
By buying painted material, you can get a similar look to a bronze metal roof with Dark Bronze or Medium Bronze — and at a much better price.
Drawbacks of Choosing a Dark or Medium Bronze Metal Roof
Lower Solar Reflective Index (SRI)
One of the more significant drawbacks to both Dark Bronze and Medium Bronze is that they have low Solar Reflective Index (SRI) numbers, which affect how much heat the roofing system will absorb and emit. For reference, the Sheffield Metals Dark Bronze coil color from Sherwin-Williams has an SRI of 24, and the Medium Bronze coil color has an SRI of 31.
Cool metal roofing refers to painted or coated metal products that reflect the sun's energy to dissipate heat. Cool roofs help reduce the heat transferred into the building, resulting in total cooling cost energy savings ranging from 7% to 15%, according to the Green Building Alliance. Keep in mind that metal in general dissipates heat relatively quickly, especially when compared to something like asphalt shingle roofing. So, it's inherently a "cooler" building material, no matter the paint/coating color.
One of the primary measures of cool metal roofing is the Solar Reflective Index, a surface's ability to reflect the sun's solar energy (solar reflectance) and emit heat (emissivity). SRI is measured on a scale from 0 to 100. An SRI value closer to 0 indicates a darker or black surface, and a value closer to 100 indicates a brighter or white surface.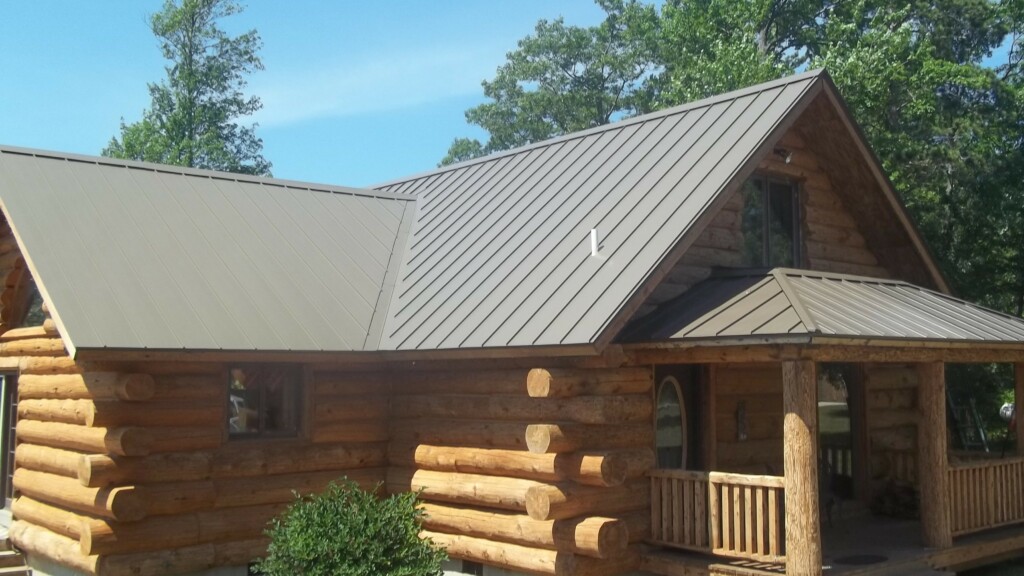 If you live in a region with significant heat and sunlight and also want a roof that gets maximum energy savings, Dark and Medium Bronze might not be the best color choice. Other options in the brown or beige family, such as Sandstone (SRI of 63), might be better suited for high-heat and high-sunlight regions.
However, if you don't live in one of these regions and are in a milder climate, Dark or Medium Bronze could be suitable for your application.
Glossy Finish Issues
Glossy roofs, especially in a darker color Dark Bronze, reflect more light and can show visual imperfections in the flat of the panel — especially oil canning. If you're concerned about oil canning on your metal roof, one of the ways to minimize its appearance is to install a system in a lighter color with a lower gloss finish. Or, if you still want a glossy finish, make sure your roof panels have striations or another rib roller rollformed into the flat area of the panel.
Additionally, glossy finishes make scuffs and scratches more visible. This sometimes occurs during the shipping or installation of panels, so keep an eye out for it.
Luckily, Sheffield Metals offers both Dark Bronze and Medium Bronze colors in:
24-gauge Standard gloss
26-gauge Low-gloss
You can help mitigate some of the issues with glossy finishes by choosing the 26-gauge low-gloss finish. If you're concerned about this, please discuss material and color options with your installer.
Note: Engineering will vary depending on the material thickness. If you need an engineered metal roofing system, you'll want to use 24-gauge metal or thicker.
Not Suited for Every Architectural Style
Dark or medium browns are sometimes considered muted colors that appear less prominent than more striking colors, like black, red, blue, or white.
Brown was hugely popular in the mid-to-late 1900s, especially in the 80s and 90s, but has since been overtaken by Matte Black and gray tones. While brown still complements many exterior architectural styles of today — both as a roof and as a wall — some styles usually don't feature a darker brown, including:
Modern
Modern Farmhouse
Spanish
Colonial
That said, Dark Bronze and Medium Bronze fit well with many other architectural styles, including Craftsman, Tudor, Victorian, Ranch, Cape Cod, and more.
Dark Bronze & Medium Bronze Metal Roof Examples
Residential Home | Northern VA | Dark Bronze
---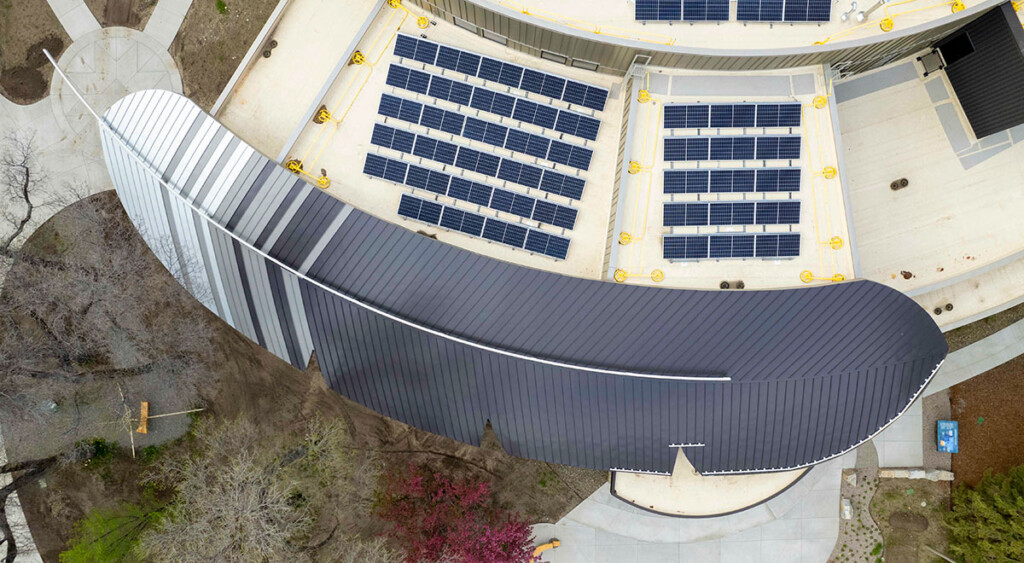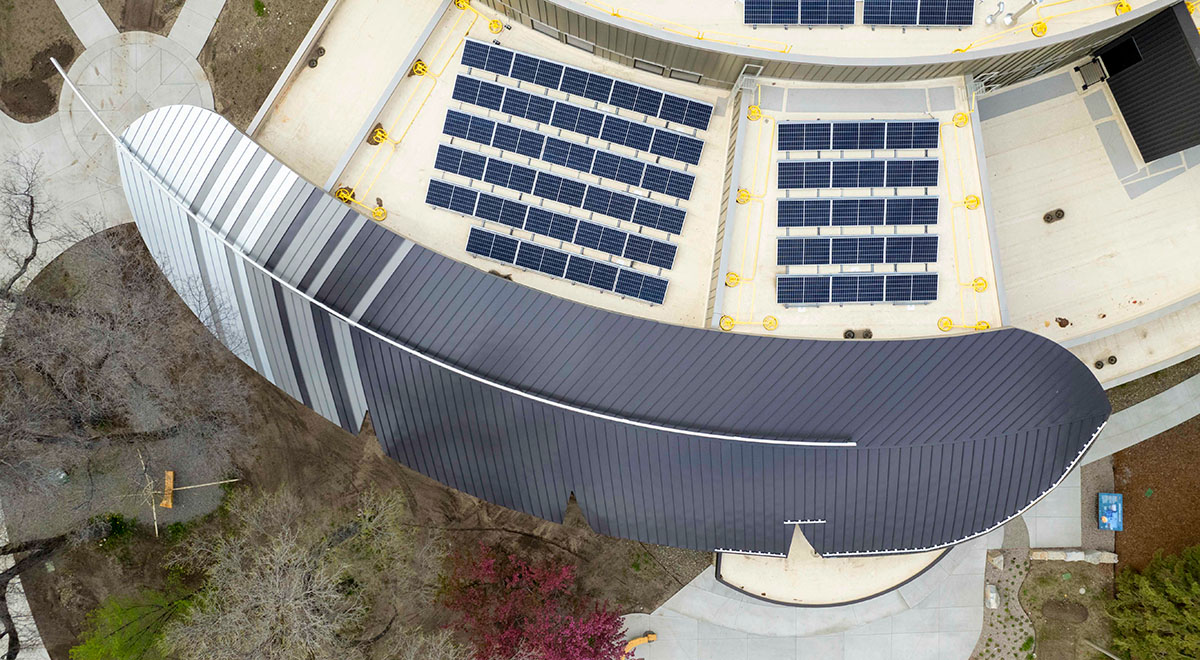 American Indian Hall @ Montana State University | Bozeman, MT | Dark Bronze (right end of the feather)
---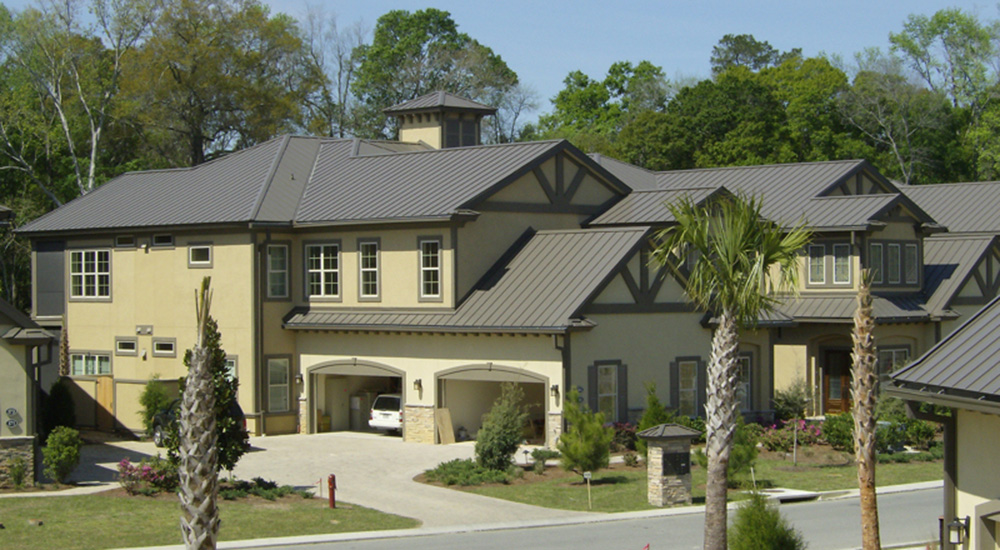 Hampton Lake Condos | Bluffton, SC | Medium Bronze
---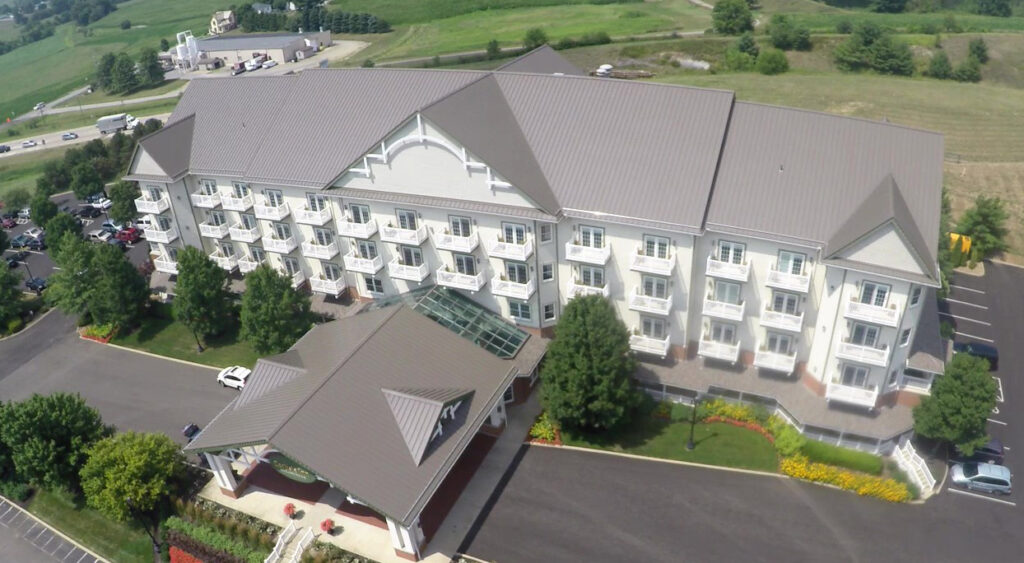 The Carlisle Inn | Sugarcreek, OH | Medium Bronze
---
Final Thoughts on Dark & Medium Bronze Metal Roofing
So, is Dark Bronze or Medium Bronze the right color for your metal roofing project? It depends on various elements, including your building design, style or aesthetic, likes or dislikes, location, SRI requirements, and more.
If you're on the fence about whether you want to choose a dark brown or another color option, here are some helpful methods to narrow down your choices:
Explore exterior color palettes, photo galleries, and examples of homes or buildings similar to yours.
Look at specific manufacturers' color cards and compare/contrast with your expectations.
Use a Color Visualizer to upload a photo of your actual structure and explore how different colors look.
Request physical metal color chips from manufacturers.
Discuss the options with your architect and/or contractor and ask for their professional opinion.
Sheffield Metals is proud to be a leading supplier of Dark Bronze and Medium Bronze metal sheet and coil products (and several other colors) in the architectural metal roof and wall panel industry.
Are you weighing your color choices or feeling stuck? Our dedicated Architectural Team can provide you with the design assistance you need; contact us today!
---
---