When choosing the right metal roof for your home or building, there are many commonly used metal materials to choose from — aluminum, steel, copper, and more.
One of these metal options is galvanized steel. While Galvalume® steel has largely overtaken galvanized steel in the architectural metal construction industry in the last couple of decades, galvanized is still a product used for several roofing applications.
However, before choosing a galvanized metal roof, there are some critical considerations to keep in mind, some of which can impact the performance of your roof.
As one of the leading suppliers of painted and bare coils and sheets used in the architectural metal panel industry, Sheffield Metals knows how important it is for buyers to learn about a roofing material's uses, advantages, and disadvantages before installing it on their property.
So, let's go into the specific details of galvanized steel and why it may or may not be a good choice for your project.
---
---
What Is Galvanized Steel?
Galvanized metal products have been around since the 17th century, but the process of "galvanizing" materials became a widespread practice in the early 19th century. Galvanization (commonly referred to as galvanized) is a protective zinc coating applied to a steel or iron substrate through a hot-dip galvanizing process.
Galvanized metals are used in many different industries for a range of products. For example, you can find galvanized steel used to make: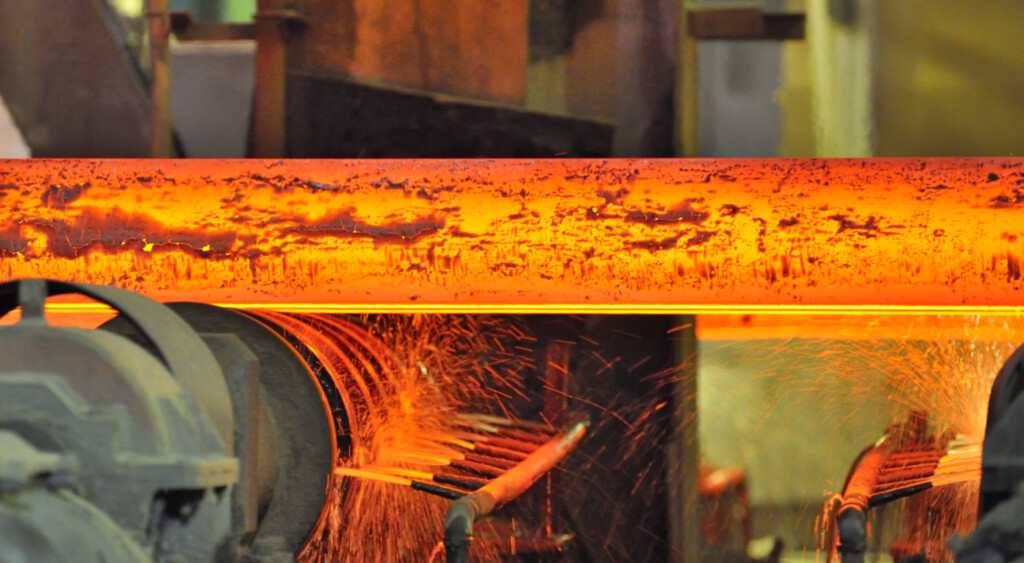 Uses for Galvanized Metal Roofs & Walls
Before the introduction of Galvalume to the metal roofing industry in the late 20th century, using galvanized sheets and coils for roofing was a regular practice. However, because of the superior durability and corrosion resistance of Galvalume, 90+ percent of the metal roofing and wall industry in the early 2000s transitioned from galvanized substrates to a Galvalume substrate.
Galvanized metal sheet/coil is commonly referred to by its coating weight name. For instance, someone might refer to it as G90 or G60 which refers to the galvanizing coating weight of 0.90 ounces and 0.60 ounces per square foot. For reference, architectural metal roofing follows the ASTM A653 Standard Specification for Steel Sheet, Zinc-Coated (Galvanized) or Zinc-Iron Alloy-Coated (Galvannealed) by the Hot-Dip Process, which specifies that both sides of G90 galvanized steel sheet products have a 0.45 coating weight, which together equals 0.9.
Galvanized metal is installed on various roofing applications, including:
Agricultural – Barns, storage, animal enclosures, and more
Structural or industrial applications – Warehouses, factories, and more
Residential projects – Single-family, multi-family, condominiums, and more
Commercial buildings – Hospitals, schools, stores, government buildings, and more
Architectural structures – Commercial, governmental, residential, and more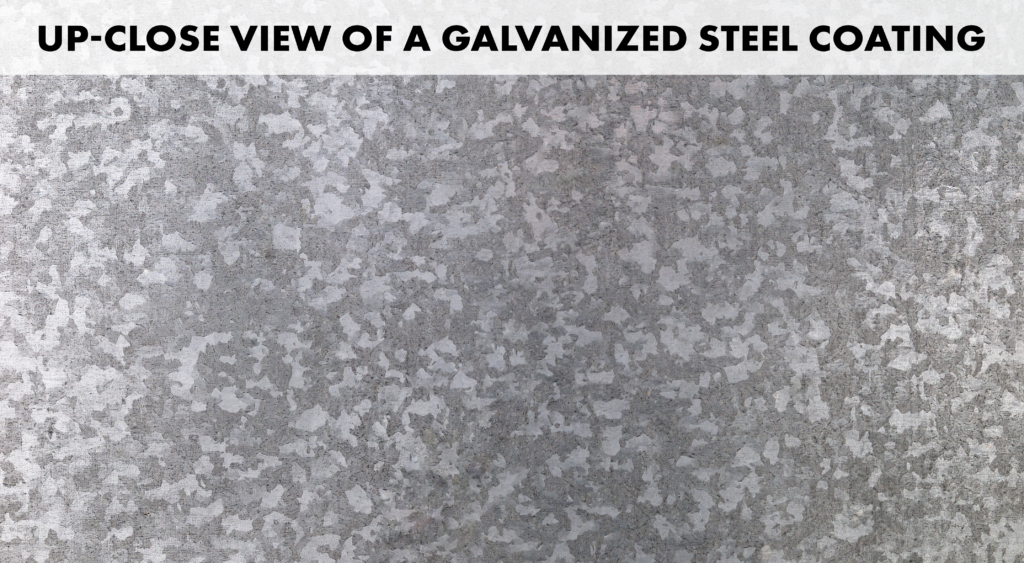 Galvanized steel flat product thicknesses are measured the same as Galvalume, where 22 to 29-gauge products are standard within the metal roofing industry. 29-gauge galvanized steel with a silicone-modified polyester (SMP) paint coating is commonly used in the agricultural market. However, heavier-gauged galvanized (greater than 22-gauge) are typically more available than Galvalume items due to their widespread use in other applications, such as automotive, appliances, etc.
For engineering with a galvanized system, it is similar to Galvalume. The steel engineering, which includes both Galvalume and galvanized, will be determined by the minimum thickness requirements in the engineering criteria and the minimum yield requirements. In other words, galvanized vs. Galvalume typically has no bearing on the engineering of a profile.
Additionally, galvanized steel sheet and coil products can be painted in the same finishes and color varieties as Galvalume. However, remember that many manufacturers do not offer galvanized as a material option, as it does not perform to the same standards as Galvalume, aluminum, and other substrates.
Advantages & Benefits of Galvanized Steel Metal Roofing
Suited For Animal Confinement
One of the most notable benefits of galvanized steel is that it can be used on structures that house animals.
For a little bit of background, Galvalume is not suitable for animal confinement because manure from the animals breaks down into ammonia gas over time and then reacts with the Galvalume coating. This process will break down the Galvalume coating and degrade the metal.
However, an adequately ventilated galvanized roof system can perform well for several animal confinement applications. It's best to check with the manufacturer before putting galvanized steel roof on an animal confinement building, as they might have helpful recommendations for the design.
Better Formability / Malleable
Galvanized steel is a more malleable product, meaning that it will bend and form a little easier than other metal types. This is why galvanized is sometimes used more often in stamped metal shingles or stamped vent flashings, as galvanized can allow for more concise bends. The better malleability of galvanized can also make rollforming galvanized panels a little cleaner and allow for easier cuts and shaping during the installation.
Vintage Color Option
At Sheffield Metals, we carry one product with a galvanized substrate, Vintage® by Steelscape. To this day, Vintage is a popular sheet and coil, especially for architectural applications where an aged metallic look is desired.
To see what Vintage looks like on a residential property, check out the installation we did on The Build Show's Matt Risinger's property in Texas.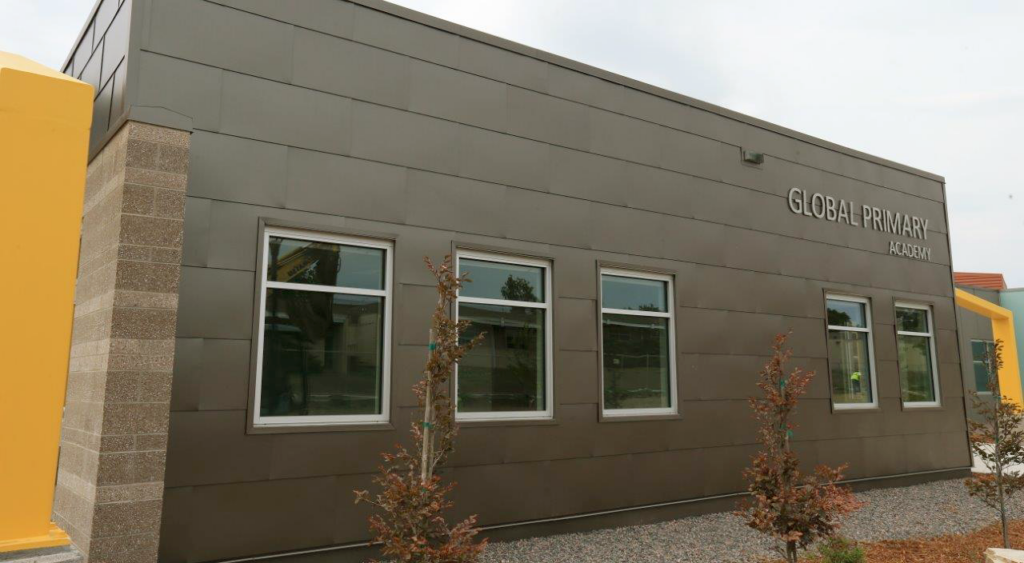 Mid-level Price point
In the past, galvanized was generally the cheaper material when compared to Galvalume. However, in the last 10+ years, the pricing of these two materials has fluctuated back and forth, but predictions in 2022 show galvanized material is now about 6% higher in price over Galvalume. However, keep in mind that this could change quickly from this publish date in late-April 2022.
Typical G-90 galvanized standing seam metal roofs cost anywhere from $8.00 to $14.00 per square foot and fluctuate further based on thickness, color, installation costs, location, etc. For 26 or 29-gauge galvanized exposed fastener (agricultural) system, you can expect to spend about $4.50 to $7.50 per square foot.
Disadvantages & Drawbacks of Galvanized Steel Metal Roofing
No Substrate Warranties
The most significant disadvantage to galvanized metal systems is that the substrate doesn't have a warranty. Most galvanized systems have the potential to be unpredictable in many environments (coastal, high moisture, etc.), meaning that most manufacturers don't offer warranties on most galvanized products.
The lack of substrate warranty tends to be why most property owners choose Galvalume over galvanized (for reference, Sheffield Metals' Galvalume products carry a 25.5-year substrate warranty).
Develops Red Rust
The zinc coating on galvanized sheet/coil does a good job protecting the steel core for the first decade or so of use. However, once any part of the steel core is exposed, the metal will start to red rust, which is both unsightly and will eat away at the metal over time.
All steel products inherently experience some degree of "edge creep" near cuts and exposed edges of the panels. The problem with galvanized metal, painted or not, is that once it starts to red rust, it doesn't eventually stop. The rust on galvanized products will continue to spread and worsen rather quickly.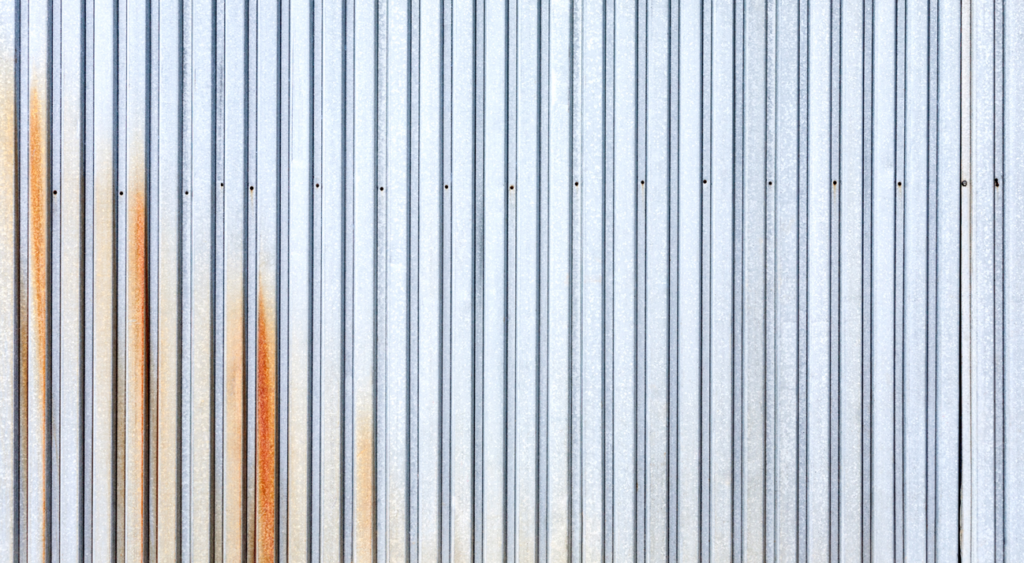 Longevity
Studies have shown that galvanized metal roofs will last around 15-20 years in the right environment. This may seem like a long time, but you would expect it to last as long if you're spending the same amount or more for a galvanized roof than for a Galvalume roof. However, Galvalume roofs can last 40+ years, which is over double the lifespan of a galvanized roof.
Not Suited for Coastal Environments
The galvanized coating will not stand up to the conditions associated with a coastal environment, including properties up against coastlines with breaking surfs, large bays, and marshes. Specifically, the saltwater in the air will degrade the galvanized coating and lead to premature damage to the roof or wall.
We recommended that properties within a certain distance of a coast use an engineered aluminum roof system, as aluminum resists corrosion and rusting from saltwater for much longer.
Oil Canning
Oil canning is an inherent characteristic of light-gauge, cold-formed metal products, especially products with broad flat areas. It's a visual phenomenon seen as waviness or distortion in the flat surfaces of metal panels. Luckily, oil canning is only an aesthetic concern that does not affect the strength or performance of the system. This is possible with any metal roof or wall type, including galvanized.
There are methods to minimize the appearance of oil canning, including:
Purchasing a thicker sheet or coil product (22 vs. 24 vs. 26-gauge).
Buying trustworthy brands of coils and sheets.
Rollforming panels with striations or bead stiffeners in the flat area of panels to minimize the appearance of oil canning.
Hiring an experienced contractor who knows the best material handling and installation practices that help reduce oil canning.
Ensuring there are no roof decking issues, as the metal will follow any inconsistencies on the deck. So, if the roof deck is not in plane, consider fixing it beforehand to reduce the risk of oil canning.
Can Be Difficult to Find
As mentioned, galvanized metal roofing products aren't always accessible in every market. There are regions of the United States that use galvanized products more, including areas where agriculture and farming are prominent.
Most manufacturers have moved to Galvalume as the majority of their product offerings because it lasts longer and provides more benefits for property owners.
Final Thoughts on Galvanized Metal Roofing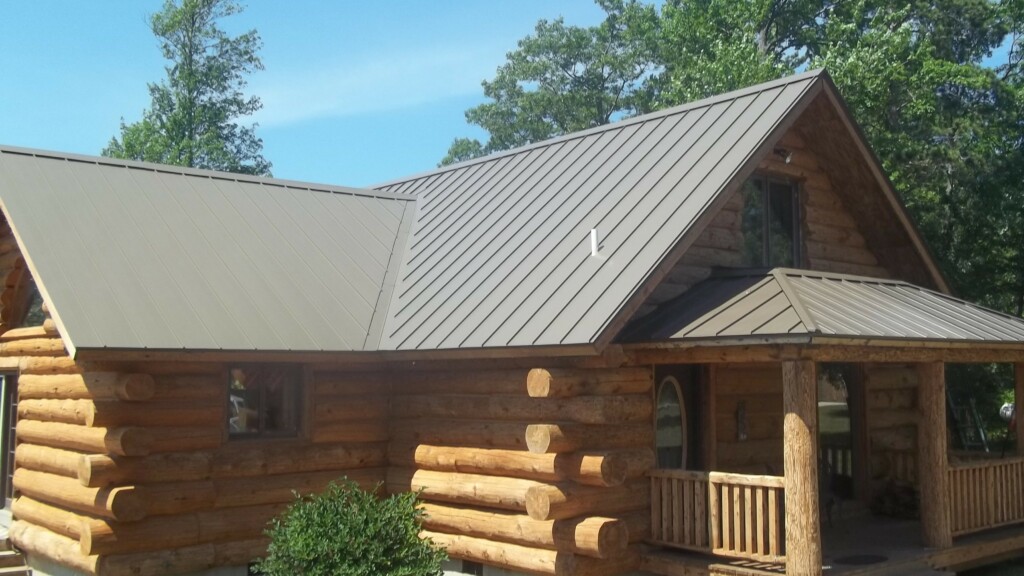 One final item to note is that the success of every metal roof, including one that is made from galvanized steel, is entirely dependent on choosing the right installer. A good installer will be able to tell you if galvanized is a viable option or if another metal is better suited for your property, environment, budget, and beyond.
To help with your decision, keep in mind:
Galvanized will last about 15-20 years before red rust takes over and causes the roof to fail. This is nearly half the lifespan of a Galvalume roof, even though galvanized is often more expensive.
Galvanized steel is commonly used for stamped metal roofing applications, as it is malleable and a little easier to form than Galvalume.
Galvanized steel is a better option for animal confinement, especially when adequately ventilated.
Galvanized steel is not recommended for use on any coastal structure.
Galvanized steel does not carry a substrate warranty (At Sheffield Metals, we always recommend choosing a warrantable product, if possible).
Sheffield Metals is dedicated to educating customers and potential buyers to make the most informed decision about the best metal material for their roofing project — galvanized steel or otherwise. Whether you're a roofing industry professional, architect, or property owner, we can work with you to choose the right product for your project.
Contact one of our knowledgeable metal roofing specialists today to ask your questions about galvanized or other metal roof types!
---
---