The past two years have been challenging — there's no question about it.
We've experienced a steel and aluminum shortage, a global pandemic, rising prices for many building materials, a lack of available labor, and more.
In 2022, we're adding one more challenge to the list: Shifting demands and the allocation of polyvinylidene fluoride, or PVDF, paint resins.
Luckily, Sheffield Metals has a strong partnership with our paint supplier Sherwin-Williams, and we're anticipating little to no disruption in supply for our customers. That being said, we believe it's essential to be completely upfront about what's going on with the PVDF market and why.
In this article, we'll cover:
What PVDF is and how it's used in metal roofing
What is happening with PVDF that is challenging our industry
What this means for pricing and suppliers
Considerations for roofing professionals that will help protect their businesses
What is PVDF & How Is it Used in Metal Roofing?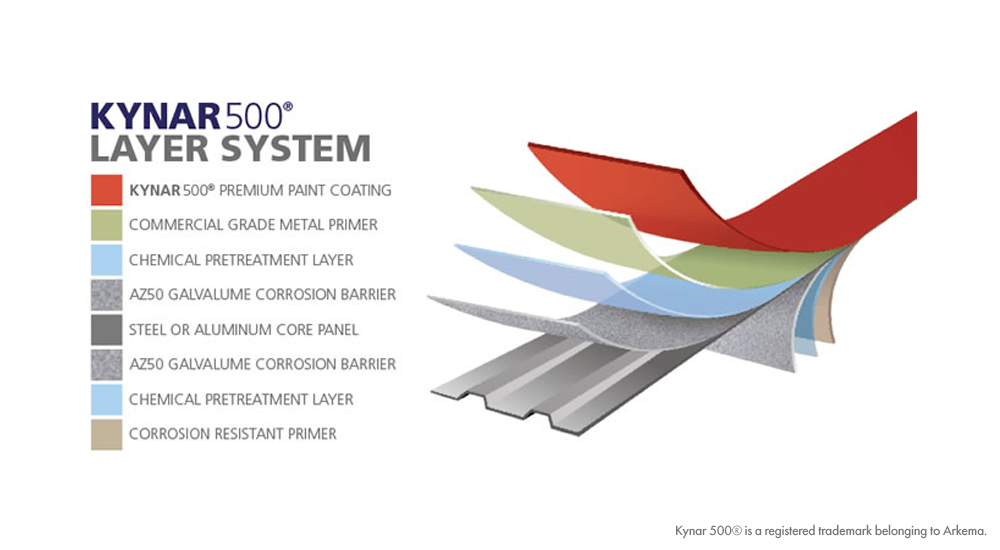 Before we get into what's going on in the PVDF market, let's take a moment to discuss this product. Polyvinylidene fluoride (PVDF) is a resin comprised of about 70% PVDF and 30% acrylic. PVDF resins are one of the best protective coatings available, which is why PVDF is the most commonly used metal coating system for higher-end architectural, commercial, and residential applications.
PVDF is specifically formulated to resist corrosion in some of the most volatile environments, including:
Extreme temperatures & temperature fluctuations
Sun exposure
Snow, rain, & moisture
Humidity
Pollution particles in the atmosphere
One of the most notable benefits of PVDF, especially when compared to other paint systems in metal roofing such as silicone modified polyesters (SMP), is that PVDF holds its color integrity for much longer. For example, Sheffield Metals' PVDF warranty covers film adhesion (chipping, cracking, flaking, or peeling) for 40 years, as well as chalking and fading to specific extents (see warranty for exact units) within 30 years from the date the panels are installed.
While every metal roof coating will degrade over time, PVDF outlasts most other paint systems while maintaining its color. Additionally, PVDF is high-strength and is harder to scratch than other paint systems.
Note: In the metal roofing industry, PVDF is often referred to as Kynar 500® or Hylar 5000®; these are just branded products that utilize the PVDF resin formula.
What is Happening with PVDF Now?
Now that you know what PVDF is, why are we talking about it? Perhaps you might have heard other manufacturers discussing a worldwide PVDF shortage stemming from the COVID-19 pandemic, shutdowns, or labor shortages. However, this is false.
What's actually happening is that there are different demands and new expanded uses of PVDF in other industries.
Let's go through the two main reasons for the PVDF issues the entire architectural metals industry is experiencing.
#1: Ramped Up Battery Storage & Electric Vehicle Manufacturing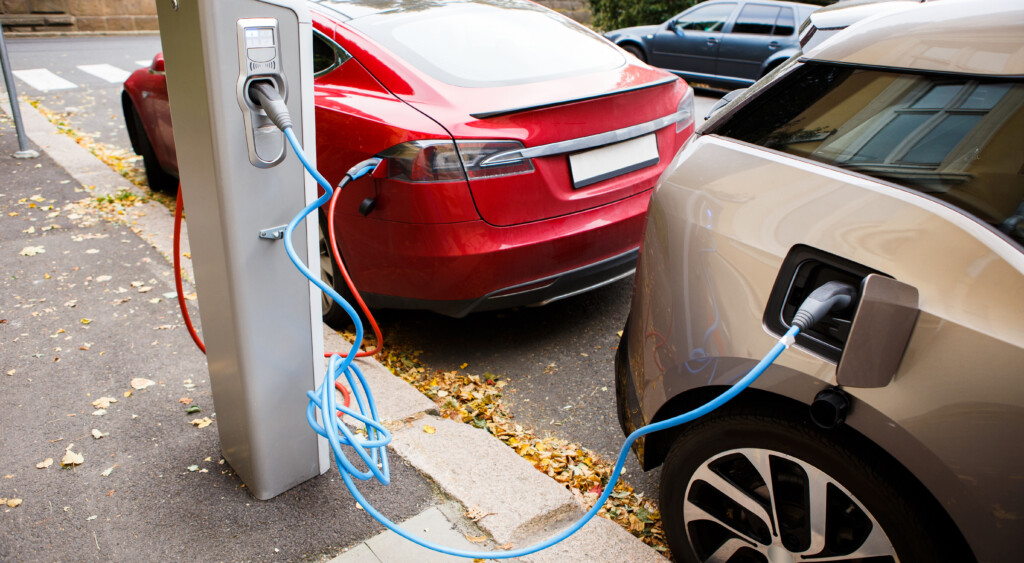 Most notably, PVDF has become one of the leading players in producing batteries for electric vehicles (EVs) and battery storage solutions for renewable energy systems. According to Nanografi Nano Technology, PVDF resins act as a binder in lithium-ion batteries. They're also used as a battery coating material, which is how it's applied in the manufacturing process.
Electric vehicles and battery storage systems are not entirely new concepts, but recent shifts toward more sustainability and the harnessing/storing of renewable energy have driven up the demand for PVDF to new heights. As the cost of energy continues to increase and products that make the power grid more efficient continue to grow, PVDF will continue to be a massive solution in battery manufacturing.
Additionally, due to the increased demand, battery and EV manufacturers are willing and able to pay higher prices for PVDF than the traditional architectural metal construction industry. This puts PVDF manufacturers in a spot where they're more inclined to sell to the market that will pay a premium for their products, which is why more PVDF is allocated to the battery and EV manufacturers.
#2: China Keeping PVDF in the Country for Battery Manufacturers
Traditionally, China has been one of the largest historical PVDF manufacturers that export it to many U.S.-based paint manufacturers that use it in their formula.
Now, China has limited the supply of PVDF they're willing to export because they're one of the most significant electric vehicle and battery manufacturers globally. Chinese businesses are keeping the PVDF manufactured within the country and squeezing off the supply usually exported elsewhere.
This has led to a shortage for the rest of the world, even though the same or slightly more PVDF is getting produced. The main difference is that it's not being traded as it was before.
The Increasing Cost of PVDF in 2022
The increased demand for PVDF and how the world has shifted in the last few years to products that make the grid more efficient has sent the price of PVDF skyrocketing. From about late 2020 (14 to 15 months ago) to where we are in 2022, PVDF has experienced about a 50 to 60% cost increase.
It's difficult to predict how the price of PVDF will change in the future; however, we're hearing that the cost of PVDF today could still nearly double in this calendar year.
What Does the PVDF Demand Shift Mean For Manufacturers like Sheffield Metals?
During the first week of January, our paint manufacturer Sherwin-Williams informed us that all manufacturers that purchase PVDF coatings, including Sheffield Metals, are now on allocation.
What this means is that we're going to be able to continue to get PVDF coatings at the level we're currently purchasing it, and maybe a little bit more than we have historically. In essence, Sherwin-Williams will not have enough PVDF to take on a bunch of new customers. Instead, they plan to focus on servicing their existing customers and ensuring that each company gets its fair share of PVDF products.
Luckily, we have a strong relationship with Sherwin-Williams, and they're doing everything they can to source PVDF from all corners of the globe.
At Sheffield Metals, we're not anticipating much of a disruption to our business or our customers. Our intention in discussing this PVDF demand challenge is to inform, educate, and be completely upfront with our customers about the situation; we will continue to do so in the immediate future and well into 2022.
Considerations for Contractors & Metal Construction Businesses
There are some things for contractors, manufacturers, or other metal construction industry professionals to do that could help you save money, get the metal material you need, and still grow your business.
Consideration #1: Choose Material with a Different Paint System Coating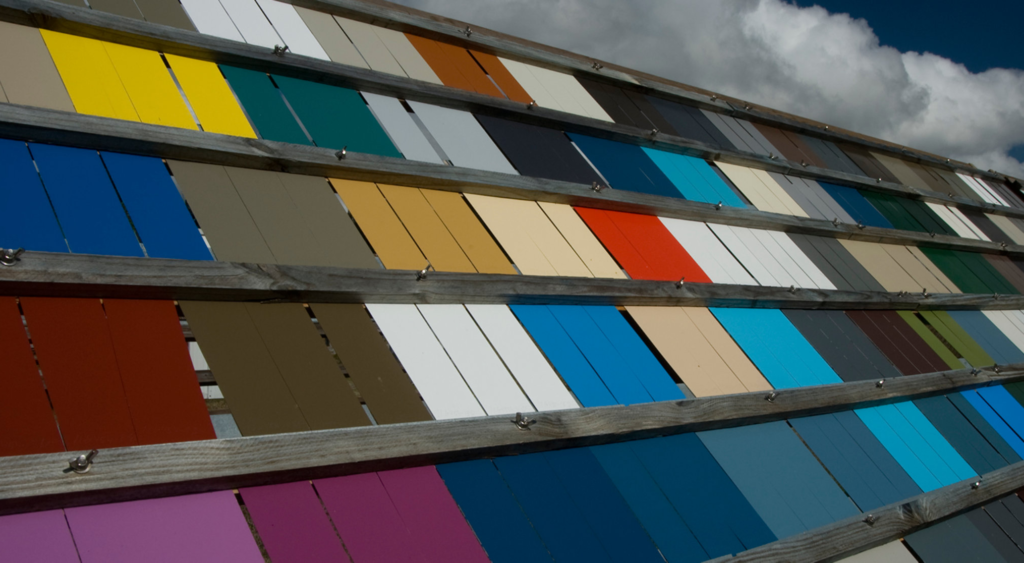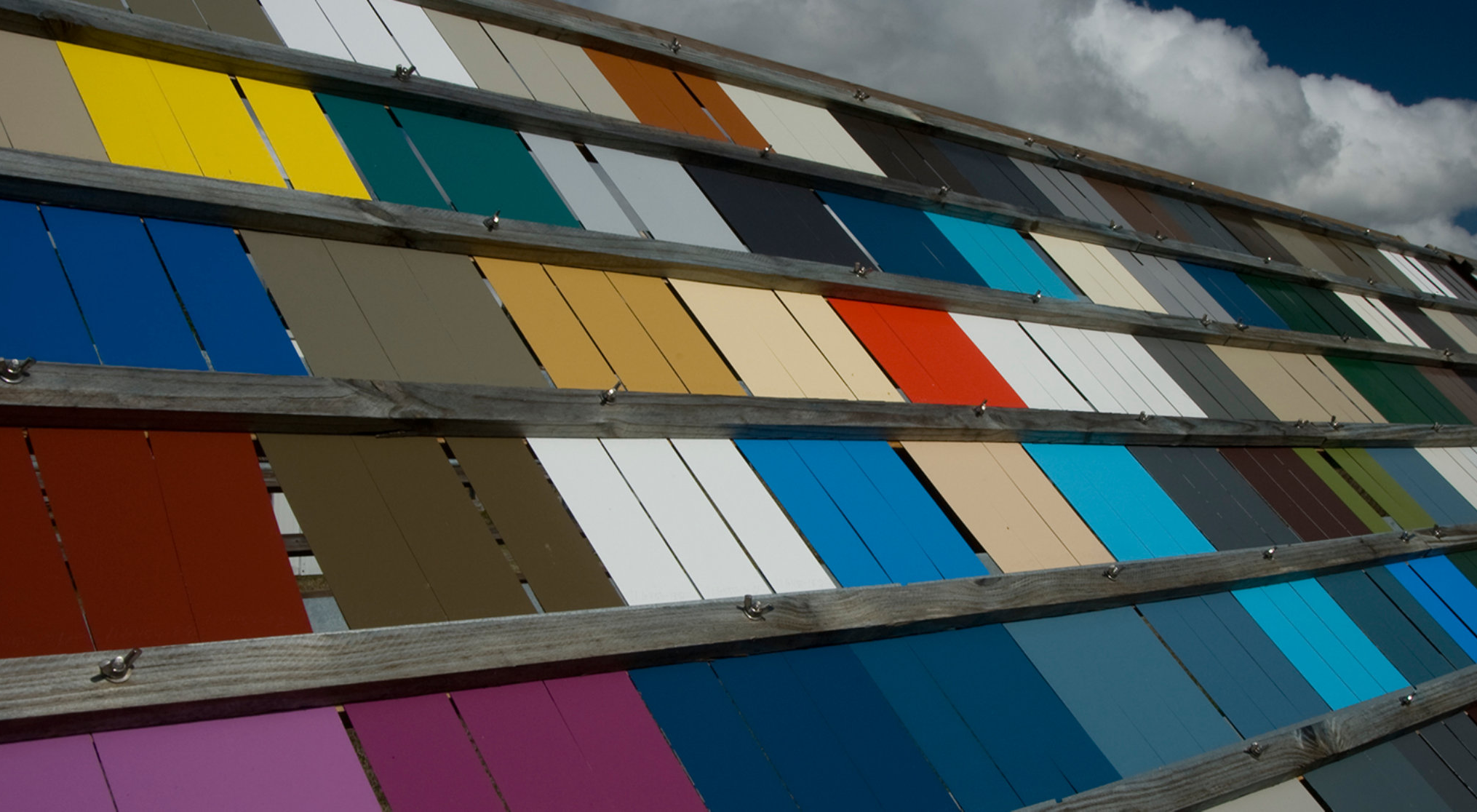 PVDF is the best performing and most economical paint coating solution for standing seam metal roofing — no question about it. However, if the price continues to rise, it might no longer be an affordable or reasonable option. You could consider choosing a material with a different paint coating system, such as silicone modified polyester (SMP) or fluoroethylene vinyl ether (FEVE).
We're planning to do in-depth articles on both of these alternative coatings soon, but here are some quick facts, benefits, and drawbacks of SMP and FEVE.
Silicone Modified Polyester (SMP)
SMP is a paint coating that consists of a combination mixture of polyester and silicone materials. SMP-coated metal sheets and coils are standard in the standing seam metal roofing industry, making it a great alternative to PVDF. SMP systems have come a long way over the years, and while it's still not as good as PVDF, it will still produce a metal roof that will last for decades.
Benefits of SMP
Great scratch resistance
Lower price point than PVDF
Works well in most environments
Offers more gloss options and textured finishes
Has a good paint warranty (40-year paint adhesion)
Paint system does not impact engineering
NOT experiencing the same supply and demand issues as PVDF
Drawbacks of SMP
More susceptible to UV degradation
Will chalk and fade quicker than PVDF
Brighter colors are not recommended, as they fade faster
Cannot be installed within 1500 feet of a coastline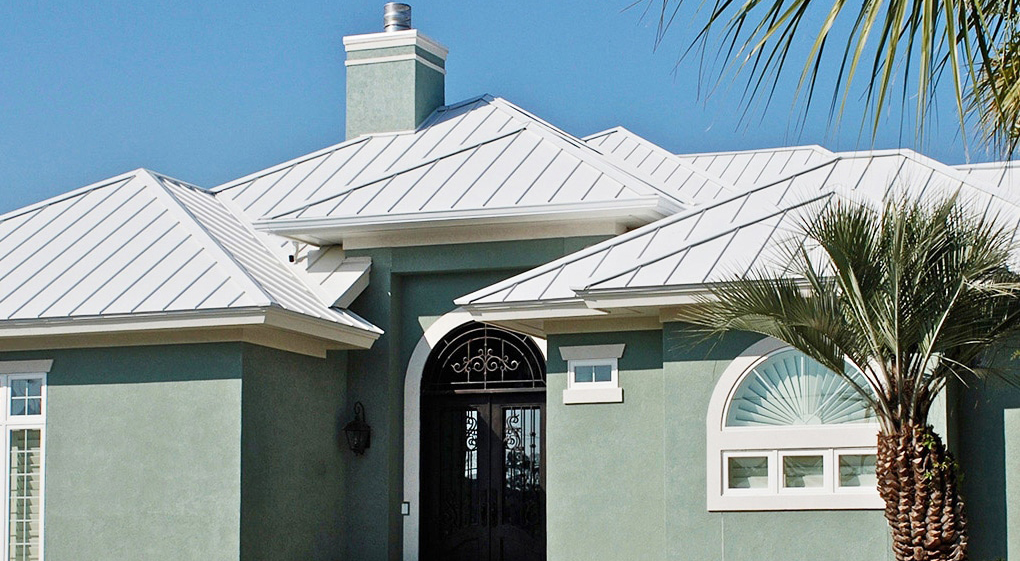 Fluoroethylene Vinyl Ether (FEVE)
FEVE resins are made up of various vinyl ether and fluoro-olefin units. FEVE-coated metal is slightly less common in the architectural standing seam industry; however, it could become a realistic high-performance replacement for PVDF.
Benefits of FEVE
A step above PVDF in terms of quality and weather resistance
Maintains brighter, more vivid colors for a similar timespan as PVDF (if not longer)
A thermoset system, meaning that it will not re-melt once it's cured or baked
Durable and tough while still flexible for fabrication and rollforming
Resistant to airborne chemicals, acid rain, and most cleaning solvents used to remove graffiti
Offers a higher gloss option
NOT experiencing the same supply and demand issues as PVDF
Drawbacks of FEVE
Comes at a significantly higher cost than PVDF (as of now) and SMP
Not commonly stocked by most metal sheet and coil suppliers
Consideration #2: Add Contract Provisions That Allow For Price Increases & Fluctuations
Adding a pricing provision in your contracts can help protect you and your business from losing profits in the event of a significant price fluctuation on PVDF products (likely to happen in 2022). It might be best to include an escalation clause that will allow for cost increases to bids from when the project was bid to when the work is performed. In essence, the provision locks the customer in and enables the project price to fluctuate according to the cost of materials.
Consideration #3: Give Your Bids Time Limits
In addition to price escalation clauses, you can also put time limits on your bids that make them valid for 30, 60, 90, etc., days. Time limits can help to protect your business further if prices rapidly change.
Consideration #4: Be Upfront with Your Customers About the Current State of PVDF
As always, communication with your customers during this time is critical, as many people who are buying a new metal roof may be unaware of the challenges we're experiencing with PVDF. Make sure you're prepared to discuss the following topics with potential customers and clients openly:
Price increases vs. 8-14 months ago

For example, if a homeowner got a bid a year ago, they can expect to pay more than the quoted price — just due to the price increase for materials.

Viable paint system and product alternatives to PVDF
Extended or longer lead times
Added provisions to account for price fluctuations
Bid limitations
There's also the option to offer an AZ55 Unpainted Galvalume material

Unpainted Galvalume doesn't require a PVDF coating (it's finished in a clear acrylic coating).
Keep in mind that the warranty coverage will be different with this material.
Final Thoughts on PVDF Coatings in 2022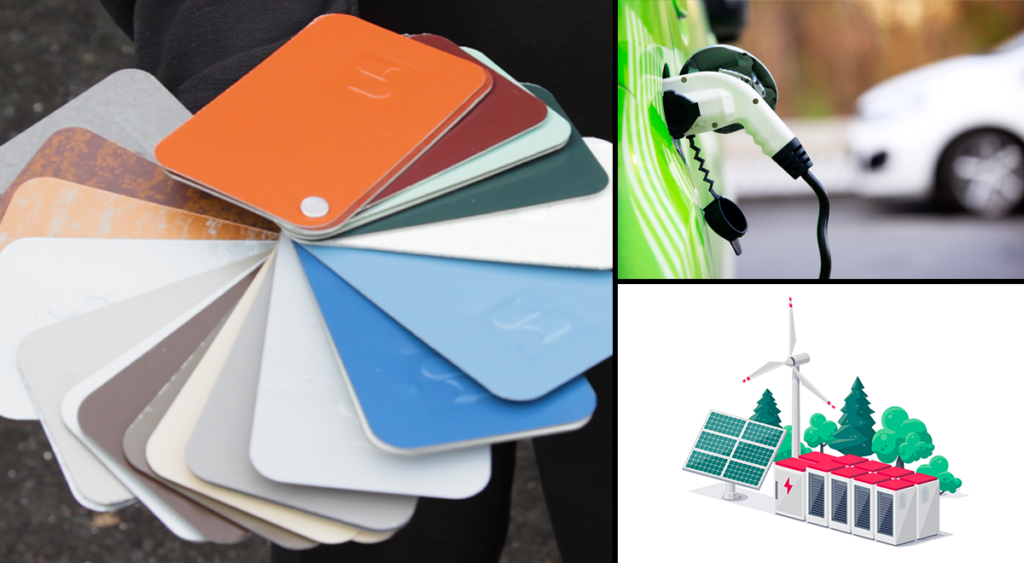 If we had one word to sum up how we're going to get through 2022 and the PVDF challenges that lie ahead, it would be flexibility.
Not only will metal sheet and coil suppliers have to accept and adapt to being allocated only so much PVDF, but consumers of PVDF-coated products will have to be flexible and understanding as well.
Keep in mind:
All metal sheet and coil suppliers for metal roofing feel the effects of the shift in PVDF demand, most of which are also on allocation.
The cost of PVDF is expected to keep rising in 2022 as battery and EV manufacturers continue to ramp up production and PVDF usage.
There are alternative paint coatings that you can use, including SMP and FEVE-coated materials. Check with your supplier or manufacturer to learn about these alternative resin options and their offered warranties, engineering, colors, and more.
If you run a roofing or manufacturing business, take the necessary steps to protect your business, including escalation clauses and time limits.
At Sheffield Metals, our goal is to be open and transparent about the problems and challenges our industry is currently facing. We hope this write-up was informative and that what is happening with PVDF is a little less complex.
Have questions about the changing PVDF market and how it could affect you? Reach out to us today to discuss this with one of our knowledgeable roofing specialists.
---
---