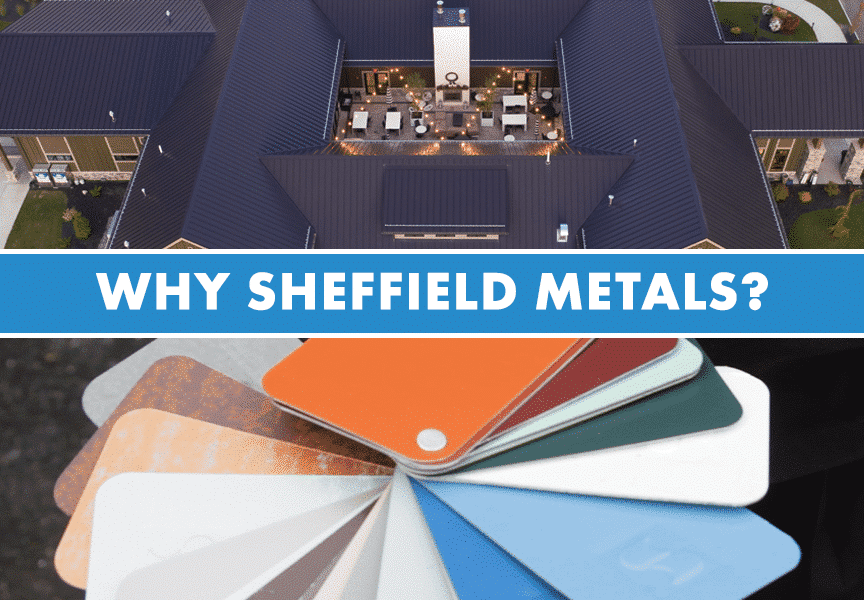 We're going to take a quick break from our usual educational articles to discuss a couple of questions that we're asked almost every day from standing seam metal roofing contractors and regionally-based manufacturers:
"Why should I choose Sheffield Metals?" or "How can Sheffield Metals help my business?"
Before we get into who we are and what solutions we can provide to solve your problems, we want to address the obvious: We know that we're not the only metal supplier out there trying to get your attention and business.
At the end of the day, you should choose the sheet and coil supplier that works best for your individual needs, both as a business and an industry professional.
So, we're going to discuss everything we can help your business with so you know who Sheffield Metals is and what products and services we offer, which can help you compare suppliers and make this important decision.
Who is Sheffield Metals & What Do We Do?
Since 1997, Sheffield Metals International (SMI) has provided coated and bare metal sheets and coils for the architectural metal panel industry.
So, what does that mean?
We supply the metal that contractors, manufacturers, and fabricators used to rollform and install standing seam metal roof and wall systems, available in both engineered and non-engineered profiles.
As of 2020, we operate out of five strategic locations across the United States (and ship to Hawaii, Alaska, the Caribbean Islands, parts of Canada, and parts of Mexico):
Sheffield Village, Ohio (Cleveland)
Acworth, Georgia (Atlanta)
Arlington, Texas (Dallas)
Denver, Colorado
La Mirada, California (Los Angeles)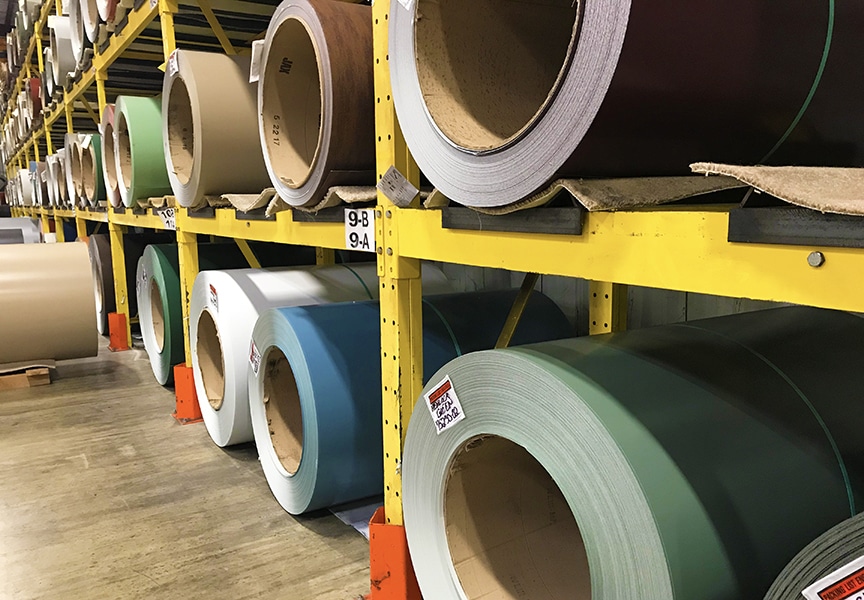 The majority of the sheets and coils that we supply are 24-gauge Galvalume and .032 aluminum coated in Sherwin-Williams's Fluropon paint system, a high-performance PVDF resin-based coating.
Our customers have access to a variety of color options (40+ continuously stocked) in 40", 44", and 48" Master coils to help minimize scrap and drop-cuts. Plus, we specialize in custom color-matching to accommodate any project.
On top of the Galvalume and aluminum products, Sheffield Metals offers additional products, complimentary value-added services, and panel profile engineering that equips contractors and manufacturers with everything they need to sell and install high-quality standing seam metal roofing.
This includes:
Engineered panel profiles – Snap-lock, mechanical seam, fastener flange, flush wall and soffit, and more.
Metal forming equipment – including New Tech Machinery portable rollformers, breaks, shears, and more.
Accessories and components – Underlayment, clips, finish-matched fasteners and rivets, sealants, S-5! Clamps, and more.
Specialty sheets and coils – Copper, galvanized, zinc, bonderized steel, and more.
Roof drainage components – Commercial roof gutter and downspout products
---
---
Who Are Our Customers?
There are two subsets of customers that we serve: Those who buy directly from us and those who don't. We treat both as equally important, especially because we often end up working with a mix of individuals from a number of these audiences for just one project.
On the side of those who can buy directly from Sheffield Metals are:
Regional manufacturers and fabricators
Commercial roofing contractors
Residential roofing contractors
Wholesalers and distributors
On the other side are the audiences that do not buy directly from us. For these groups, we offer support services, specialized resources, and guidance to assist them in specifying and installing a metal roof or wall system. This includes:
Architects and designers
Home and property owners
How Do You Benefit From Partnering with Sheffield Metals?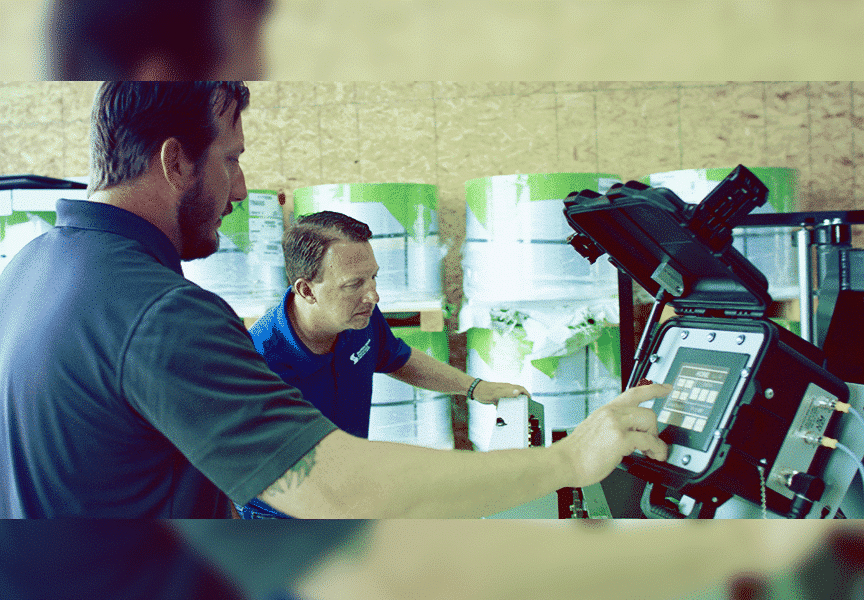 Before we discuss some of the advantages of working and partnering with Sheffield Metals, there's one thing we want to reiterate: We understand that not every company looking for a coil supplier will end up choosing Sheffield Metals.
There are many attributes that a contractor or manufacturer must consider, such as local availability, panel profiles offered, support services, account management, etc. — all of which are unique to every business.
So, let's go through what we can offer to your manufacturing or contracting business when you partner with SMI.
One-Stop Shopping Experience
It's not a secret that everyone wishes they could just go to one store or one company to buy everything they need. We saw that same need in the metal roof installation and manufacturing industry. You no longer need to go to four or five different distributors to get coils, sheets, screws, underlayment, rollforming equipment, etc.
Get in all in one place with Sheffield Metals' one-stop shopping experience.
For a taste of what we mean, here's a list of just some of the products frequently needed for an installation that we offer:
Custom slit metal coils and sheets
Synthetic underlayment
Clips (Expansion and contraction, fixed, floating, and more)
Fasteners, screws, and rivets
Sealants and butyl tape
Pipe boots
Paint touch-up pens
S-5! clamps and attachments
New Tech Machinery portable rollforming equipment
Brakes and shears
Seamers
Buy What You Need When You Need It
Buying what you need when you need it is more difficult to come by these days. Many coil and sheet suppliers have minimums or only regularly stock a few colors in limited coil widths. But not Sheffield Metals.
We operate on a more customized level, meaning that we DO NOT require a minimum for orders. Plus, most of our coils are processed after an order is submitted so that it can be custom slit according to your project needs. Best of all: Most processed metal sheet and coil orders have just a 3-day turnaround.
On top of the customized metal processing, we continuously stock 40+ color options in our large inventory and offer custom colors and matching services.
Install Engineered Metal Roof & Wall Panel Systems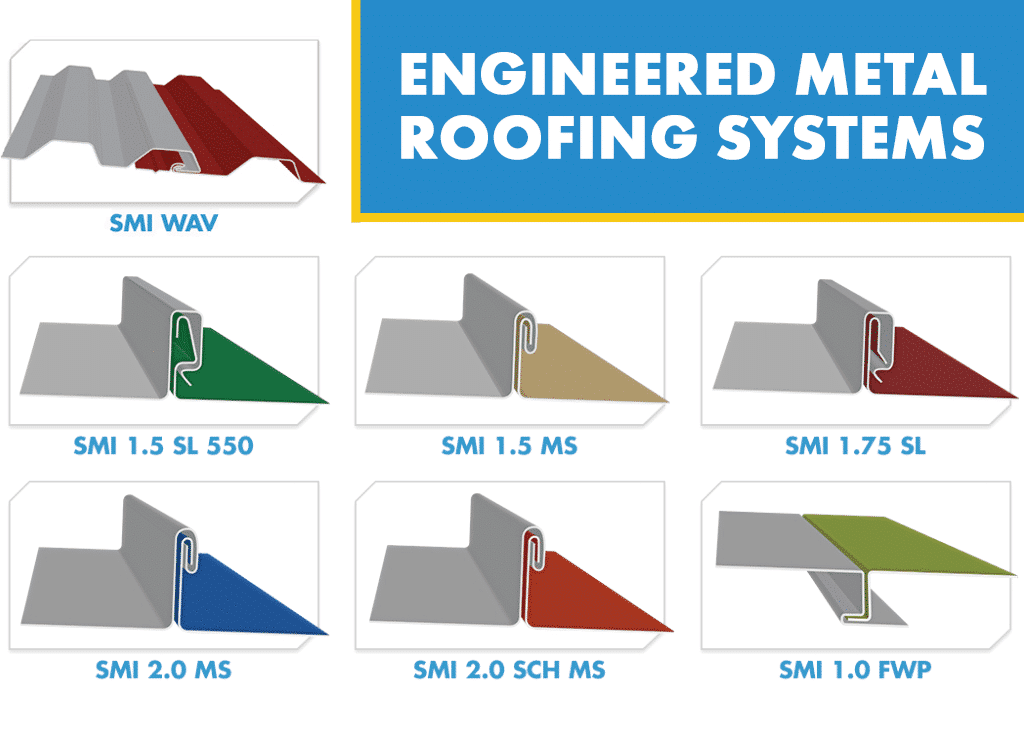 The push for long-lasting engineered standing seam metal panel systems grows every year, especially for architecturally specified metal roof and wall projects. A little over a decade ago, we recognized that the industry was moving toward that type of metal system, which is why we offer engineering on a variety of both roof and wall profiles.
Our engineered profiles adhere to many of the stringent testing standards and requirements used for residential and commercial applications that have a solid substrate or open-framing.
For reference, many of our engineered profiles have passed and received the engineering reports for:
Wind uplift testing
Air infiltration testing
Water penetration testing
Water submersion testing
Impact resistance testing
Fire rating
Florida Building Code (FBC) Approval
Texas Department of Insurance (TDI) Approval
Plus, all of our panel profiles, both engineered and non-engineered, are tested to meet minimum UL 90 approvals.
Access to Our Technical and Architectural Departments
Since we've emphasized engineering and architecturally-driven projects, we have dedicated both a full-time Technical Department and a full-time Architectural Department. These two teams are comprised of individuals who have worked in their respective fields for a combined 50+ years of experience. The team has extensive knowledge of installing, designing, and specifying technical metal roofing systems.
The Sheffield Metals Technical Department regularly assists contractors and manufacturers in a variety of technical topics, including:
Panel testing and engineering
Installation details
Installation methods and best practices
Warranty inspections and support
Guidance to new roofing contractors
Rollforming equipment training
Whether you're an architect, specification writer, design and build firm, or beyond: Our business is built to support you, your projects, and facilitate growth. Partnering with Sheffield Metals and the Architectural Department provides you with:
Design phase assistance
Relevant, accurate, and user-friendly guide specifications
Warranty options and support
Engineering reports
Any help with your architectural projects
Utilize the SMI Tech Stick
It's convenient when any document, cutsheet, or testing report we need for a project is easy to find, right? That's why we created the SMI Tech Stick, a flash drive containing our entire library of technical resources to assist in your projects, including:
Manufacturer's specifications
Installation details
Engineering reports and testing documents
Weathertight, paint, and substrate warranty forms
Accessory information
Product submittal information
Cutsheets
Best of all, it's simple to navigate, easy to transport, and fits onto one portable flash drive for you to keep and use when you need it. Fill out the form, to request an SMI Tech Stick.
Let Our Experienced Sales Team Help You Grow Your Business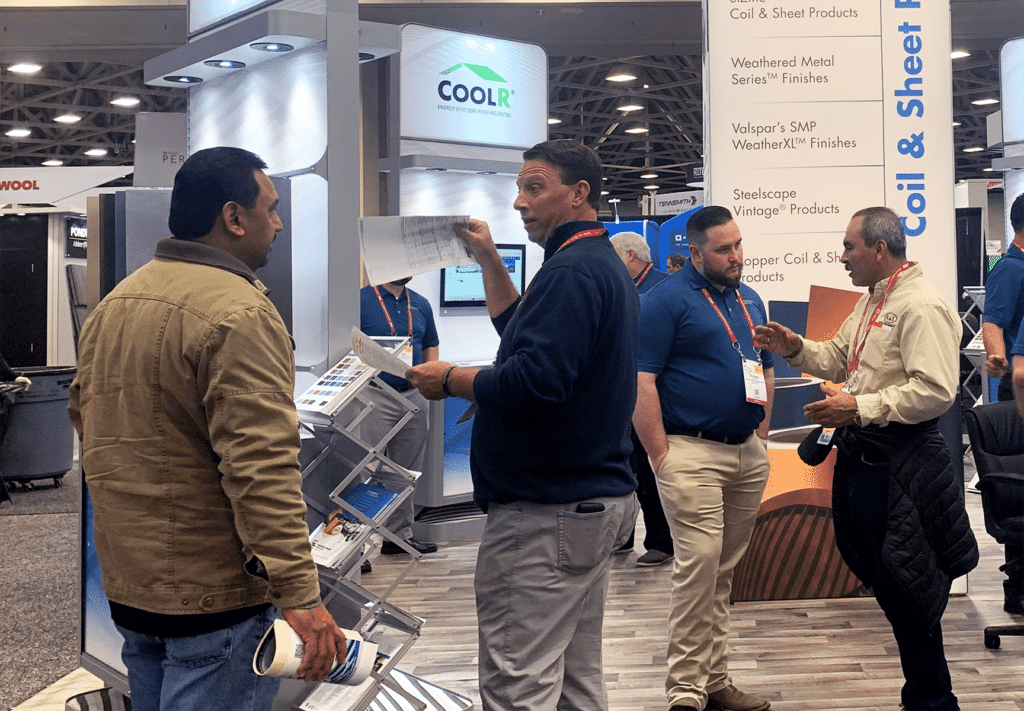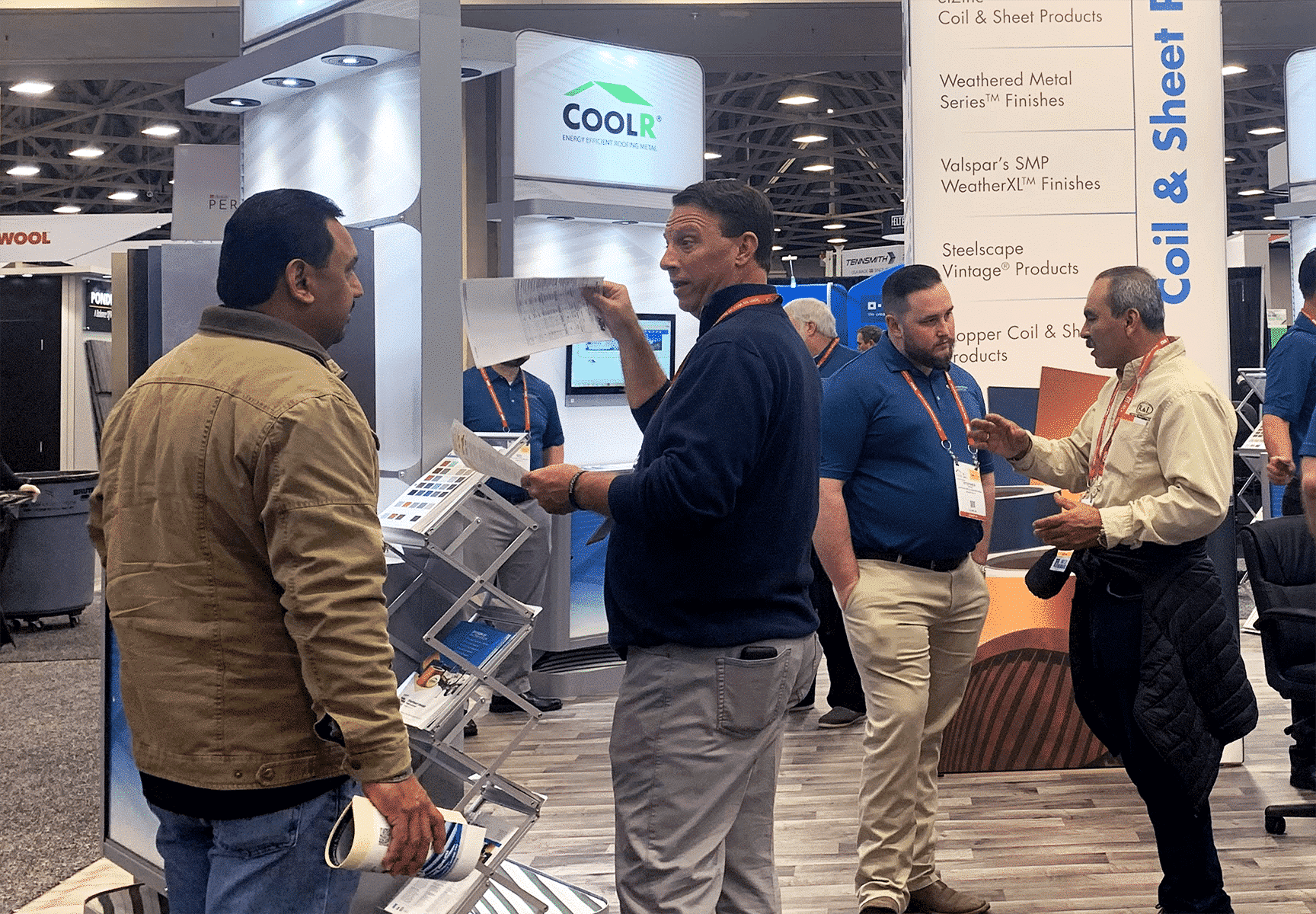 When building a sales or account management team, it's never a good tactic to give one person too large of a region. To combat this issue, our industry-experienced sales team is assigned to smaller, manageable territories to best serve the new and existing customers in their region and help them grow their businesses. Plus, most of the team members live in the areas they assist.
On top of the outside account manager (who is your primary contact), you also have one or more dedicated inside account managers to help you with ordering specifics, freight or shipping, inventory, timing questions, and other essential details.
Additionally, your dedicated account management team is quickly responsive and always available via phone or email.
Offer Your Customers with Solid Metal Roof Warranty Options
When selling a new roof to clients or property owners, warranties make all the difference. That's why having long-lasting warranty options from your coil or sheet supplier is critical to winning project bids.
That's why we work closely with our chain of suppliers to ensure that we continually provide the best-warrantied products available. Some of the warranties offered include:
Weathertight warranties up to 35 years for commercial projects (both no dollar limit and limited options)
Transferrable finish/paint warranties up to 40 years
Galvalume substrate warranties up to 25.5 years
Aluminum substrate warranties up to 20.5 years
Warranties will vary depending on location, application, and project, and is a topic that the SMI Technical Department can go over with you.
Request a Complimentary Roof Take-Off
Whether you're a commercial or residential contractor, it's always good to make sure your estimation measurements are as accurate as possible.
That's why Sheffield Metals offers all customers with a complimentary, high-quality, and professional take-off service.
To complete a take-off, all we require is the panel width, digital blueprints or roof plans, and the roof pitch. In return, you'll receive a roof coverage summary with a detailed list of the number of panels needed in both linear feet and total square feet. Plus, a full layout of the panels on the roof deck.
The typical turnaround for a take-off averages 48 to 72 hours. This service is meant to assist you and your customers' estimating needs and doesn't replace field verification.
Receive Custom Marketing Support
We know how expensive and complex it can be to design color charts to give to your customers. That's why, as a value-added service to contractors and manufacturers who partner with Sheffield Metals, we're now offering custom color charts at no additional cost to you. The document is designed according to your company's branding and will feature the Sheffield Metals colors you install.
All you need to do is request a custom color chart from your dedicated sales representative, who will facilitate the design with the Sheffield Metals Marketing Department.
Learn from Our Educational Resources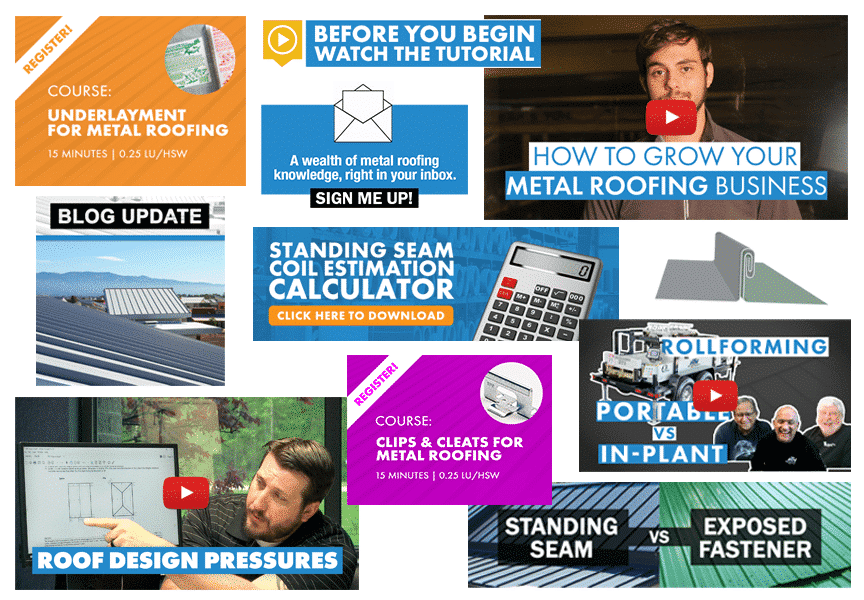 We can all learn something new or brush up on our knowledge from time to time. Plus, we believe that educating the industry and providing our resources at zero cost is critical to what we do. Best of all, it's accessible 24 hours a day, seven days a week.
All of our resources can be found in our Metal Roofing Learning Center. So if you or your team need a question answered or want to learn more about a topic, you can browse through our content, which includes:
Videos on The Metal Roofing Channel on YouTube
Articles from The Metal Roofing Learning Center blog
E-books, checklists, and helpful downloads
Calculators and estimation documents
Color Visualizer tool
Final Thoughts on Partnering with Sheffield Metals
So, is Sheffield Metals the best metal sheet and coil supplier for you?
Well, it depends. The good news is that you know your business better than anyone does, so you can best narrow down your choices.
But, before we go into some of the attributes and questions you can ask yourself, we want to reiterate one thing: Cost is a key element of choosing a coil supplier, but it is NOT everything. Try to take cost into consideration in addition to the following variables:
Lead time requirements

Is the supplier able to process orders in a timeline that works for you and your business?

Products offered

In addition to metal sheets and coils, do you also need to purchase installation accessories, forming equipment, roof drainage components, etc.?
Would it be best to get all of your products from one supplier? Or are you satisfied with buying from multiple vendors?

Engineered vs. non-engineered profiles

Do you install engineered standing seam metal roofing panel systems or projects?
Do you often require testing documentation for your projects?
Are the documents easily accessible to you from the supplier?

Location & proximity to a distribution center

Is there a location nearby that enables you to get products quickly?
Will it need to be shipped? How much will it cost to have products shipped to the job site or my business?

Technical & architectural support

Do you need architectural support? Do you bid on architectural projects?
How much technical support do you think you will need?

Warranty offerings

What warranties do you customers frequently ask for?
How do warranties help you sell roofing jobs?
Do you do commercial projects? Do you want to offer weathertight warranties?

Account support & educational resources

Do you trust the supplier's account management team to do what's best for you and your business?
Do you have access to support services that you want or need?
How much do you consume educational resources or continued learning videos, articles, etc.?
While this list above is not all encompassing, it will get you started down the road to choosing the coil and sheet supplier for you.
At Sheffield Metals, our goal is simple: Help you grow your business. For over 20 years, we've been helping contractors, fabricators, and manufacturers like you install and sell the highest quality standing seam metal roofing systems.
So, do you think Sheffield Metals could be the metal sheet and coil supplier for you? Let's talk! If you're not already in contact with one of our experienced account representatives, contact us today!
---
---