You might be thinking: "How different can standing seam metal roofing and exposed fastener metal roofing really be?"
The answer is: Very different.
While each system utilizes some of the same materials and ultimately performs the same function of covering and protecting a structure, standing seam and exposed fastener systems are drastically different in their benefits and drawbacks.
As one of the leading distributors of metal sheet and coil used in a variety of metal roofing projects, Sheffield Metals knows how important it is to weigh all of the options, including standing seam and exposed fastener, so you can choose the best metal roofing system for your needs.
---
---
In this article, you'll discover:
The advantages and disadvantages of standing seam metal roofing.

The advantages and disadvantages of exposed fastener metal roofing.
How to know which metal roof style is best for you.
Standing Seam Metal Roofing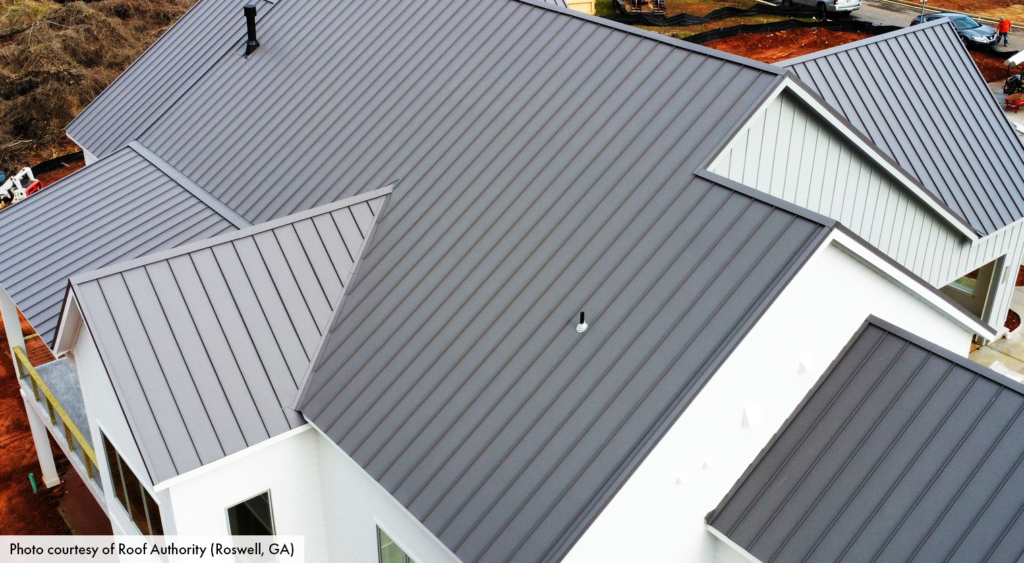 Standing seam metal roofing is defined as a concealed fastener metal panel system that features vertical legs and a broad, flat area between the two legs. It's also described as having raised seams, or vertical legs, that rise above the level of the panel's flat area. Standing seam systems have fasteners that are hidden, whether the panel is attached to the roof deck using a clip or is directly fastened to the deck under the vertical leg utilizing a fastener flange. Standing seam is considered a higher quality system that is commonly used on architectural and commercial buildings.
Advantages of Standing Seam Metal Roofing
No Exposed Fasteners – One of the most significant benefits of standing seam metal roofing is that no fasteners are visible on the surface, which means they aren't exposed to UV, moisture, wind, and other elements that can cause a fastener to wear out over time. Also, standing seam systems don't put holes in the panels that are protecting your structure. Plus, some people see fastener heads as unsightly, which is why using a standing seam system to hide them is common. (Note: There are flashing materials and details that require rivets and exposed fasteners to function correctly.)
Weathertight Warranties Available – Another safeguard of standing seam systems are the warranties, specifically the weathertight warranties, which are offered by reputable manufacturers. These warranties promise that the metal roofing system will not leak or fail during specific weather conditions; if it does, the manufacturer is responsible for remediating the issue. (Note: Weathertight warranties are only available for commercial projects.)
Allows For Thermal Movement – When you restrict the expansion and contraction needed for proper thermal movement of a metal panel, you can run into problems, such as oil canning, fastener withdrawal, increased noise, and more. In standing seam roofing systems, the panels generally aren't double pinned (if installed to our recommended details), meaning they can expand and contract better. This is especially true if slider/expansion clips are installed or if it's a snap-lock system where the metal can move freely with a clip.
Longevity & Lifecycle – Metal roofing lasts significantly longer and requires less maintenance, especially when compared to other roofing types, such as asphalt shingles or concrete tiles. Since fasteners don't penetrate the surface of the metal on a standing seam system, regular maintenance to check for withdrawing, loose, or damaged fasteners is even less frequent. However, maintenance on a standing seam roof is still essential and often must need to be performed by a professional contractor. Also, standing seam metal roof systems typically offer a PVDF paint system, which will increase the lifespan of the appearance of your roof.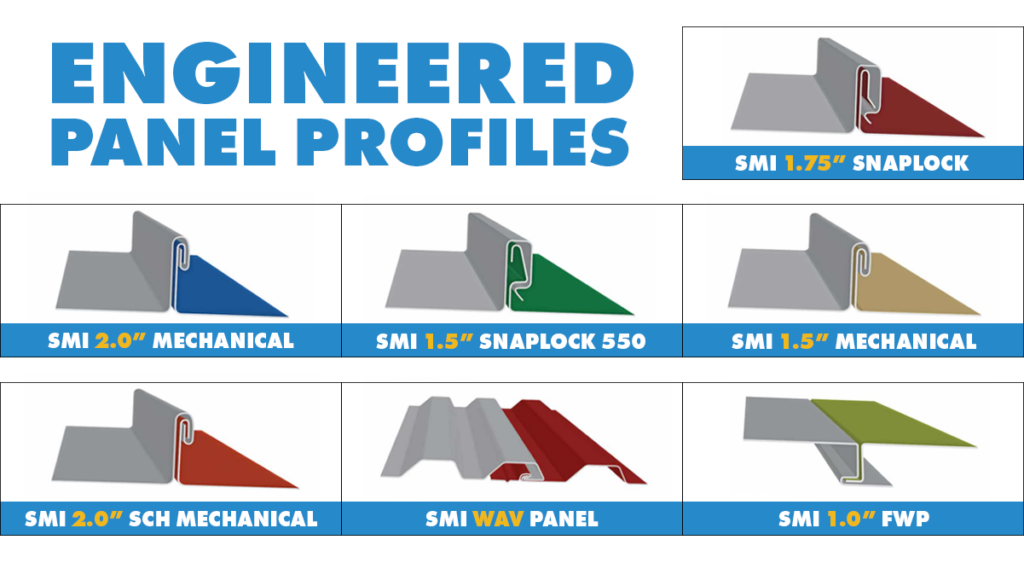 High-Performance Engineered Profile Systems – Engineered standing seam metal roof systems are tested to the high standards set forth by industry leaders, including ASTM, UL, and FM Approvals. Requests for engineered construction materials are becoming more and more popular, especially with commercial structures in hurricane and high-wind zones. Engineered standing seam metal roofing systems typically adhere to testing standards for wind uplift, air leakage, water penetration, fire/combustion resistance, and impact resistance.
Sleek, Consistent, & Modern Look – Standing seam is becoming more and more popular in architectural applications because of its modern and clean look. In addition to the sleek, straight lines offered by these panel systems, the metal can come in virtually any color, including custom colors, to match any structure.
Architectural Freedom – Standing seam panels can be used on structures with many different planes and sophisticated, complex designs, which is another reason why architects frequently specify these systems.
Energy-Efficient – Standing seam systems are frequently made with cool metal roofing materials that have highly reflective paint pigments in the coating. This means these systems do an excellent job of reflecting the sun's rays and dispelling the associated radiant heat that other roofing types may retain. In other words, cool roofing can help a building's cooling system work less to keep the indoors cool. There is also a variety of ENERGY STAR® rated colors and finishes to choose from.
Metal Material Options – Some consumers think that standing seam metal roofing is only available in Galvalume or other steel substrates. In fact, painted aluminum, zinc, and copper are all viable options for standing seam profiles. Remember to look for and ensure that these alternatives are installed to local building codes, as installation methods can vary from steel for these other materials.
Non-Penetrating Mounting Options – One of the best parts about standing seam is the option to mount items, such as solar panels, snow retention systems, swamp coolers, or other rooftop additions, without penetrating or making any holes in the surface of the roof. For more about reliable mounting clamps and other hardware, check out our partners at S-5!.
Disadvantages of Standing Seam Metal Roofing
Higher Cost – One of the most significant drawbacks to standing seam metal roofing is the fact that it can be more expensive when compared to other metal roofing types, especially exposed fastener systems. However, it's not always the highest price, as metal shingles and other stamped metal materials tend to come in at a higher price, even though stamped materials are often made from 26 gauge or thinner substrates.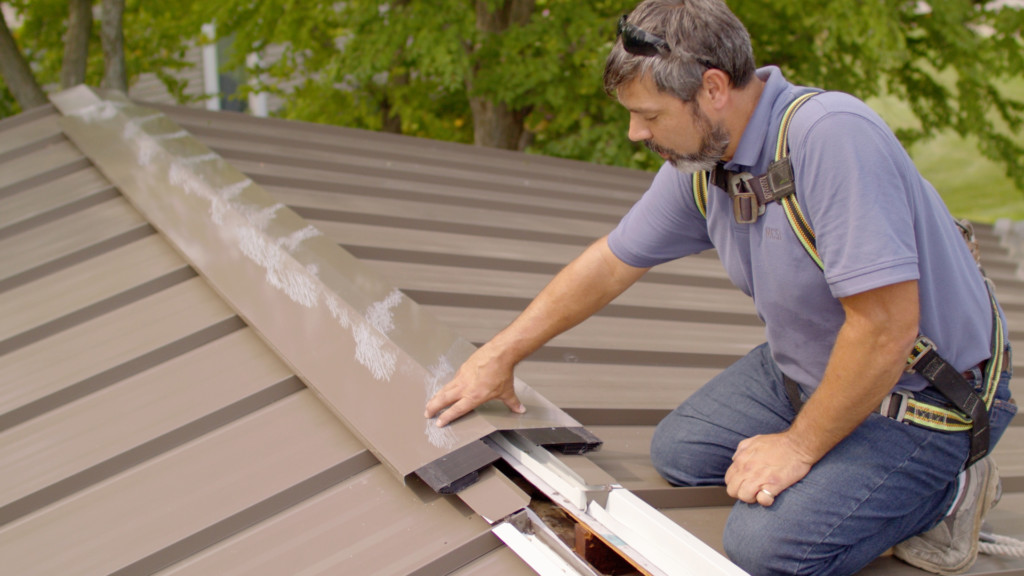 Less Qualified Contractors Available – Finding a contractor who is qualified, skilled, and experienced in metal roof installation is crucial, especially because standing seam systems require careful craftsmanship. Since standing seam installations may be considered too complicated or tedious, there are far fewer contractors to choose from who have a proven track record and relevant experience.
Labor-Intensive Installation Process – For exposed fastener systems, it's a relatively simple process of putting the material on the roof deck and nailing/screwing it down. For standing seam, it's much more complex and labor-intensive, and may include:
Forming the metal panels using portable (on-site) rollforming or buying from regional manufacturers.
Correctly spacing the clips on the panel legs and fastening each one down.
For snap-lock systems: Aligning the panels and snapping the legs together.
For mechanically seamed systems: Aligning the panels and hand or mechanically seaming the panel legs together.
Making any necessary slits in the metal to account for roof plans, geometry, and flashing areas.
Not Suited For Flat Structures – Standing seam systems are not suitable for buildings or homes that have a roof below a .5/12 pitch (mechanical seam). These flatter structures don't allow water to adequately drain, which could lead to premature degradation, color changes, and the overall failure of the panel system. Furthermore, snap-lock systems should not be installed below a 3/12 pitch.
Harder to Repair or Replace – If damage or another issue occurs with one panel or a smaller section of the roof, it can be tough to replace efficiently because each individual panel must be separated from the ones that are staying on the structure. This process can be especially tedious for mechanically seamed systems, as each panel will need un-seamed and the sealant will also need to be removed/broken through.
Exposed Fastener Metal Roofing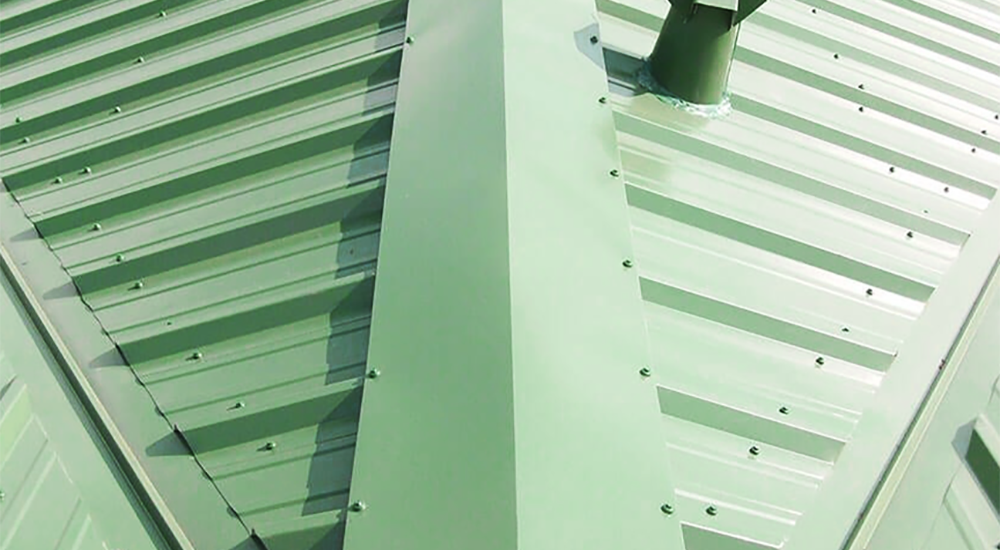 Exposed fastener metal roofing is defined as a roofing system where the panels are fastened to the structure through the face of the metal and directly into the roof deck or framing below. The panel edges lap one another, and the fastener goes through both layers of metal. It's called "exposed fastener" because the head of the fastener is visible and not hidden by a seam. An exposed fastener system is typically considered the economical choice of metal roofing and is classically used on residential, structural, industrial, and agricultural buildings.
Advantages of Exposed Fastener Metal Roofing
Less expensive – One of the most significant benefits of choosing exposed fastener metal roofing is that it's less expensive, especially when compared to standing seam systems. There are many reasons for the lower price, including:
Wider panels (up to 36")

Fewer metal panels need to be purchased.
Less labor is needed because the wider panels cover the roof faster.

Thinner gauge panels

Exposed fastener systems generally use 29 to 26-gauge metal, which is thinner and cheaper.

Lower quality paint systems
Less accessories purchase

Exposed fastener systems are directly fastened down to the structure through the metal, so there's not a necessity to buy any kinds of clips. This can save on costs for the buyer.
Exposed fastener systems usually use less accessories and different flashing products, like foam closures, to install the roof system. Again, this cuts down on costs and speeds up the installation.
No Seaming Required – Exposed fastener systems do not require hand or mechanical seaming of the two panels. Most systems use a lap seam where the edges of each panel overlap the one adjacent to it and are then fastened down together at the same time. This is often why exposed fastener metal roofing tends to be considered the less labor-intensive option when compared to standing seam metal roofing.
Performs Relatively Well – Exposed fastener systems do hold up to weather conditions relatively well, especially if it's been correctly installed for the environment. Plus, there typically aren't broad, flat areas on most of the panels, which helps reduce the visibility of oil canning if it occurs. Also, since you can screw down the entire width of the panel, you have many attachments points to the deck. However, most exposed fastener systems are not engineered to stringent industry standards like standing seam metal roofing is, meaning how the roof will perform isn't verifiable. Panel testing, if any, varies based on the manufacturer and system being offered. It's important to ensure that the product you are purchasing has the appropriate testing for the building type and location.
More Contractors Have Skills & Tools to Install It – Many contractors promote that they know how to install metal, but keep in mind that installing standing seam and installing exposed fastener panels require a much different skill set. Since exposed fastener metal roofing is easier to install, most contractors who install roofing have the necessary knowledge, experience, and tools needed to offer exposed fastener systems to their customers. Installing all metal roofing requires skill as far as lining up the panels, correctly spacing the fasteners, and cutting the panels to match the roof's geometry, it doesn't require the same level of craftsmanship as a standing seam metal roofing does.
Better Suited for DIY (Do-It-Yourself) Projects – Since it is easier to install, there's more of an opportunity for home or building owners to perform the installation themselves as a DIY project. For standing seam metal roofing, we always recommend hiring a knowledgeable, experienced, and trusted installer.
Can Be Purchased at Big Box Stores – Exposed fastener profiles, such as PBR panels, R-panels, or 5V crimp panels, can be purchased from many different places, including directly from the manufacturer, from a regional panel supplier, lumber yards, and even big-box stores like Home Depot or Lowe's. This can provide more versatility for pricing, options, colors, sizes, and more.
Provides a Unique Look – Exposed fastener might be considered a more "traditional" look in some geographic areas, specifically rural regions that have a lot of barns, silos, and other agricultural structures.
Disadvantages of Exposed Fastener Metal Roofing
Many Roof Penetrations – If someone came up to you and told you that they were going to drill a hole in your roof, you would be concerned, right? Exposed fastener metal roofing actually requires installers to make many holes (for fasteners and screws) in the metal that is protecting your structure, which opens the roof up to numerous problems. Most notably: Water penetration and leaking. In fact, springing a leak is one of the most common problems with exposed fastener roofs, primarily because water can do a lot of damage in a short amount of time. Also, because leaking is a concern, always be cautious of how low of a slope and what type of underlayment you use on your roof for exposed fastener metal roofing systems.
Fastener Problems – Exposed fastener systems put the integrity of your roofing structure in the hands of the fastener and the gasket, which is the thin piece of material between the head of the fastener and the metal panel. This can lead to many issues, such as:
Fastener withdrawal – The expanding and contracting of the metal roof over time is inevitable. Directly fastening the metal down to the structure without a clip limits the amount a roof can expand and contract during temperature fluctuations, which can cause the fasteners to back out as the metal moves. If the gasket is no longer touching the surface of the metal, there is the potential for water to get into one of the penetration points.
UV degradation – Another fastener issue is that the gasket is subject to quicker UV degradation than the metal fastener itself. The amount of time that it takes a gasket to degrade from sun exposure varies depending on what material the gasket is made of, such as neoprene, silicone, rubber, or otherwise. This degradation of a fastener's gasket is the reason why maintenance on an exposed fastener metal roof is vitally important.
Incorrect fastener installation – When you have many penetration points and fasteners, there is more of an opportunity for improper installation of a fastener, which is another way for water and air to leak into a structure. Incorrect fastener installation can include:

Overdriving the fastener
Underdriving the fastener
Angling the fastener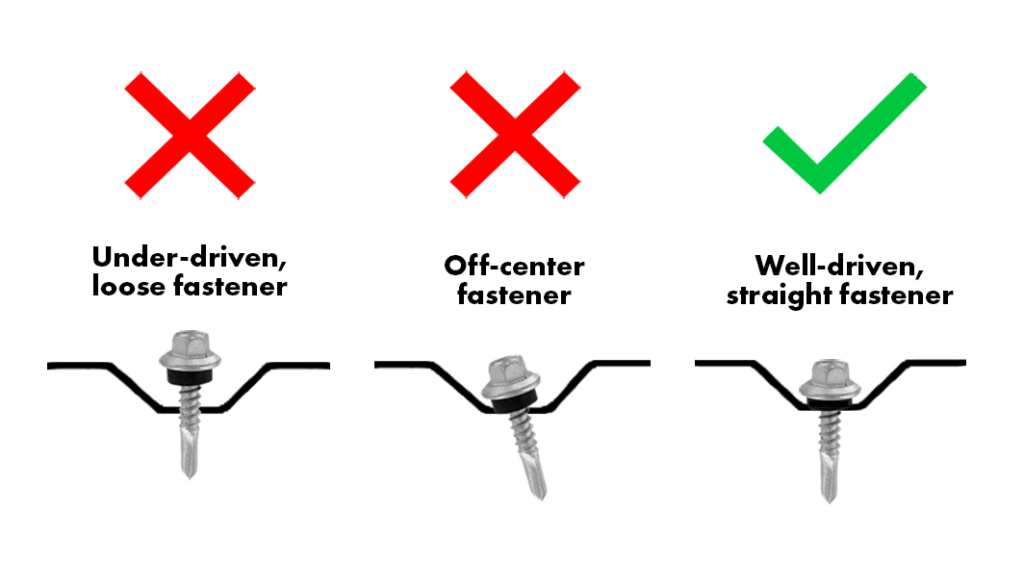 More Frequent Maintenance Required – When compared to a standing seam metal roof, exposed fastener roofs require more frequent maintenance, especially regarding fastener upkeep. This maintenance will include the regular metal roof maintenance of:
Removing leaves, sticks, and other debris.
Cleaning out any gutters and drains.
Checking for scratches, scuffs, chalking, fading, and flaking.
Looking for spots where dissimilar metals may be in contact.
Checking the state of all fasteners and replacing those in poor condition, such as those that are backing out, loosening, rusting, or showing other signs of degradation.
Making sure all of the foam closures, which are common with exposed fastener systems, are still in good condition and not breaking down.
Ensuring that the lapped spots are still water-tight and in good condition.
No Weathertight Warranties – Again, putting many holes in something as important as a roof makes it difficult for manufacturers to warrant exposed fastener roofing systems. In fact, we currently don't know of any companies that offer weathertight warranties on their exposed fastener profiles/systems.
No Low Slope Structures – With exposed fastener systems, every panel is lapped and has many screw penetrations through the panel's surface. You don't want to take a chance of your roof holding water or having it back up onto the roof system and counting only on sealant or a gasket on a fastener to keep that water out of your building. For this reason, a minimum 3/12 roof slope is industry standard for an exposed fastener system, which will allow the water to shed from the roof and not allow any pooling.
Less Sleek Look – Modern architecture tends to focus on clean lines and consistent surfaces, which is something exposed fastener metal roofing can't offer. The heads of the fasteners raised above the surface of the metal give these systems a bumpier and less sleek look.
How to Know Which Metal Roof Style Is Best for Your Project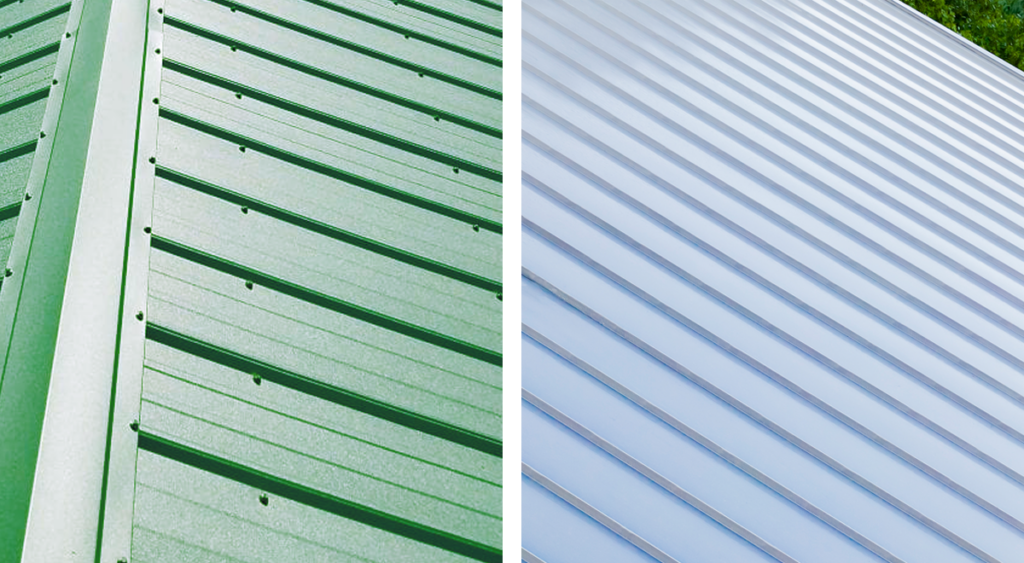 Your Budget
As always, one of the most important things to keep in mind when choosing between standing seam and exposed fastener metal roofing is your budget.
Choose standing seam if: You can afford a little extra and are willing to spend a little more money on your roof.
Choose exposed fastener if: You're looking to save a little money and pay a lower price.
Maintenance
Before you pick your roof out, make sure you know how much maintenance you're willing to do and/or how often you want to hire a business to perform the maintenance on your roof.
Choose standing seam if: You want to wait a little longer in between your scheduled maintenances.
Choose exposed fastener if: You're okay with performing maintenance or hiring a business to perform maintenance, especially on fasteners, an upwards of two times per year.
Slope/Pitch of the Roof
The pitch of a roof makes all the difference when choosing between these two systems, especially because it can cause failure and damage to occur if the pitch does not work well with the profile.
Choose standing seam if: Your roof is a .5/12 pitch or higher for mechanically seamed profile and 3/12 or higher for snap-lock profile.
Choose exposed fastener if: Your roof is NOT low slope, meaning it's a pitch of 3/12 or higher.
Choose neither if: Your roof is flat. Metal roofing is not recommended for flat roofing structures.
Who Is Installing the Roof
Another way to determine the type of roof is to know how you want the roof installed on your property.
Choose standing seam if: You want to hire a qualified and skilled contractor with standing seam metal roof installation experience who has their own rollformers, seamers, and other required tools.
Choose exposed fastener if: You want to do the installation yourself (DIY), or you want to hire a less expensive contractor with experience installing exposed fastener systems.
Your Roofing Structure
While you can use standing seam or exposed fastener metal roofing on any type of building or home, there are some common uses for each. Keep in mind, residential structures can utilize both systems and are generally based on performance and preference.
Choose standing seam if: Your building is commercial, architectural, or residential.
Choose exposed fastener if: Your building is agricultural, structural, residential, or open-framed.
The Look You Want
Another determining factor to remember is how you envision the building, specifically the roof, looking when it's complete.
Choose standing seam if: You want a sleek, clean, consistent, and more modern look.
Choose exposed fastener if: You want a more traditional look or you don't mind the visible fastener heads.
Your Weathertight Warranty Requirements
Weathertight warranties are essential for some property owners and unimportant to others, so make sure you know if you need/want one or not.
Choose standing seam if: You want more warranty options, especially weathertight warranties.
Choose exposed fastener if: You don't mind not having a weathertight warranty.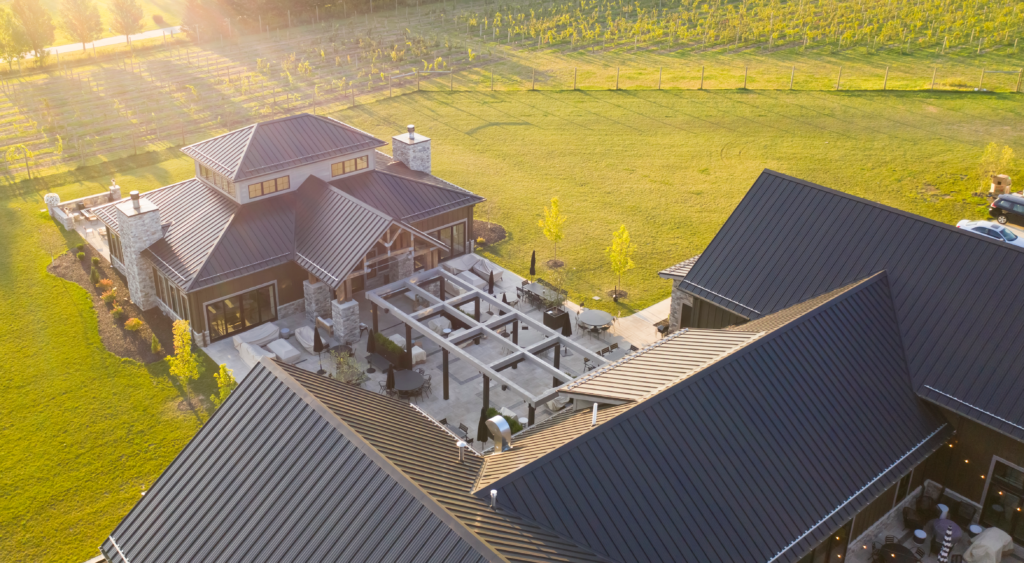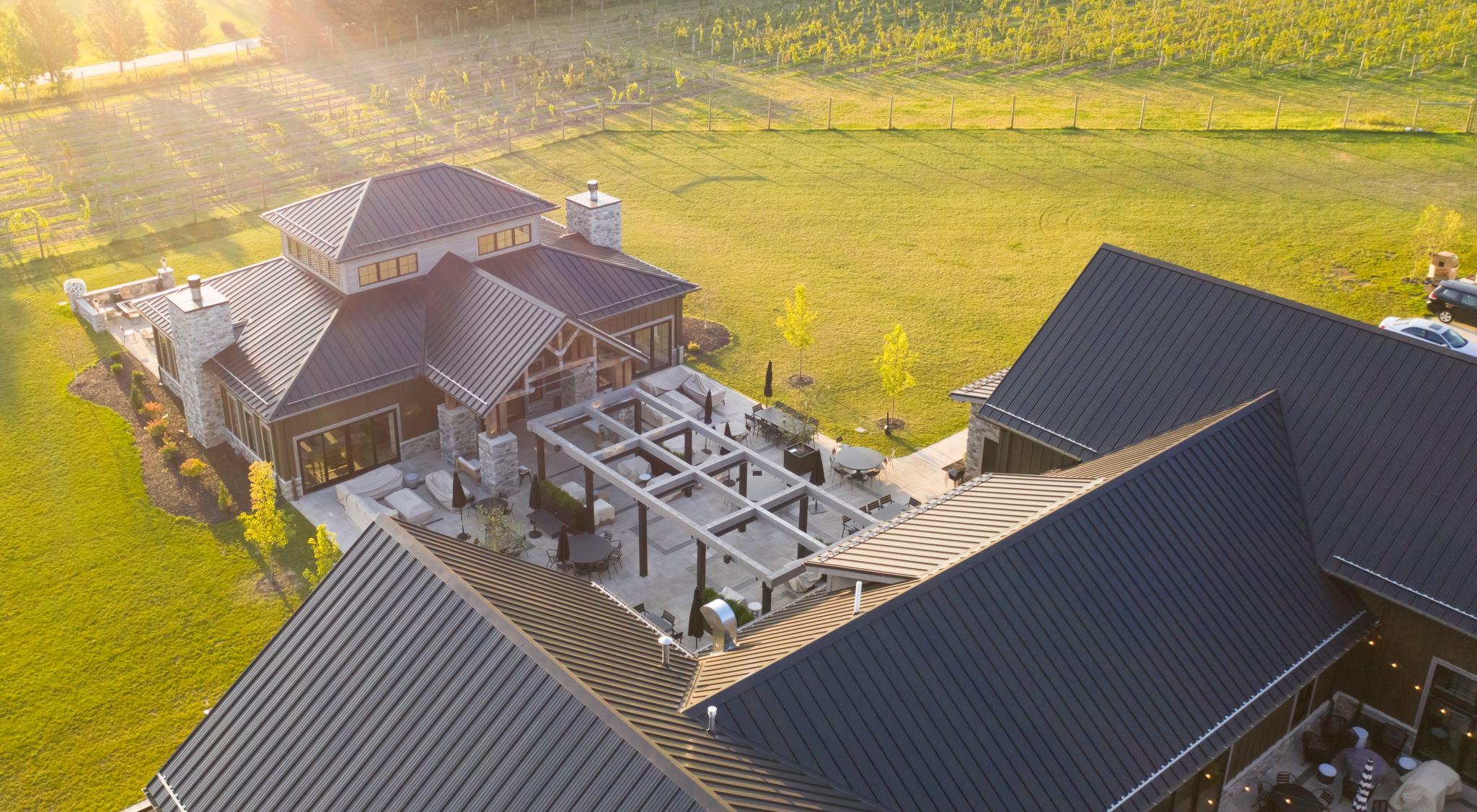 Final Thoughts on Standing Seam vs. Exposed Fastener Metal Roofing
So which metal roofing type should you choose? It depends.
Standing seam and exposed fastener metal roofing both have their pros and cons, but if you know what you're looking for and expecting when you go to purchase the roof, you'll be better prepared to make the right choice.
Keep in mind:
Standing seam metal roofing offers a sleek modern look, weathertight warranty options, space for thermal movement, engineering/better performance, and no panel penetrations.
Exposed fastener metal roofing offers a lower price point, opportunities for DIY projects, a roof that performs well, and a traditional look.
At Sheffield Metals, we are here to answer your questions and provide you with peace of mind as you go through choosing the right metal roofing type for your structure; whether it's standing seam, exposed fastener, or another material type.
Contact us today to discuss your project with one of our helpful metal roofing experts!
---
---