Choosing the right contractor is just one piece of the metal roof installation puzzle. The next part of the installation of a metal roof, or any kind of roof for that matter, can be just as stressful. This is especially true if it's your first home/business or just the first time you've ever purchased a roof.
Some of the most common worries we hear about from customers include:
How do I need to prepare my property for a metal roof installation?
Does someone need to be at my home/building at all times during the installation?
Where will the contractors put their vehicles, equipment, disposal units, etc.?
How can I prepare my pets, children, or neighbors for the loud noises?
Who is working on my home or business? Will it be my main contact?
How long will the install take?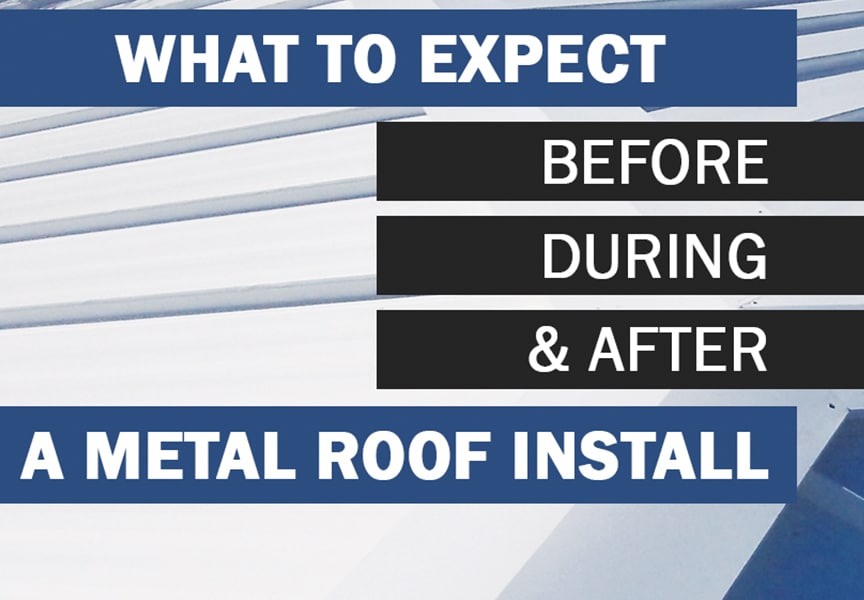 And the list goes on and on.
With over 20 of years of experience in metal roofing, Sheffield Metals can help ease some of that stress by educating you about what to expect before, during, and after the installation of a metal roof.
What to Expect Before the Metal Roof Installation
Metal Roofing Consultations
Before any installation occurs, you'll be going through the process of finding the best metal roofing contractors and ultimately choosing the best metal roofing bid for you. During these consultations with contractors, expect the following:
A site inspection by the contractor to look at:

Penetration points
Flashing zones
Low spots
Differing roof planes
Gutters
Roof access
Surrounding landscape
Potential problem areas
All perimeters and "change of plain" such as transitions, valleys, backs and sides of chimneys, etc.
Note: Be sure to communicate previous issues, there might be residual damage to the roof deck or even the structure

Field measurement to determine the exact size of your roof.
Sitting down with the contractor to give you options of:

Panel choices
Metal material choices
Colors and finishes
Profiles
Accessories
Add-ons – Such as skylights, daylighting, solar panels, snow retention systems, etc.
Maintenance – Preventative maintenance is highly suggested to get the most out of your investment
Warranties and if they are an additional cost

Talking through how payment is handled.

Financed, paid in cash or credit, or covered by an insurance provider

Talking through any and all questions you have for the contractor.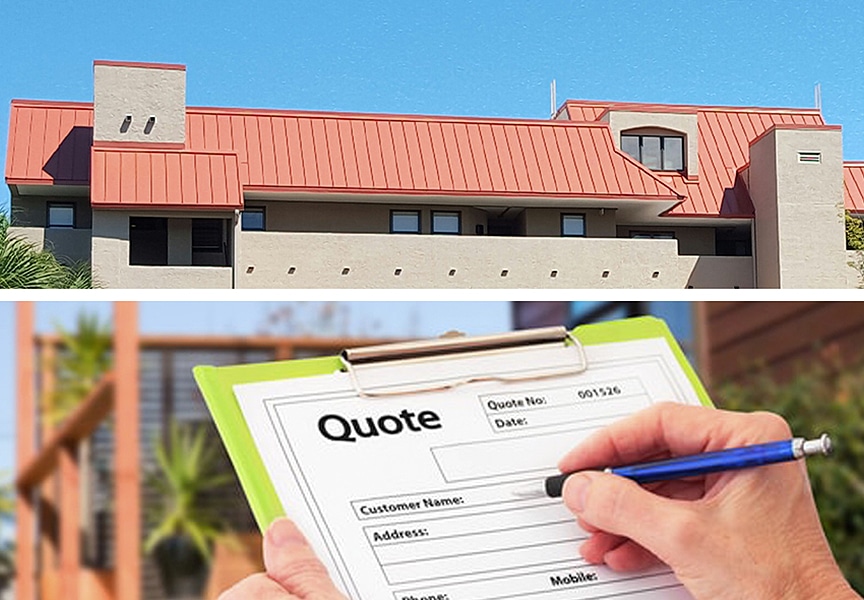 Going through the bid/quote the contractor has drawn up based on the field measurement, site inspection, and product choices.

Make sure to look out for bids that might be too low or too high
Discuss how unforeseen problems, such as bad decking or other items that might not be found until the tear off of the original roof begins, and how these added costs will be addressed
TIP: If each contracting business you meet with wants to run your credit for financing, make sure you call your lender ahead of time to tell them you are meeting roofing contractors who will be checking your credit score. They can help make sure your credit isn't negatively affected.
Choosing the Best Bid or Quote
Once you've received the bids, reviewed them, and chosen the one that best fits you, you'll need to contact the business to let them know you accept their bid. During this conversation, you should be discussing and/or deciding on:
The date to begin the installation that works for both you and the contractor.

Try to show flexibility if the contractor is busy. This is actually a good thing; the busiest contractors are busy for a reason: They do good work.

The upfront payment terms and how it will be collected.
The best way to communicate with one another.
It will also be helpful to ask the contractor what you should be doing to prepare your house/building, yard, driveway, pool, and other affected parts of a property for the installation, as each contractor's recommendations will be different. We will cover some common prep work for both contractors and property owners next.
---
---
Contractor Preparation Work
In addition to communicating processes with you before the start date, the contractor is also responsible for:
Making at least one reminder call to the property owner at least one week before the scheduled installation date.
Providing contingency plans in case of poor weather.
Dropping off any necessary metal materials, accessories, tools, or equipment (if needed).
Arranging for a dumpster or recycling bin to be delivered to the property, especially if a tear off of the old roof is included.
Providing an exterior outlet (if needed).
Knowing about building access and advising installers of areas not to go, gates/doors to shut, etc.
Home or Building Owner Preparation Work
There are also tasks the property owner should do beforehand to help the fluidity of the metal roof installation process. For example, you can:
Clear any and all sidewalks around your home/building.

Commercial properties might want to consider setting up blockades so patrons or customers stay safe.

Clear any driveways of vehicles, bikes, or other items taking away from the contractor's workspace.

Have the contractor clearly define the work space and storage area for their tools and equipment for the duration of the project.
As with a clearly defined storage space, there needs to be a reasonable expectation for the time frame for the project and occupancy.
Clean up items around the yard, patios, decks, balconies, etc.

Move any potted plants from underneath the roof.
Move sculptures, birdbaths, wind chimes, or other lawn ornaments that could get damaged or broken.

Protect the flowers, plants, and other shrubbery located beneath the roof or next to the building.

The easiest way to accomplish this is to cover the plants with one or more tarps.
If you don't have anything to cover them, most contractors can provide tarps for catching debris. Be aware, especially if this is not discussed prior, there might be costs involved.

Warn neighbors of potential loud noises they will likely be hearing during the install.
Make arrangements for children who might be disturbed by the noise.
Make arrangements for pets needing to go outdoors.

Ask the contractor if there is an entrance/exit that is the safest to go through with your pets.
It might be best to discuss any pets you have with the contractor beforehand so they are aware of gates or doors that should remain shut during the installation.

If the roof deck needs to be fixed or replaced, which will open up your home/building to the outdoors, you may want to consider covering or moving the exposed items in the attic, as they will quickly become dusty and dirty.
What to Expect During the Metal Roof Installation
Metal Roof Installation Basics
Needless to say, there will be a lot of activity during the days of the actual installation. Like we mentioned before, each contractor's process will be different, but there are some common expectations you should be able to prepare for, such as: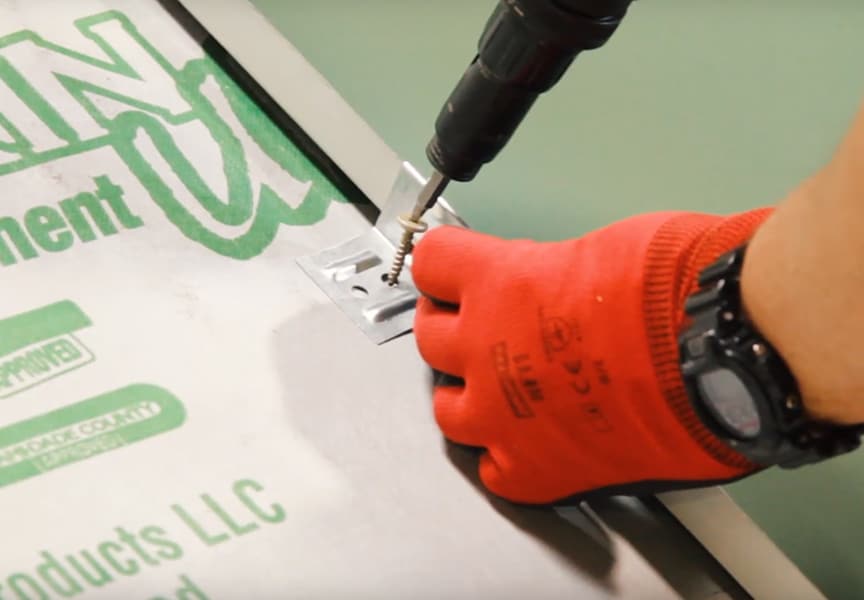 There will potentially be a lot of workers in your yard/on your roof during the entirety of the installation.
It could be loud at times and might even cause the house to shake in some cases.
Pets and small children have been known to become irritated with the noises and level of activity outside.
Items could be falling from the roof at any time, especially if a tear-off is scheduled.
Your yard/property will become dirty and dusty, which could come indoors through open windows and doors.
Your yard and surrounding areas may not be cleaned up until the installation is completely finished, which includes any accessories, plastic coverings, or torn off roof pieces in the yard.
The dumpster may also not be immediately picked up on the day the installation is completed; it could take up to a week afterward.
Property Expectations During a Metal Roof Installation
Most contractors don't expect the home or building owner to provide them with anything that isn't associated with the installation. They often just require that you give them the space they need to complete the installation. Keep in mind:
Most contractors don't require much space to park their transportation, as they usually come as a crew in one or two vehicles. But it's important to try to create as much space as possible to accommodate for rollforming equipment and other tools that may be used.
While you can offer, contractors typically do not expect to use the restroom inside of your home or business. Many will go to a nearby establishment if needed. Additionally, it is NOT appropriate for any contractor to relieve themselves anywhere on the project site (other than a portable restroom).
Contractors often bring their own refreshments and food to the job site and do not require or expect anything to be provided to them.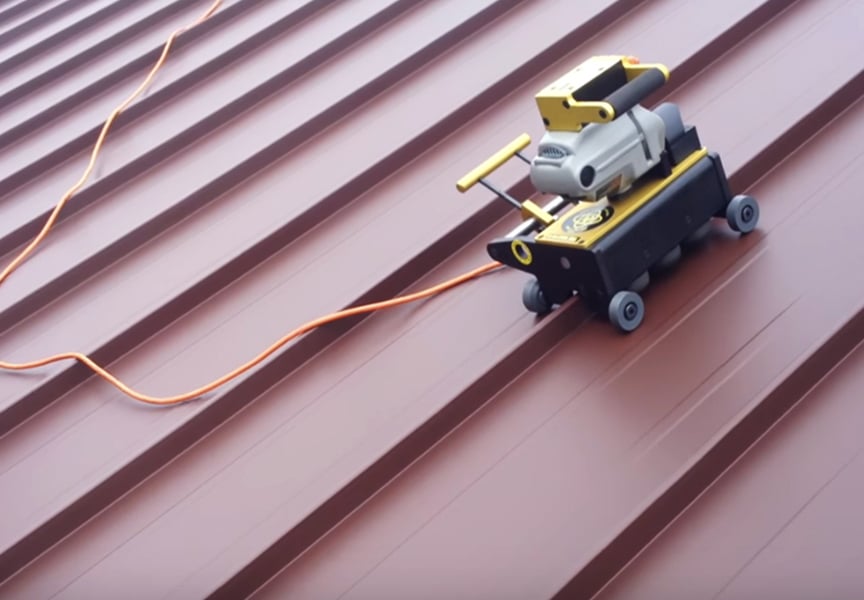 Some tools and machinery/equipment need electricity to operate, which is something that should be discussed beforehand to make sure you are okay with them using your outlets or other power sources.
Again, make sure you communicate to the contractor if a gate or door needs to stay shut.
If a roofing contractor needs access to the inside of the building, there should be a reasonable explanation for it. Additionally, they should take the necessary precautions to maintain a clean environment if they do need to come indoors.
Home or Building Owner Accessibility During Installation
Another way to ensure the installation goes smoothly is to know your involvement in the project. For example, any decisions that affect the price of the metal roof should directly involve the home or building owner. If it's a topic related to processes or how to install, it might not be something the property owner is involved in.
Here are some other recommendations based on information we've heard over the years:
If you can be at home or in the business during the install, we would recommend it.

If it's not a possibility, discuss how to handle this with the contractor.

You should only have ONE person as your main contact, which is generally the overseer of the project. Conversely, there should be one main contact for the contractor.

If you have a question, get in touch with your contact and not one of the installers or other workers.
If your contact has a question for you, they will typically just come knock on your door to ask.
Your contact should also be the person who discusses any unexpected expenses or additions to the original cost of the metal roof with you. Make sure they thoroughly explain the problem, tell you how they will fix it (and tells you before they fix it), and gives you a variety of remedies to choose from.

Most of all, trust your own decision of hiring this contractor or business to install your metal roof.

If you went through the process of becoming an educated consumer and hired the best contractor that does great metal roofing work, you should feel comfortable with your buying decision.
Try to refrain from hovering outside during the entirety of the installation. It's okay to go outside to look at the progress once in a while, but the installers/contractors don't need to be watched the entire time.
What to Expect After the Metal Roof Installation
Contractor Clean-up
After the installation is complete, one of the first things the contractor is expected to do is put the yard and surrounding areas back in order. This includes a number of tasks, such as:
Walking the yard with a magnet to pick up any nails, rivets, fasteners, or other metal components on the ground.
Picking up any metal panels, asphalt shingles, or other unused or torn-off materials.
If they were indoors at any point and made some kind of mess, they are expected to come back and clean it upon completion.
Putting back any lawn ornaments, pots, or other items they moved before or during the installation.

Please note: They likely won't put back anything you moved before they arrived.

Scheduling for the dumpster to be picked up.
Project Walk-Through With the Contractor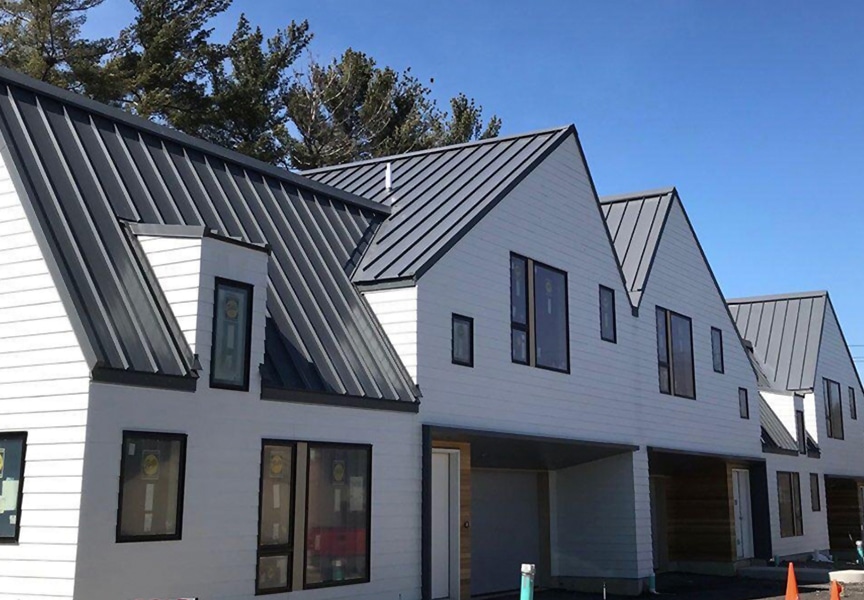 One of the most important parts of the post-installation stage is the project walk-through with the contractor. During this conversation, expect to talk about the installation, how it went, problems they ran into, and what to expect with your new roof.
Before the walk-through is completed, ask for a 48-hour window to evaluate the roof and make sure it's done to your liking. In this time, walk around, look at the metal roof, your surroundings, your yard, and anything else the installers worked on or around. From there, you can develop a list of areas of concern to bring up with the contractor when the 48-hour window is over.
This list might include:
Spots they need to fix or redo

Scuffs, scratches, dents, uneven cuts, or anything of the like

Incomplete or poorly done areas

Look at flashing zones, drip edge, trim, etc.

Any left behind items or tools
Potential problem areas

Such as oil canning, low spots, incomplete seams, or structural issues
Final Discussions With the Contractor
After everything has been addressed and resolved after the project walk-through, it's important to discuss a couple of final topics with the contractor, including:
Final payments – How the remainder of the bill will be invoiced is completely dependent on the contractor, so make sure you discuss how you should be paying for it.
Warranties – You should already know your warranty options on your new metal roof, but now is the time to ask how to apply for warranties and if any actions are needed on your end to ensure you get the correct documentation. Depending on if your structure is residential or commercial (most weather-tight warranties are just available to commercial properties), the warranties you have to choose from may vary.

Keep in mind, warranties may not be available until all invoices are paid. However, it's common for building owners to negotiate that they will make their last payment after warranties have been issued.
Most contractors should offer a workmanship warranty for a period of time, usually two to five years, to protect against leaks in the short-term after the installation.
Also, find out what action needs to be taken if a failure occurs and get it in writing (most good contractors have a plan of action).

After-sale benefits – Some contractors provide maintenance on a metal roof they've installed. Make a point to ask if this is offered with your purchase.
Feedback – Many contractors ask for feedback on both your satisfaction with the job and/or any improvements they could make. Roofing contractors thrive on reviews and testimonials, especially on Google and/or their company Facebook pages, from past customers to grow their business. If you do provide feedback, many contractors provide some kind of incentive or discount.
Final Thoughts on Expectations & Preparations for a Metal Roof Installation
When you know what to expect, you can better prepare yourself for your metal roof installation, which is one easy way to alleviate some of the stress that comes with a buying a metal roof.
To recap:
Before: After choosing the best contractor and bid, prepare your building, yard, neighbors, children, and pets for the install.
During: Expect a lot of activity, people, and loud noises during the installation. Try to avoid hovering over workers and only communicate with your main contact about any concerns.
After: Make sure the work is done to your liking, you know how final payments are collected, and you know how warranties are handled.
At Sheffield Metals, we are here to answer your questions and provide you with peace-of-mind as you go through the metal roof installation process.
To schedule a consultation or speak with one of our helpful metal roofing experts, contact us today!
---
---