As 2021 is well underway, we've already begun to notice some color and coating trends taking place in the architectural metal roofing and wall construction industry.
While some existing trends have been in the market for a while, there are a few newer ones that might surprise you. Many of which reflect the uncertainty and unpredictability that 2020 brought during the worldwide COVID-19 pandemic.
So if you're an architect who wants to specify a trendy color on your project or a homeowner who is buying a new metal roof – it's critical to choose the right color, especially because the metal roof or wall can last 40+ years.
At Sheffield Metals, we're constantly monitoring color trends and tracking which metal sheet and coil colors are most frequently purchased. Plus, with a full-time Architectural Department composed of individuals who have an extensive background in the architectural metals industry, we're used to providing design and color recommendations for a variety of projects.
So, what colors and palettes are popular for metal applications in 2021? Let's go through some of the color options dominating the market right now.
Metal Roof Color Trend #1: Matte Black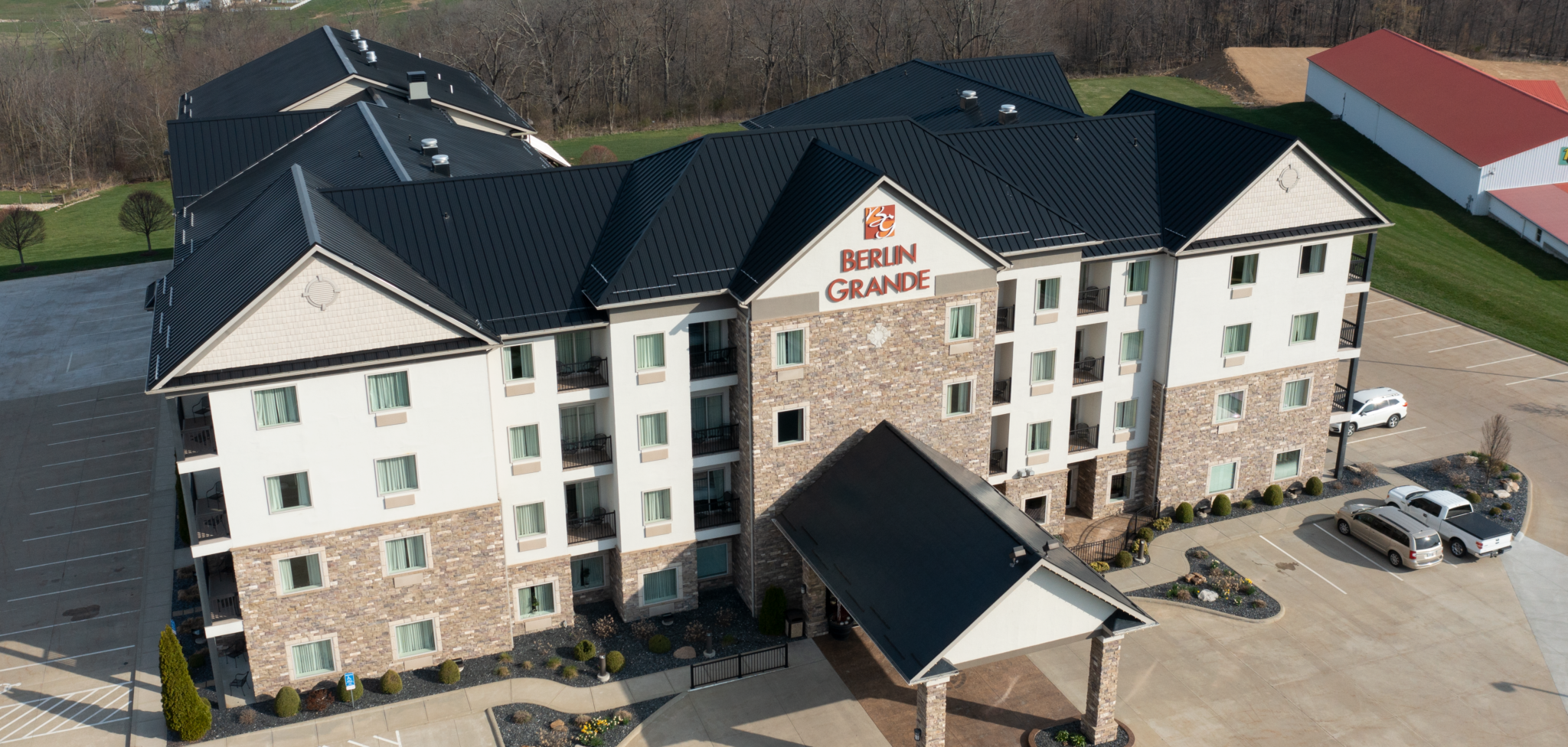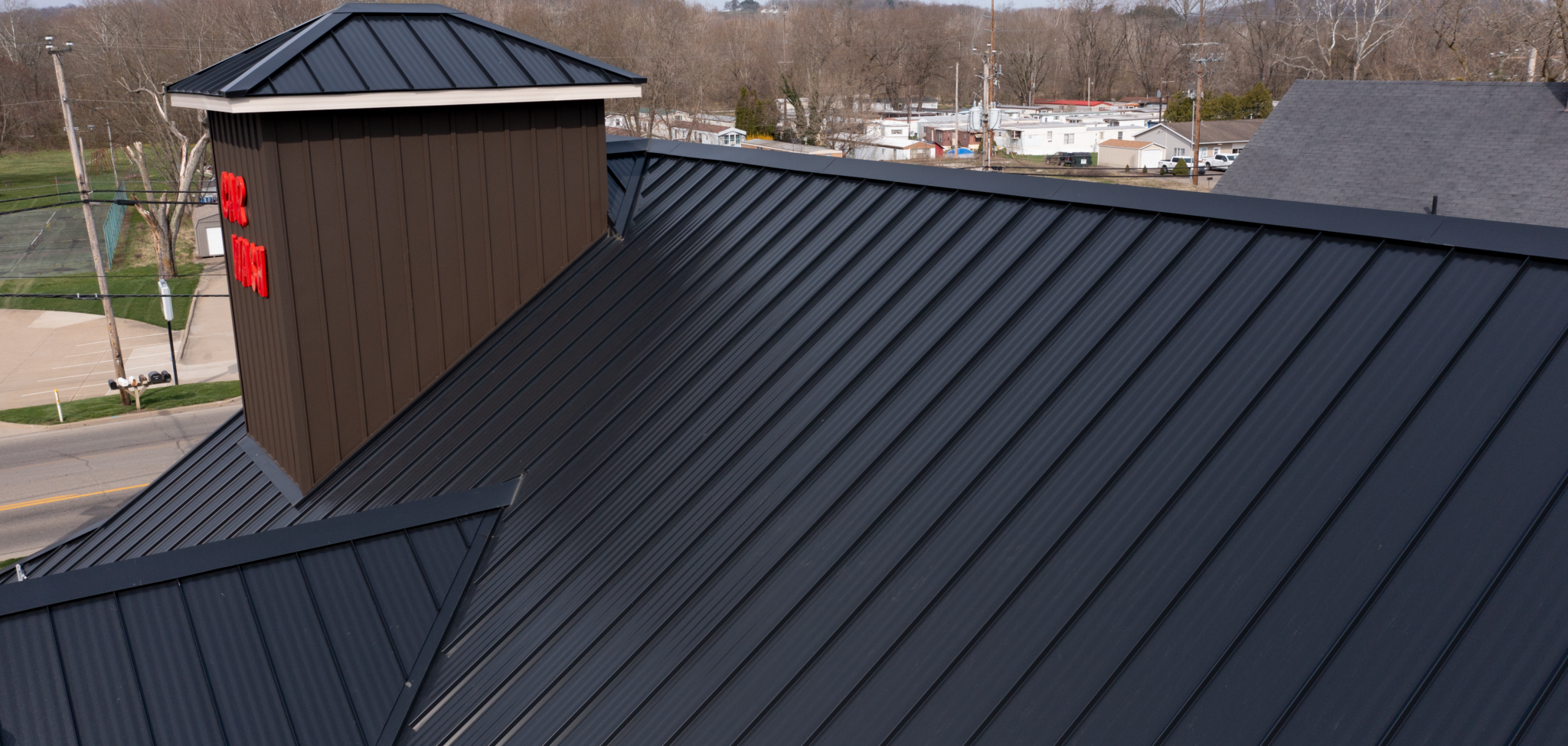 One of the most prevalent requests from home and property owners, architects, and other design professionals is a metal roof or wall system in the color matte black. In fact, the Sherwin-Williams PVDF paint color Matte Black has experienced an average growth of about 21% just in the past three years.
So why matte black? What makes it such a widely purchased coil color? Here is a little background on the popularity of matte black:
Modern & Welcoming
Black by itself offers a sleek and modern aesthetic. According to Sherwin-Williams, the color black combined with the matte finish creates a softer and more welcoming, inviting look while still maintaining its contemporary edge.
Multi-Style Applications
The "modern farmhouse" look is dominating the residential design and construction market right now. While this style of decor has been around for a while, it's become more mainstream in recent years due to its welcoming look, ability to blend well with other styles, and frequent use in home renovation and design television (think HGTV). A typical modern farmhouse exterior color palette includes white walls/siding and black/matte roofing.
Besides the modern farmhouse, matte black is a good roofing and wall color option for several other architectural and design styles, including:
Modern
Contemporary
Craftsman
Rustic
Industrial
Victorian
Low-Glare Properties
One of the issues with glossy metal roofing colors and finishes is how easy it is to notice any imperfections on the surface. Using a matte finish makes it a little easier to hide any minor scuffing or scratches during the shipping or installation of a metal panel system. Plus, if you're concerned about oil canning on your metal roof, one of the ways to minimize the appearance of this phenomenon is to install a system in a low-gloss or matte finish.
Eye-Catching
Matte black on a metal roof or a wall offers a dramatic look. It tends to be eye-catching and prominent, which makes it an easy choice for exterior architectural projects.
Versatility
One of the most appealing parts of matte black is how well it complements many other commonly used exterior colors, including whites, grays, greens, blues, and browns/beiges. Plus, because black is considered a neutral color, you can pair it with any other exterior element, such as landscaping, building elements, fences, etc., without worrying about color-matching anything.
Metal Roof Color Trend #2: Natural Metals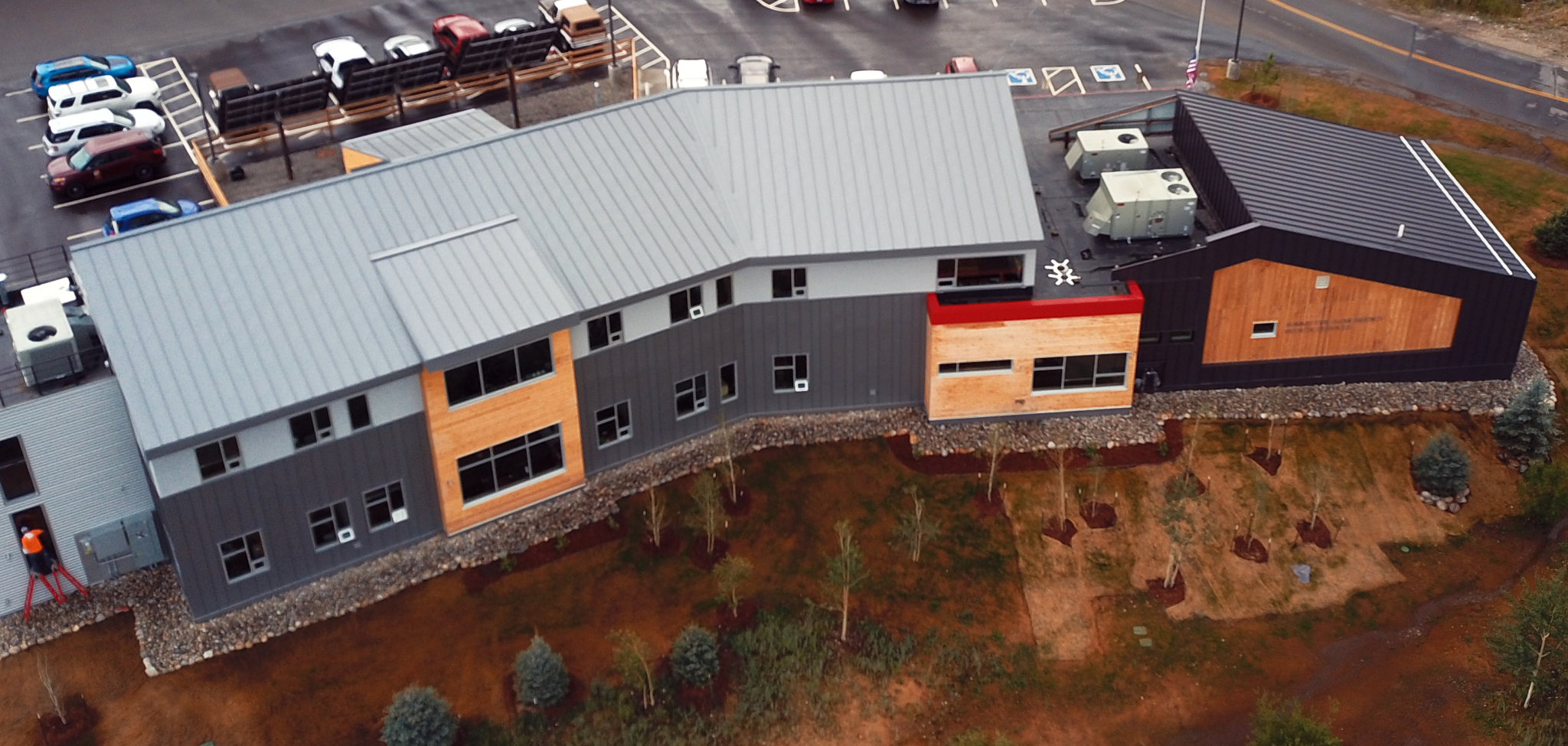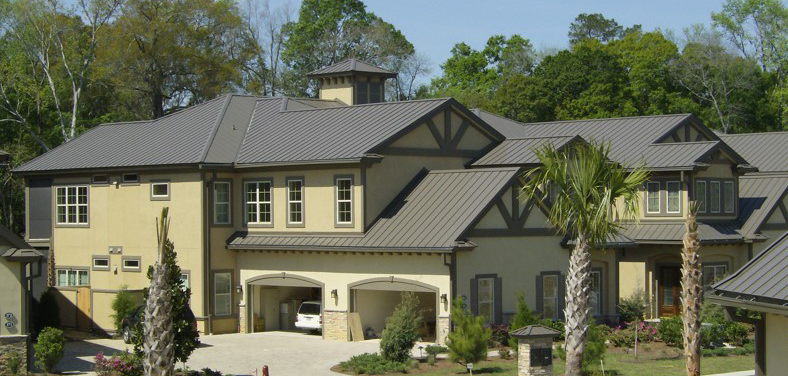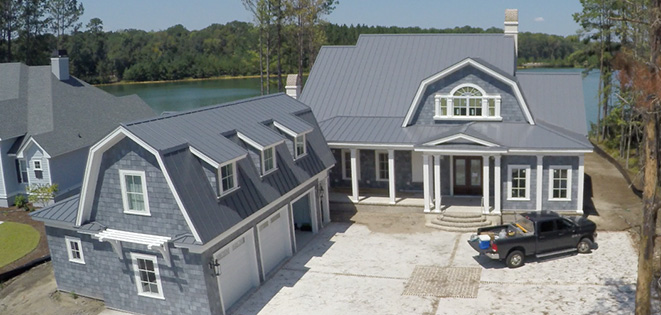 Natural metals took center stage in the 2021 Fluropon® Metal Trends Color Collection from Sherwin-Williams. The collection features eight color families that "mimic the classic aesthetic of natural and anodized metals with the long-lasting performance of its flagship Fluropon architectural coating system for architectural metal products." The curated collections include these color families:
Gold and brass
Copper
Bronze
Steel
Silver and nickel
Zinc
Blackened steel
Anodized
While this collection is new in 2021, Sheffield Metals has offered similar products and colors for decades. For example, Medium Bronze and Dark Bronze, both of which are similar to the swatches in the Fluropon Metal Trends Color Collection, have been two of our best sellers year after year. There are many other options on our color card that have a metallic or natural metal finish:
Colors/finishes similar to copper and gold: Copper (Metallic), Copper-Ten™ Raw, Metallic
Colors/finishes similar to bronze: Mansard Brown, Dark Bronze, Medium Bronze, Cor-Ten AZP® Raw
Colors/finishes similar to steel: Pre-Weathered Galvalume (Metallic), Acrylic-Coated Galvalume
Colors/finishes similar to silver: Silver (Metallic), Champagne (Metallic), Galv-Ten™ Raw, Dove Gray
Colors/finishes similar to natural zinc: Slate Gray, Charcoal Gray, Pre-Weathered Galvalume
Why do we see a spike in metal and earthy tones? Let's discuss.
Natural & Raw
The idea of these color palettes is to provide architects, designers, and property owners with a more realistic metal finish that is intended to emulate and mirror how these metals look in their natural state. As the trend of unprocessed, untreated, and more practical products continues, it makes sense that natural metal colors on a metal roof or wall are a focus in 2021.
Calming Tones
According to the MRA, after the turmoil of 2020, many people are looking to incorporate more "harmonious, warm, and soothing earth tone colors" that aren't too flashy or bright and create a more calming environment. That's why cool grays, beiges, and soft browns are common color choices for architectural metal roofing and wall projects.
---
---
Easy to Incorporate in Designs
Metal tones are often used as accents in designs, whether it's interior or exterior spaces. Therefore, incorporating a metal accent on your roof or even as the entire roof is simple and aesthetically appealing. Since most of the Fluropon® Metal Trends Color Collection colors are neutrals, they can be used in nearly every color palette and can complement any exterior feature. It doesn't matter if your project has stones, wood accents, specific colors, or other elements in the design — there is a natural metal color that will fit with the property.
More Economical Than the Real Metal
Using Galvalume or aluminum coated in a PVDF paint finish similar to a natural metal is much less expensive than using the actual metal. Plus, some raw metals, like gold, silver, and bronze, are not recommended (or even available) to be used as a standing seam metal roof or wall.
Luckily you can get a similar look of a natural metal roof at a better price point by buying painted or coated metal sheets and coils, which won't break the bank as much as raw metals.
Also, even though some natural metals are used to fabricate metal roofs, such as copper and zinc, there are coated Galvalume products in similar colors that are less expensive. For example, a real copper roof costs about $500 to $1,000 per roofing square (100 square feet), while a painted Galvalume roof with a copper color paint system costs anywhere from $75 to $250 per roofing square (100 square feet).
Metal Roof Color Trend #3: Earthy Greens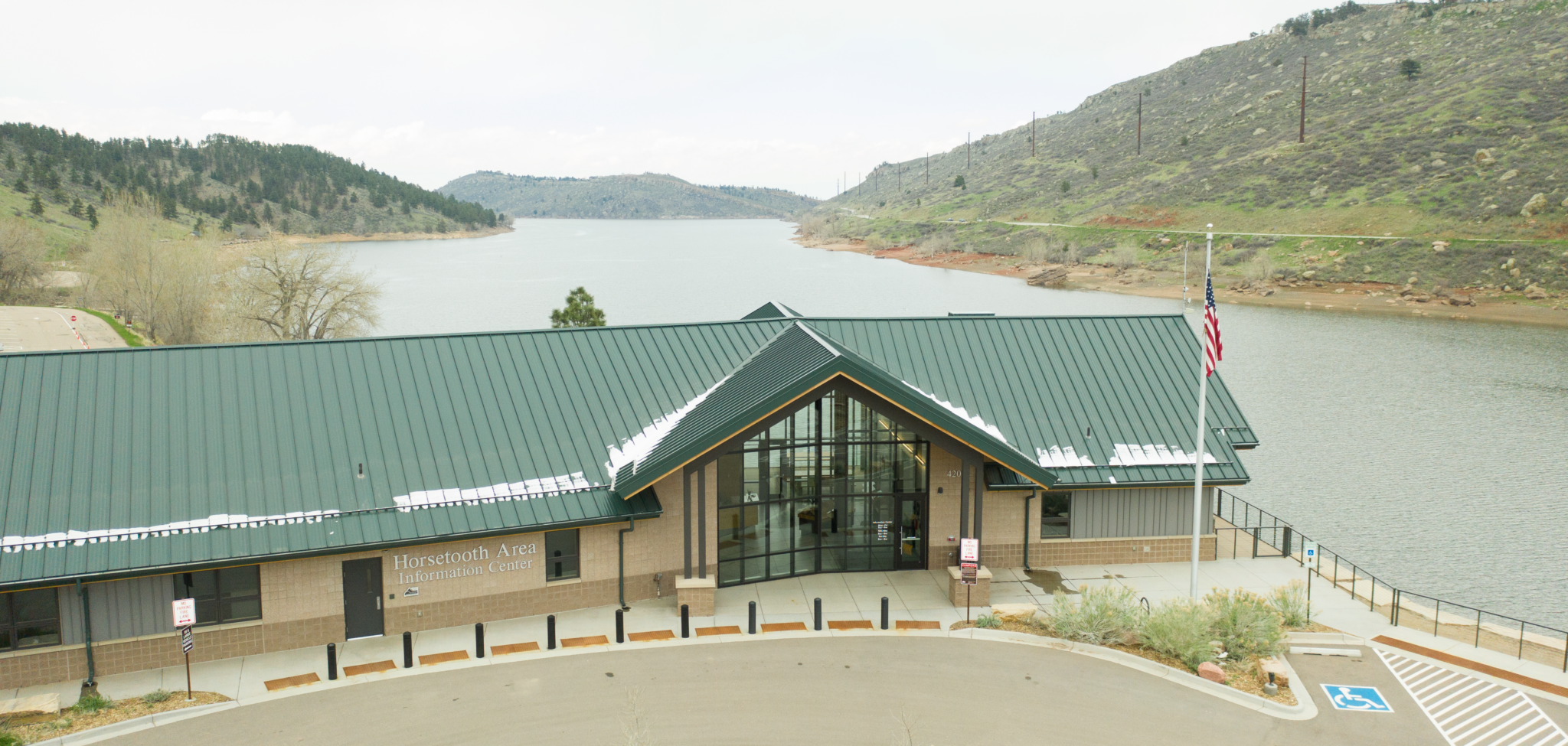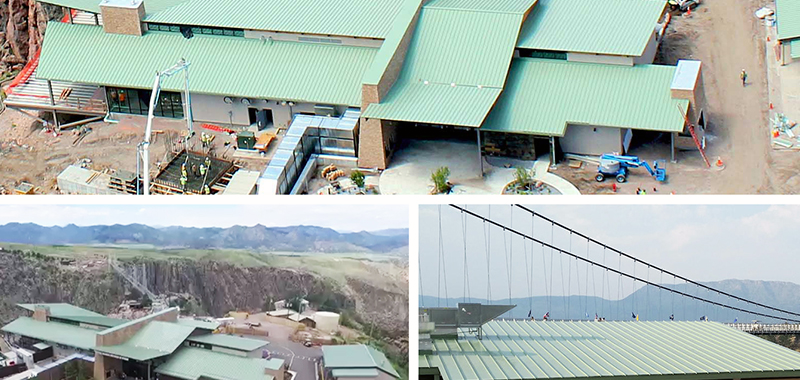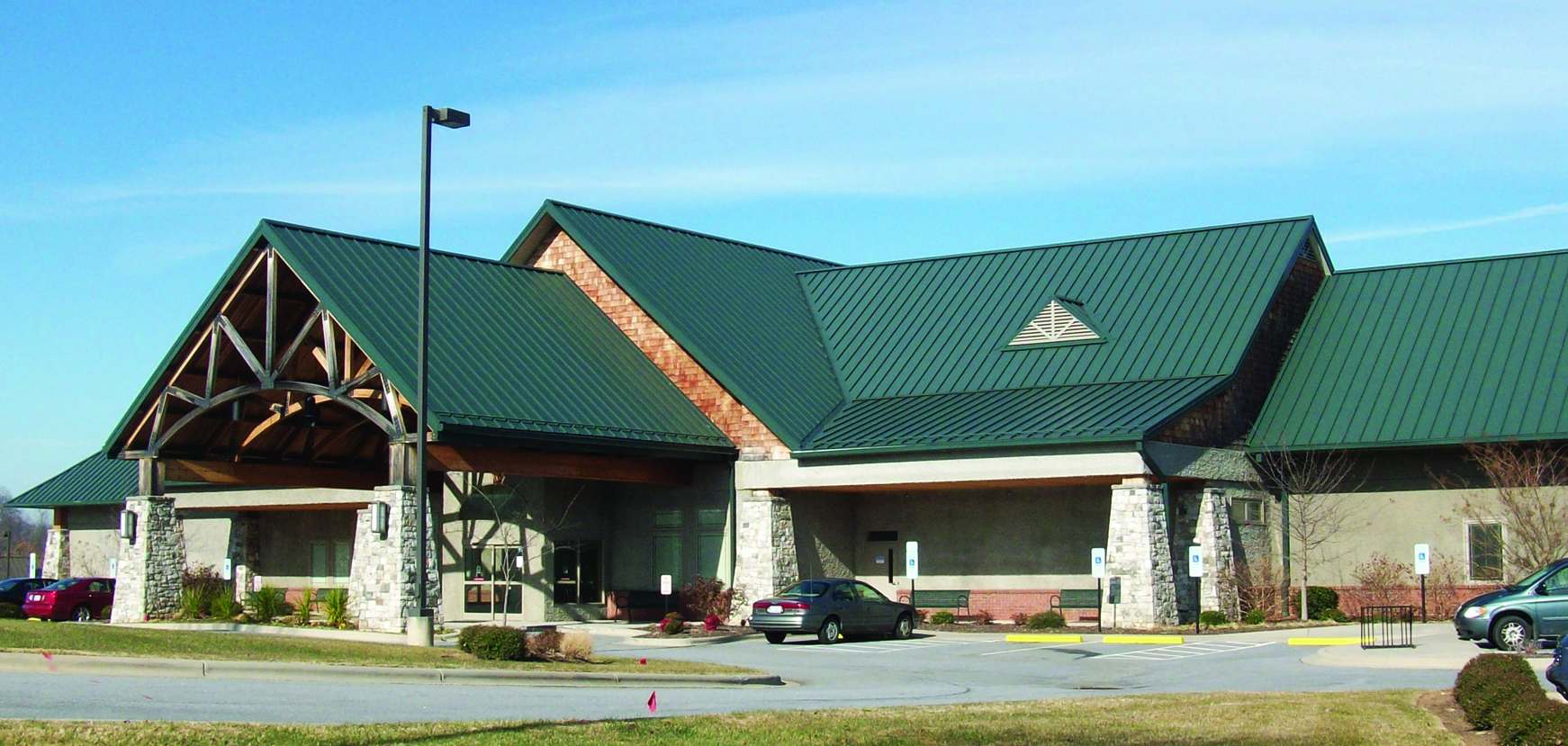 Similar to the natural metal palette of colors, earthy greens are also in high demand during 2021. But not just your standard, run-of-the-mill green or bright green designed to grab your attention immediately. The greens seeing a rise in popularity are softer, richer, and more muted forest tones that are versatile and fit in well with many design types, especially those rooted in nature. You may have even heard of a few standard shades: sage, moss, olive, forest green, or hunter green.
As it applies to metal roofing and wall systems, several coil and sheet color options fall into this muted or softer green category. For example, at Sheffield Metals, this includes:
Evergreen
Hartford Green
Patina Green
Hemlock Green
Aged Copper
So what makes these greens a common choice for exterior spaces?
Easy to Match
One of the benefits of softer greens is that they go well with various other colors and textures. Part of this is because green is everywhere we look because of landscaping, trees, plants, and beyond. So, it's easier to see how well greens can fit into an architectural project versus more unnatural or less prevalent colors, like purple or red.
Suppose you've decided on an earthy green metal roof or wall. In that case, you can easily incorporate whites, blacks, browns, oranges, and grays into other exterior building elements (trim, accents, siding, shutters, etc.) without worrying if it will match.
Pop of Color, But Not Too Much
Earthy green colors are very close to some colors that would be considered neutral. But green is still unique enough to provide a home or building with a pop of color without going too bold or standing out negatively.
Many homeowners don't want their homes to look too different from the other ones in their neighborhood. However, choosing a muted green metal wall or a patina green metal roof might be just different enough that the home will stand out and still fit in with its surroundings.
Suited for Specific Environments
If you're spending time outdoors or in nature, wouldn't you want your surroundings to match that feeling? If your project is located in a forest or mountain environment, utilizing an earthy green color as the roof or wall system is a no-brainer, as these colors create a cohesive aesthetic that doesn't stray from the overall "nature and natural" feeling of these regions.
For reference, some of the most popular colors chosen in mountainous and forested areas include Hartford Green, Evergreen, Dark or Medium Bronze, and all of the gray finishes.
Calming Color Palette
Lastly, similar to how natural colors are being used more and more in 2021 due to the last year of uneasiness and unrest, incorporating green into an architectural design can help create a more calming environment. Cooler colors, like blues and greens, are known to be associated with peace and tranquility, and that's why earthy greens are playing a more significant role in architectural designs right now.
2021 Color Trends: Honorable Mentions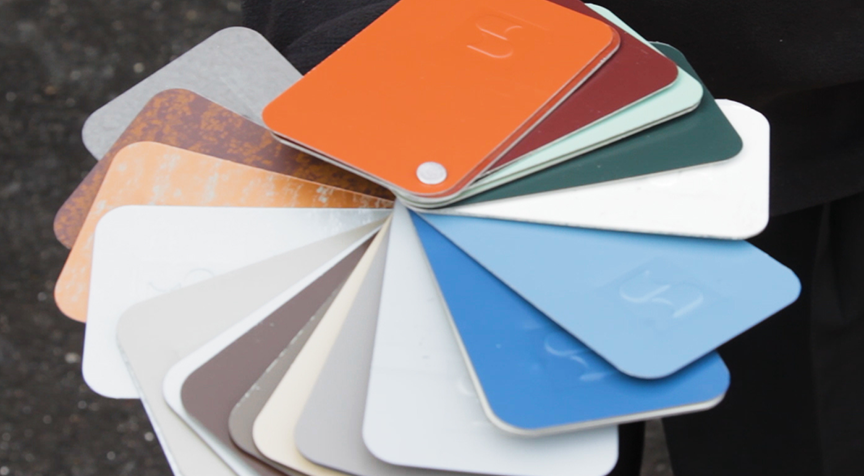 While the three color trends of matte black, natural metals, and earth greens are popular in standing seam metal roofing right now, some other trends are worth mentioning.
Here are a few other colors and color families that are still frequently used in roofing and wall projects:
Grays

Offered PVDF color options: Charcoal Gray, Slate Gray, Dove Gray

Whites

Offered PVDF color options: Regal White, Stone White, Solar White

Metallics

Offered PVDF color options: Copper Metallic, Champagne Metallic, Silver Metallic, Pre-Weathered Galvalume

Bold Colors

Offered PVDF color options: Terra Cotta, Regal Red, Slate Blue, Regal Blue
Tips to Help You Choose the Best Metal Roof or Wall Color
Explore Color Palettes & Photo Galleries
Exploring different exterior color palettes online is easily one of the best first steps you can take when choosing a color. Sherwin-Williams offers home and building owners various resources, including exterior color inspiration.
Beyond palettes, look up some manufacturer's photo galleries to gather some inspiration. You might see a color you've never considered before that might look and function great for your project.
Look at Color Choices From Manufacturers
Once you have an idea of the color palette that you like or believe would work well with the building, it's time to look at colors and coatings offered by different manufacturers.
Reputable manufacturers should have their colors listed on their website, which may also be available as a downloadable color card. Most suppliers tend to have similar standard colors, primarily if they use one of the prominent paint suppliers, such as Sherwin-Williams (Valspar) or PPG. If you want a color that is more vibrant, unique, or specific to a branding style, there's also the option for custom colors.
Additionally, you'll want to verify that the manufacturer you're using or specifying offers the best paint system (PVDF vs. SMP) for your requirements and has adequate cool metal roofing properties (SRI, emissivity, LEED, etc.) suitable for your location.
Use a Visualizing Tool and/or Upload Photo of the Structure
The ability to see different colors on a structure makes a difference, especially if you're deciding between two or more colors. Roof and wall color visualizers can help.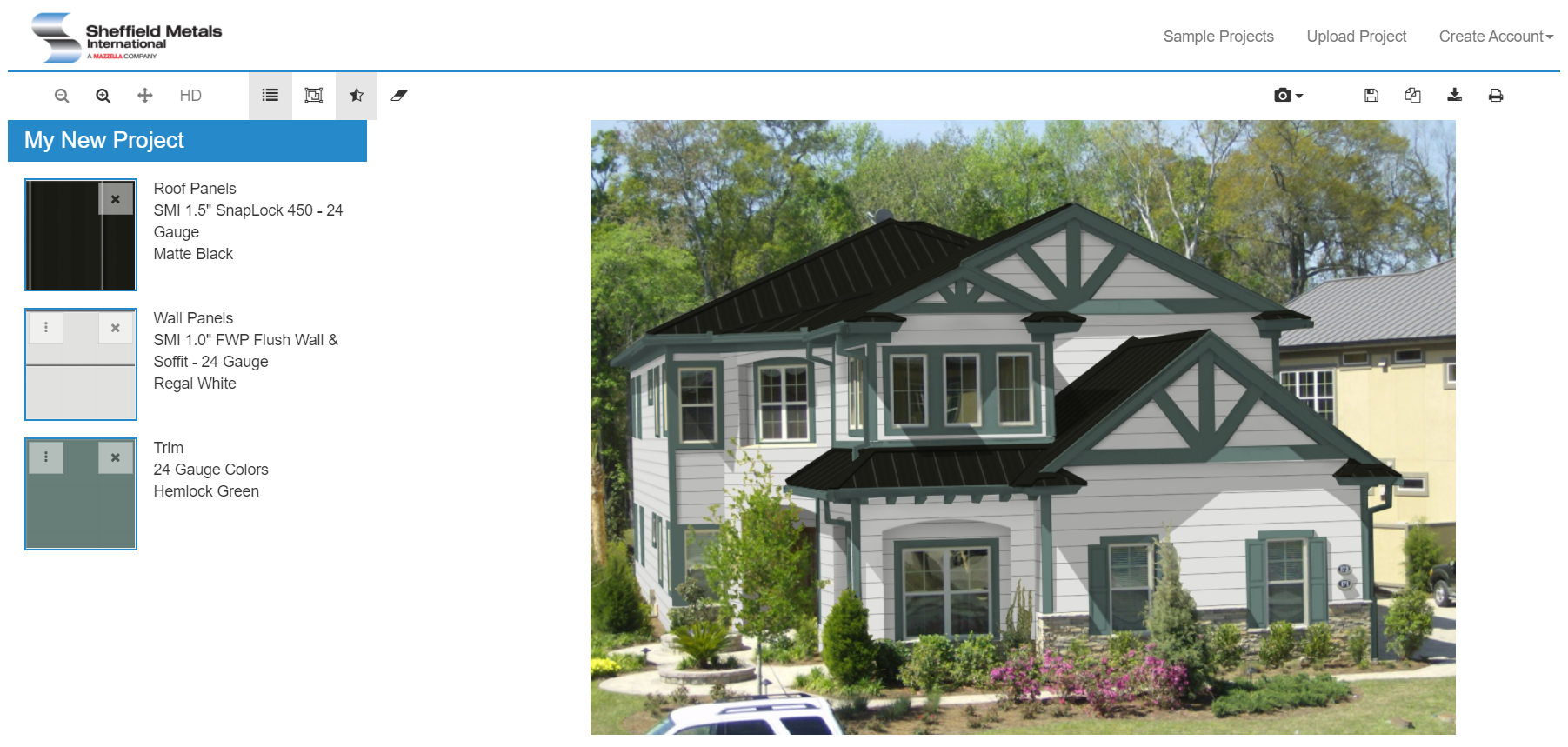 Sheffield Metals has a free Color Visualizer tool where you can upload a photo of your project, whether it's residential, commercial, architectural, agricultural, etc., and see what each of our colors would look like on the roof, wall, and trim areas. Or, if you don't want to take a picture of the structure or don't have one, there are also standard building photos available to choose from if you just want a better idea of how colors differ when seen on a physical property.
Request Metal Color Chips from the Manufacturer
While the Color Visualizer is an excellent tool for some, we understand that not everyone wants to rely on a digital mockup of their project. That's why you can request color samples that'll be shipped directly to you to provide the most realistic representation of the color you can expect.
Once you receive the colors you wanted samples of, you can compare the colors with the other elements of the building and environment. That way, you have a better visual of the final product and can feel the most confident in picking the best color.
(For Architects) Run Color Options by the Client & Make Decision
If you're an architect ready to make the design choice, it's time to discuss with the client. You should communicate to them the color you've decided to go with, and then they should have the final say if they are happy with and approve the color choice.
Final Thoughts on 2021 Color Trends in Metal Roofing
While the colors discussed above are the ones dominating the architectural metals industry, it doesn't mean that they will fit every project or design.
Your main goal should be to choose a color that the person buying the metal roof or wall loves and is happy with. So if that color choice is matte black, a natural metal, an earthy green, or something not included in this list of 2021 color trends, the project will still turn out looking great and lasting for decades to come.
In other words: There's not a wrong color choice.
Need some help with your architectural project or design? Our team at Sheffield Metals has put an emphasis on assisting architects and even homeowners during the design phase of their metal roof or wall project. We're happy to take a look at your plans!
Contact our Architectural Department today to discuss color options, engineering requirements, and any other critical component of your standing seam design!
---
---