When you're choosing a new metal sheet and coil supplier, one of the specific details you'll notice is the variety of paint systems and branded paint products used to coat the metal sheet and coil products. You'll come across some familiar brand names, as well as some others that you've never heard of before.
So how would you know which paint supplier, and coil supplier, is or isn't trustworthy to use for your standing seam metal roofing projects?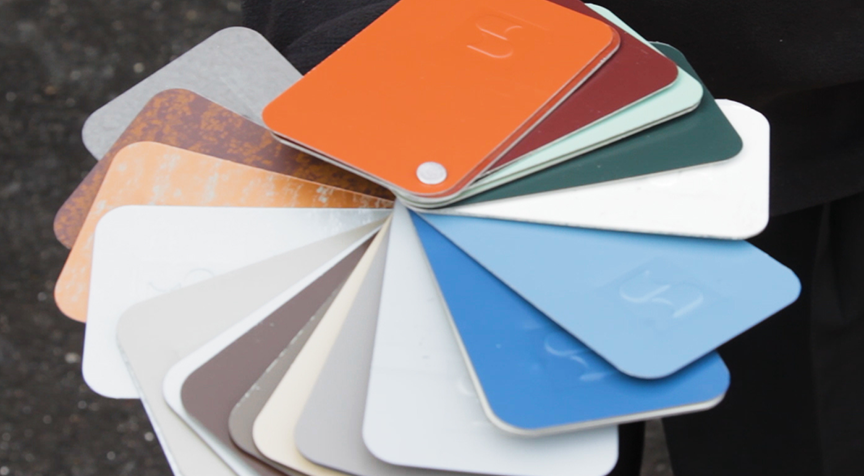 While two different companies may use the same paint supplier, it's essential to know the most common paint manufacturers out there, what companies use them, their reputation in the industry, and what products they manufacture/supply.
Plus, knowing a little more about each of these popular paint suppliers will give you a complete picture of the available coated products, which can help you choose the best product for your business and your customers.
Sheffield Metals is an industry leader in the distribution of coated and bare metal sheets and coils used to fabricate standing seam metal roof and wall systems. While we don't manufacture the paint system that coats our metal, we partner with, trust, and recommend one paint supplier for all of our coating needs: Sherwin-Williams.
While we work with Sherwin-Williams for our paints and coatings, we also understand there are other paint suppliers to consider when buying painted metal. Plus, we've been asked: "What company manufactures the paint that coats your metal? What other manufacturers supply similar paint products?"
Like we always say, being an informed and educated consumer is the best way to make the right buying choice. That's why we've put together this collection of the four best paint system manufacturers used to coat metal sheet and coil products for metal roofing.
Sherwin-Williams

Founded: 1866
Corporate headquarters: Cleveland, Ohio
Company description: Sherwin-Williams began over 150 years ago in 1866 when Henry Sherwin and Edward Williams founded the company. Today, with over 4,000 retail stores, 130 distribution centers, and numerous other facilities spanning the globe, Sherwin-Williams delivers the best in paints, coatings, and related products to the world. Sherwin-Williams Coil Coatings (formerly Valspar Architectural Metal Coatings) has an expansive range of superior quality architectural metal coatings for coil and extrusion that comes to life through a full palette of color and textures to meet the most demanding designs.
Products offered:
Coil & extrusion coatings

Fluropon® 70% PVDF fluoropolymer coil coatings (includes Fluropon SR, Fluropon Low-Gloss, Fluropon Effects, and more)
WeatherXL™ silicone modified polyester (SMP) coatings
Valflon® fluoropolymer (FEVE) resin-based coatings
PolyPREMIER™ polyester coatings
Flurothane® PVDF coil coating systems (thick-film primer)

Architectural coatings – including Sherwin-Williams interior paints and coatings, exterior paints and coatings, stains, sealers, primers, wallpaper, and more
Automotive finishes
Aerospace coatings
Industrial wood coatings
Packaging coatings
Protective and marine coatings
General industrial coatings
AkzoNobel

Founded: 1792
Corporate headquarters: Amsterdam, Noord Holland, Netherlands
Company description: AkzoNobel is a worldwide leading producer of specialty chemicals, paints, and coatings. For over 200 years, AkzoNobel has been providing innovative products and sustainable development technologies for numerous industries and consumers to meet the growing demand in a rapidly changing global paint and coating market. AkzoNobel employs over 46,000 employees around the world and houses operations in over 80 countries.
Products & brand names:
Coil coatings 

TRINAR® Fluorocarbon coating system
COOL CHEMISTRY® heat-reflective coating technology
SILKSTAR® silicone-modified polyester coating system
POLYDURE® durable polyester coating systems
FLEXIDURE® standard polyester coating system

Decorative paints – including Dulux and procolor®
Automotive and specialty coatings – including Sikkens and Dynacoat 
Powder coatings – including Interpon®
Marine, protective, and yacht coatings
Industrial coatings 
Dura Coat Products, Inc. (Axalta Coatings Systems)

Founded: 1986
Corporate headquarters: Madison, Alabama
Company description: Dura Coat Products, Inc., started in 1986 by chemist Dr. Mike Hong, and has since grown into one of the industry's well-known and respected resin and coating companies. Today, Dura Coat specializes in creating advanced paint systems for coil and spray coating applications, specifically by formulating eco-friendly paints that protect the environment and reduce carbon footprints. Dura Coat officially joined the Axalta Coating Systems family of companies in 2016.
Products offered:
Coil coatings –

Durapon 70® PVDF H/S fluorocarbon coatings
Ceranamel XT-40S™ premium exterior coil coating system
Ceranamel XT-30™ premium exterior/interior coil coating system
XT-20S silicone modified high durability coatings
XT-10 universal composite polyester coating

Extrusion coatings – including DC5000 Series (available in PVDF, silicone modified polyester, polyester, and more)
PPG Industries, Inc.

Founded: 1883
Corporate headquarters: Pittsburgh, Pennsylvania
Company description: PPG Industries, Inc. was founded in 1883 as Pittsburgh Plate Glass by Captain John B. Ford and John Pitcairn. Today, with over 156 manufacturing facilities worldwide, PPG has become a global supplier of paints, coatings, optical products, and specialty materials. Through leadership in innovation, sustainability, and color, PPG's products are widely utilized by customers in the industrial, transportation, consumer products, and construction markets.
Products offered:
Industrial coatings (includes coil coatings)

PPG Duranar® fluoropolymer (PVDF) coatings
PPG Durastar® Ultra-COOL® silicone modified polyester coil coatings
PPG DURANAR® liquid coatings
PPG DURASTAR® HP7000HR polyester coatings

Architectural coatings – includes PPG PAINTS™, OLYMPIC® stains, GLIDDEN® paints, SICO® paints and stains, and more
Automotive refinishes
Packaging coatings
Aerospace coatings
Protective and marine coatings
Specialty coatings and materials
Final Thoughts on the Best Paint Suppliers for Metal Roof Products
Now that you're familiar with some of the companies and branded paint and coating products that you'll come across in the standing seam metal roofing industry, how do you know which coil and, by extension, paint supplier is best for you?
There are several questions that you should ask about yourself, the manufacturer, and the paint supplier. To help you dig a little deeper and understand the right questions to be asking, here's a starter list with some critical points that can help you ultimately decide:
Paint type

What type of paint system does your business use or sell the most of? Is it a higher-end coil coating like PVDF? Or a lower-end coating like polyester?
Do the manufacturer(s) you're considering offer the paint system you need? How might your needs change in the future?

Environment and location

Are your installations or customers in a region where extreme weather can occur (i.e., hurricanes, high heat, UV exposure, etc.)?
Does your supplier have a product coated in the best paint system for your location?

Warranties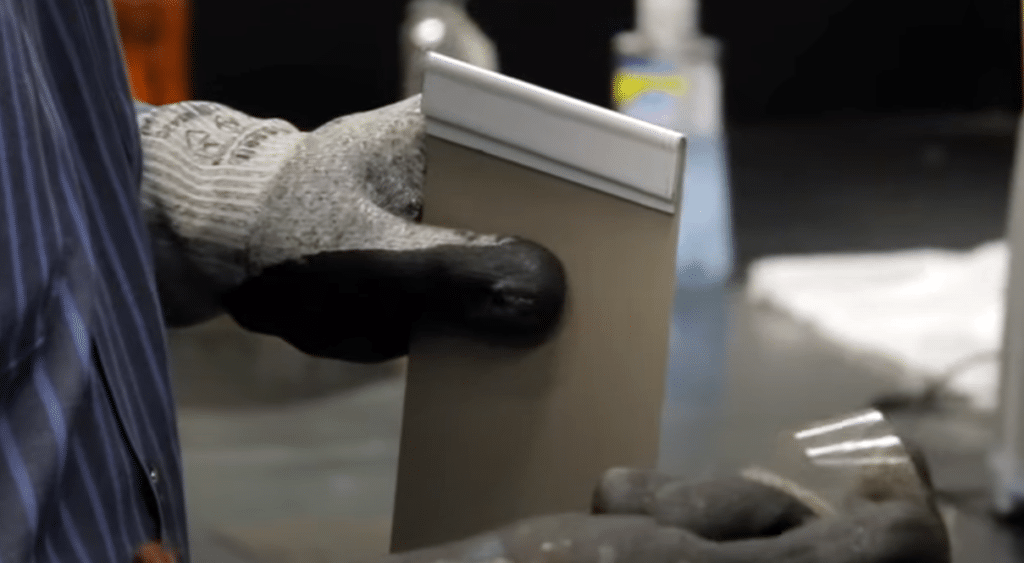 Quality testing

Does the paint supplier test their products according to the industry-standard quality control requirements?
For reference, here's a list of some of the most common tests for a paint system that is suited for metal roofing:

Dry film thickness
Impact resistance
Humidity resistance
Pencil hardness
Film adhesion
Salt-spray (if applicable)
T-bends
Continuous innovation

Does the manufacturer regularly come out with new or improved paint formulas, color options, or other products?

Sustainability
Training or technical assistance

Are there training opportunities for us to become more knowledgeable about their coatings and paints?
Is there a dedicated technical department that I can contact with any product questions or if I'm having a technical issue?
Sheffield Metals is proud to partner with the world-renowned paint supplier Sherwin-Williams for the vast majority of our painted and coated metal products. While other paint suppliers formulate comparable products at a similar price point for metal sheet and coil applications, our experience with Sherwin-Williams continues to be one of our most substantial assets as a supplier. Not only are their products superior, but the warranties, services, and overall support offered to Sheffield Metals and our customers is what sets Sherwin-Williams apart from the rest.
If you want to learn more about Sheffield Metals, Sherwin-Williams, our coated/painted sheet and coil, or any of our other product offerings, contact us today to speak with one of our helpful specialists!
---
---