Yes, you can repaint a metal roof — whether you're at the end of your warranty or looking to enhance the overall appearance of your home, there are plenty of reasons you could be looking for a change.
The repainting process comes with many additional factors to consider, such as the climate you're in, the type of paint system to choose, and how to find the right contractor to do a quality job.
Sheffield Metals is one of the leading distributors in the metal roofing industry. With over 25 years of experience, we've seen thousands of metal roofing projects across the country and understand all the ins and outs of repainting and installation. We strive to build up a trusted, reliable product line while also educating both our customers and the industry itself on all things metal roofing.
In this article, we'll go over all the specifics to help you decide whether it's time to repaint your metal roof, including:
Common reasons to repaint a metal roof
Determining factors
Whether you can repaint a metal roof by yourself
How to repaint your metal roof and best practices
Frequently asked questions
Common Reasons to Repaint a Metal Roof
Typically, someone will want to repaint their metal roof to enhance its effectiveness or change the way it looks. Sometimes, it may be because they want to create a unique design. Here are common reasons you may want to consider repainting a metal roof.
Corrosion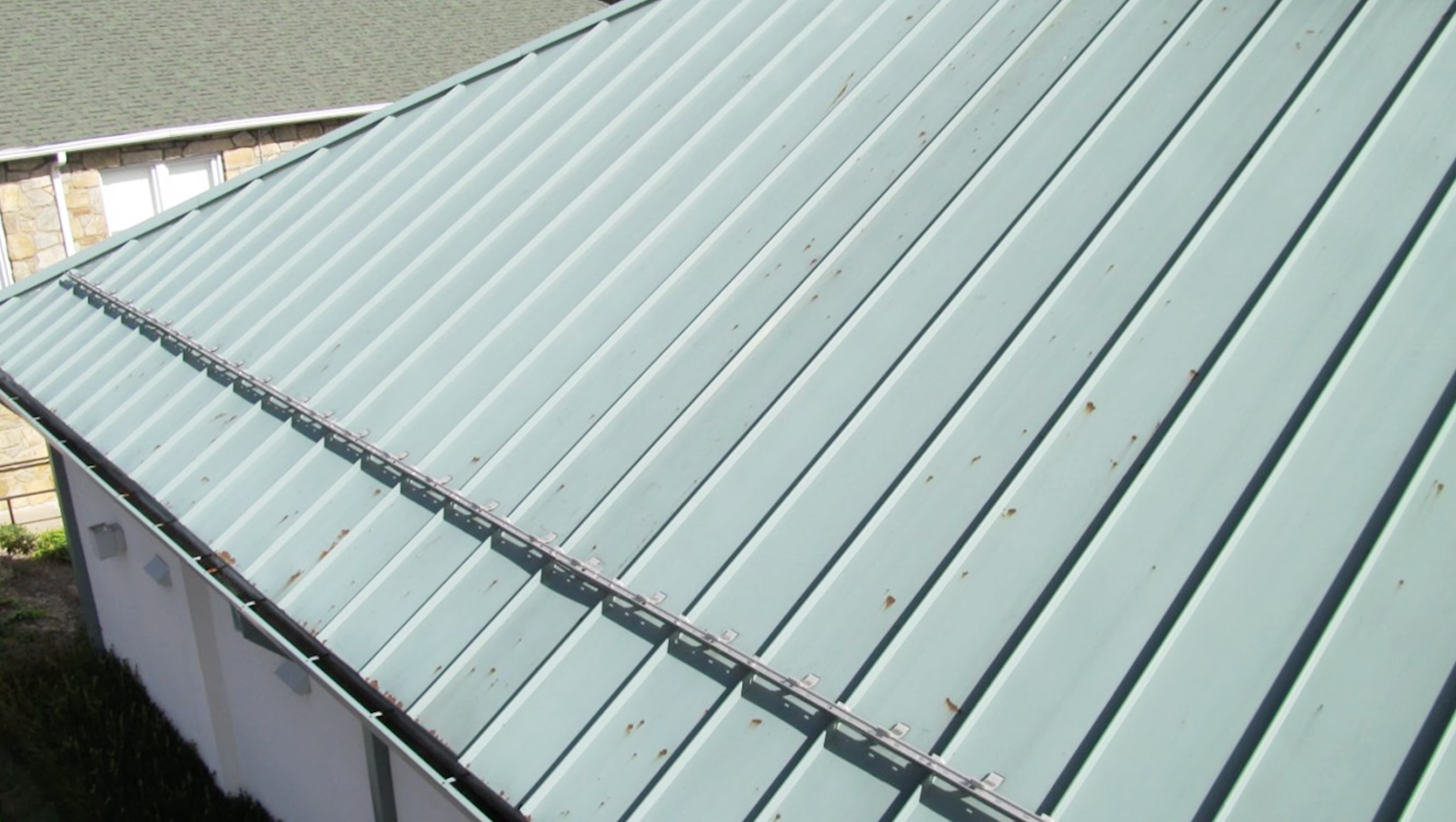 As a homeowner, you want to make sure you're doing your best to keep your house in the best possible shape. Keeping up with repairs and maintenance will ensure that the aesthetics as well as the durability of your home stays up to date. Part of that upkeep involves taking care of your metal roof.
In some cases, you may consider repainting your metal roof because of corrosion. Although metal roofs are usually coated with protective paint systems to resist corrosion, it may occur in some situations, like if your home is located in a region where saltwater is prevalent. It is important to determine the amount of corrosion that has taken place and whether that corrosion can be addressed with remediation techniques or if the panels with severe corrosion will need to be replaced. No matter what, when dealing with corrosion, you have to ensure you address it before repainting.
If your roof is particularly old, then corrosion may just be a product of wear and tear. Repainting your metal roof could be a great solution to corrosion that restores your home to its original appearance while also improving its durability and longevity.
Aesthetics
Another reason to repaint a metal roof is simple: you want to make your home look better. Homeowners could be looking for a fresh new look or to blend in with the rest of the neighborhood.
Repainting a metal roof will provide an answer to aesthetic issues and give you control over the way your home looks.
Age
Timing is another reason to repaint your metal roof. Repainting will usually void your original warranty, so it's a good idea to wait until that warranty is aging out before putting on a new coat.
Factors Involved With Repainting a Metal Roof
Repainting a metal roof may seem like a simple project at first, but it involves a variety of factors that all contribute to the finished product. To ensure that repainting goes smoothly and you achieve the finished product you're aiming for, keep in mind your warranty, the size of your roof, the type of paint, and the climate you live in.
Warranties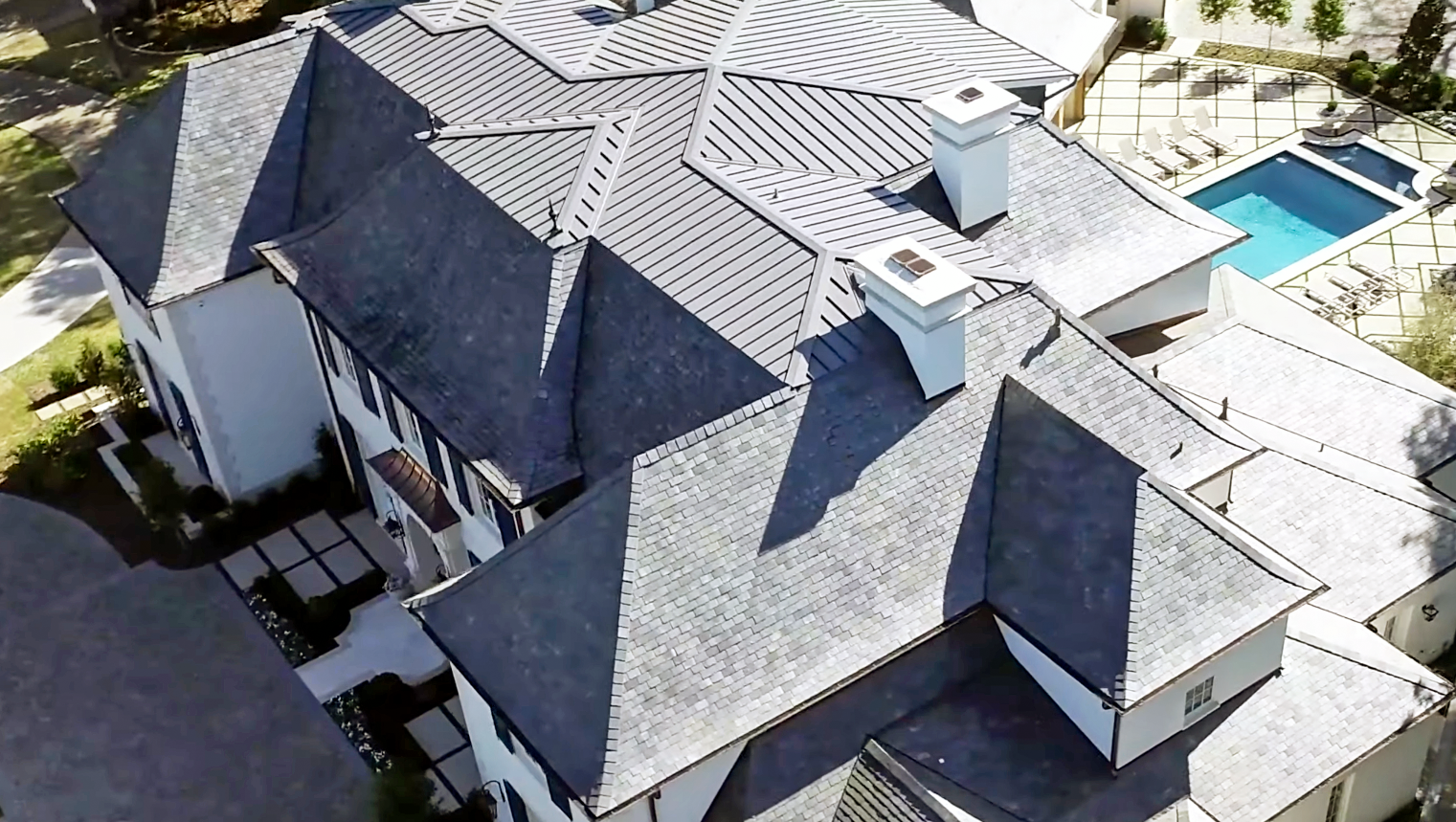 When you repaint your metal roof, the original warranty will be voided. As mentioned earlier, if your metal roof is older, then you may be nearing the end of your warranty anyways. However, if you have a brand new roof, be aware that repainting will affect that warranty.
Take time to see where you stand regarding your warranty and contact your supplier if needed to get clarification.
Roof Size
The size of your roof will also play a significant role in recoating. Contractors may break up the process in multiple stages for priming and recoating so that the project goes as smoothly as possible.
Paint System
One of the most important parts of repainting your metal roof is choosing which paint to use. If you can, try to get the same type of paint as your original coating. Some companies do not have their own sealed-applied coatings, however, so you may have to find an alternative brand.
One of the most commonly used and accessible coating systems is a direct-to-metal (DTM) coating, which can be found at most paint stores. DTM is an acrylic-blended paint that doesn't require a primer system, so it can be easily applied to a clean surface via either a brush and roll or spray technique.
Climate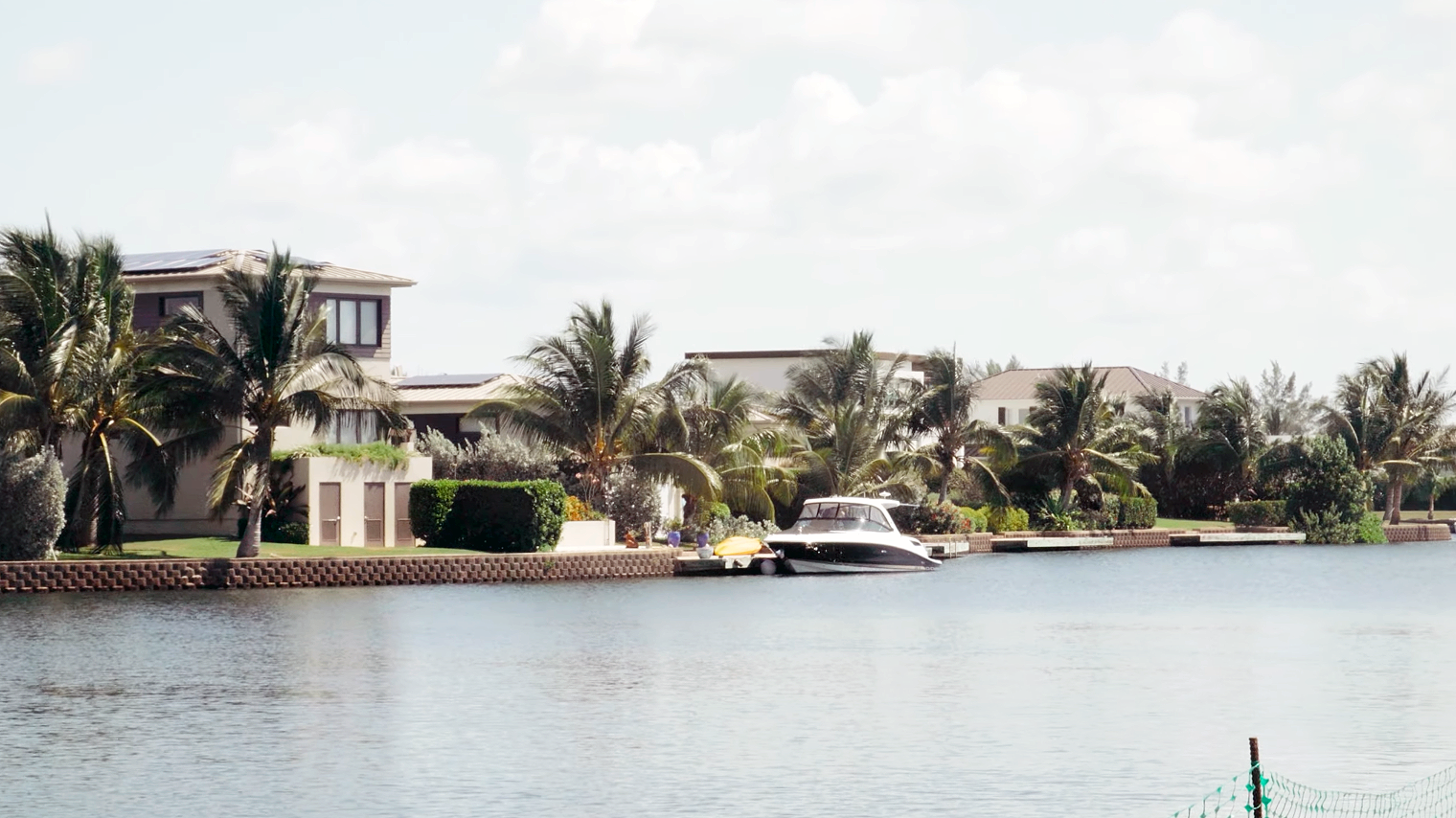 The region where you live will also dictate the process for repainting a metal roof. Hotter climates can cause paint to dry very quickly, which may cause issues with the curing of the paint.
In colder climates, moisture may be prevalent, and dew can impact the paint process, forcing shorter windows for recoating. Additionally, areas with frequent rain can extend the painting process, as you'll have to wait out the rain before continuing.
There will likely be complicating factors involved in any type of climate, so it's just a matter of finding a professional team of contractors to get the work done the right way.
Can You Repaint a Metal Roof Yourself?
While it is possible to repaint a metal roof yourself, it's usually best to find a professional contractor to do the work for you, especially if you don't have extensive experience working on roofs. Repainting a metal roof requires precision and an in-depth knowledge of paint systems and roofing, as well as additional equipment such as harnesses and lifts.
Before you choose to take on a repainting job yourself, take time to understand the various factors involved, such as chip sizes, weather conditions, temperature fluctuations and safety equipment:
Technical Paint Requirements: Oftentimes there will be mixing requirements for certain paint systems, such as how long they will need to be stirred, as well as dwell times and direct technical directions from the manufacturer to ensure the paint is applied the correct way.
Weather Conditions: Rain, wind and sunshine will all play a role in how you repaint your metal roof. If possible, try to schedule your repainting during a time of year where you think the weather will be fairly consistent, with conditions attuned to your project.
Temperature Fluctuations: Rising and falling temperatures will affect how the paint dries and add complications to the project. It's important to have a grasp on the climate you're working in as well as how temperatures will impact your work before you begin.
Contaminants: Surface level contaminants such as mold and mildew will probably be able to be dealt with through a pressure wash. More entrenched issues such as rust will require more precision and even power tools to prepare your metal roof for repainting.
Safety: Any type of roof work requires the utmost safety to avoid accidents and injury. Proper safety equipment includes fall protection harnesses, lifts, safety glasses, gloves, and more. If you're not familiar with the proper safety guidelines for repainting a metal roof, it's best to hire a professional contractor to do it for you.
Finding a professional team will also ensure that the project goes smoothly, and you'll have more confidence that the final appearance will be satisfactory.
How to Repaint Your Metal Roof
Beginning the process of repainting your metal roof can be intimidating. There are a lot of factors to keep track of and it's important to take time to get the job done right. It's helpful to break it down into individual steps.
1. Understand Your Desired Outcome
First, you'll want to outline what you want the finished product to look like. It can also help to understand why you're repainting your metal roof. Going back and reading those common reasons for repainting a metal roof can help narrow down your purpose and allow you to better understand your unique situation.
Although you don't need a fully-fleshed out plan in the beginning stages, it will be beneficial to have a general idea of what you're looking for so you can be prepared when talking the project over with a contractor.
2. Find a Trusted Contractor
In nearly every case, it's best to reach out and find a trusted contractor to repaint your metal roof. The amount of safety hazards involved, as well as the variety of factors such as climate, temperature and differing paint systems, makes a DIY repainting job very challenging. When you invest in a quality contractor, you'll gain convenience and the peace of mind that the job will be done right.
To find a trusted contractor, you can start by visiting your local paint or hardware store and asking for referrals. The staff will likely be more than willing to share names of trusted people they've worked with. You can contact them and ask for references to see work they've done in the area around your home.
You can also reach out to friends and family members who have recently repainted their metal roof and see if they have any referrals.
A quick Google search may also help you identify some options in your area. Be sure to thoroughly vet these contractors and visit their website to look through images of work they've done, as well as content they might have such as blogs or videos to get a feel for their work and reliability.
If you'd like, you can also contact your manufacturer to ask for recommendations.
3. Prep the Roof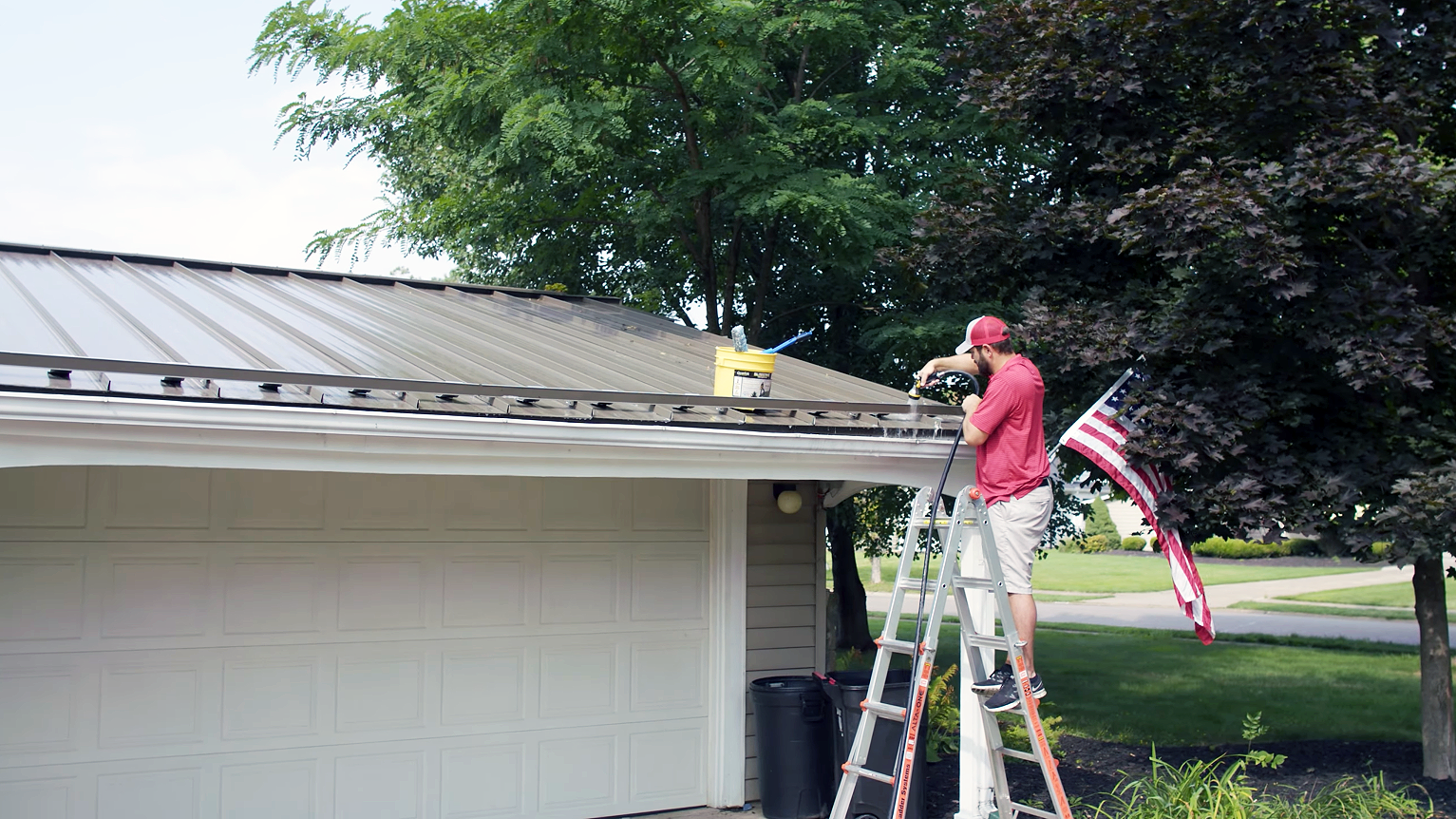 Your contractor will typically start by cleaning your roof of debris, which usually involves pressure washing to get it as clean as possible. If there's rust present, then electric tools may be needed to sand down those areas. For more severe cases of rust, your contractor may even need to use other methods such as blasting to deal with those areas.
Prep work may also involve taping windows, covering plants, and any areas where paint may reach. Contractors will also likely need to access your water and electricity, so make sure to prepare accordingly.
4. Prime and Paint
Next, your contractor will add a layer of primer to the roof, either through a brush and roll or an airless spray system. The primer will give the paint a solid base to lock on to and help diminish surface stains so that your roof will have a solid, shiny color when finished. Once the primer is added, the topcoat will go over it.
5. Review
When the job is finished, be sure to view your roof from afar and see how it looks. If you notice any discrepancies, talk this over with your contractor to see what you can do. You'd like your new repainting job to last far into the future, after all, so you'll want to make sure the job is complete before you see off your contractor.
FAQs
Repainting a metal roof is a significant investment, so you may have additional questions even after reading through this article. Here are some of the most frequently asked questions when it comes to repainting a metal roof.
Can You Repaint a Metal Roof in All Climates?
Yes, you can repaint a metal roof in all climates. However, the repainting process will differ based on what region you're in. Those located in hot, drier climates, for example, may need to deal with issues of paint drying very quickly, while those in colder and wetter climates will need to factor in dew and rain into their repainting projects.
Is New Paint as Durable as Original Paint?
This will in some part depend on the paint system you choose. In most cases, the new coat will appear as the same color, sheen, and appearance, but it likely will not be as robust and have a shorter longevity than the original coating.
This is because original coats are cured, meaning the color is baked onto the metal in ovens reaching 700 degrees, which increases hardness and durability. Still, depending on the paint system you choose, you can expect your new coat to last anywhere from ten to fifteen years if installed properly.
Can You Touch Up a Metal Roof Instead of Completely Repainting It?
Yes, you can touch up a metal roof instead of completely repainting it, but it will also depend on the specific issue and the size of that issue. For very small portions, for example, it may make sense, while larger swaths may require some extra consideration.
Touch ups on certain sections of your roof may not seem like a big deal, but these touched-up sections will not chalk and fade like the original coating, causing a kind of polka-dot effect on your roof when viewed from afar, appearing splotchy and detracting from its aesthetic.
It's best to do touch ups on small sections such as scratches with minimal quantities of paint. You can contact your manufacturer for these types of projects – typically they'll have special paint available for touch ups. For larger areas of damage, invest in new panels so you can retain the appearance of your roof.
Repainting a Metal Roof: Final Thoughts
If you're on the fence about repainting your metal roof, be sure to contact a trusted professional in the industry to talk it through. In some cases, you may just need a small touch up to make your metal roof look brand new again. In other cases, a full repainting job may make sense.
Again, make sure you take your time and find a trusted supplier to repaint your metal roof, and continue to seek out information on repainting so you can be confident in your final decision.
At Sheffield Metals, we're happy to provide you with reliable information and trusted products to help you have a metal roof that lasts. Our team is ready and willing to provide you with more information on repainting your metal roof. Contact us today!