Sustainable building materials have truly taken center stage in the past two decades. One of the pillars of sustainability revolves around recycling, or the ability to convert waste materials into new products or objects.
That's why many individuals, companies, organizations, etc., have incorporated more sustainable practices into their everyday lives and operations; one of these practices is the responsible recycling of roofing materials.
But do you know what roofing materials can be recycled?
After almost three decades in the architectural metal roofing industry, Sheffield Metals has worked to integrate sustainability into our products and recommendations, which is why we believe that discussing roof recycling is beneficial.
In this article, expect to learn why recycling roofing materials matters and if these four common roof types are recyclable:
Metal roofing
Asphalt shingle roofing
EPDM roofing
Concrete or clay tile roofing
Metal Roofing & Recycling Capabilities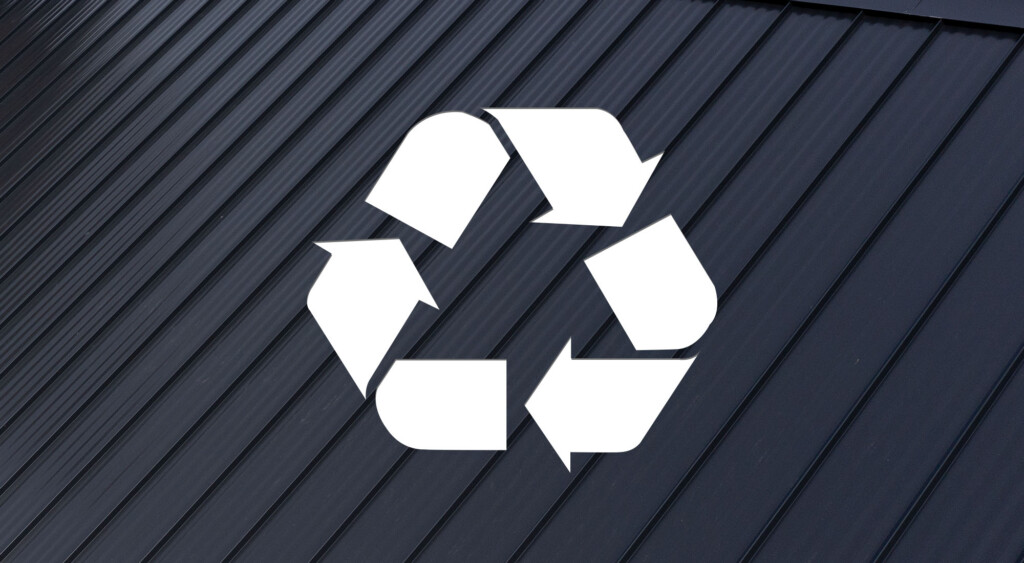 Can You Recycle Metal Roofing?
⇢ Answer: Yes
Metal roofing is 100% recyclable — meaning that old/damaged panels, tear-off material, and leftover scraps of metal can be appropriately recycled and used in future metal products, such as appliances, cans, plumbing, and beyond. The high recyclability applies to the five most common metal roofing material types: Galvalume®, galvanized, aluminum, copper, zinc, and stainless steel.
Many metal coils and sheets used to fabricate metal roofing panels may already contain previously recycled metals. The most likely roofing material to be made of previously recycled metal is aluminum, which comprises nearly 95% of all aluminum roofing (think recycled soda cans). The best part of using an already recycled material is that it significantly cuts down on the amount of energy and resources required to produce a new coil or sheet from raw materials:
Recycled steel (Galvalume) uses 26% of the original energy.
Recycled aluminum uses 5% of the original energy.
Additionally, metal roofing materials can either be pre-consumer or post-consumer recycled content:
Pre-consumer recycled materials – Scrap metal content produced during the initial manufacturing stage/process that has been recycled for future use.
Post-consumer recycled materials – Materials that have already been in the possession of a consumer at a point in time and have been recycled for reuse.
If a metal roof or wall system that is produced from recycled materials is essential to you or your customer(s), make sure to properly specify it ahead of construction or installation to ensure the proper metal is utilized.
---
---
Asphalt Shingles & Recycling Capabilities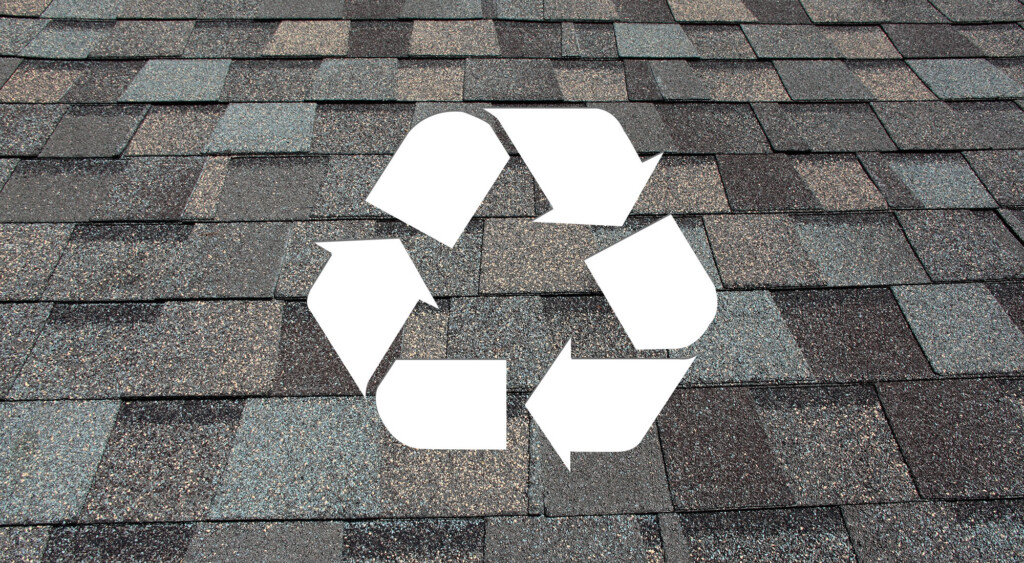 Can You Recycle Asphalt Shingle Roofing?
⇢ Answer: Yes (surprisingly!)
Asphalt shingles are the most popular and widely used roofing type, and have been for decades because of the material's low price point and ease of installation.
For a long time, a common misconception has existed that asphalt shingles cannot be recycled because it's an oil-based petroleum product. When an asphalt shingle roof was at the end of its lifecycle, the shingles were torn off and disposed of in a regular dumpster, which led to an abundance of shingles in landfills.
In 2023, approximately 11 to 13 million tons of asphalt shingles still end up in landfills every year in the United States. This is a continuing issue, especially because it takes upwards of 300+ years for a shingle to completely break down in a landfill.
However, with recent pushes towards conservation and sustainable infrastructure, developing a method for recycling asphalt shingles was inevitable. Now, you absolutely can recycle shingles at a qualified recycling center, which then uses the shingles to make the pavement for roads, create new asphalt shingles, or turn into covers for grounds.
The biggest issue revolves around the awareness that this shingle recycling service exists for contractors and installers to utilize.
Shingle recycling is available in most major markets in the United States and in some locations in Canada, and new sites continue to open. There are multiple resources for finding a recycler. You can check online at www.shinglerecycling.org and www.earth911.com, or you can call 1-800-CLEANUP.

– Asphalt Roofing Manufacturer's Association
EPDM Rubber Roofing & Recycling Capabilities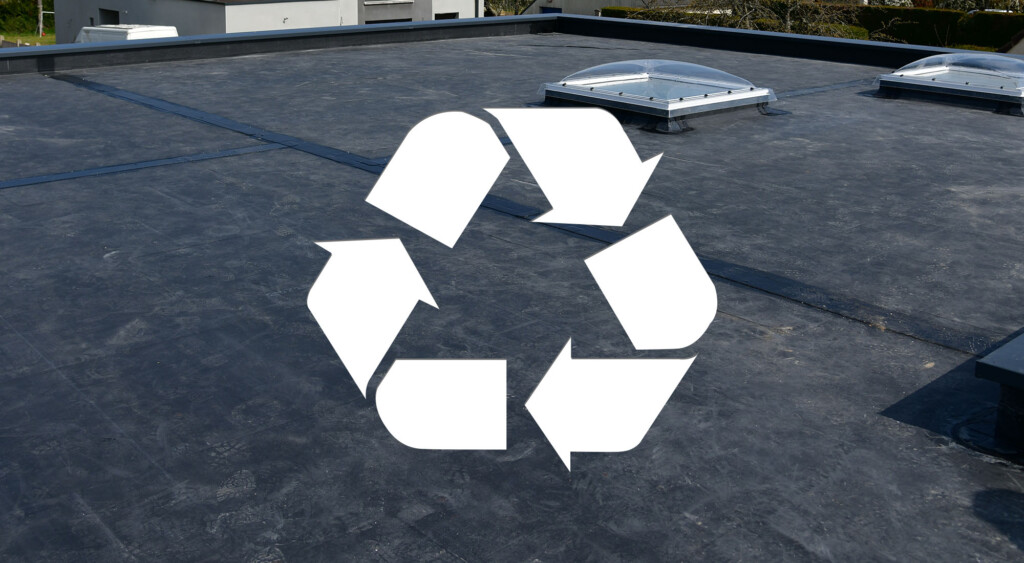 Can You Recycle EPDM Roofing?
⇢ Answer: Yes
EPDM, or ethylene propylene diene monomer, is a synthetic rubber that is used as a roofing material for low slope or flat roofing applications, which is common in commercial structures. In the past few decades, EPDM has grown in popularity due to its lower cost, lightweight quality, and easy installation/replacement.
Before 2006, there wasn't a sound way of recycling EPDM after it was removed from a roofing structure. However, The EPDM Roofing Association (ERA) sought to eradicate a large portion of EPDM roofing products that ended up in a landfill after a roof replacement, which is why they launched the first EPDM roof recycling program.
For a bit of background about the program, this service can be used for "low-slope ballasted and mechanically attached non-reinforced EPDM membrane tear-offs and offers job site collection and transportation directly to a recycling center." From there, the facility grinds the EPDM into crumb rubber that can be reused for several products — including waterproofing materials and coatings.
According to ERA, in 2012, over 13.5 million square feet of EPDM rubber roofing material were recycled since the service began in 2006. This program has now expanded to 48 states and parts of Canada.
Like asphalt roofing, a slight disconnect can occur with contractors and others in the field who might not be aware that EPDM can be responsibly recycled. In fact, Recovering Energy from Roof Waste estimates there are upwards of 200,000 tons of EPDM in landfills and available for recycling. The ERA and others in the industry are still working to educate companies on the recycling benefits and opportunities for EPDM.
Concrete or Clay Tile & Recycling Capabilities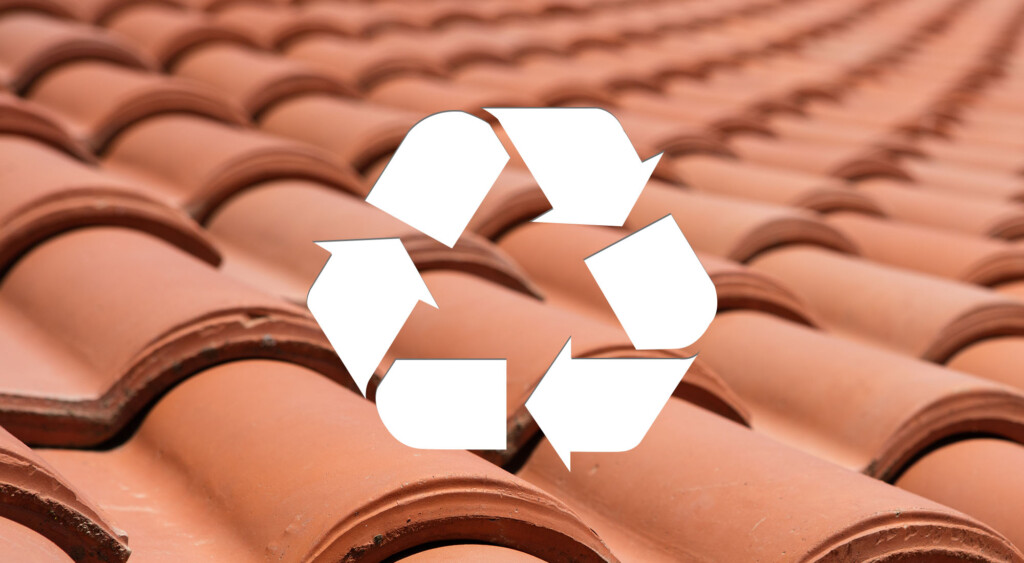 Can You Recycle Concrete or Clay Tile Roofing?
⇢ Answer: Yes
The last common roofing material we want to discuss is concrete or clay roofing tile, which is a prominent material used all around the world, especially in Europe, the Southwest U.S., and other regions with warm climates. Concrete tile roofs promise decades of protection to a structure, do not require the use of harmful chemicals during production, and are easier to maintain over time.
Regarding sustainability, clay/concrete tile roofs are similar to metal roofing. Tiles made from clay and concrete are mineral-based and can be easily recycled after use as a roofing material. In fact, 100% of clay tiles can be reused or recycled. This saves tiles from taking up space in landfills; however, if the tiles do end up at a landfill, at least they don't release toxic or carcinogenic hydrocarbon chemicals into the earth.
There are many uses for recycled concrete and clay roofing tiles, including:
Being crushed into gravel.
Use in other construction projects.
Sidewalks and walkways.
Use in the landscaping design.
In addition to post-consumer recycling benefits, many clay and concrete roof tiles contain already recycled materials, thus adding to its sustainability.
Why It's Important to Recycle Roofing Materials
Leaves Less of a Carbon Footprint
Carbon footprint refers to the amount of carbon dioxide or other carbon compounds emitted into the atmosphere by the activities of an individual, company, country, etc.
Nearly every product we consume requires the use of energy consumption at one point in time, whether it's during manufacturing, transporting, or incineration at a landfill. All these stages require the potential burning of irreplaceable fossil fuels, which releases emissions into the air and damages the atmosphere.
The recycling of any product — roofing materials included — helps reduce the carbon footprint you leave on the Earth by reducing the number of products manufactured with new/raw materials. Plus, it reduces the amount of garbage in landfills that will need to be incinerated.
LEED Certification Qualifications
One of the more critical measures of building sustainability is referred to as LEED, the Leadership in Energy and Environmental Design.
LEED-certified buildings are proven to save money, improve efficiency, lower carbon emissions and create healthier places for people. They are critical to addressing the climate crisis, meeting ESG goals, enhancing resilience, and supporting more equitable communities.

– LEED
LEED provides the parameters for building projects and uses a points system to determine the level of certification. The scorecard considers several sustainability measures, such as location, environment, water efficiency, energy source, building materials, indoor environment, innovation, and more. One of the methods of earning points is using recycled or recyclable materials during the building phase.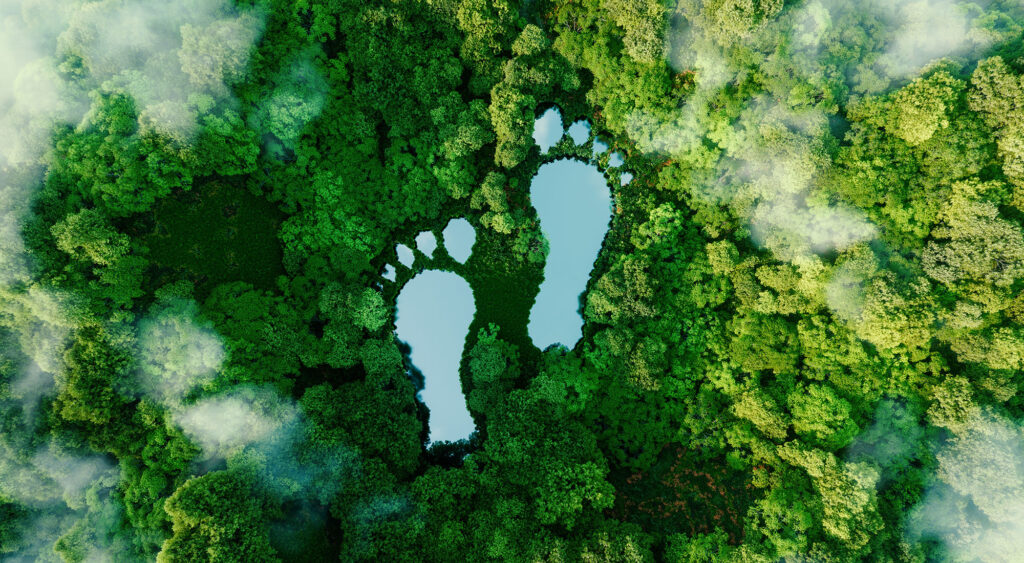 Positively Positions Your Business as Good Stewards of the Environment
In 2023, more and more home and property owners will continue to seek building materials and installation practices that make their properties as eco-friendly and sustainable as possible.
Plus, if you're a contracting company, your reputation means everything. One of the best ways to differentiate your business from the competition is to offer something unique or beneficial that others might not. If you're bidding on a roofing job where the property owner is adamant about using green, sustainable building practices, offering to recycle any tear-off/excess materials might be the tipping point that lands you the project.
At the end of the day, if you can prove that your business contributes to recycling and conservation efforts, it will better position you in the eyes of potential customers.
Laws Require Recycling in Some States & Localities
Did you know recycling laws or requirements might exist in your city or state?
Regulations related to sustainability and recycling practices are becoming more common in recent years. For example, some cities have laws that fine citizens who throw away recyclable materials past a certain percentage. Or, there are even states that have completely outlawed the disposal of recyclable materials in landfills. Learn more about mandatory recyclables by state here, and contact your local and state recycling regulators for more questions.
Final Thoughts on Roofing Materials & Recyclability
All four of these most common roofing types are recyclable in one way or another.
With technological innovations occurring on a regular basis and pressure for companies to convert to sustainable business practices, the recycling and the use of previously-recycled materials have become a reality.
Keep in mind:
There is a lack of awareness that some roofing materials are recyclable.
It may or may not cost extra to recycle roofing materials in some cases.
If you're a property owner, architect, or another individual who wants to ensure their products are recycled after use, the most important thing to do is verify with the general contractor of your project that they are responsibly recycling the materials.

The same recommendation of talking to your contractor applies if you want to ensure materials containing previously recycled components are installed.

If you're a contractor, it's vital that you offer various disposal and recycling options to your customers.
At Sheffield Metals, we're proud to supply sheet and coil products used in the metal roofing industry, many of which qualify as LEED and Cool Roof Rating Council (CRRC) compliant. Plus, all our metal can be recycled after use; some even contain previously recycled metal materials.
To schedule a consultation or discuss how our metal can be used for your sustainable project, contact our knowledgeable team today!
---
---