As the emphasis on conservation and sustainability dramatically increased over the past couple of decades, so has the demand for energy-efficient roofing products that affect climate change as little as possible.
Several designations for roofing products exist to label them as energy-efficient (in metal roofing, this may be referred to as cool roofing). One such label is ENERGY STAR®.
However, there are significant changes to the ENERGY STAR Certified Roof Products program in mid-2022 that will likely affect many architects, contractors, manufacturers, and property owners.
Here at Sheffield Metals, the bulk of our metal coils and sheets consist of the energy-efficient metal roofing metal brand, COOLR®, which is a metal roof and wall product engineered to meet several compliance standards, including ENERGY STAR, LEED, and soon, the Cool Roof Rating Council.
---
---
In this article, we'll go through:
What ENERGY STAR is.
What the ENERGY STAR Certified Roof Products program is.
What is happening to this program in June of 2022.
How Sheffield Metals' energy-efficient products will be labeled in the future.
What Is ENERGY STAR®?
ENERGY STAR is a government-backed designation indicating a product is energy-efficient, making it easier for consumers to make buying decisions that will protect the environment and save money.
According to ENERGY STAR:
"Since 1992, ENERGY STAR and its partners have helped American families and businesses save 5 trillion kilowatt-hours of electricity, avoid more than $450 billion in energy costs, and achieve 4 billion metric tons of greenhouse gas reductions."
In essence, ENERGY STAR-rated products have to meet specific guidelines and specifications set by the Environmental Protection Agency (EPA). The EPA's guiding principles are:
Product categories must contribute significant energy savings nationwide.
Certified products must deliver the features and performance demanded by consumers and increase energy efficiency.
Suppose the certified product costs more than a conventional, less-efficient counterpart. In that case, purchasers will recover their investment in increased energy efficiency through utility bill savings within a reasonable period of time.
Energy efficiency can be achieved through broadly available, non-proprietary technologies offered by more than one manufacturer.
Product energy consumption and performance can be measured and verified with testing.
Labeling would effectively differentiate products and be visible to purchasers.
Once a product has been evaluated and approved, the ENERGY STAR symbol can be used to market and promote the product.
What Are ENERGY STAR® Certified Roof Products?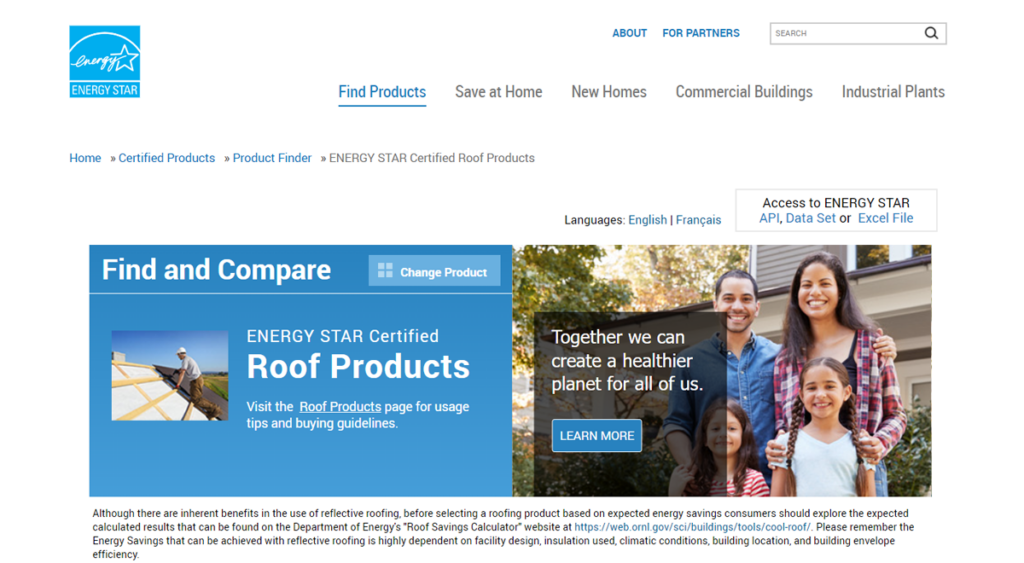 ENERGY STAR keeps a listing of its certified products — all of which are separated into subcategories that help users find the appropriate product. One of these is the Certified Roof Products category.
For a bit of background, the ENERGY STAR Certified Roof Products program was initially launched in 1999. This program was intended to assist the growth of "cool" or energy-efficient product use in the roofing market.
There are testing procedures that a roof system must complete to qualify as an ENERGY STAR Certified Roof Product. You can read about the specific test methods in the Roof Products program requirements here. However, these tests measure solar reflectance and emissivity values to ensure the material is energy-efficient enough to have an ENERGY STAR label.
Solar Reflectance
Solar reflectance is the ability of a material to reflect solar energy from its surface back into the atmosphere. Solar reflectance is measured in decimals on a scale from 0 to 1, where 0 would be considered the truest black and 1 would be considered the truest white.
For a roof system to be ENERGY STAR® compliant, there are specific solar reflectance ratings that roofing materials must fall into. (Note: The measure of solar reflectance is divided up into two categories: low-slope and steep-slope roofing applications).
ENERGY STAR® Program Requirements for Roof Products
| | | |
| --- | --- | --- |
| | Initial Solar Reflectance | Solar Reflectance After 3 Years |
| Low-slope roofs (2:12 or below) | Greater than or equal to 0.65 | Greater than or equal to 0.50 |
| Steep-slope roofs (above 2:12) | Greater than or equal to 0.25 | Greater than or equal to 0.15 |
Emissivity (Thermal Emittance)
Emissivity measures how efficiently and quickly a surface releases/emits absorbed heat and returns to its normal temperature. Emissivity is determined on a decimal scale from 0 to 1, where 1 represents the most efficiently emissive material. In essence, the higher the number, the better a material will be at cooling itself.
ENERGY STAR's emissivity requirement for both low-slope and steep-slope roofing applications is greater than or equal to 0.75.
What Is Happening to the ENERGY STAR Specification For Roof Products in 2022?
In mid-2019, the EPA confirmed that they are officially sunsetting (or ending) the ENERGY STAR Certified Roof Products specification. Effective on June 1, 2022, all roofing products that have received the ENERGY STAR designation will no longer be recognized under that distinction. Remember: The ENERGY STAR label will still exist for other consumer goods, but the roofing products designation will not.
There are several reasons why ENERGY STAR is ending its roofing products designation. One of the main reasons is that commercial building codes have surpassed ENERGY STAR's requirements. Many building departments now require better-performing roofing products, which has caused the EPA to take a step back.
Additionally, the EPA felt that the residential portion of the ENERGY STAR roofing product program could be better served by going to a more regional platform. This will allow regions to have more specific requirements that best fit the temperature, sun exposure, and overall environment (i.e., more stringent solar reflectance requirements in Florida vs. less strict solar reflectance requirements in Michigan).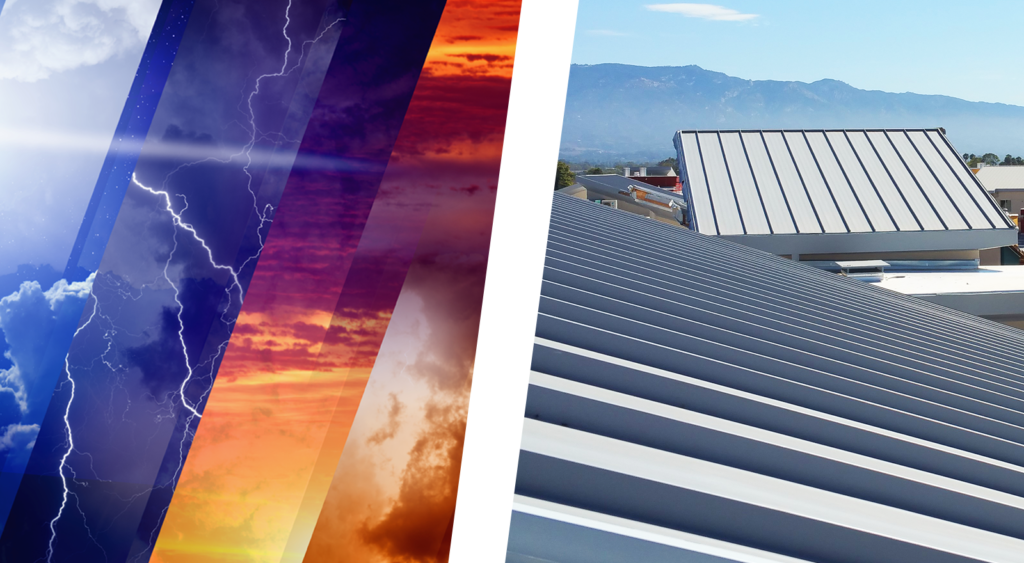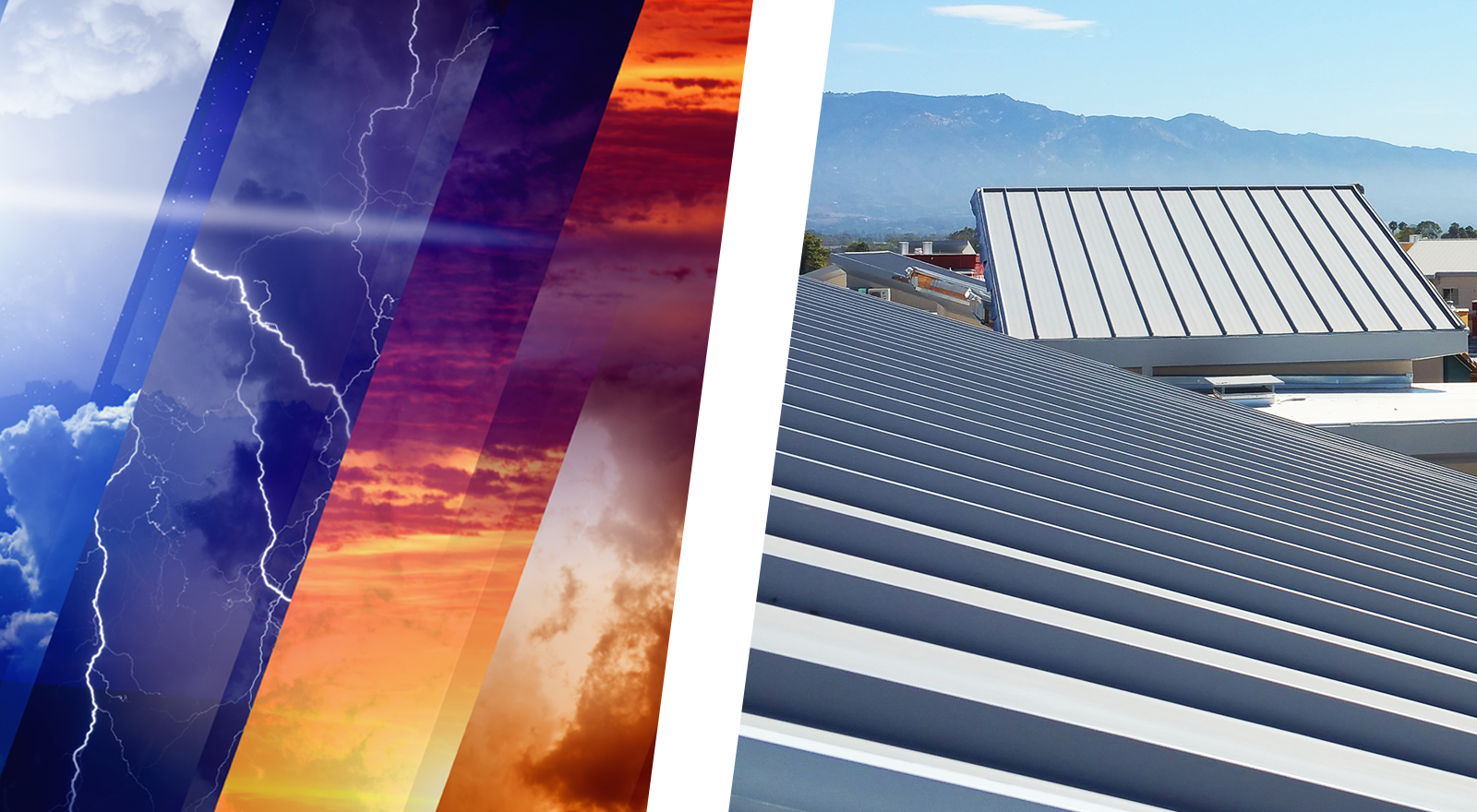 According to the EPA, here are the milestones associated with sunsetting the ENERGY STAR roofing products program:
ENERGY STAR roofs and their brand owners will be recognized at www.energystar.gov until June 1, 2022.
No new Partnership Agreements for ENERGY STAR roof products will be accepted by EPA.
Certification Bodies will be instructed to stop certifying new roof product submittals on June 1, 2021.
No new promotional materials for roof products (printed and electronic) that use the ENERGY STAR mark may be produced after June 1, 2021. Brand owners are permitted to use up existing printed material, including packaging, to minimize waste.
Brand owners must stop using the ENERGY STAR name and ENERGY STAR mark in association with all roof products on and after June 1, 2022.
To minimize the cost of labeling changes and be in compliance by June 1, 2022, brand owners of roof products are encouraged to remove ENERGY STAR references on Web sites or in other collateral materials as these materials are reprinted or changed.
Sheffield Metals to Transition to the Cool Roof Rating Council
So, what does this mean for Sheffield Metals and its customers in the future?
Effective on June 1, 2022, Sheffield Metals is making the seamless transition to the Cool Roof Rating Council (CRRC) and its CRRC Roof Product Rating Program.
According to the CRRC:
"The Cool Roof Rating Council is a 501(c)(3) nonprofit organization that develops fair, accurate, and credible methods for evaluating and labeling the radiative properties of roofing and exterior wall products. The CRRC also provides education to the public on how cool roofs and solar-reflective walls can help improve building performance, increase occupant comfort, mitigate the urban heat island effect, and reduce greenhouse gas emissions."
Specifically, the CRRC tests a product's solar reflectance and thermal emittance, similar to the ENERGY STAR designation. The industry standards that the CRRC follows for roofing products include: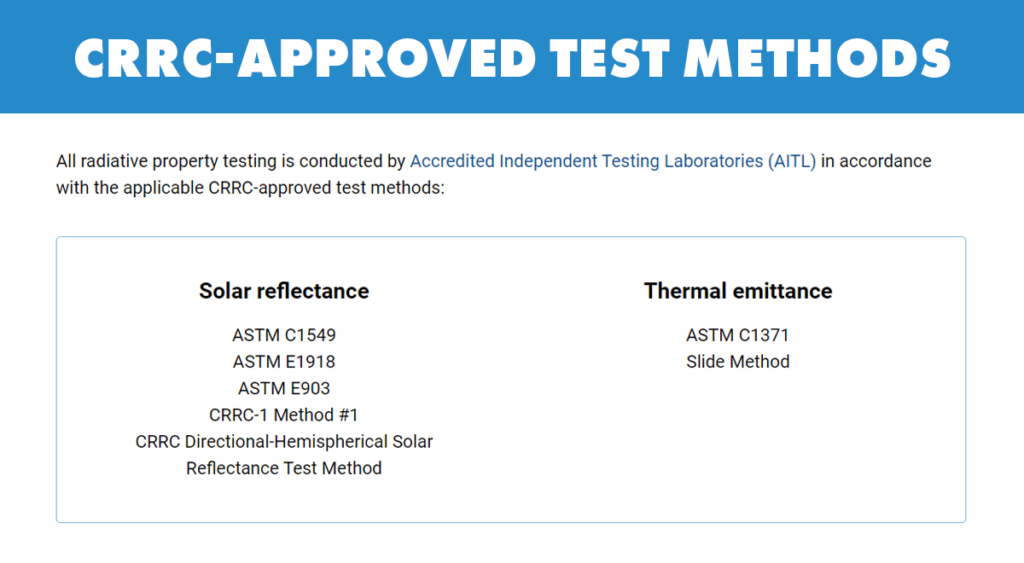 What makes the CRRC different is that it doesn't approve or deny products based on a specific solar reflectance or emissivity measurement. They measure roof products so architects, designers, contractors, etc., can easily find products that adhere to their project requirements in the CRRC's Rated Roof Products Directory. This directly allows users to search and filter roofing products by color, material, manufacturer, SRI value, and beyond.
We're already seeing members of the design community asking for CRRC data, which is why we believe the CRRC is the best fit for Sheffield Metals and our COOLR® energy-efficient metal sheet and coil products.
Final Thoughts on ENERGY STAR® and the CRRC
So, what does this mean for property owners, contractors, architects, and the like?
For property owners: If you purchased a roofing product that was ENERGY STAR rated, it'll no longer have this designation on and after June 1, 2022.
For architects and designers: While the ENERGY STAR roofing products program is ending, there are still places to find cool roofing products with the solar reflectance and emissivity values your projects require. We highly recommend utilizing the Cool Roof Rating Council and their database of products that meet your specifications.
For manufacturers, contractors, and installers: If you promote or advertise that your offered products are ENERGY STAR-rated, remove the label from your website, literature, etc., as soon as possible. All mentions of the ENERGY STAR label on any roofing products must be taken down by June 1, 2022. Additionally, if you're planning to advertise your products as part of the CRRC, make sure you are installing at the correct slopes based on the color requirements.
After over 20 years of manufacturing metal sheet and coil products for metal roof and wall projects, Sheffield Metals knows the importance of providing sustainable and energy-efficient cool metal roofing options.
If you're looking for a product that meets your project specifications, if you have a question about the ENERGY STAR program sunsetting, or if you're looking for further information about the CRRC — don't hesitate to get in touch with our helpful Architectural Department today!
---
---