SHEFFIELD VILLAGE, OH – Sheffield Metals International (SMI), a leading distributor of metal coil and sheet products used to manufacture standing seam metal roofing systems, is happy to announce the addition of a board and batten wall panel profile (SMI Board & Batten Wall) to its profile offerings.
The new board and batten roller set was developed by New Tech Machinery, the world-renowned manufacturer of portable metal roof and gutter rollforming machinery. Sheffield Metals is a proud distributor of New Tech Machinery rollforming equipment.
The board and batten roller set is compatible with New Tech Machinery's SSQ II™ MultiPro Roof Panel Machine, as well as older SSQ models dating back to 2014.
"We're thrilled to introduce the board and batten profile to the metal construction market," said Adam Mazzella, President of Sheffield Metals and New Tech Machinery. "With this profile, panel manufacturers and contractors can now cater to a wider range of customer needs, which will enhance their competitiveness and allow them to seize new business growth opportunities."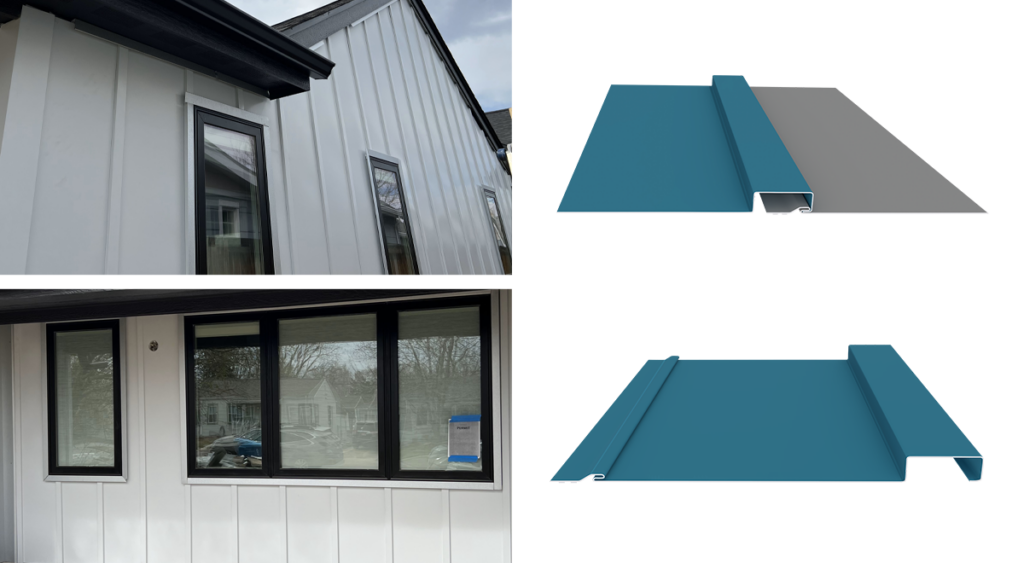 The vertical installation of the boards, with the battens covering the fasteners, replicates the look of classic wood panels. This cutting-edge metal board and batten profile creates panels that combine durability, low maintenance, sustainability, and aesthetics — making it an ideal choice for residential and commercial construction projects.
In addition to its exceptional durability, this new profile showcases a board and batten design that provides a beautiful rustic appearance ideally suited for various architectural styles, including the Traditional and Modern Farmhouse look.
Additionally, with the continued emphasis on minimizing or eliminating construction dust by the Occupational Safety and Health Administration (OSHA), the metal board and batten profile is a dust-free solution for residential siding applications that most vinyl and cement-based products can't accommodate.
Information about the SMI Board & Batten Wall panel profile:
Panel type: Wall
Mounting orientation: Vertical
Metal materials: 24 and 26-gauge Grade 50 steel | .032" aluminum
Panel width minimum: 10"
Panel width maximum: 25 ¼"
Seam use: 3 ⅝" of material is used to form the panel seams
Batten seam width: 2"
Seam height: ¾"
Slot spacing: 1" x ¼" slots equally spaced every 6 ⅜"
"The market and the demand for a board and batten profile that uses metal is already present," said Brad Keirn, Vice President of Sales for Sheffield Metals and New Tech Machinery. "The next step involves getting the board and batten roller sets in the hands of our customers so they can benefit from it, including diversifying and growing their companies."
To learn more about the board and batten profile, to download the cut sheet, or to order the roller set, visit our panel profile page or contact us today!
About Sheffield Metals International

Sheffield Metals International (SMI) is an industry leader in the distribution of coated and bare metal products, as well as engineered standing seam metal roofing profile systems. We specialize in providing painted Galvalume® and aluminum sheets and coils for the architecturally driven metal panel industry.
Sheffield Metals stocks 40+ colors in Galvalume, several popular colors in aluminum, and can match virtually any color to suit a particular project.
For more information, visit Sheffield Metals online at www.sheffieldmetals.com.
Media Contact:
Julianne Calapa – Content Specialist
jcalapa@sheffieldmetals.com