Are you looking to purchase fasteners to use for metal roofing and wall systems but don't know of any companies that manufacture such products? Or are you weighing your options to see what manufacturer is the best fit for you and your needs?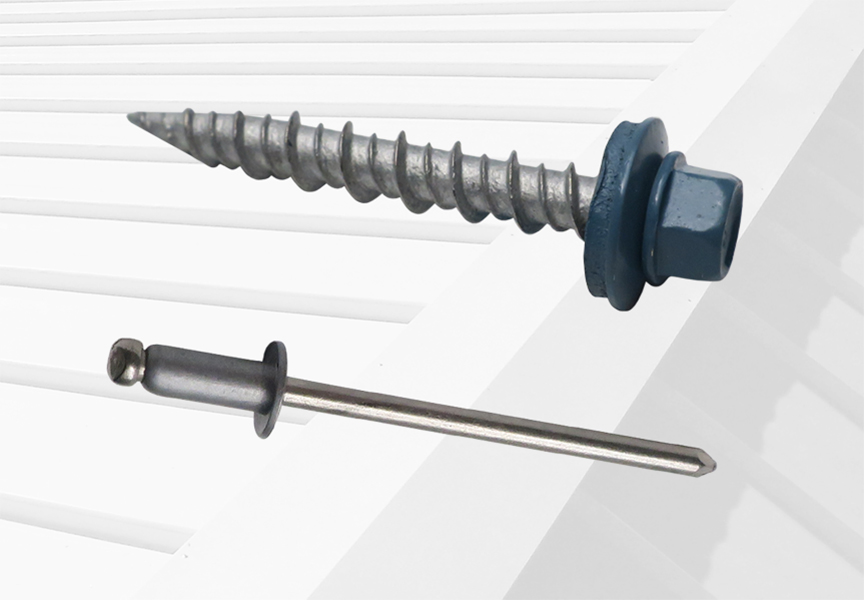 Whether you're a contractor, fabricator, or architect, you should know about the variety of the fastener options and manufacturers you have to choose from. Fasteners are the main anchor points for the metal panels to stay attached to the roof deck, so it's essential to choose the right fastener for the correct application.
Sheffield Metals is an industry leader in the distribution of coated and bare metal products, as well as the accessories needed to install a metal roof or wall system. While we don't manufacture fasteners, we do distribute them on behalf of our trusted partner, Triangle Fastener Corporation. 
However, we understand that there are other metal roof fastener manufacturers to consider when buying your roofing attachments, especially because every business has different needs. Plus, we frequently get asked: "What company manufactures the fasteners you distribute? What other manufacturers sell similar products?"
We believe in the power of being an informed and educated consumer, especially when it involves products used to protect people, homes, businesses, and so much more. That's why we've put together a collection of some of the best metal roofing fastener manufacturers that can be used to install standing seam metal roofing.
#1: Atlas Bolt & Screw, a Marmon Berkshire Hathaway Co.
Headquarters: Ashland, Ohio
Year Founded: 1896
Company Description: Atlas Bolt & Screw is a leading manufacturer of metal and wood fasteners and offers a full-line of performance building envelope solutions. Atlas Bolt & Screw is Headquartered in Ashland, Ohio, and operates out of additional manufacturing and distribution locations in Ohio, Texas, Oregon, and North Carolina.
Products:
Metal-to-metal fasteners – Metal Ultimate®, Low-Pro² Metal®, Ultra-Z™, Flat-Top™, and more
Metal-to-wood fasteners – Woodtite™, Low-Pro² Wood®, WOOD ULTIMATE®, WOODTITE HLX™, and more
Rivets
Closures (VersaVent™)
Pipe boots
Sealant
---
---
#2: Dynamic Fastener
Headquarters: Kansas City, Missouri
Year Founded: 1968
Company Description: Dynamic Fastener offers contractors with a variety of metal construction products, including anything from anchor bolts to pipe flashings, power tools to generators, sealants to screws. Dynamic Fastener operates out of seven warehouse locations in Kansas City, Chicago, Houston, Memphis, St. Louis, St. Paul, and Las Vegas.
Products:
Metal roof fasteners and rivets
Anchors
Flashings
Hand and power tools/accessories
Sealants and tapes
Snow retention systems (DYNA-GUARD®)
#3: Lakeside Construction Fasteners, Inc.
Headquarters: Paragould, Arkansas
Year Founded: 2013
Company Description: Headquartered in Arkansas, Lakeside Construction Fasteners, Inc. (LCF) is a fastener supplier and manufacturing company that offers a variety of accessories and components. LCF operates globally out of distribution centers in Illinois, North Carolina, and Mexico. Additionally, LCF has manufacturing centers in China, South Korea, Taiwan, Malaysia, and Vietnam.
Products:
Self-tappers – T17 FASTLOK™, T17 WOOD-X™, T17 MASTERGRIP™, PRO CLIPLOK™, and more
Self-drillers – SD Pro-Tek™, SD STEEL-X™, PRO CLIPLOK™, and more
Rivets
Foam (strips, tape, etc.)
Sealant and butyl tape
Pipe flashings
Tools – Brackets, drivers, and nut setters
#4: Schulmeister Metal Products Inc.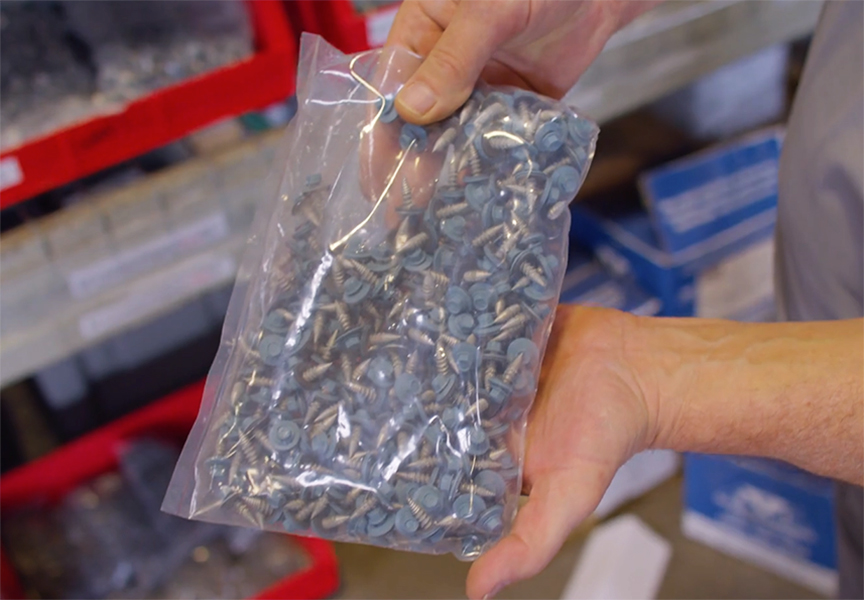 Headquarters: Bowden, Georgia
Year Founded: 2011
Company Description: Schulmeister Metal Products Inc. was established in 2011 and is a manufacturer of a variety of standing seam metal roof fasteners for the metal roofing industry.
Based in Bowdon, Georgia, Schulmeister Metal Products is currently led by Mike Schulmeister.
Products:
Painted rivets
Fasteners – Pancake head screws, flange drillers, and more
Metal roofing clips – Snap-lock, batten lock, mechanical lock, expansion, and more
Seamers
Sealants
Gutter hangers and accessories
#5: Triangle Fastener Corporation (TFC)
Headquarters: Pittsburgh, Pennsylvania
Year Founded:1977
Company Description: TFC has been supplying the commercial construction industry with high-performance and standard fasteners, tools, sealants, and accessories since 1977. Originally founded in Pittsburgh, Pennsylvania, TFC now operates out of 23 locations in 13 states across the United States.
Products:
Standard fasteners – Concealor® Pancake Head Screws, Panel-tite® Metal-to-Wood, Blazer® Drill Screws, and more
Specialty fasteners
Rivets
Construction-grade sealants
Butyl tape
Pipe-master pipe flashing
Power tools, safety equipment, and accessories
Final Thoughts on Fastener Manufacturers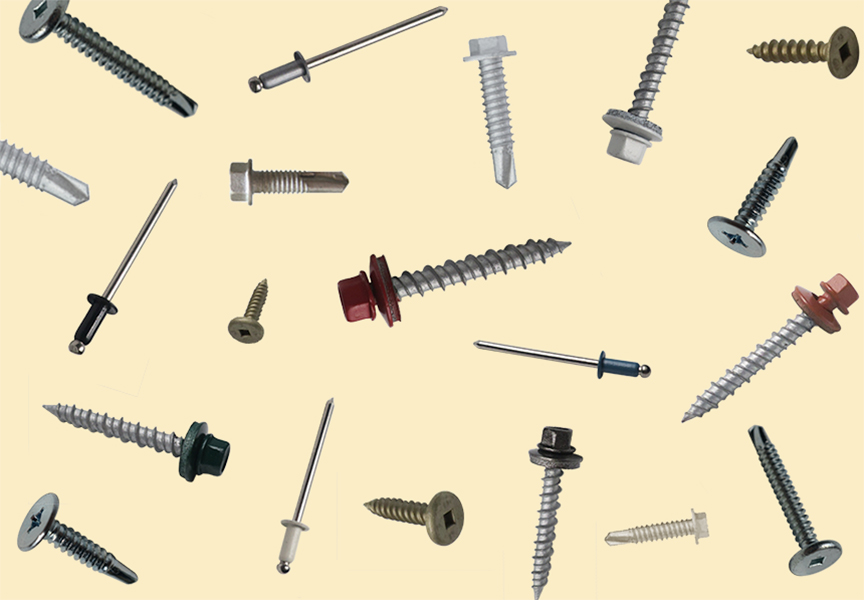 We always believe that an educated consumer is a smart consumer.
Now that you know some of the metal roofing fastener manufacturers, you can continue to research, compare and contrast, ask the right questions, and ultimately choose the company that best fits your needs.
There's a lot more that goes into purchasing fasteners than just finding the best price. You'll also want to check the on following attributes and ask the manufacturers about:
Lead times

Is the fastener supplier able to process orders in a timeframe that works for you and your business?

Availability in your area

Is there a location close to ours that enables us to get products quickly? Or will it need to be shipped?

Shipping and freight costs

How much will it cost to have my products delivered to my business or a job site? Do they offer free freight when a specific dollar amount is met?

Continuous innovation

Do they regularly come out with new or improved fasteners?

Sales/account management

Is the representative I'm working with/purchasing from reliable, organized, and responsive? Are they helping me choose the right products?

Training or technical assistance

Are there training opportunities for us to become more knowledgeable about their products? Is there a dedicated technical department that I can contact with any product questions or if I'm having a technical issue?
Sheffield Metals offers a one-stop shopping experience for any contractor, manufacturer, or architect's needs — whether it's metal coil/sheets, accessories, machinery, engineering, or a combination of products. That's why we know how important it is for you to choose the right supplier for fasteners and other roofing products, which is why we offer free consultations to get to know your business and set you up for successful metal roofing and wall system projects.
If you want to learn more about Sheffield Metals or our variety of product offerings, contact us today to speak with one of our helpful specialists!
---
---