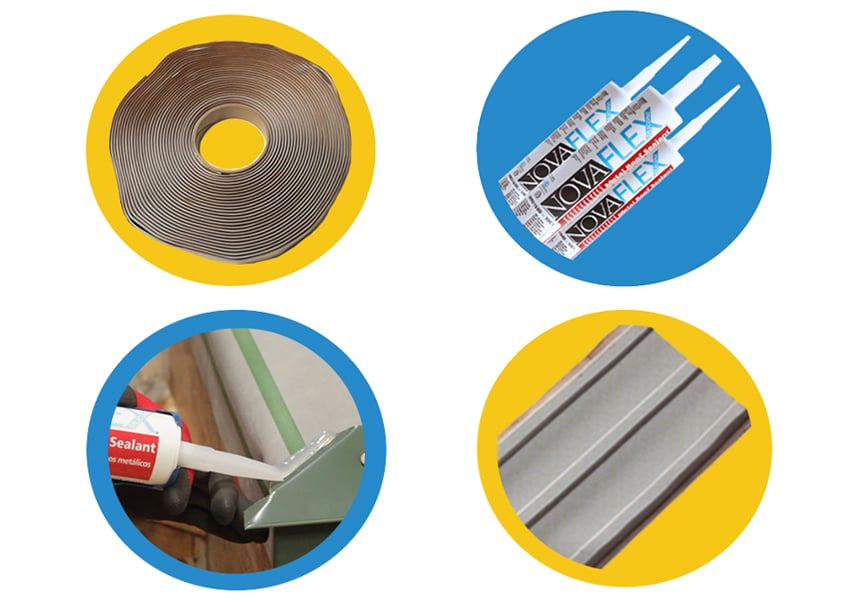 We frequently hear from industry professionals about the number of product options for metal roof and wall accessories, including metal roof sealant, caulking, and butyl tape. There are tons of metal roof sealant manufacturers to choose from and it can be difficult to know what you need, especially because sealants are available for nearly all parts of a construction project (drywall, tiles, cement, and beyond).
So whether you're a contractor, fabricator, or architect, we think it's important that you know about some of the best metal roof sealant manufacturers.
Sheffield Metals is an industry leader in the distribution of coated and bare metal products, as well as the accessories needed to install a metal roof or wall system. While we don't manufacture sealant or butyl tape, we do distribute them on behalf of our trusted partners, Triangle Fastener Corporation and Novagard.
However, we understand that there are other manufacturers to consider when buying sealant, especially because every business has different needs. Plus, we've been asked: "What company manufactures the sealant and tape you distribute? What other manufacturers sell similar products?"
Being an informed and educated consumer is the best way to make the right buying choice. That's why we've put together this collection of some of the best sealant manufacturers that can be used for a standing seam metal roof or wall.
---
---
#1: Novagard Solutions
Headquarters: Cleveland, Ohio
Year Founded: 1977
Company Description: Novagard Solutions, Inc., is a privately held U.S. manufacturer of highly-engineered sealants, coatings, lubricants, foams, and thermal management products for the electronics, transportation/automotive, manufacturing, construction, medical and military markets. Novagard's NovaFlex® product line is composed of sealants used on windows, doors, siding, and metal roofing.
Products:
Construction sealants (NovaFlex® Multi-Purpose Adhesive Sealant, NovaBond®)
Silicone greases, lubricants, and compounds (Versilube®)
PVC foam and foam tapes (Foam Seal)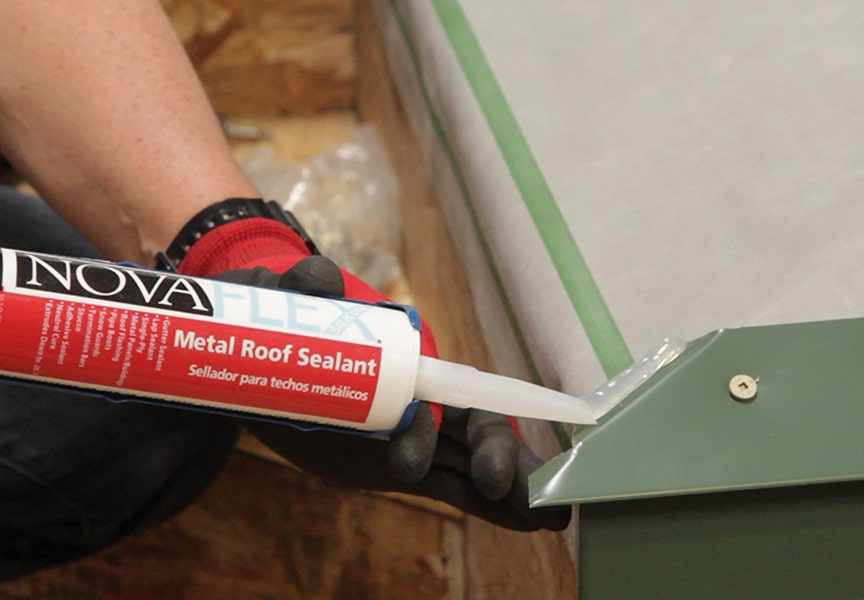 #2: Triangle Fastener Corporation (TFC)
Headquarters: Pittsburgh, Pennsylvania
Year Founded: 1977
Company Description: TFC has been supplying the commercial construction industry with high-performance and standard fasteners, tools, sealants, and accessories since 1977. Originally founded in Pittsburgh, Pennsylvania, TFC now operates out of 23 locations in 13 states across the United States.
Products:
Construction-grade sealants (ULTRA100 Silicone Sealant, APS500 Advanced Polymer Sealant, Non-Skinning Butyl Tube Sealant)
Butyl tape (BUTYL Tape-Seal For Metal Roofing and Siding)
Standard and specialty fasteners
Rivets
Pipe-master pipe flashing
Power tools, safety equipment, and accessories
#3: Titebond (Franklin International)
Headquarters: Columbus, Ohio
Year Founded: 1935
Company Description: Franklin International, the production company of Titebond products, is a privately-held manufacturer of adhesives, sealants, and polymers for commercial and industrial applications. Titebond products are commonly used in construction, furniture manufacturing, millwork, paper converting, pressure-sensitive products, and fiberglass reinforcement applications.
Products:
Sealants and caulks for roofing, siding, and gutters (Titebond Metal Roof Sealant, Titebond Ultimate MP Sealant, Titebond All Siding, Titebond Gutter & Seam Sealant)
Construction sealants and adhesives (subfloor, drywall, tile, landscaping, concrete, etc.)
Flooring products
Woodworking glues
#4: Geocel Products Group (A Business Unit of Sherwin-Williams)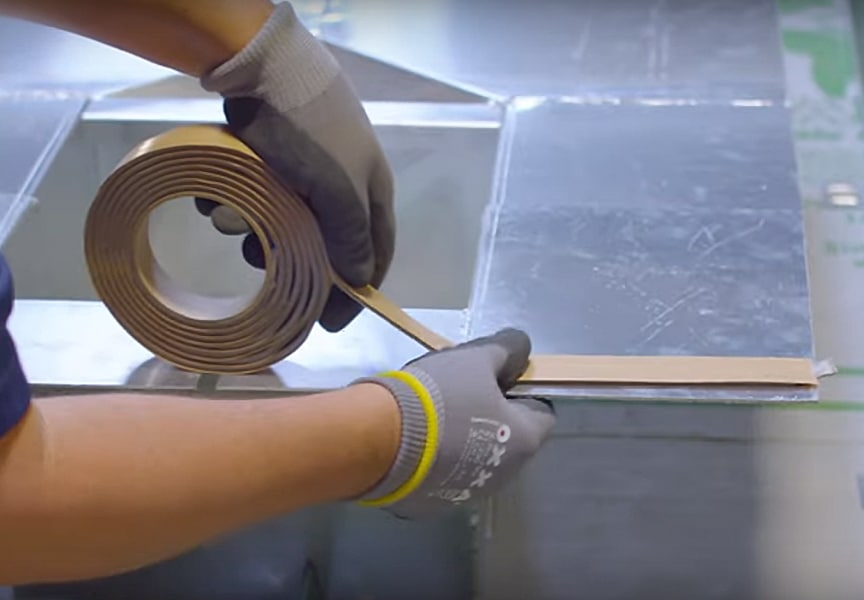 Headquarters: Elkhart, Indiana
Year Founded: 1974
Company Description: Since 1974, the Geocel brand has built a reputation of providing innovative sealants designed for construction and repair applications in the commercial, residential, industrial, and transportation markets. Geocel is a business unit of the reputable paint manufacturer, Sherwin-Williams.
Products:
Solvent-based sealants (Roof PRO® Tripolymer Sealant, 2300® Construction Tripolymer Sealant)
Hybrid sealants (Geocel 4350™ Metal Roofing & Siding Construction Sealant, Geocel Pro™ Gutter Seal)
Silicone sealants
Polyurethane sealants
Spray paints and primers
#5: NPC Colored Sealants
Headquarters: Maywood, Illinois
Year Founded: 1928
Company Description: NPC Sealants, a division of Nu-Puttie Corporation, has been providing over 200 standard colors of quality sealants to professional contractors since 1928. NPC Sealants offers products for a variety of applications, including vinyl siding, metal siding, shake and decorative stone, roofing, trim coil, gutters, windows, and more.
Products:
Roofing sealants (#900 SOLAR SEAL®)
Gutter and lap sealants (#400 GUTTER SEAL, #500 GUTTER & LAP)
Window, door, and other joint sealants (CO-POLY®)
Final Thoughts on the Best Metal Roof Sealant & Caulk Manufacturer Reviews
We always believe that an educated consumer is a smart consumer. That's why doing your research ahead of time, knowing your options, and choosing the right sealant manufacturer that best fits your needs can save you time and money in the end.
It's important to remember that a lot more factors into purchasing metal roof sealants and caulking than just finding the best price. You'll also want to check the on following attributes and ask the manufacturers about: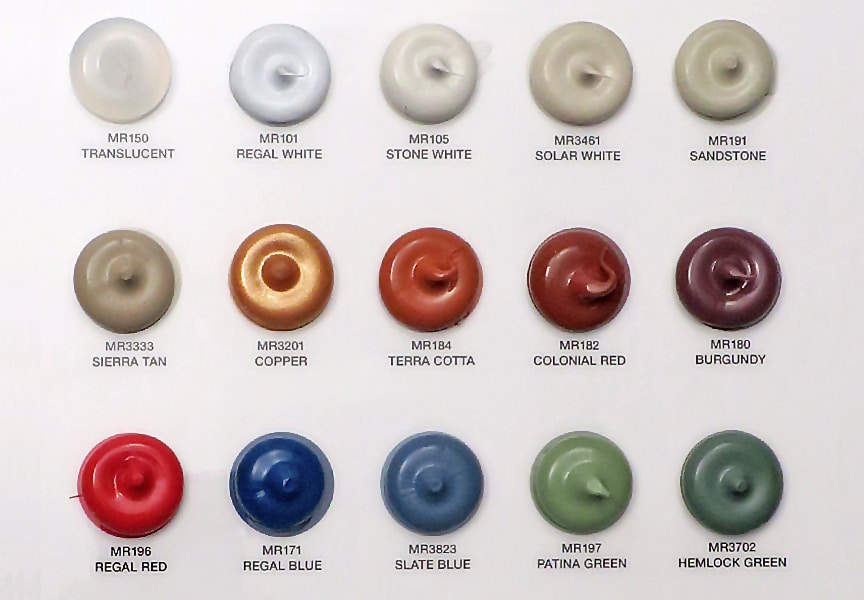 Lead times

Is the sealant supplier able to process orders in a timeline that works for you and your business?

Sizes

Is the sealant sold individually or packaged in multiples?
Will I have too much or too little sealant for my projects?

Colors
Account management or contract representative

Is the representative I'm working with reliable and responsive?
Are they helping me choose the right sealant for my projects?

Continuous innovation

Does the company regularly release new or improved sealant formulas?

Training or technical assistance

Is there a dedicated technical department that I can contact if I have a problem or if I have any product questions?
Are there any training opportunities offered for customers?

Availability

Is there a location close to ours that enables us to get products quickly?
Will it need to be shipped?

Shipping and freight costs

How much will it cost to have products shipped to the job site or my business?
For over 25 years, Sheffield Metals has created a one-stop shopping experience for any contractor, manufacturer, or architect's needs — whether it's metal coil/sheets, accessories, machinery, engineering, or a combination of products. That's why we know how important it is for you to choose the right supplier for sealant/caulking, accessories, and beyond.
Best of all, we offer free consultations to get to know your business and set you up for successful metal roofing and wall system projects. Contact us today to speak with one of our helpful specialists about your metal roof and wall product needs!
---
---