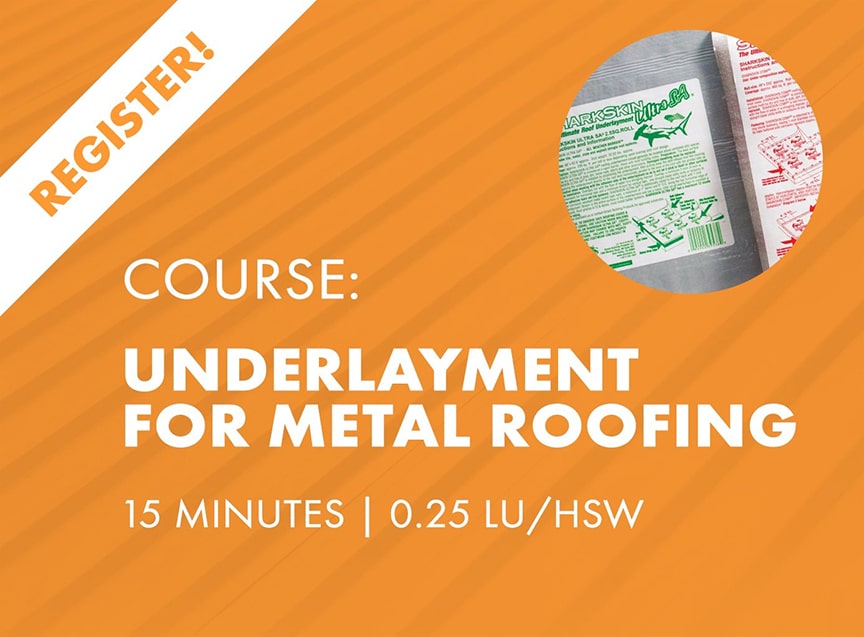 Course Summary:
---
There are distinct differences between synthetic and asphalt-saturated felt underlayment used for metal roofing systems. Stay educated on the advantages and disadvantage of these two popular metal roof underlayment options.
In this 15-minute AIA CES Nano Course, expect to discover:
What synthetic underlayment is
The advantages and disadvantages of synthetic
What felt underlayment is
The advantages and disadvantages of felt
Additional Course Information:
---
AIA Course Number: SMINC00120
Credit: 0.25 LU/HSW
Delivery Format: Video & Written Content
Device Format: Desktop / Laptop / Tablet
Course & Quiz Details: 3 Multiple Choice Questions
IMPORTANT: When you've watched the course video and read the accompanying text, scroll to the bottom of the page and click on the blue & orange button to take your three-question quiz. You must achieve 100% on the quiz to receive the 0.25 LU/HSW.
Register Here to Begin:
---