When you're choosing a color for your standing seam metal roof or wall system, you'll want to choose a color that is versatile, easy to incorporate into exterior building elements, and provides visual interest/curb appeal.
One such color that achieves this is green.
So why should you choose a green metal roof or wall system? What makes one of these colors good for your project?
---
---
Sheffield Metals continuously monitors color trends and tracks which metal sheet and coil colors are most frequently purchased. Plus, with a full-time Architectural Department comprised of individuals with extensive experience in the architectural metals industry, we often provide helpful design assistance for metal projects.
Let's review some options, advantages, disadvantages, and project examples for green metal roofing.
Green Color Options Available From Sheffield Metals
Before we examine the pros and cons of choosing a green metal roof or wall system, let's look at the green sheet and coil color options offered by Sheffield Metals.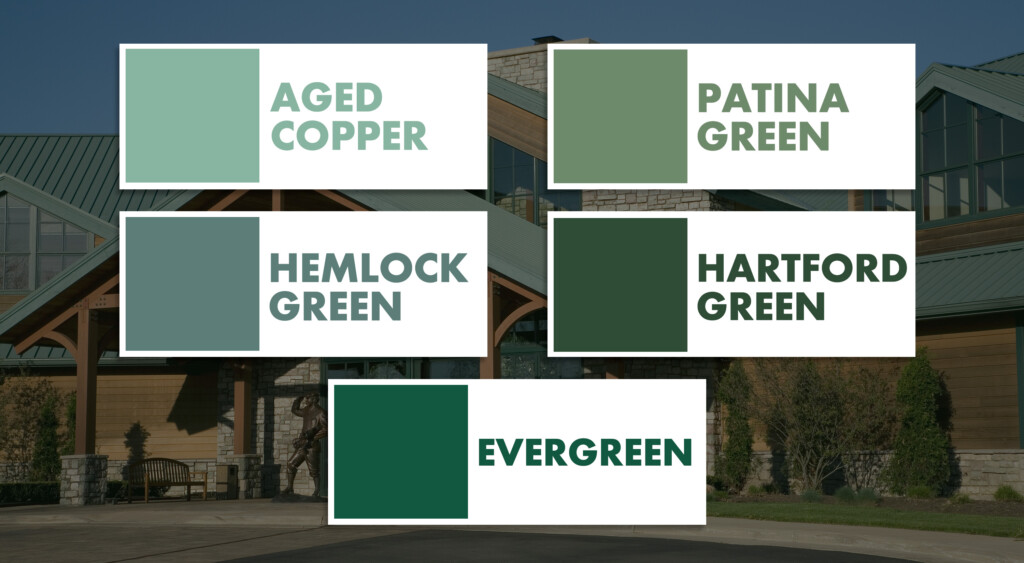 As of 2023, we offer five different shades of green on our standard 24-gauge color card:
Aged Copper
Patina Green
Hemlock Green
Hartford Green
Evergreen
We'll dive into the differences between each green swatch in the next section.
Advantages of Choosing a Green Metal Roof or Wall System
Variety of Green Color Options
As mentioned, there are five completely different shades on our color card, which gives home and property owners several options to choose from during the buying stage:
Aged Copper

Aged Copper is the lightest green color choice. It's specifically designed to replicate the patina (a bluish-green covering that occurs from oxidation and sun exposure) that copper develops as it ages. 

Patina Green

Similar to Aged Copper, Patina Green replicates copper's patina. However, Patina Green is slightly more muted and darker than Aged Copper.

Hemlock Green

Hemlock Green features a green shade with blue undertones and is one of the cooler green color choices.

Hartford Green

Hartford Green is the darkest green color on our color card and has that dark, earthy forest tone that is popular.

Evergreen

Evergreen is our most popular green and is a very traditional medium-dark green color.
Essentially, if you know that you want a green metal roof or wall for your project, you'll be happy to know that there are more than just one or two options. You get that full range of color options by choosing a green.
Earthy, Natural Tones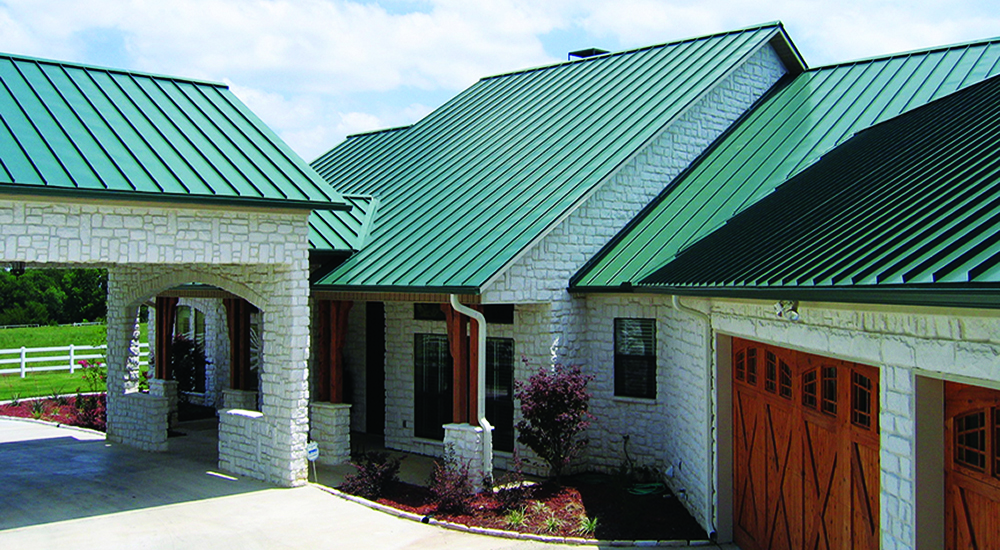 Earthy green tones remain in high demand today. These greens experiencing a rise in popularity are softer, richer, and more muted forest tones that are versatile and fit in well with many design types, especially those rooted in nature (think of colors like sage, moss, olive, forest green, or hunter green).
So, if you're looking for a metal roof or wall color that complements nature, forestry, or other earthy elements, green could be a good fit.
Well Suited for Specific Environments & Architectural Styles
If your roof or wall project is located in a forest or mountain environment, utilizing a green color as the roof or wall system is a no-brainer, as these colors create a cohesive aesthetic that doesn't stray from the overall "nature and natural" feeling of these regions.
Plus, green lends itself well to several different architectural styles, including:
Craftsman
Victorian
Ranch
Colonial
Bungalow
Lodge & Log Cabin
Mid-range SRI (Solar Reflective Index) Option
As you read on, you'll notice that there are benefits and drawbacks relating to SRI because our green shades are different and have differing SRI values.
One of our green colors has a mid-range SRI value: Aged Copper, which has an SRI of 53.
For a bit of background, cool metal roofing is painted or coated metal products that reflect the sun's energy to dissipate heat. Cool roofs help reduce the heat transferred into the building, resulting in total cooling cost energy savings ranging from 7% to 15%, according to the Green Building Alliance.
One of the primary measures of cool metal roofing is the Solar Reflective Index, a surface's ability to reflect the sun's solar energy (solar reflectance) and emit heat (emissivity). SRI is measured on a scale from 0 to 100. An SRI value closer to 0 indicates a darker or black surface, and a value closer to 100 indicates a brighter or white surface.
Aged Copper has a mid-range SRI value, likely resulting in medium energy savings.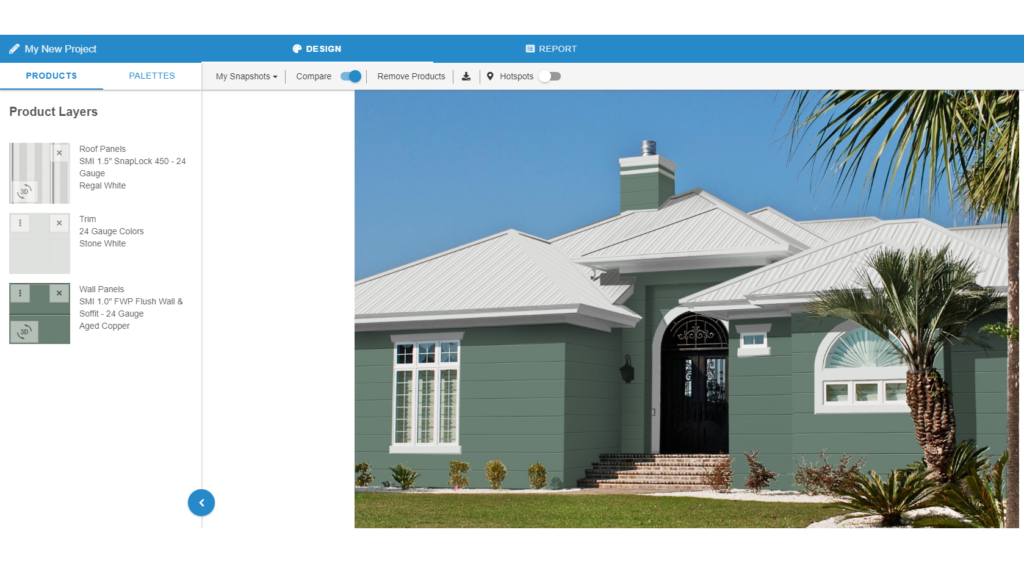 Complements Other Elements Well
One of the benefits of green is that it goes well with various other colors and textures. Part of this is because green is everywhere we look because of landscaping, trees, plants, and beyond. So, it's easier to see how well greens can fit into an architectural project versus more unnatural or less prevalent colors, like purple or red.
Suppose you've decided on a green metal roof or wall. You can easily incorporate whites, blacks, browns, beiges, and grays into other exterior building elements (trim, accents, siding, shutters, etc.) without worrying if they will match.
Gives a Subtle Pop of Color
Green, in general, is not considered a neutral tone. However, it doesn't stray too far from the neutral color spectrum, mainly because it's prevalent in nature. That said, green is still unique enough to provide a home or building with a pop of color without going too bold or standing out negatively.
Many homeowners don't want their homes to look too different from others in their neighborhoods. However, choosing a darker green metal wall or a patina green metal roof might be just different enough that the home will stand out and still fit in with its surroundings.
Additionally, green is a grounding color, so incorporating green into an architectural design can help create a more calming environment. Cooler colors, like blues and greens, are associated with peace and tranquility, and that's why earthy greens often play a significant role in architectural designs.
Disadvantages of Choosing a Green Metal Roof or Wall System
Low SRI Options
As we discussed before, Aged Copper has a relatively good SRI, but the other four greens have lower SRIs:
Evergreen – SRI of 26
Hartford Green – SRI of 24
Hemlock Green – SRI of 29
Patina Green – SRI of 28
These lower SRI values will translate to lesser energy savings in the long run than colors with higher SRI values. However, metal itself is one of the most sustainable and eco-friendly roofing materials (especially when compared to asphalt shingles), so despite the slightly lower SRI value, you're still using a smarter building material.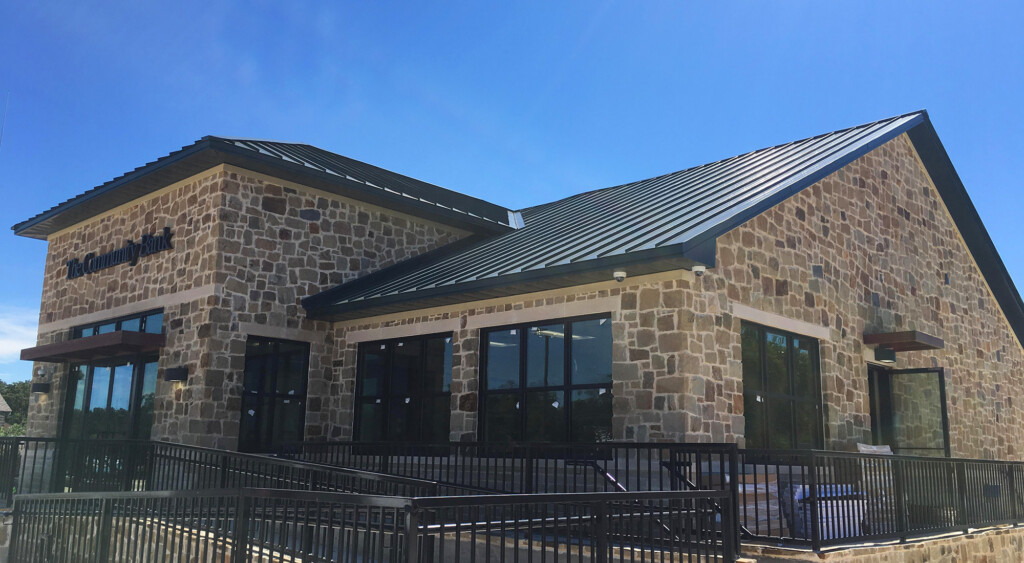 Not Suited for Every Architectural Style or Region
Green is close to a neutral color but more vibrant and vivid, especially when compared to black, white, or gray.
While green still complements many exterior architectural styles of today — both as a roof and as a wall — some styles usually don't feature a patina or green on their traditional color palette, including:
Modern
Modern Farmhouse
Spanish
Contemporary
Tudor
Additionally, green as a roof or wall can be very regional, meaning it's more prevalent in specific areas of the country. For example, you're more likely to find a green roof in a mountainous region like the Rocky Mountains or a more forested area like New England. It's less likely that you'll find a green roof in the desert or coastal region (especially a darker green).
Dark & Glossy Finish Issues
Glossy roofs, especially in a darker color swatch such as Hartford Green and Evergreen, reflect more light and can show visual imperfections in the flat of the panel — especially oil canning. If you're worried about oil canning on your metal roof, one of the ways to minimize its appearance is to install a system in a lighter color with a lower gloss finish. Or, if you still want a glossy finish, it's best to make sure your roof panels have striations or another rib roller rollformed into the flat area of the panel.
Glossy and dark finishes can also make scuffs and scratches more visible.
Sheffield Metals offers Evergreen in 26-gauge low-gloss material, which can help mitigate some issues with glossy finishes. Discuss your material and color options with a qualified installer if you're concerned about this.
Additionally, please note that engineering will vary depending on the material thickness. If you want or need to purchase an engineered metal roofing system, you'll want to use 24-gauge metal or thicker.
Green Metal Roofing Project Examples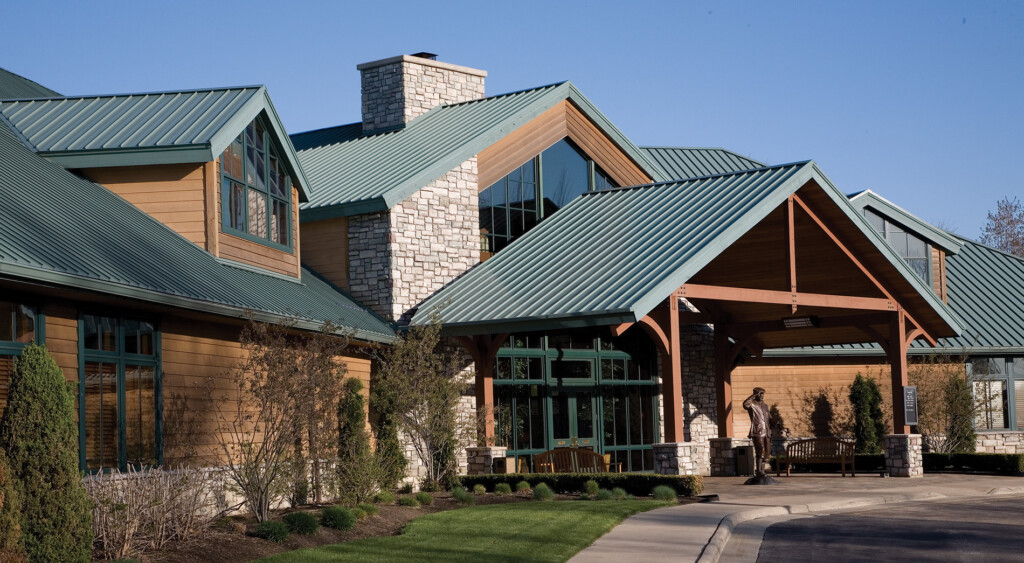 Stonewater Country Club | Highland Heights, Ohio | Color: Hemlock Green
---
Horsetooth Reservoir Information Center | Fort Collins, Colorado | Color: Evergreen
---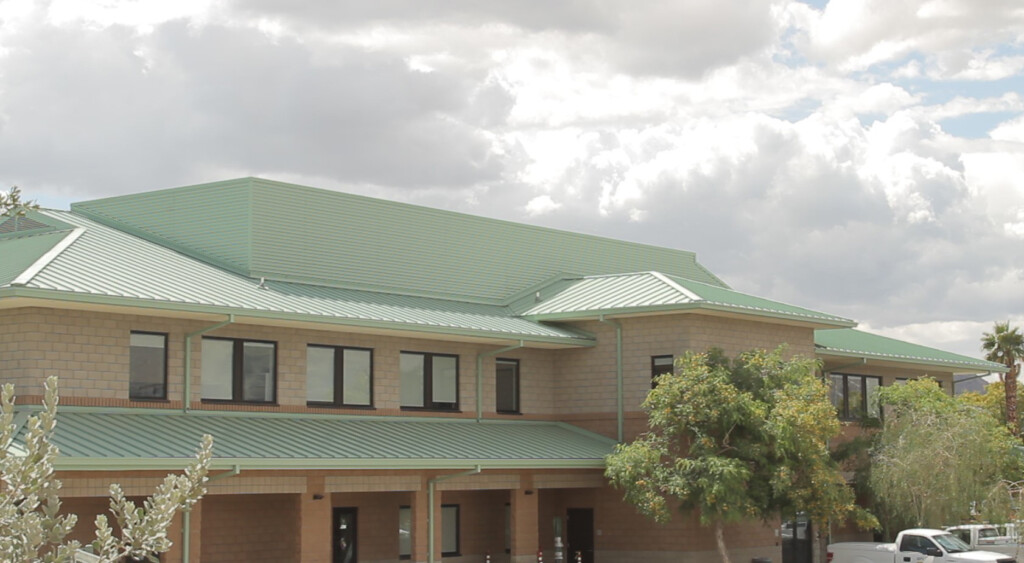 Coachella Valley Water District | Coachella, California | Color: Aged Copper
---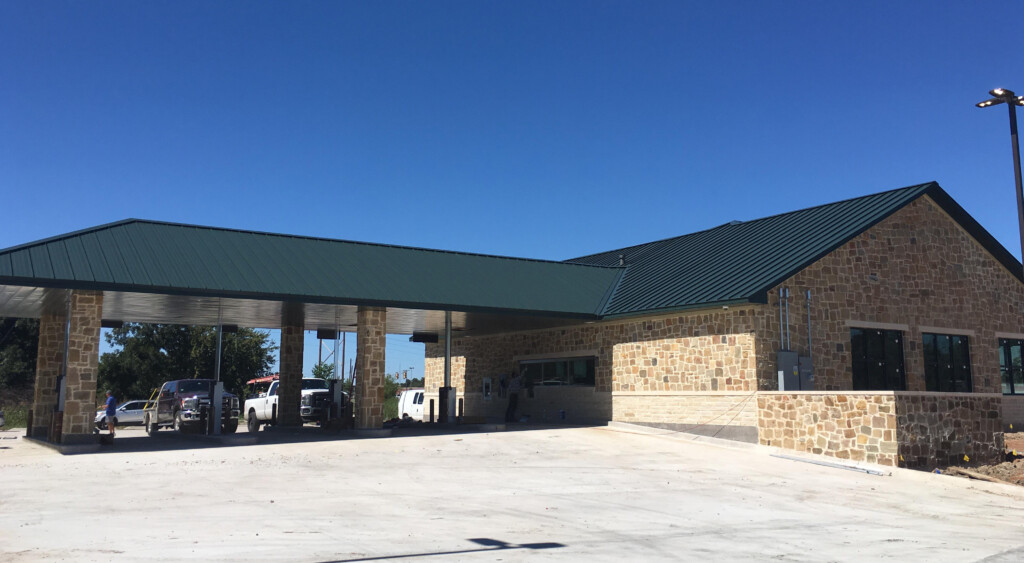 The Community Bank | Springtown, Texas | Color: Hartford Green
---
Final Thoughts on Green Metal Roofs & Walls
So, is Aged Copper, Patina Green, Hemlock Green, Hartford Green, or Evergreen the best color for your metal roof or wall project?
It depends on several design elements, including your building type and style, likes and dislikes, location, SRI requirements, and more.
If you're on the fence about whether you want to choose green or another color, here are some helpful methods to narrow down your choices:
Explore exterior color palettes, photo galleries, and examples of homes or buildings similar to yours.
Look at manufacturers' color cards and compare/contrast with your expectations.
Use a Color Visualizer to upload a photo of your actual structure and explore how different colors look.
Request physical metal color chips from manufacturers.
Discuss the options with your architect and/or contractor and ask for their professional opinion.
For over 25 years, Sheffield Metals has been a leading supplier of metal sheet and coil products (including green) in the architectural metal roof and wall panel industry.
So, are you weighing your color choices or feeling overwhelmed by your options? Our dedicated Architectural Team can provide you with the design assistance you need; contact us today!
---
---