Let's say you've committed to buying a new metal roof for your commercial structure and you know how much of a significant investment it is.
How would you feel if your future roof started to leak within just a few years of the installation? Wouldn't you want some reassurance that your standing seam metal roof will protect your building for decades?
That's why Sheffield Metals offers weathertight warranty options for commercial applications.
So, you might be asking yourself: Are there different types of weathertight warranties? What are the benefits of purchasing one? Are there drawbacks?
At Sheffield Metals, one of our main priorities is ensuring the roofs installed using Sheffield Metals sheet and coil are structurally sound and withstand the test of time for decades. That's why we're continuously recommending weathertight warranties for commercial structures whenever possible.
In this article, we'll discuss:
What is a weathertight warranty
Types of weathertight warranties available from Sheffield Metals
Advantages and disadvantages of weathertight warranties
---
---
What Is a Weathertight Warranty (WTW)?
Before we get into the types of weathertight warranties available from Sheffield Metals, let's go through the definition of a weathertight warranty.
A weathertight warranty is a guarantee from the installer and roofing manufacturer that the roof installed will remain weathertight for the warranty duration. This type of warranty states that if a leak develops in the roofing system due to material defects, manufacturing defects, ordinary wear/tear by the elements, or the installation contractor's workmanship, then the manufacturer or installer is financially responsible for all repairs needed to return the roof to a water-tight condition.
Weathertight warranties are standard in the metal construction industry, especially architectural projects. Property owners can also choose to buy a weathertight warranty for metal wall systems. These warranties are also known throughout the industry as weather-tightness warranties or water-tight warranties.
Types of Weathertight Warranties Available From Sheffield Metals
Sheffield Metals offers two types of weathertight warranties on commercial properties ONLY: Limited and No Dollar Limit.
Let's define each one and then cover what you can expect with each option.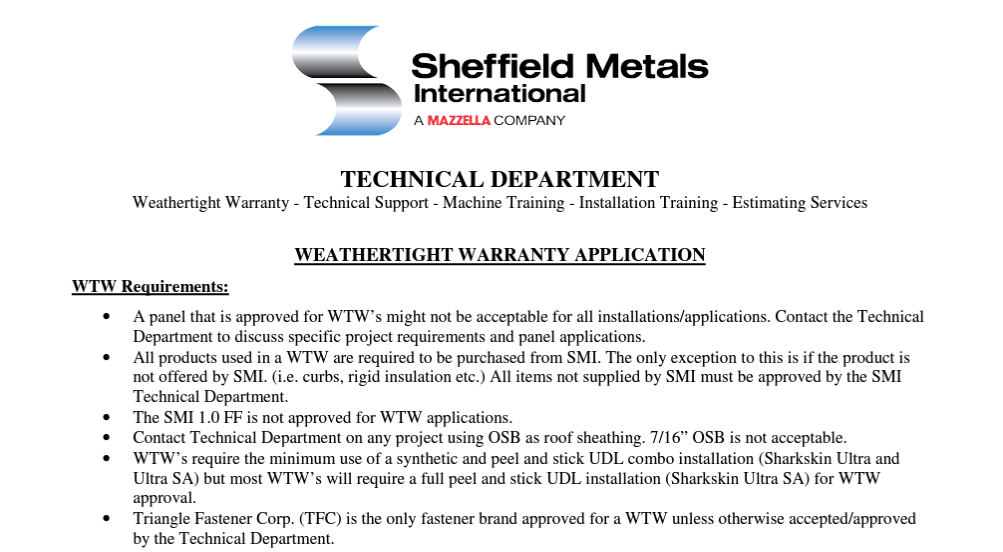 Limited Weathertight Warranties
Definition: A Limited Weathertight Warranty covers repairs up to the dollar amount paid for the metal roof materials and installation cost. For example, if the original roof costs $20,000 for the materials and installation, SMI would cover up to $20,000 worth of repairs through the specified warranty timeframe. This is not limited or capped by a single issue if multiple events occur during the warranty duration.
Coverage lengths: 5-year, 10-year, 15-year, 20-year, 25-year, 30-year, and 35-year options
No Dollar Limit (NDL) Weathertight Warranties
Definition: No Dollar Limit Weathertight Warranties do not come with a dollar limit on liability. If the repairs for an affected roof or wall exceed the cost of the materials and installation, then it will still be covered. For example, if the original material and installation cost was $20,000 and it costs $28,000 to fix or replace the roof, the manufacturer/installer will cover the entire $28,000 cost. Should multiple events occur during the warranty duration, the coverage is not limited or capped by a single issue.
Coverage lengths: 10-year, 15-year, 20-year, 25-year, 30-year, and 35-year options.
Additional WTW Information
Sheffield Metals holds our contractors responsible for the first consecutive 24 months of a leak-free roof. So, if there is a valid warranty claim submitted during that time, the installation contractor would be responsible for the expenses involved in bringing the roof back to a warrantable condition.
This helps ensure that our installation contractors have personal responsibility for a correct installation. This agreement is between SMI and the installation contractor only and does not affect the building owner. If the installation contractor should go out of business during their term on a weathertight warranty, then SMI will take over full responsibility.
Additionally, we won't go into the specific SMI weathertight warranty application process in this article, but you can learn about it in this comprehensive WTW procedure article.
Advantages of a Sheffield Metals Weathertight Warranty
Added Layer of Investment Protection
Weathertight warranties exist to protect the often significant investment made by a property owner for a metal roof system and assure the property owner that the roof is installed according to proven standards, engineering, and installation details specified/approved by the metal roof manufacturer.
Most importantly, having a weathertight warranty ensures that what's on the inside of the property is protected. Whether it's a school filled with children, an apartment or condominium building housing families, a shopping complex filled with merchandise, a bank filled with money, or beyond — the people and items on the inside rely on the protection that a metal roof can provide. To protect your property to the best of your ability, you'll want to ensure the roof is installed correctly, which is possible by purchasing a weathertight warranty.
High-Quality, Tested, & Approved Roofing Products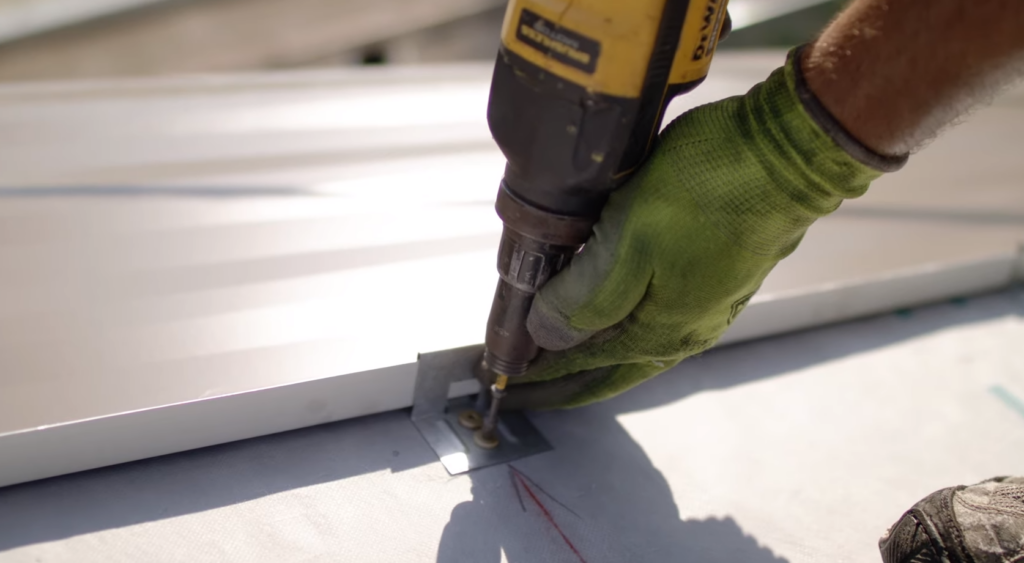 One of the best parts of purchasing a weathertight warranty is that it guarantees the products installed on your roof are high-performance and designed to last.
This includes:
Tested/engineered panel profile – Only SMI-tested profiles can be used in a weathertight warranty project. Uplift testing, water penetration, air infiltration, submersion, wind-driven rain, hail/impact, and fire are all tests performed on applicable approved systems. For reference, the following profiles are approved for WTW applications:
Appropriate material/panel selection – When you purchase a weathertight warranty, we work with the contractor to ensure the best material and panel profile is installed for your location and environment (Galvalume vs. aluminum vs. other metal material). This prolongs the life of your roof and ensures the paint and substrate warranties are not voided due to improper use.
Approved accessories and components – Sheffield Metals only approves accessory products known to perform. Whether it is the underlayment, coating on a fastener, or the sealant used in the assembly — SMI has researched every item to ensure we recommend the best possible products for a long-term installation.
Additionally, we require that any warranted roof be installed to a minimum UL 90 uplift rating, whether it is specified or not. Most SMI warranted roofs will exceed this requirement by installing a tested roof system to meet or exceed the uplift requirements for a particular project and location.
Dedicated Technical Department Available for Assistance
We take our weathertight warranty process seriously at Sheffield Metals, which is why we have an entire Technical Department dedicated to approving, inspecting, and issuing weathertight warranties on projects. In addition to ensuring the products we offer will perform to high standards, we practice better quality assurance than most manufacturers by requiring more inspections to verify the roof system is correctly installed.
We work closely with installation contractors and view the installation process as a way contractors can learn and continue to build on their standing seam installation skills.
Warranty Warranty Inspectors
Sheffield Metals doesn't use a 3rd party for any part of the weathertight warranty process — we start and finish each project in-house with a team dedicated strictly to WTWs and a single Weathertight Warranty Inspector for each project.
No matter the size or type, all WTW projects are inspected in person by one of our highly skilled and knowledgeable inspectors. All SMI inspectors worked as metal roofing installation contractors at one point in their careers, meaning that they are well-versed in the proper SMI-required installation details and requirements for a WTW project.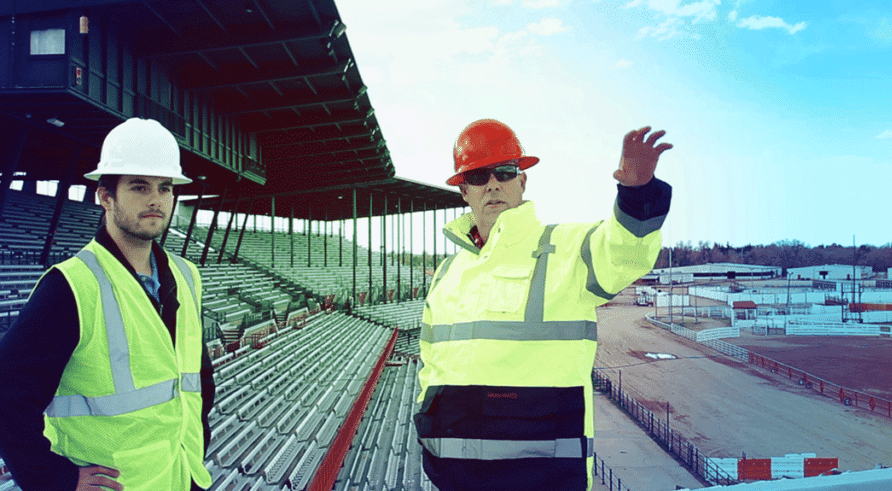 Because of their past and present experience in metal roof installation, inspectors can help foresee any potential system issues to address before they become problems. Additionally, if any changes need to be made or if there are non-standard roof conditions, our WTW inspectors can work with the installers to create solutions that will be weathertight and as cost-effective for the property owner(s) as possible.
Disadvantages of a Sheffield Metals Weathertight Warranty
Weathertight Warranties Come With a Cost
In addition to the metal roof cost, weathertight warranties also come with a cost. WTW fees are based on the project size, warranty type, and length. While this is not usually a substantial cost, it's still a cost to consider nonetheless.
The price will vary heavily based on the coverage length, project size, location, and type of WTW. For a 5,000 sq. ft. commercial property, a weathertight warranty could cost anywhere from $1,500 (shortest coverage) to $6,800 (longest coverage). Again, this is a rough estimate that will vary from project to project.
Overall Higher Project Costs
With longer-lasting, higher-performance products comes a higher price point. Besides the fee for the weathertight warranty itself, the approved materials, accessories, labor, and more could raise project costs.
Standing seam metal roofs have a typical lifespan of 50+ years when installed correctly. When warranting a project, we need to ensure that the right products are installed per our engineering and will last well beyond the warranty terms.
However, if you're going to spend thousands of dollars on a new, top-of-the-line metal roof for your commercial project, it makes sense to protect it as much as possible. One way to do so is by adding that layer of reassurance with a weathertight warranty.
Warranty Exclusions
All warranties have exclusions, and a weathertight warranty is no different. We highly recommend looking at the complete list of weathertight warranty exclusions with the document samples on this page.
Keep in mind that many of the exclusions are preventable and can be addressed during the installation process, which is why our inspectors perform several on-site inspections throughout the installation.
For example, suppose we are inspecting a project and see copper or copper runoff (dissimilar metals are just one of our WTW exclusions) that could come in contact with the metal roof. In that case, we can address it before the project begins and find a solution to prevent any future issues.
Additionally, weathertight warranties are not insurance and therefore do NOT cover any damages to the interior or exterior of a property beyond the roof.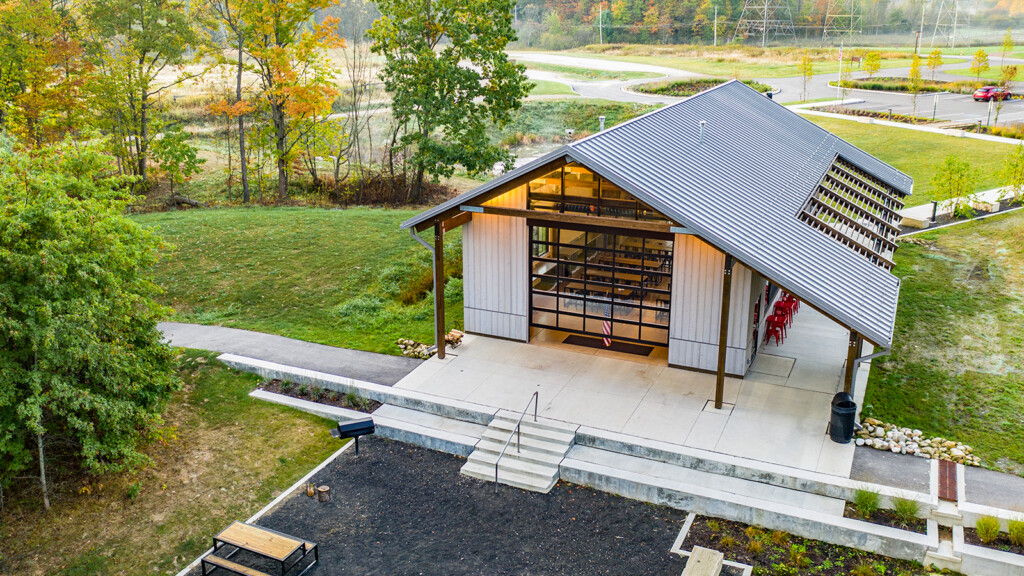 Final Thoughts on Sheffield Metals Weathertight Warranties 
Like most products or services, there are several benefits and drawbacks to purchasing a weathertight warranty. However, the advantages almost always outweigh the disadvantages, especially when protecting something as critical as your metal roof.
To recap:
At Sheffield Metals, we offer two different WTWs on commercial projects: Limited and No Dollar Limit.
A weathertight warranty is one of the best ways to protect your investment in a new metal roof or wall system. Especially because a WTW ensures the best material, profile, engineering, accessories, and installation practices are used for your metal roof.
As an additional layer of assistance, the roof installers have full access to Sheffield Metals' in-house Technical Department and a qualified WTW Inspector. They will assist in inspecting the roof during the installation and ensure all warranty requirements are met.
Weathertight warranties do come with a cost. While the price will vary by coverage length, type, project size, etc., many property owners find it is often worth the investment.
Make sure you read the weathertight warranty coverage inclusions and exclusions thoroughly.
As the emphasis on structurally sound, sustainable construction continues, Sheffield Metals foresees increased requests for weathertight warranties and metal roofs to be installed to the highest standards. Luckily, we've built up our skilled and knowledgable Technical Department to accommodate the growing market of weathertight warranty projects.
To discuss weathertight warranties and how getting one might be the best option for you and your project, please contact us today to speak with one of our technical representatives.
---
---