We've all dealt with shipping at some point — whether it's a product you purchased online, a gift you're sending to a loved one, or something significant (like furniture) that you've had delivered to your home or business.
In other words, shipping is an integral part of getting goods from one point to another, which is why it's a critical component of the buying process here at Sheffield Metals.
All of our metal, accessories, and beyond leave our facilities in one form or another, but how much do you know about the shipping methods we use and our processes for getting goods to our customers?
At Sheffield Metals, we've emphasized building our teams to assist with delivering our products to customers quickly, efficiently, safely, and with as few disruptions as possible. We know how important and challenging the shipping process can be, which is why we have dedicated shipping liaisons to assist with shipping and freight.
---
Ahead in this article, we'll cover:
The different shipping methods our customers can use.
Sheffield Metals order lead times.
The role we play in the shipping process.
How we protect material for shipping.
Important considerations to remember about shipping and receiving.
What Shipping Method Is Used When You Buy From Sheffield Metals?
Whether you're a first-time customer or have been one for many years — it's essential to know the various methods of shipping and freight that we utilize to deliver metal materials and other products. Let's go through the terms and explain the differences between each shipping level.
Shipping Method #1: Less Than Truckload (LTL)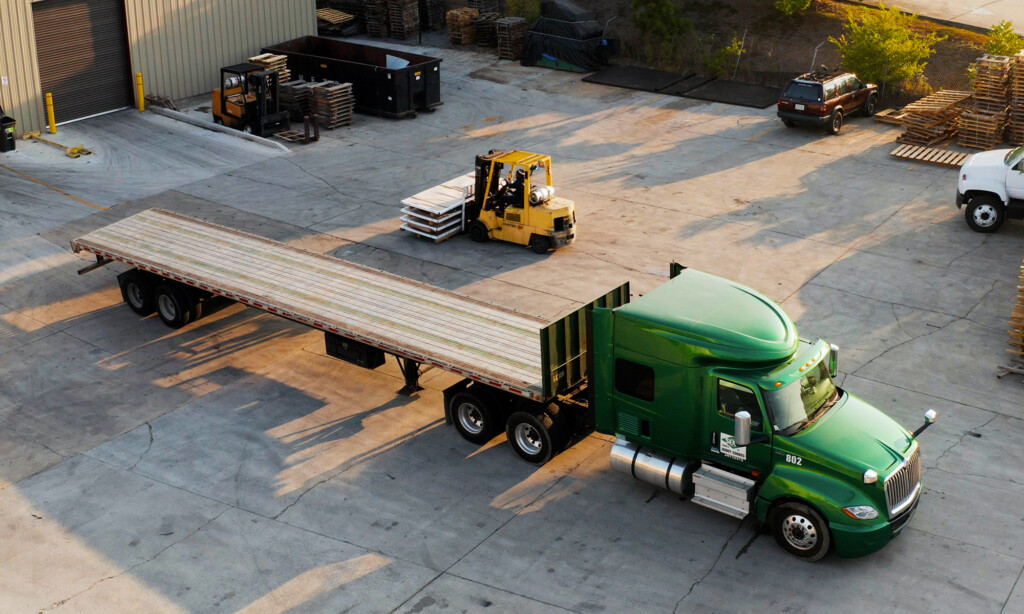 Less Than Truckload (LTL) shipping is a freight transportation mode that consolidates smaller shipments from multiple companies into a single truckload. LTL shipments are the most common at Sheffield Metals, as it's a more cost-effective shipping option that does not require the use of an entire truck due to its smaller quantities.
LTL shipments typically take longer to reach their destination than full truckload (FTL) shipments. This is because LTL carriers are not direct shipments, meaning they go in and out of regional terminals before delivery.
LTLs are tarped loads, which help to protect the sheet and coil products from weathering and other elements.
Product sizing for LTL shipments: Between 100 and 10,000 pounds
Shipping Method #2: Hot Shot
The next shipping level is Hot Shot shipping, a more specialized and dedicated shipping method that focuses on quickly delivering time-sensitive and high-priority freight. Hot Shot shipping is more expensive when compared to standard LTL shipping.
Our team frequently uses Hot Shot shipping for job site deliveries of material. Hot Shots are dedicated trucks that provide more reliability, as these are direct point-to-point shipments that don't stop in terminals for transfers. Plus, reduced handling and movement means there is less opportunity for the material to be damaged during shipping.
Most of our Hot Shot shipments use a gooseneck trailer (tarped load) pulled by a dually truck.
Product sizing for Hot Shot shipments: Between 10,000 and 15,000 pounds
Shipping Method #3: Full Truck Load (FTL) or Flatbed
The most robust shipping method is Full Truck Load shipping, which is where the freight occupies the entire trailer without sharing space. This shipping mode is typically chosen when the volume of material transported exceeds the capacity of LTL and Hot Shot shipping, or when it's necessary to have a dedicated truck. It's usually the most expensive shipping option.
Like Hot Shot, FTL shipments follow a direct route from the SMI location to the destination without intermediate stops or transfers at a terminal.
Most FTLs we use are typically flatbed shipments that are a tarped load.
Product sizing for Full Truck Load shipments: Up to 47,500 pounds.
Miscellaneous Shipping Methods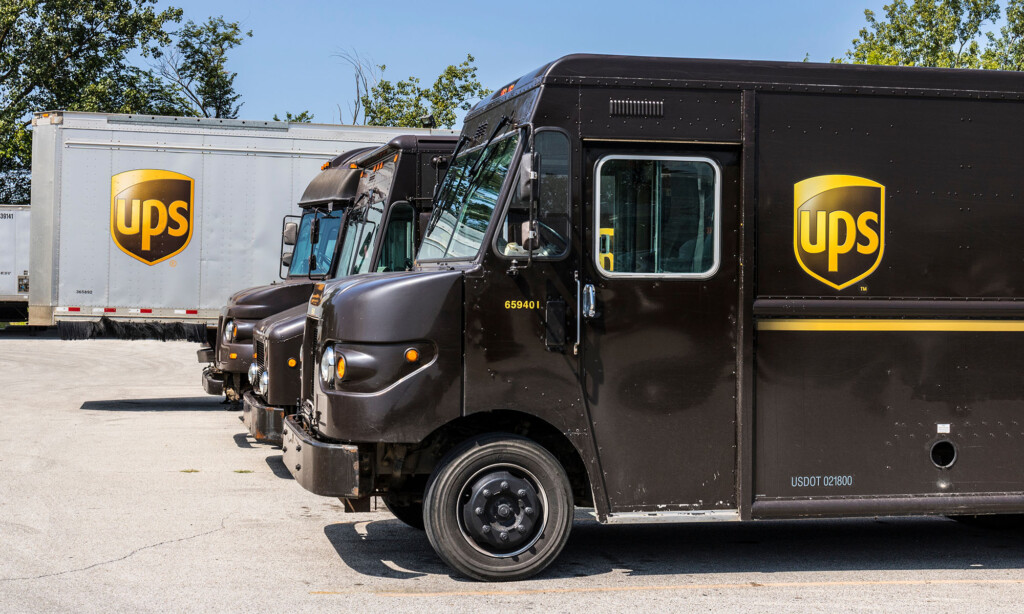 UPS / FedEx
Some orders can be delivered via traditional services such as UPS or FedEx. This is commonly utilized if you're just purchasing accessories (i.e., clips or fasteners and screws), as smaller items do not require freight. Usually, customers order their accessories at the same time as the sheet/coil, so we just include the accessories at no extra cost in the material shipment to make it easier.
For example, sometimes contractors run short on accessories during the installation and need products sent quickly via Overnight or Expedited UPS.
Dry Vans
Dry Vans are enclosed trailers (think semi-trucks) and are what you commonly see on the freeway. Our team can set up a dedicated Dry Van delivery if requested. Keep in mind that this method requires a loading dock for delivery.
Customer Pick-Up
Another method of getting your material is via a scheduled customer pick-up at any of our Sheffield Metals locations.
Custom Shipping
Depending on the products ordered, the customer's input, and the circumstances for delivery, we can also set up custom freight services. This is not common but is an option to remember for specific scenarios.
Sheffield Metals Order Lead Times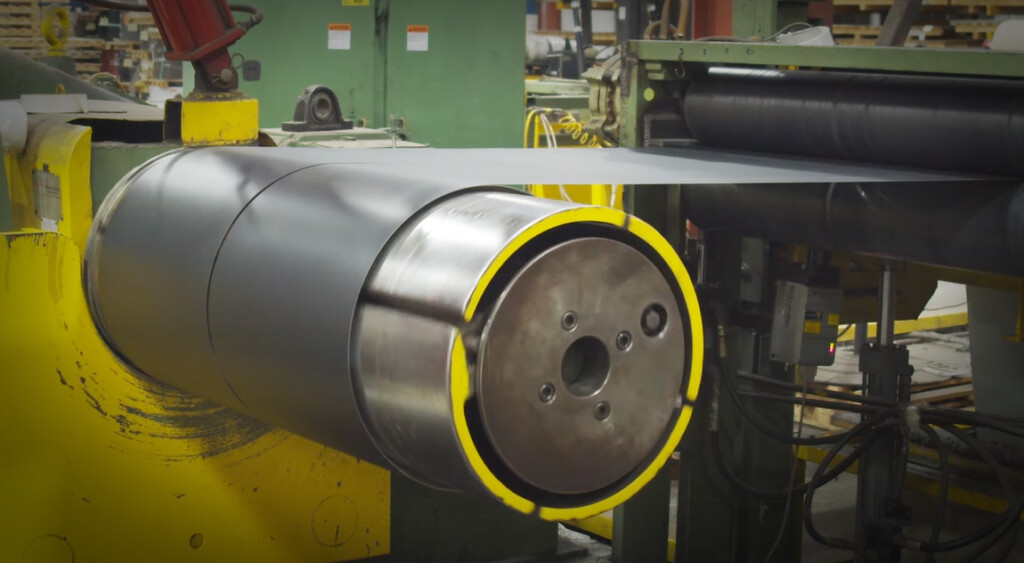 One of the most commonly asked questions is: "What are your lead times?"
Simply put, for products in stock and available at the time of purchase, our lead time is approximately three to four business days (three days + 10 AM).
What this means is that if you submit your order before 10 AM, we will quote you a three-day turnaround for production and shipping. If you place your order after 10 AM, it will go into the fourth day.
Keep in mind that this is dependent on stock and inventory levels. For example, if an item is back-ordered or simply out of stock, it will affect the lead time.
What Role Does Sheffield Metals Play in the Shipping Experience?
One of our goals at Sheffield Metals is to make buying from us as easy as possible. That's why all our branches nationwide either have a Freight Coordinator on staff or have trained Inside Sales team members to act as the liaisons between freight companies/brokers and our customers.
Their main priorities include booking all shipments, working with brokers to secure dedicated flatbeds and trailers, preparing the necessary paperwork (bill of lading, packing lists, etc.), and ensuring the material arrives to our customers quickly and safely.
If you're working with our Sales Team or the Freight Coordinator regarding freight, communication is the most important component of this process. Our team will be asking you several questions to set up the proper shipping method and make any special notes on the bill of lading, including:
What is the delivery address?
Who is the point person for the shipment?
What are your receiving hours?
Are there any scheduling requirements?
Are delivery appointments required?
What kind of shipping and receiving area does your facility have?
Is this material being delivered to a job site? If so, what are the receiving capabilities?
Do you have a loading dock at your facility?
Do you have a forklift?
Now and then, there are situations where a customer needs to change their shipping requirements or schedule. If this happens, contact your Sheffield Metals representative immediately so we can do everything possible to accommodate the changes.
Remember that making delivery changes after shipping involves a re-consignment fee and longer lead times.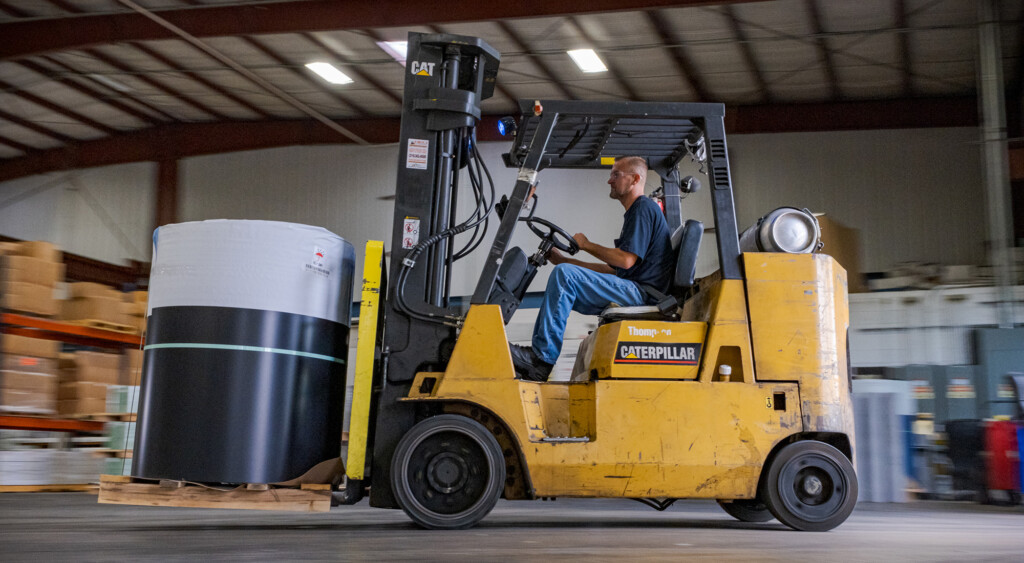 Misconception About Sheffield Metals & Shipping
A common misconception that we hear is that we have our own fleet of trucks that we use for deliveries. This is false; Sheffield Metals does NOT have shipping/delivery trucks.
As we mentioned, we foster great relationships with common carriers and domestic freight brokers, allowing us to shop for different shipping options, prices, etc., to best serve our customers and their shipping needs.
How Does Sheffield Metals Ensure Material Is Protected During Shipping?
It's critically important that the material you order from Sheffield Metals arrives to you in near-perfect condition, which is why we've instated several protection tactics.
This includes:
Putting extra banding on coils to keep the material secured and in place.
Putting wax paper between the skids and the metal for moisture protection.
Using heavy-duty skids and pallets to store the metal on.
For 4×10' flat sheets:

Cardboard edges for safety and to protect the material.
Metal edges for LTL shipments.

Ensuring all flatbed shipments are tarped and protected from dirt, debris, weather, and beyond.
Additionally, a few of the carriers we work with offer insurance, which we utilize when possible.
Important Considerations to Remember About Shipping & Receiving
#1: Always thoroughly inspect every shipment you receive.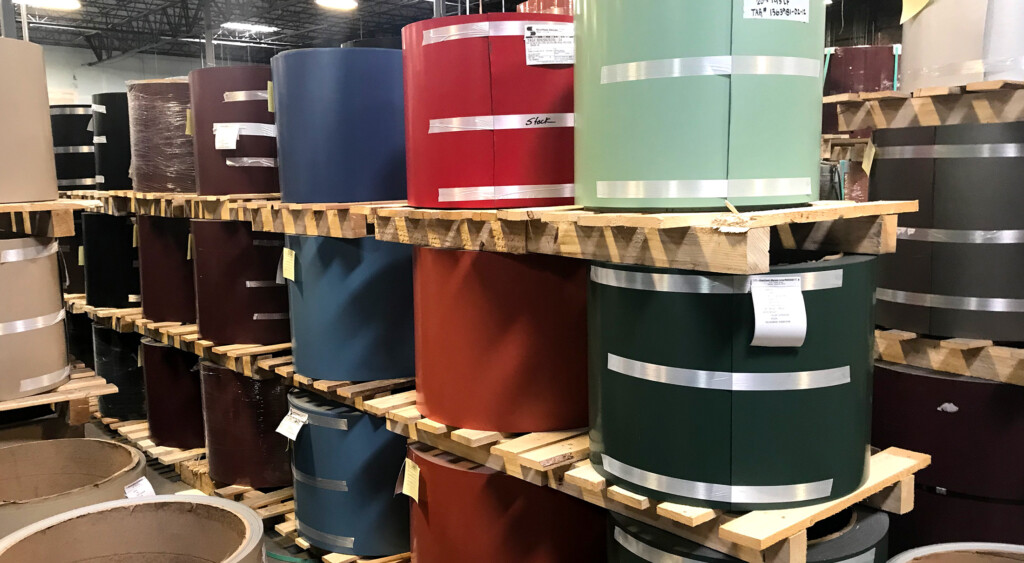 The most important recommendation for shipping and receiving is to always inspect the metal sheets/coil and other products upon arrival. This inspection should be complete BEFORE you sign any bill of lading or other delivery documentation.
When you're inspecting the order, take a look at:
The skid and packaging

Examining the exterior packaging for any visible signs of mishandling, such as dents, punctures, or crushing, is essential. One of the first indicators of damage is if the skid or packaging is broken, missing, or out of whack.

The material

The biggest concern for damage are stacks of 4×10' flat sheets. Make sure you're checking the top of the metal and the cardboard or metal corners, as these areas tend to experience the brunt of any damage.
If you notice something, your best bet is to open it up or remove the packaging to verify if there's any damage.
Also, ensure you have received everything on the packing list or bill of lading.
Remember that shipping damage is not frequent, but still can happen, especially if shipments are not direct and stop in terminals to transfer products for delivery. However, by diligently inspecting the material, you can promptly detect and document any damage that occurred during shipping. Doing so allows all parties to take necessary actions, such as refusing delivery, initiating claims, and/or arranging for replacements.
#2: DO NOT accept the shipment if there is damage or missing product(s).
Once you've inspected the material, the next step is to accept the delivery. If you don't observe any damage and have received everything on the bill of lading, you can go ahead and sign for/accept the shipment.
However, if you find any signs of product damage or there are missing items, DO NOT ACCEPT OR SIGN FOR THE SHIPMENT. Instead, take as many photos as possible of the damage and ensure a note is made on the bill of lading that the material is damaged or missing.
Accepting a damaged or incomplete shipment makes the claims process more difficult because, technically, the shipment was signed for. There are also instances where the material was signed for with exception because the metal is needed to complete a project, but if you can avoid doing this, we recommend doing so.
#3: Keep lines of communication open.
Our next recommendation is to prioritize frequent communication, especially if you receive damaged material or are missing products.
It's critical to contact your Sheffield Metals representative immediately if you find damaged or missing products in your shipment. Our team will work with you regarding the claims process, get photos of the damage, and ensure you get the replacement material you need.
#4: Understand that delays in shipping can & will happen.
We understand that delays are not ideal in the construction industry; however, it's crucial to have a realistic understanding that delays in shipping can and will happen.
Despite careful planning and coordination, unforeseen circumstances such as weather events, vehicle accidents, traffic, and other logistical challenges can impact the timeliness of shipments.
Having a mindset that delays are a normal part of the shipping process helps manage expectations, mitigate frustrations, and allow flexibility in seeking solutions.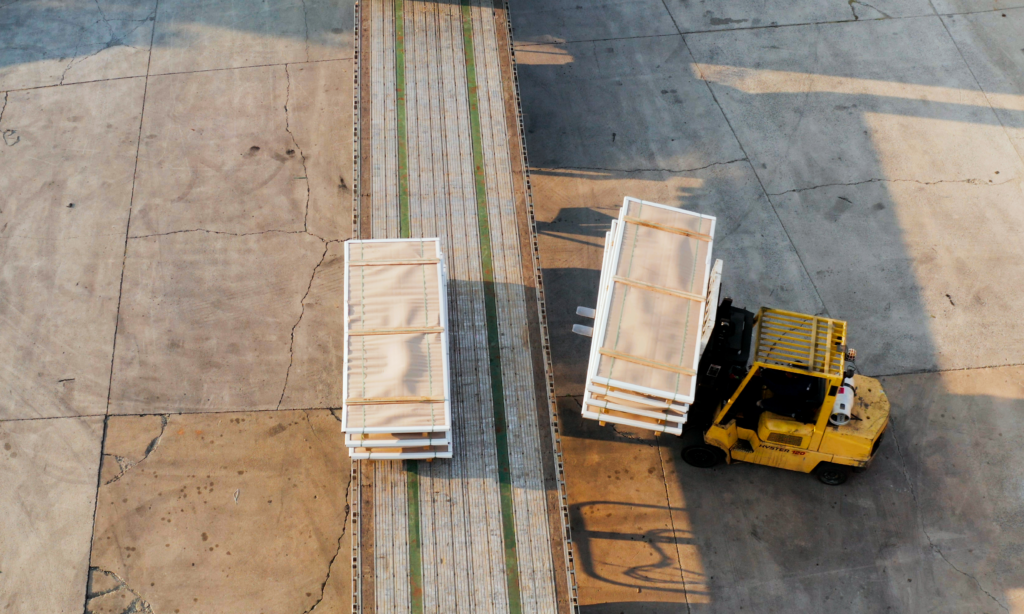 Final Thoughts on Material Shipping Methods & Considerations
Shipping is a regular part of the buying process, but it can be daunting with the number of shipping methods and considerations to remember for receiving shipments.
Remember:
Communication is key during the shipping process. It can reduce the number of issues that may arise and saves you time, energy, and money.
If you don't know what type of shipping method will work for your order — no problem. Your dedicated Sales Team or Freight Coordinator will ensure your order is shipped on the correct carrier type.
Always thoroughly inspect all deliveries and DO NOT accept any orders with missing or damaged products. This makes the claims process much easier.
Freight damage is infrequent, especially with all of the protections used, including banding, wrapping, tarps, and beyond. If something does happen, contact your SMI representative immediately.
In the end, Sheffield Metals is committed to providing you with the freight and shipping assistance needed to get our materials to your business or job site quickly, safely, and efficiently. At every step of the shipping process – our team is here to answer your questions and help you find the best solution possible.
Have a question about the shipping process or how Sheffield Metals ships material? Contact our team today!
---
---