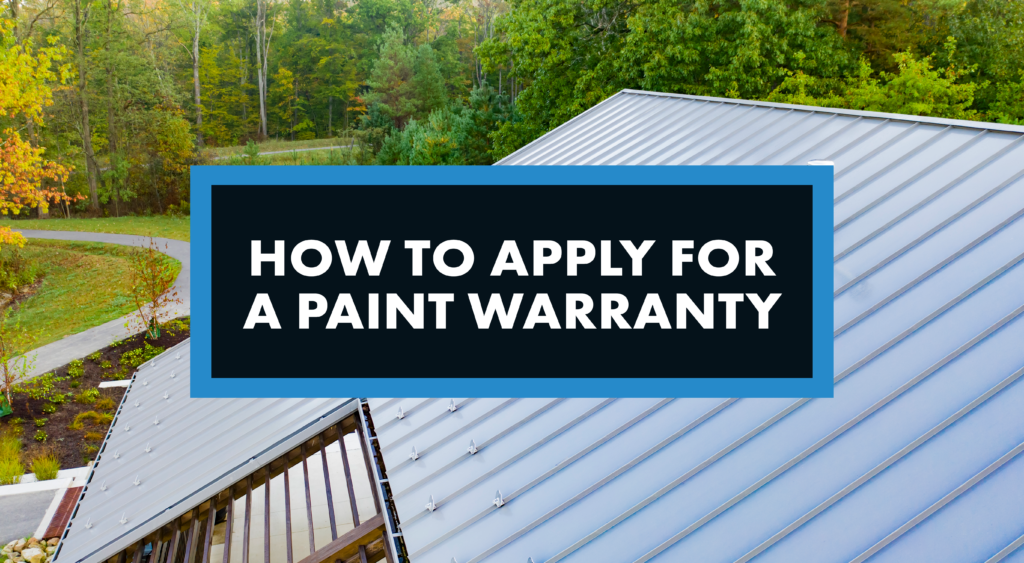 Buying and installing a standing seam metal roof comes with several benefits, including longevity, durability, better color integrity, and best of all: warranties.
One such warranty is a paint or finish warranty, which is available at Sheffield Metals on nearly every metal sheet and coil product that we sell.
However, do you know the correct way to apply for a paint warranty from Sheffield Metals? Do you know who is supposed to submit the information for one? How about when the application window opens?
At Sheffield Metals, we understand the importance of getting paint warranties to your customers in a timely manner. That's why we want to focus on thoroughly outlining the application process from start to finish so it goes as smoothly as possible.
In this article, we'll discuss:
What a paint/finish warranty is, including inclusions and exclusions.
Who applies for a paint warranty.
The step-by-step process of applying for a paint warranty.
Some commonly asked questions about the application process.
What is a Paint or Finish Warranty?
A paint warranty is a guarantee from a manufacturer/paint supplier that the paint system applied to the metal substrate will not degrade to a certain degree within a specific time frame. Paint warranties are offered in partnership with the paint company that supplies the paint formula that coats the metal. At Sheffield Metals, our paint is supplied by Sherwin-Williams, one of the world's most widely recognized paint manufacturers.
Types of Paint Warranties at Sheffield Metals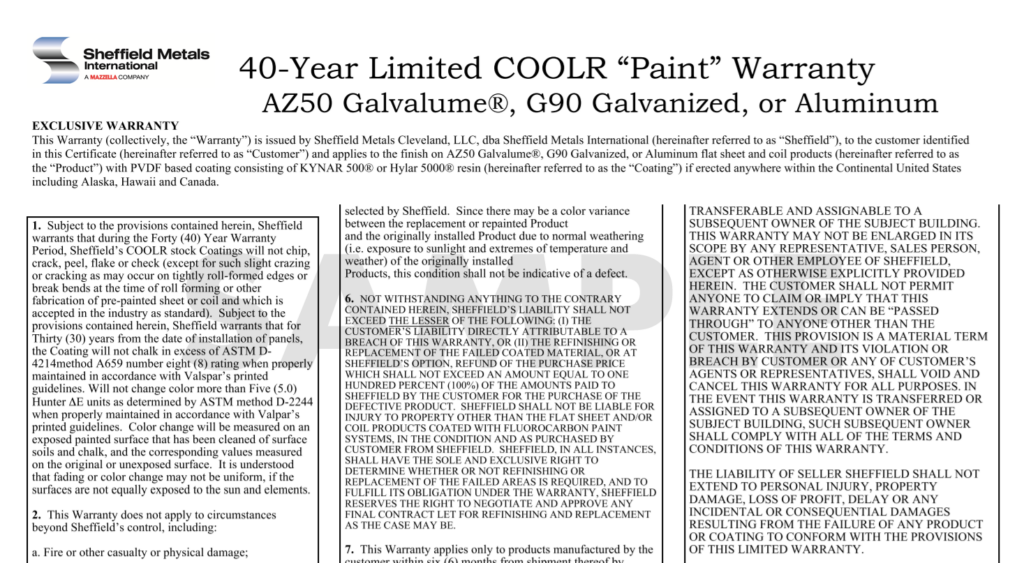 There are several different paint warranty options available from Sheffield Metals, including:
40-Year PVDF (polyvinylidene fluoride)
40-Year WeatherX
35-Year Weathered Series
25-Year Coastal PVDF
20-Year Caribbean PVDF
Typically, the location of the project and the material used will directly dictate the type of warranty issued to the customer. The majority of Sheffield Metals steel and aluminum products are coated with a high-performance PVDF coating. As a result, it is the most requested warranty that we offer.
Keep in mind that much of the paint warranty application process is dependent on the Sheffield Metals customer and the installer to install the standing seam metal roof according to our warrantable conditions and specific recommendations.
Example of Paint Warranty Inclusions (40-Year PVDF Paint Warranty)
Before applying for a paint warranty, it's essential to understand the inclusions or what is covered. All warranties we issue have varying inclusions and exclusions, so it's crucial that you read the warranty documentation in full and pay particular notice to the fine print, time frames, and parameters defined in the document.
The 40-year PVDF paint warranty is the most popular warranty that we issue, so we will use it as the inclusions and exclusions example.
The 40-year PVDF warranty covers the following phenomenons:
Chipping, cracking, flaking, or peeling — Any chipping, cracking, flaking, or peeling of the paint system to the extent that it is visible in regular outdoor observance. Also, keep in mind that this portion specifically refers to paint adhesion.
Chalking — Chalking is defined as a resin system degradation and loss of adhesion on the paint's surface that results in a white coating. Most warranties ensure the metal roof or wall system will exceed a specified chalking number based on a particular ASTM (ASTM D-4214) method. Chalk testing measures the white chalkiness that physically transfers from the panel's surface. Essentially, the collected measurement of chalking is how the lab can determine if it is excessive and warrants a valid claim.

Remember, roof and wall panels typically have different specified chalking numbers because the roof will have significantly more UV exposure than walls.

Color fade — Color fade occurs when the paint's pigment breaks down and alters the color, exceeding a specified ASTM D-2244 Hunter Delta E (DE) unit. The amount of fade is determined on a number scale by comparing a sample to the baseline color. Every paint warranty should specify the allotted amount of change in Hunter units over a certain length of time.

Reputable manufacturers should even go as far as spelling out that it varies with some colors and does not exist with metallic colors because a color spectrophotometer (the tool used to measure color) can't read the metallic flakes in the paint.
Example of Paint Warranty Exclusions (40-Year PVDF)
This section outlines the circumstances that would not warrant a paint warranty claim and are excluded from the 40-year PVDF paint warranty coverage.
Note for home or property owners: It's imperative to discuss any concerns you may have with the manufacturer before purchasing your metal roof or wall system. This conversation can help you determine if your property might be subjected to any of these exclusions.
The exclusions in the 40-year PVDF paint warranty include:
Corrosion

Corrosion can and will occur on any and all cut edges of steel (Galvalume) and aluminum roof systems.
There isn't a minimal allowance for corrosion for Galvalume or aluminum; however, aluminum will generally cease to corrode. With Galvalume, the cut edge will likely corrode, and then it should stop. A paint warranty does not cover corrosion like this. However, suppose it occurs on a non-cut edge. In that case, if the corrosion is excessive on Galvalume, or if an environmental contaminant does not cause it, it could warrant a paint warranty claim.
Fire, deliberate damage, wind damage, or improper handling by installers

During the installation of your metal roof or wall system, scratches can and usually do happen. If the scratch doesn't go all the way down to the metal substrate, it can usually be corrected with a touch-up pen that uses the same paint as your roof or walls. Scratches are something to discuss with your contractor to ensure they have during the installation.
In addition to remedying scratches, contractors can use paint pens to touch up exposed cut edges on areas of the system. Although not required, this can help reduce the edge creep that can occur over the system's life.

Foreign substances that are present in the environment and inside of the structure

For example, substrate warranties often do not cover steel roofing within certain distances of coastlines with breaking surf or coastlines with a large bay or marsh areas.
Other environments often not covered: Locations with exposure to corrosive chemicals, ash, fumes, cement dust, copper or lead runoff, silver or nickel mining, carbon black, or treated lumber.
Galvanic reactions / corrosion

After-the-fact additions to a roof that can affect the chemical make-up, such as adhered solar panels, snow guards, etc.

Consider the roof's material and research the other materials that may cause premature degradation.

Liquid or solid material submersion
Altered or sculpted beyond what it was intended for
Stored or installed in a way that allows for poor air circulation
Exposure to animals or animal waste
Complimentary roof products, fasteners, or penetrations that could cause a galvanic reaction and ruin the finish or corrode the metal
Using non-standard installation details, such as a modified J-clip or "receiver" details that will trap moisture and debris on the paint finish for extended periods of time
---
---
Who Applies For a Paint Warranty?
One of the most common misconceptions is that the home or property owner who purchased the roof is the one who applies for the paint warranty from Sheffield Metals.
This is incorrect. Homeowners cannot directly apply for a paint warranty.
The Sheffield Metals customer who purchased the metal material from us is the one who needs to submit the paint warranty request form. This can be a distributor, manufacturer/fabricator, or roofing contractor. From there, our customer should then pass on the paperwork and warranty documentation to the home or property owner.
How to Apply for a Paint Warranty at Sheffield Metals
Step #1: Customer Submittal
To apply for a paint warranty, the Sheffield Metals customer will go to the paint and substrate warranties page on the Sheffield Metals website: https://sheffieldmetals.com/warranties/paint-substrate-warranties/. At the bottom of the page, there is a section with a form titled "Paint & Substrate Warranty Request Form."
Completely and thoroughly fill out the form with the correct information. Pay special attention to:
Addresses (Street Address, City, State, Zip Code)
Invoice number and date
SMI branch the material was purchased from
Project information and completion date
Once all of the information is filled in, submit the request by clicking "Submit Your Paint Warranty Request."
Step #2: Confirmation Email is Sent
Once the request is submitted, the email provided in the form will get a confirmation email informing you that we've received your request. It should look something like this: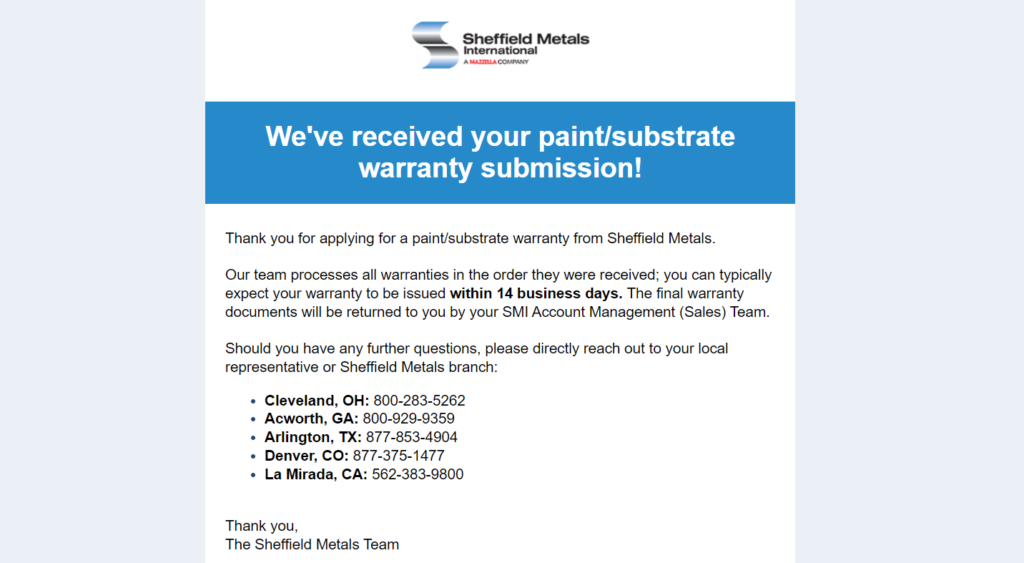 Step #3: Representatives at Sheffield Metals Vet the Request
One of our representatives will get a copy of the request with all the information provided. They will check and verify the following information matches our records:
Customer information, specifically if the warranty requester matches the customer information on the invoice.
Invoice number
Invoice status (paid, unpaid, etc.)
The substrate and finish type
The job completion date (For reference, the general rule of thumb that we try to follow is that warranties should be submitted within six months of the job completion date.)
Step #4: The Warranty is Created & Processed
Once all of the information is vetted and verified, we will start drawing up the warranty paperwork. Our representative will create the digital warranty PDF and save a copy for Sheffield Metals' records.
Step #5: Warranty PDF is Sent to the Customer
We will email the completed warranty PDF to the inside sales representatives at the corresponding branch where the material was initially purchased. They will then email the digital warranty document to the Sheffield Metals customer who submitted the request.
The SMI customer can then share the PDF with the home or property owner.
Please note: Hard copies are ONLY available upon request.
Commonly Asked Questions About Applying for a Paint Warranty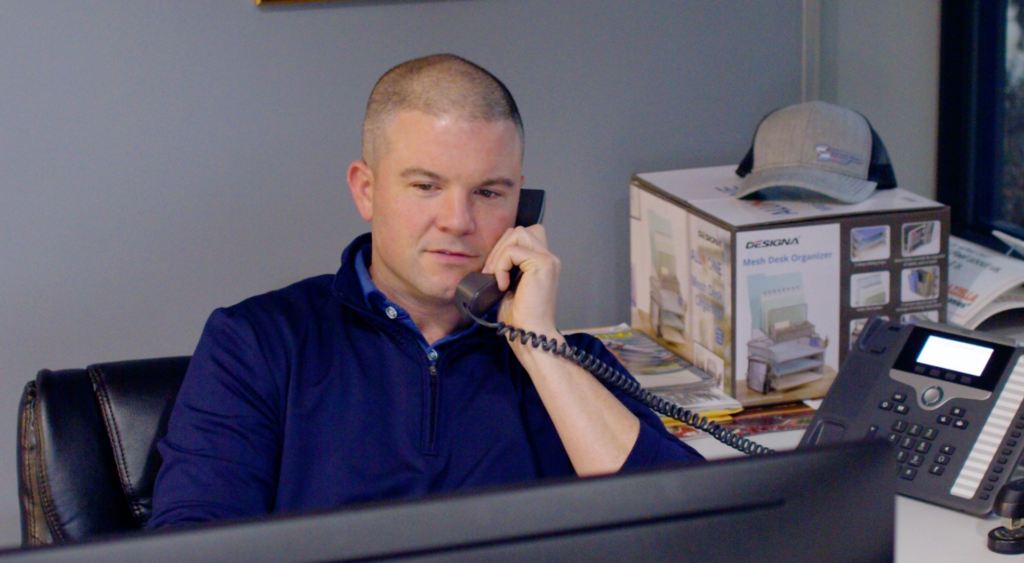 Now that we've outlined the warranty application steps, we want to address a couple of the most frequently asked questions about the application process:
Question #1: How long will it take to get the warranty back from Sheffield Metals?
Answer: On average, we try to return paint warranties within two weeks or up to 14 business days if several warranties are requested at one time.
Question #2: What can cause a delay in the paint warranty application process?
Answer: Several delays can happen at once. While these are usually uncommon, it's good to know some delay reasons:
The number one reason a paint warranty gets hung up is incorrect or incomplete information submitted in the application form, especially when it comes to invoice numbers, addresses, and contact information. It's critical to thoroughly fill out all of the fields in the form so we can reference our records and make it a seamless process.
The second reason it could take longer to get your paint warranty is that someone other than the Sheffield Metals customer submitted the paint warranty request form. As discussed above, property owners cannot apply for a warranty; it must come from the business that bought the material from us.
Additionally, the time of year (due to the seasonality of roofing) and the number of requested warranties at one time can create minor delays as well.
Question #3: At what point of the installation can I apply for a finish warranty?
Answer: Paint warranties can only be requested and fulfilled once the installation is complete. We cannot process any warranty requests that have a future project completion date. The general rule of thumb that we try to follow is that warranties should be submitted within six months of the job completion date.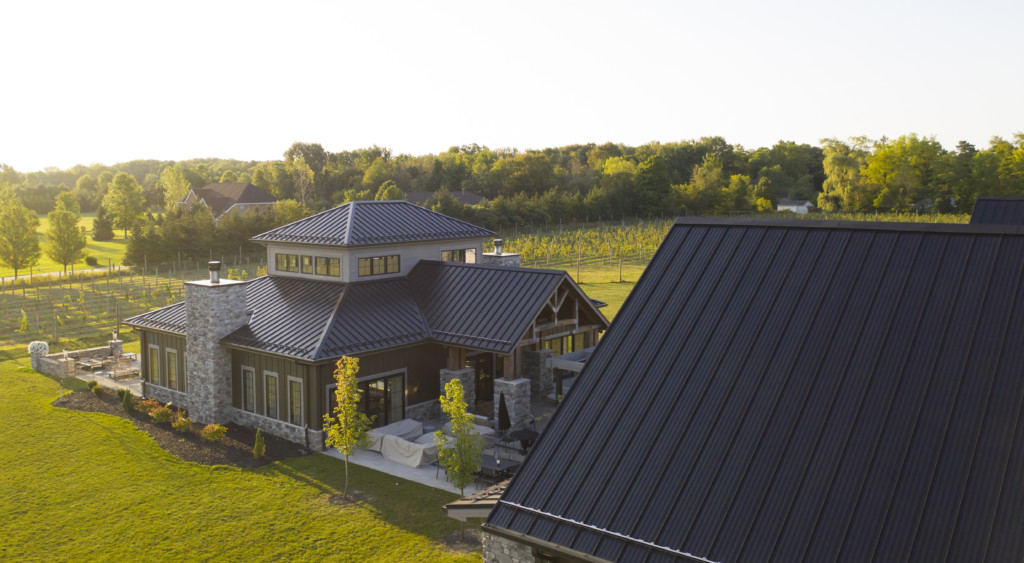 Final Thoughts on How to Apply for a Paint Warranty
The paint warranty application process at Sheffield Metals is relatively easy to follow.
To ensure that you get the warranty documents back sooner rather than later, make you follow these suggestions:
The paint warranty application can only be submitted by the Sheffield Metals customer who purchased the sheet and coil directly from us.
Paint warranty applications can only be submitted after the project is complete. Additionally, we strongly recommend that you apply within six months of the project completion date.
Double-check the information submitted in the request form and verify that it is correct and thorough.
Sheffield Metals is proud to offer one of the best PVDF paint warranties in the industry — and we're happy to pass that on to our customers and their customers.
Should you have any further questions about paint warranty applications, please feel free to contact us on our website or directly reach out to your local representative or Sheffield Metals branch:
Cleveland, OH: 800-283-5262
Acworth, GA: 800-929-9359
Arlington, TX: 877-853-4904
Denver, CO: 877-375-1477
La Mirada, CA: 562-383-9800
---
---