Advertisements for products and services have become a regular part of our daily life. Hundreds of thousands of companies rely on advertising to get their name out there and to garner business, which can be a great way to get the attention of potential buyers. 
If you're in the market for a new roofing system, you've likely noticed plenty of advertisements for roofing contractors and installation businesses.
Have you ever seen an advertisement for a new roof that seemed too good to be true? Such as a free metal roof or a deeply discounted new roof?
There are some considerations to remember if you're considering going with a free or cheap roof installation. Mainly because a botched roof installation can lead to significant financial loss, property damage, and more.
With over 25 years of experience supplying metal roofing and wall system products, Sheffield Metals knows the value of choosing the right metal roof quote. That's why we think it's important to discuss these free or deeply discounted metal roof offers, why they might be cheap or low priced, and how to validate one of these quotes.
---
---
What Is a Free or Deeply Discounted Metal Roof? 
In the past five or ten years, there has been an increase in roof contracting companies who run ads for completed free or deeply discounted metal roofing services.
You might have noticed these advertisements as you watch a video on YouTube, watch television, open a magazine, pass a billboard on the highway, etc.
They use phrases like:
"Claim your free metal roof now."
"You have to call today to get your free roof."
"We're looking to give away ten free roofs."
Many people recognize these advertisements as "too-good-to-be-true" offers — and unfortunately, many are. Some of these low-cost installations have led to significant property damage, unhappy customers, financial losses, legal issues, and more, which is the exact opposite of what you want when you install something as crucial as your roof.
Before we go through some of the reasons a company might be offering free or deeply discounted metal roof replacements, we want to say that not all of these offers or companies are untrustworthy or inexperienced. You could end up with a quality metal roof from one of these offers. However, it's still important to research, gather the facts, and do your due diligence before deciding to go with one of these offers.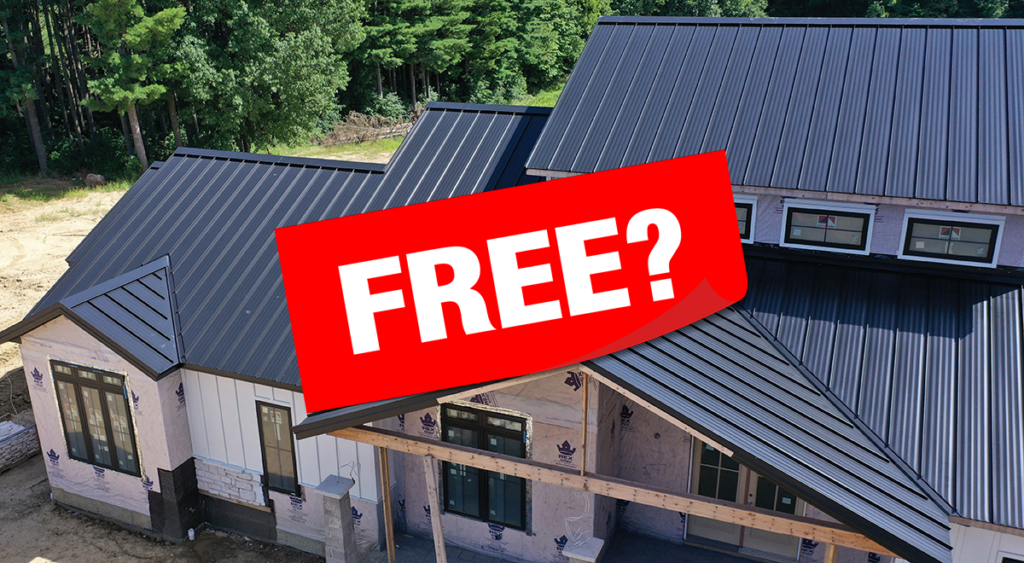 Why a Roof Might be Free, Cheap, or Deeply Discounted
Reason #1: The quoted roofing materials could be low-quality.
If you're offered a free metal roof or one that is deeply discounted, there could be an issue with the quality of the products the contractor plans to install. The success of a metal roof is truly contingent on the quality of the products used.
For reference, for a standing seam metal roofing system, you should verify that the:
Metal material is adequate.

For standing seam metal roofing, the ideal steel (Galvalume) used will be a structural grade steel (Grade 50) with a minimum yield of 50 KSI.
We always recommend an aluminum system if you live in a coastal environment.

Material thickness is 22, 24, or 26-gauge in Galvalume OR .030", .032", or 0.40" in aluminum.
The paint system is either a PVDF, SMP, or FEVE coating.

Verify that the paint is supplied by a reputable company, such as Sherwin-Williams.

The panel profile is appropriate for your environment.

As a property owner, you might not know what profile is best, but the bid should specify a mechanically seamed, snap-lock, fastener flange, or tee-seam profile to be a good standing seam panel profile.

All necessary accessories and components (see next section for a detailed list) are high quality.
Not all metal roofs are created equal, so if a salesperson cannot tell you what they are selling you, it is like a low-quality system.
Reason #2: Components are missing from the quote.
Beyond the metal quality and the following products used during the installation, there should also be a complete listing of correct pieces and parts. To be sure the quote has everything it should, use the following list as a guide:
Material costs:

Metal/metal panels + quantity/size
Underlayment type (peel and stick vs. mechanically attached) + quantity/size
Fasteners, rivets, or screws (ensure quality) + quantity
Clips or clamps (engineered vs. non-engineered) + quantity
Plywood or other roof deck materials + quantity/size
Flashing materials (drip edge, trim, pipe boots) + quantity/size
Sealant or butyl tape + quantity
Gutter materials + quantity/size
All other accessories and materials needed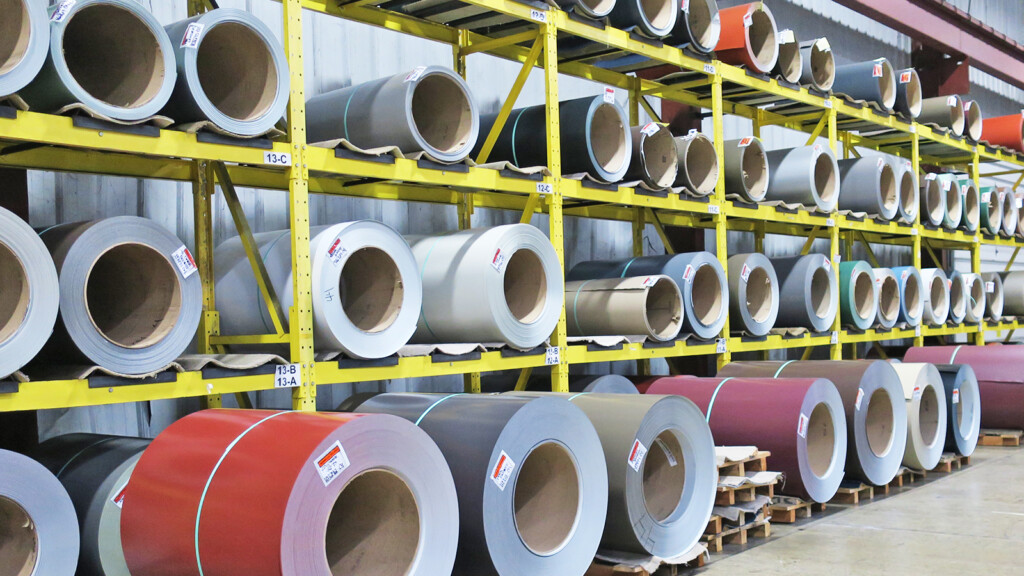 Labor costs:

Tear-off cost per hour + the number of hours to complete
Installation cost per hour + the number of hours to complete

Roof deck install/repair
Panel install
Accessory install
Drip edge, trim, or gutter install

Cost of warranties or other after-sale benefits
If something is missing from the quote or price, it could indicate an issue to come. Review thoroughly and ask why one or more items are excluded from the quote.
Plus, if one of these companies is quoting anything above and beyond the roof, you will want a detailed breakdown of each.
Reason #3: They're planning to install a non-engineered system.
One easy way to determine why a contractor is offering a free or low-cost metal roof is to check if they quoted a non-engineered metal roof system, as these can be significantly less expensive than engineered systems.
It's important to note that engineered metal roofing systems, which are tested in a third-party lab and adhere to strict metal roofing industry standards, are not always required. Engineered systems tend to be used more in commercial projects than residential homes because many localities require them and also because of the size, complexity, and functionality of commercial buildings.
As a homeowner, you should have a minimum expectation that your contractor provides a minimum of a UL 90-rated metal roofing system. If the contractor doesn't even understand what that is, they are likely a company to pass on.
If you want to know if it's a requirement for your home or building, contact your local building department to check. Even if it's not required, you should always have the option to choose if you want to buy one, which the contractor should consider when calculating the estimate. Not using an engineered metal roofing system isn't always bad, but know that these systems have been substantiated and have the results to prove they'll withstand harsh weather and environments.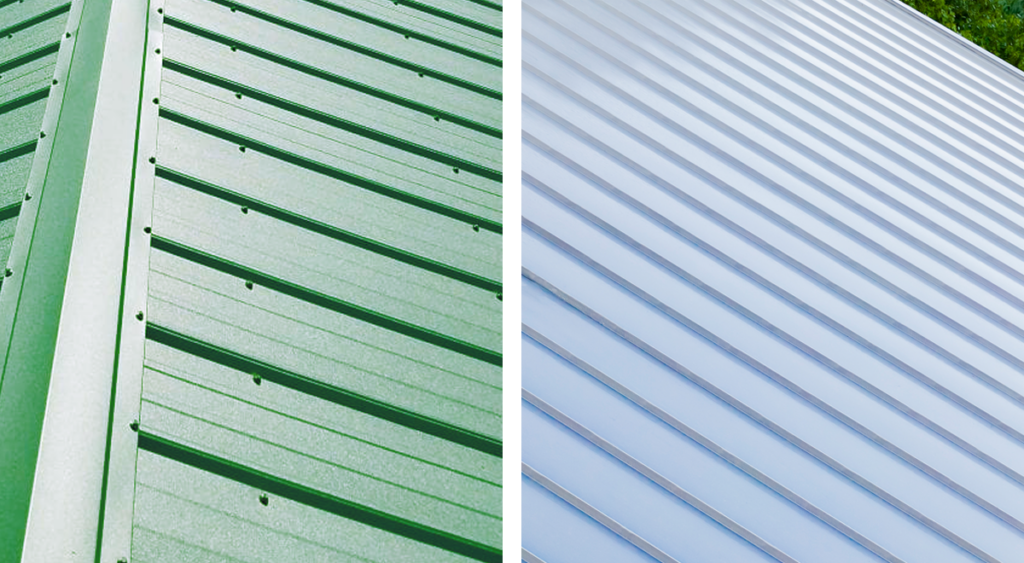 Additionally, keep an eye out for these businesses claiming to install a standing seam metal roof when it's actually an exposed fastener metal roof. These are two very different systems; learn more about standing seam vs. exposed fastener here.
Reason #4: There are little to no offered warranties or after-the-sale benefits.
Contractors are responsible for providing customers with the peace-of-mind before, during, and after the installation. Part of this involves offering after-sale benefits to buyers, which are often reasons that many people buy metal roofing, including:
Workmanship – Offered by the contractor

For reference: Two years of workmanship coverage is standard, but the companies that stand behind their products and installation offer it for up to five years in some cases.

Substrate – Offered by the manufacturer
Weathertight – Offered by the manufacturer for non-residential buildings
Paint/finish – Offered by the manufacturer on behalf of paint supplier
Maintenance
While it's not common with every contractor, offering metal roof maintenance is a great benefit for the property owner to receive with their purchase. A free or low price could indicate that maintenance isn't included in the installation.
Repairs
Repairs go along with the workmanship warranty. Just think about it: Should they be trusted if the contractor won't back up their work and installation abilities, including any after-the-fact repairs or fixes?
Also, before you sign a contract, make sure there is a clause about workmanship or leak repair for a specified time, which ranges anywhere from 12 to 60 months after the installation date.
If someone is advertising a deeply discounted metal roof and you don't see any of the above items listed on a quote, it could mean they don't back up their work or are using low-quality products.
Reason #5: The installation business is small, new/young, or simply inexperienced.
We want to preface this by saying not all small contracting businesses are bad — you just need to ensure the contractor has the capacity, knowledge, and ability to complete your roofing project before hiring them.
Most new contracting companies start as small businesses. Some small businesses may be experienced contractors who branched off and started their own businesses.
However, there are also inexperienced contractors who start businesses on a whim and might not have enough experience to be reliable and experienced metal roof installers, which might be why they're offering free or discounted roofs. That way, they can get experience completing projects and building a resume. This method is not always bad, but it requires you to take the risk that it might not be the highest quality installation.
To combat inexperience, always ask how long the business has existed and how many years each installer has of experience. If the answer is under five years, it's critical to do your due diligence (discussed in detail in the next section) and always ask the right questions.
Tips for Dealing with Free or Discounted Metal Roofing Offers
Always look at reviews from actual customers.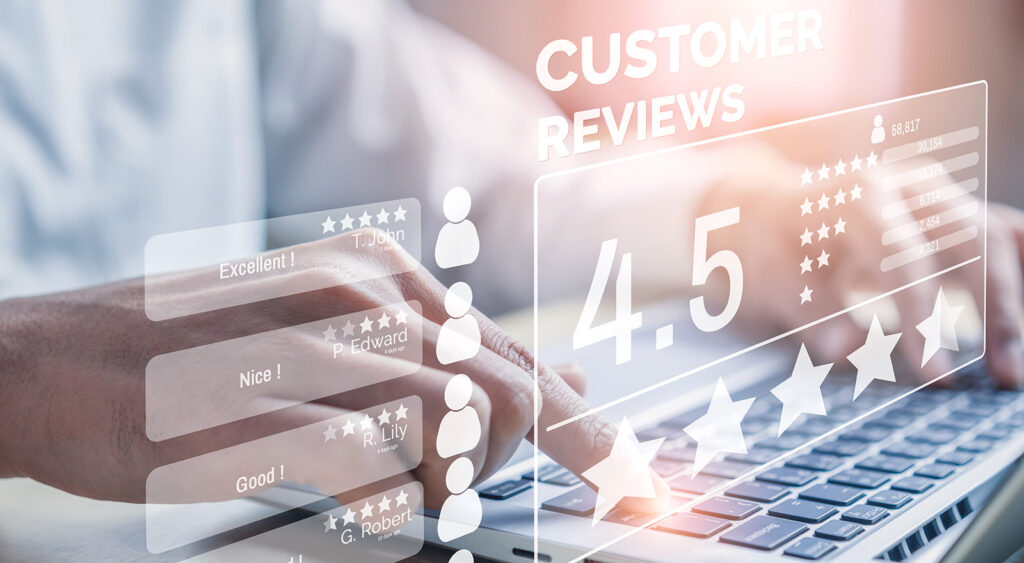 One of the best indicators of a good or qualified metal roof installer will be if they have positive reviews and ratings from real customers.
However, we highly recommend looking at reviews that ARE NOT on the company's website. The reviews featured on a company's website are typically biased, as they can pick and choose the reviews that will benefit them and garner more business. In other words, you might go to a company's website and see they have a 5-star rating, but on a third-party review site, they only have a 2.5-star rating.
It's best to look at third-party reviews of a contracting company, such as those found on:
Google reviews
HomeAdvisor, Angi, Porch, or other professional network sites
If you find that a contracting business has positive reviews from happy customers on a third-party review site, it's likely a more reliable representation than just looking at their website.
Do your research and have a solid idea of what you want to install before a consultation.
The whole process of hiring a contractor to install a metal roof starts with a need — you need a new roof for your home, property, or structure. From there, it evolves into learning more about your product choice options, including color, size, metal material, panel profile, seam type, etc.
You can do a lot of this research before ever having a consultation. There are several methods of researching products, whether you watch videos or read articles online, talk to an architect or design professional, look at a manufacturer's website, or otherwise.
From this research, you should compile a list of your top product choices to discuss them with the contractors you're consulting with. During the consultation, the contractor should explain the product options on your list and why they may or may not work for your roofing installation.
Remember that you don't have to have the product picked out before consulting with a business. However, it will help you discern if a contractor is just trying to sell you their roof option/product or wants to work with you to accommodate your requests. Simply put, be wary of companies that approach you with a "too good to be true" offer without knowing your need or what you want.
Always get more than one bid.
Whether you're considering a free or deep-discounted roof, you should always get more than one bid or quote for your roofing project. It will help you better understand your project, including the potential price range and how different contractors configure their pricing based on products, labor, etc.
Plus, if you just get one quote from the company offering a low-cost roof option, you might only realize that it is cheap if you have something to compare it against. This goes back to ensuring you do your due diligence and do not settle for the first roof quote you get.
Keep an eye out for aggressive sales tactics.
For some companies that offer free roofs or an extreme discount, one of their most significant advantages is that they use persuasive sales tactics. For example, if you talk to them, you might hear them say things like:
"Buy now."
"You're never going to get a better deal."
"This offer is only temporary."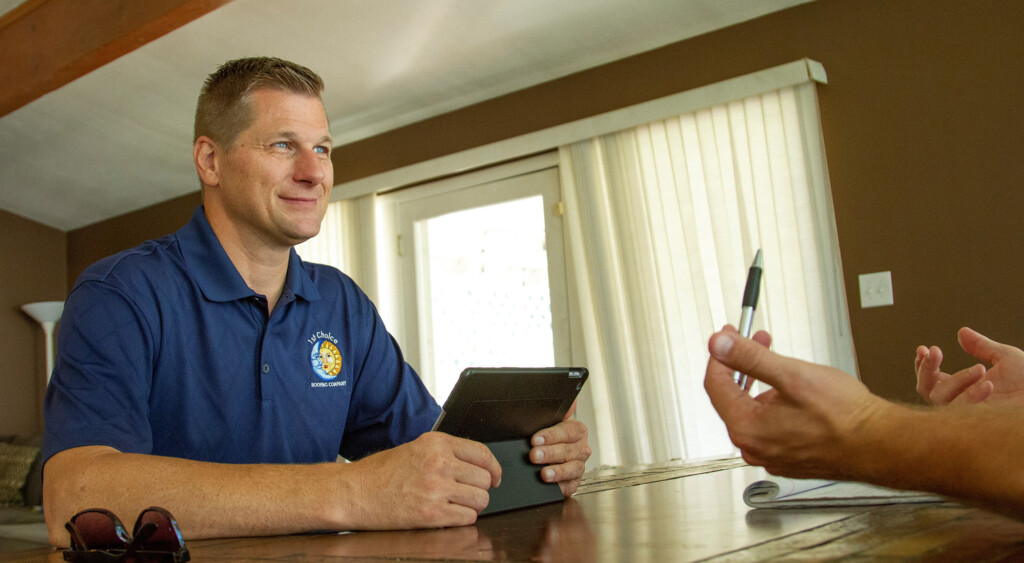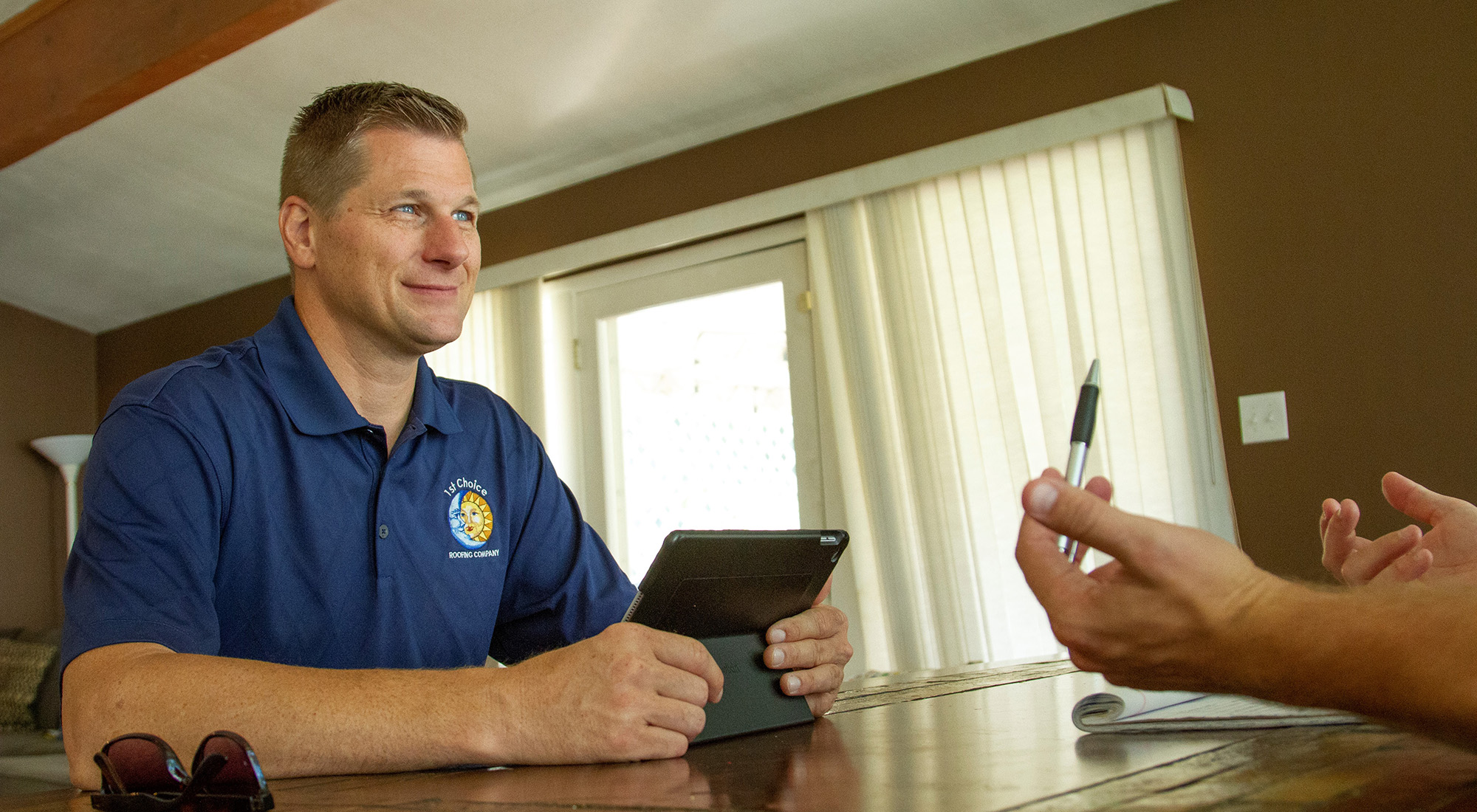 If you hear any of these phrases or feel pressured by a salesperson to rush into choosing their roofing solution without getting another bid, that could be a negative indicator. This is why getting more than one quote is always recommended.
Additionally, sometimes these contracting companies that offer deeply discounted roofs try to package a roof, windows, doors, and other exterior elements together into one bid. Instead of thinking you're getting a $15,000 roof estimate, you get a $40,000 one with more than one product installation bundled together. While this may seem like a good thing, you want to choose a contractor that specializes in metal roof installations and has extensive experience.
To combat this, ask how long the business has existed and how many years each installer has of experience. If the answer is under five years, it may be worth questioning and checking online ratings, reviews, project photos, anticipated installation details, and other good performance indicators in metal roof installations.
Final Thoughts on Free or Cheap Metal Roof Offers
So, should you accept the free or deeply discounted metal roofing quote/offer?
It depends.
To help you make the best decision, always make sure you:
Verify that all components of a metal roof, including all the metal products, accessories, panel profile, labor, warranties, and beyond are included and listed on the quote.
Look at the contracting company's reviews on third-party websites to learn about the unbiased experiences of actual customers.
Ask the contracting company as many questions as possible, including questions about their experience level, why they might be offering a cheaper roofing system, and several others about their business and the products they plan to use.
Get more than one bid for your project.
Do your due diligence and research, and make the best and most informed decision that you feel most comfortable with.
At Sheffield Metals, we strive to help you choose the best bid (and contractor) for you because we know how critical it is to protect your investment, especially regarding something as important and protective as a roof.
Contact us today to speak with one of our helpful and knowledgeable metal roofing specialists!
---
---