Whether you're a standing seam metal roofing contractor or regional panel supplier/manufacturer — it's critical to buy the right roof panel rollforming machine from a manufacturer that you trust.
We often hear from industry professionals about the overwhelming number of options of machine manufacturers, configurations, and types. Plus, many contractors want to fully weigh all of their options and make sure they're getting the best machine for their business, especially with something so integral to a metal roofing installer or manufacturer's productivity.
Sheffield Metals is an industry leader in the distribution of coated and bare metal products used to rollform standing seam metal roofing and wall panels. While we don't manufacture rollforming machinery, we do sell and distribute them on behalf of our trusted partners at New Tech Machinery.
However, we know there are many manufacturers and distributors to consider. And since we believe that being an informed and educated consumer is the best way to make the right buying choice, we've put together a collection of some of the best portable and in-plant metal roof rollforming machine manufacturers.
(Note: Manufacturers are listed in no particular order.)
Manufacturer #1: New Tech Machinery (NTM)

Headquarters: Aurora, Colorado
Year founded: 1991
About the company: New Tech Machinery is a leading manufacturer of portable seamless gutter machines and roof panel rollforming machines. Started by Larry Coben in 1991, NTM was the first portable rollforming company to produce rollforming machines with polyurethane drive commercially. Mazzella Companies acquired New Tech Machinery in 2015, allowing the business to grow significantly and offer its machines worldwide. Today, NTM produces versatile machinery that is easy to use and allows contractors/manufacturers to rollform roof panels directly at a job site.
Portable or in-plant roofing machines: Both
Select product offerings:
Roof panel rollforming machines – including the SSQ II™ MultiPro Roof Panel Machine, SSH™ MultiPro Roof Panel Machine, SSR™ MultiPro Jr. Roof Panel Machine, and 5VC-5V CRIMP™ Roof Panel Machine 
Wall panel rollforming machines – including the SSQ II™ (wall profiles available) and the WAV™ Wall Panel Machine
Gutter rollforming machines – including the MACH II™ 5″, 6″, & 5″/6″ Gutter Machines, MACH II™ 7″/8″ Combo Gutter Machine, and BG7™ Box Gutter Machine
---
---
Manufacturer #2: The Bradbury Group

Headquarters: Moundridge, Kansas
Year founded: 1959
About the company: The Bradbury Group of manufacturing companies is known for manufacturing machinery that performs automated production and systems integration in the metal processing industry. The Bradbury Group's product lines include rollformers, coil processing equipment, levelers, slitting lines, embossers, etc. The Bradbury Group of companies operates out of locations worldwide, including North America, South America, Europe, Asia, and Australia.
Portable or in-plant roofing machines: Both
Select product offerings:
Rollformers — including portable standing seam rollforming machines (The Bradbury Portable Rollformer), in-plant standing seam panel production, gutter and trim rollformers, garage door rollformers, steel frame rollformers, and more
Coil processing equipment — including levelers, slitting lines, cut-to-length lines, packing equipment, and more
Insulated lines — including insulated panel product lines, garage door lines, and more
Metal shingle lines
Embossers
Custom rollformers
Manufacturer #3: Englert Inc.

Headquarters: Perth Amboy, New Jersey
Year founded: 1966
About the company: Englert was founded by Herb Englert in 1966 originally as a gutter business. Today, Englert Inc. manufactures and distributes metal roofing, gutter, and rollforming products to the commercial and residential roofing markets. Englert is one of the few single-source roofing manufacturers with an in-house coil-coating line and offers a broad range of color and finish options.
Portable or in-plant roofing machines: Both
Select product offerings:
Portable roof panel rollforming machinery — including the MetalMan Multi-Panel Roofing Machine and various MetalMan Fixed Panel machines
Gutter rollforming machinery — including the K-Style Seamless Gutter Machine (Englert's Series 650 5" / 6″ K-Style), MetalMan 770 7" Box Gutter Machine, Series 56X Seamless Gutter Machine, etc.
Metal folding and shearing machinery
Metal coil and sheets for roofing and gutter applications
Panel profiles for metal roofing systems
Gutter profiles/styles
Retrofit metal roofing systems
Manufacturer #4: Zimmerman Metals, Inc.

Headquarters: Denver, Colorado
Year founded: 1936
About the company: Zimmerman Metals is a privately owned, family-oriented metal fabrication and machine shop founded in 1936 by William George Zimmerman. Today, Zimmerman Metals offers unique and innovative solutions in machining, structural steel, precision industrial steel, and metal roofing machinery. Zimmerman Metals is currently led by a 50/50 partnership of Mark Zimmerman and Taryn Christison.
Portable or in-plant roofing machines: Both
Select product offerings:
Portable roofing machines — including the Z-Panel Machine, Commercial Roofing Machine, Structural Roofing Machine, Arch Roofing Machine, Wall / Soffit Panel Roofing Machine, and more
Structural steel fabrication — including bridges, trusses, specialty buildings, and more
Industrial steel fabrication — including railways, transportation, beam processing, turnkey products, and more
Art structure fabrication — including large and small art structures, stairs, tensile roofs, and more
Other machining and processing equipment
Manufacturer #5: Schlebach Maschinen GmbH

Headquarters: Friedewald, Germany
Year founded: 1979
About the company: Schlebach GmbH is a leading manufacturer of equipment and machinery for metal roofs and walls. In 1979, the manufacturing company Bartolosch GmbH with its owner, Ing. Friedhelm Bartolosch, acquired the rights to Schlebach and ultimately founded Schlebach Maschinen GmbH. Today, the company has approximately 200 employees working in a 110,000 square meter facility in Germany.
Portable or in-plant roofing machines: In-plant (on a cart/wheels)
Select product offerings:
Profiling machinery — QUADRO (XL, XXL, KS) profiling machines, MULTI profiling machines (QUADFLEX, MULTIPRO, PANROL), MINI profiling machines, standard and special profiling machines, and more
Notching machinery — including the notching units KLS, AK-QUAD, UKST, and more
Folding and seaming machinery — including the seaming machines PICCOLO, SPIDER, and FLITZER
Bending machinery
Slitting and cutting machines
Edging and clips machines
Manufacturer #6: Roll Former Corporation

Headquarters: Chalfont, Pennsylvania
Year founded: 1978
About the company: Roll Former Corporation was established in 1978 to design and build machinery for rollforming applications, including metal roofing, garage doors, skylights, swimming pool components, and more. Since then, Roll Former Corporation has developed a line of over 20 machines for residential, industrial, and commercial metal roofing applications. In August 2021, Roll Former Corporation became a part of the company Tennsmith.
Portable or in-plant roofing machines: In-plant
Select product offerings:
Roof panel machinery — including the VS-150 Standing Seam Panformer, SSSP-3 3 Inch Trapezoidal Pan, SS20-A 2 Inch Armco, NSP Nail Strip Panel, 5V Crimp, and more
Wall and soffit panel machines — including the FL-105 1 Inch Interlocking Wall/Soffit Panel Machine, FL-15 1.5 Inch Interlocking Wall/Soffit, SOF-12 12 Inch Residential Soffit, and more
Power seamers
Cap and curving machinery
Hemming machinery
Coil processing machinery
Manufacturer #7: Cidan Machinery Group

Headquarters: Götene, Sweden
Year founded: 1907
About the company: CIDAN Machinery has been manufacturing machines since 1907 and has established itself as a leading sheet metal machine manufacturer. In addition to manufacturing their own roof panel rollformers, CIDAN is also a distributor of New Tech Machinery equipment. Today, CIDAN serves customers worldwide and has operations in multiple parts of the world, including North America, Europe, and Asia.
Portable or in-plant roofing machines: Both
Select product offerings:
Roof panel machinery — including the CIDAN QZ36 In-Plant Rollformer
Distributor of New Tech Machinery portable rollformers — including the SSQ II, SSR, and numerous gutter machines
Metal folder and bending machines
Metal shears
Coil handling, slitting, and cut-to-length machinery
Long folders
Miscellaneous storage and automation equipment
Questions & Things to Consider When Purchasing a Rollforming Machine
Whether you're a contractor, chop and drop supplier, or regional manufacturer, when you purchase a roof panel rollforming machine, you'll want to ask yourself some critical questions about your business and needs.
While the list below is just a selection of topics to consider, the answers to these questions can help you in the decision process and narrow down which machine, manufacturer, configuration, etc., is best for you.
Questions About Your Business
Panel production
Are you producing panels in a facility or at the job site?
Are you a chop and drop panel supplier? Or do you run the panels for your own installations?
Project efficiency
Residential vs. commercial projects
Do you install more residential projects? Light commercial? Primarily commercial?
Do you plan to do more projects (primarily commercial) in the foreseeable future?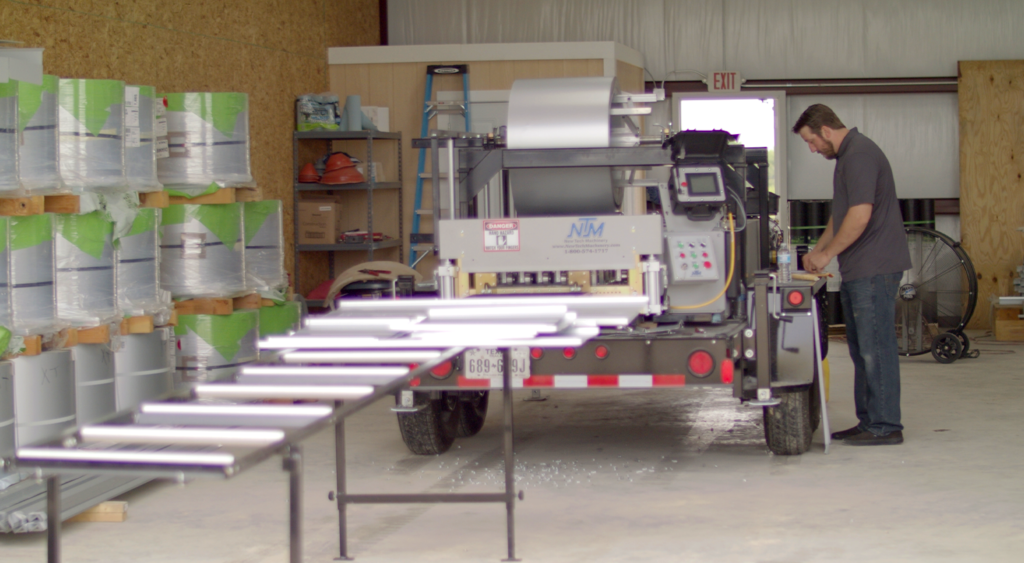 Profile options
What panel profile(s) do you want to offer your customers? Seam heights? Widths?
Do you need to offer engineered profile options (such as those for weathertight warranties, etc.)?
Budget/pricing
What are you comfortable spending on a rollformer?
Is there a budget you must stay within?
Miscellaneous
Do you have the facility space for an in-plant machine (which takes up more space than most portable rollformers)?
Do you need any add-ons, such as a decoiler, trailer, notching, slitting, etc., to come with your rollformer?
How do you see your business growing in the next 1, 5, and 10 years? Will the rollformer you're considering buying sustain that growth?
Questions to Ask About Machine Manufacturers
Machines offered
Supplier or distributor
What are the benefits of buying from a machine distributor vs. directly from the manufacturer?
Machine lead times
Is the machine manufacturer able to process orders and assemble/ship the machine(s) in a timeframe that works for you and your business?\
Shipping and freight costs
What are the associated shipping costs if I were to order a machine?
Is shipping too expensive or beyond my budget?
Training, service, and technical assistance
Is there any kind of machine training offered if I become a customer?
Is the training free, or does it cost money?
Is there a dedicated service or technical department that I can contact with any machine questions or if I'm having an issue with any of the equipment?
Warranties offered
What warranties are available on the machine I want to purchase?
How do the warranties compare among manufacturers I'm considering?
Machine add-on options
Sales/account management
Is the sales team I'd be working with and purchasing from trustworthy, able to answer my questions, and reliable?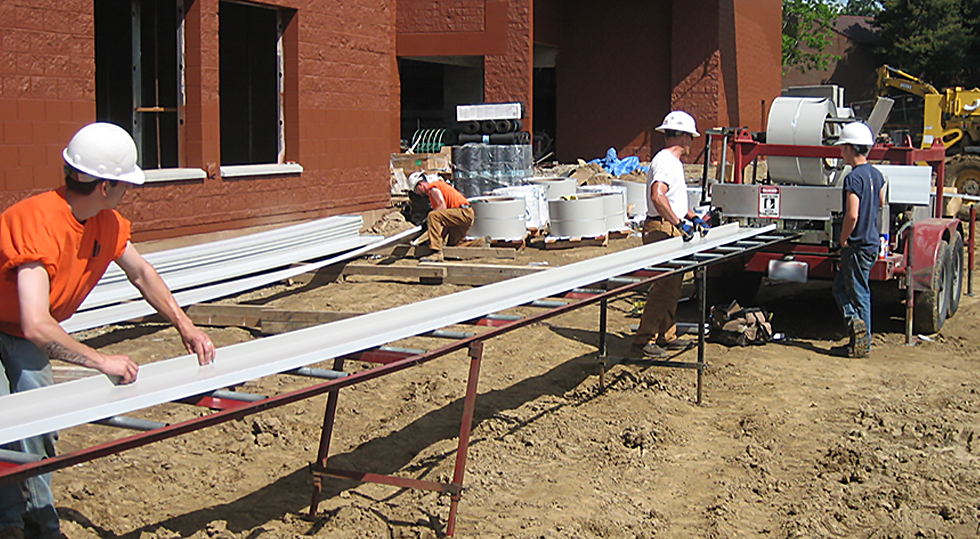 Final Thoughts on the Top 7 Rollforming Machine Manufacturers
There isn't one specific rollforming machine or manufacturer that fits every roofing contractor or manufacturer. That's why doing your research, knowing your options, knowing your business needs, and ultimately choosing the best rollformer manufacturer/brand/distributor is such an important process.
Keep in mind: There are many more factors to consider when purchasing a roof panel machine than just the cost. We see this happen all too often, which is why you should ask yourself and the manufacturers/distributors you're considering the right questions (like those listed above).
Sheffield Metals is proud to offer a one-stop shopping experience for roofing contractors and regional manufacturers — whether it's metal coil/sheets, accessories, rollforming machinery, engineering, or a combination of products. That's why we know how important it is for you to choose the right roof panel rollforming machine to complement your operation.
Best of all, we offer free consultations to get to know your business and set you up for successful metal roofing and wall projects. Contact us today to speak with one of our helpful specialists!
---