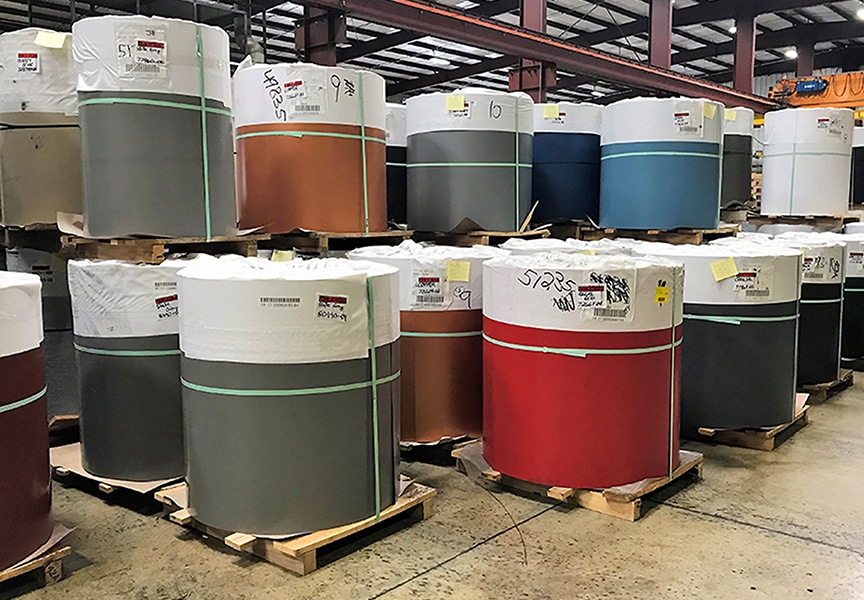 Are you looking to purchase metal sheets and coil to use for metal roofing and wall systems but don't know any manufacturers or suppliers of such products? Or are you weighing your options to see what company is the best fit for you and your needs?
If you're a contractor, manufacturer, or architect that sells or specs metal roofing and wall systems in your projects, your business is dependent on providing high-quality metal sheet and coil products that are engineered perform to high standards. If you don't and chose the wrong supplier, you run the risk of losing customers and negatively affecting your company.
Sheffield Metals is an industry leader in the distribution of coated and bare metal products, as well as engineered standing seam metal roofing systems. While we pride ourselves on providing quality products for many metal roofing uses and applications, we understand that you might want to consider all of the different metal sheet and coil suppliers and manufacturers available to buy from. Plus, it's a common question we get all the time: "If I don't choose Sheffield Metals, what other coil and sheet manufacturers would you recommend?"
We believe in the power of being an informed and educated consumer, especially when it involves products used to protect people, homes, businesses, and so much more. That's why we've put together a collection of some of the best metal sheet and coil manufacturers in the Eastern U.S.
#1: ATAS International, Inc.
Year Founded: 1963
Headquarters: Allentown, Pennsylvania
Company Description: ATAS International, Inc., a family-owned business founded by Jacobus "Jack" P. Bus in 1963, went from a siding/trim company to an industry leading manufacturer of metal panels designed for the building envelope. The ATAS portfolio features a wide selection of products and operates three manufacturing locations in Pennsylvania and Arizona.
Product Offerings:
Metal coil and flat sheets
Metal wall systems
Metal roofing systems – Standing seam, shingle, tile, curved, and exposed fastener
Insulated metal panels
Perimeter edge and water control systems
Rainware, column covers, trim, and equipment screens
Accessories
---
---
#2: Coated Metals Group
Year Founded: 1983
Headquarters: Verona, Wisconsin
Company Description: Coated Metals Group (CMG) is a leading manufacturer of pre-finished steel products for the construction industry. Headquartered in Verona, Wisconsin, CMG expanded to operate full production and distribution facilities in Denver, Colorado; Indianapolis, Indiana; Phoenix, Arizona; and Minneapolis, Minnesota.
Product Offerings:
Metal sheets and coil
Panel systems
Snow retention
Flashing and trim
Rainware
Gutter coil
Accessories
#3: Drexel Metals Inc.
Year Founded: 1985
Headquarters: Louisville, Kentucky
Company Description: Drexel Metals Inc. provides a full range of engineered metal roofing systems, equipment, and custom fabrication services. Drexel Metals grew to become a leader in the distribution of painted metal for the roofing, architectural sheet metal, and military and crop storage industries. Drexel Metals operates several locations throughout the U.S., including Colorado, Florida, Kentucky, Maryland, and Pennsylvania.
Product Offerings:
Metal coil and sheets
Portable rollforming equipment (New Tech Machinery)
Panel profiles
High-temp and synthetic underlayment
Cornice fabrication and column covers
Trim and accessories
Snow retention systems (S-5!)
Soffit panels and plate wall
#4: Englert Inc.
Year Founded: 1966
Headquarters: Perth Amboy, New Jersey
Company Description: Founded by Herb Englert in 1966, Englert Inc. has been serving commercial and residential markets with quality metal roofing and gutter systems, and on-site rollforming machines for over 50 years. Englert is one of the few single-source roofing manufacturers with an in-house coil coating line and offers a broad range of finishes to meet most design objectives.
Product Offerings:
Seamless gutter systems
Metal roofing systems – Architectural, structural, curved, wall panels, soffit, and retrofitting
Metal coil and sheets – Perma Color 3500 (Kynar 500®), ULTRA-COOL™, and Galvalume-Plus®
Rollforming equipment & machinery
#5: Fabral Metal Wall and Roof Systems (NB Handy)
Year Founded: 1967
Headquarters: Lancaster, Pennsylvania
Company Description: Founded in 1967, Fabral has been recognized as a premier supplier of metal roofing and wall systems for architectural, industrial, commercial, residential, and agricultural applications, and specializes in the commercial post frame market. Fabral is part of the OmniMax International, Inc. family of companies.
Product Offerings:
Metal panel systems – MIGHTI-RIB®, Corrugated, HORIZON S-Series, SSR, and GrandRib
Dormers, cupolas, chimney pots, and finials/spires
Snow retention systems
Flashing and trim
Gutter and downspouts
Roofing accessories
#6: Firestone Building Products, LLC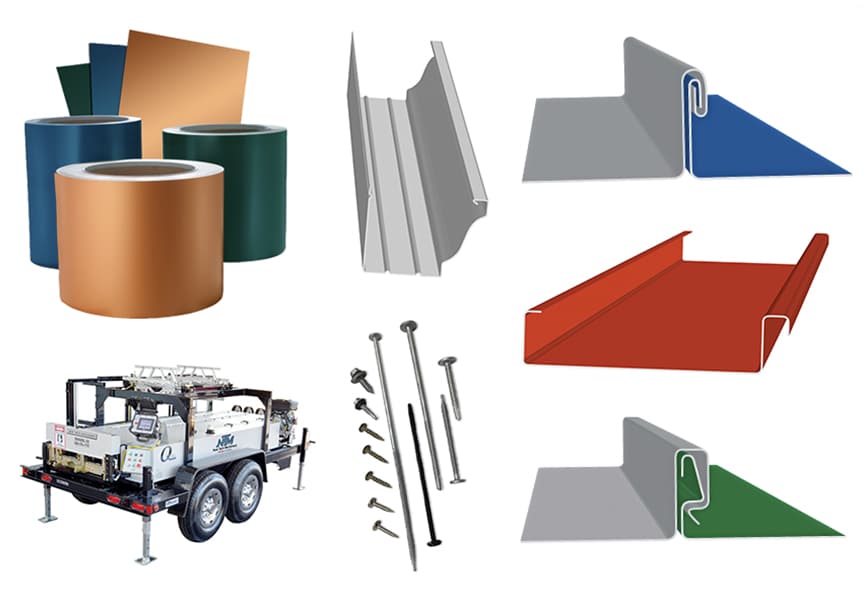 Year Founded: 1980
Headquarters: Nashville, Tennessee
Company Description: As a leading manufacturer of commercial roofing solutions, Firestone Building Products Company, LLC has been a trusted source for contractors, building owners, and specifiers for 30 years. The company has evolved from a single product to a full manufacturer of EPDM, thermoplastic, asphalt and metal roofing systems, polyisocyanurate insulation, and accessories.
Product Offerings:
Metal sheet and coil
UNA-CLAD™ UC meeting roofing panels and soffits
RubberGard™ EPDM roofing systems
Thermoplastic polyolefin (TPO) single-ply roofing systems
Roofing underlayment and insulation
Asphalt roofing systems
Roofing accessories
#7: McElroy Metal
Year Founded: 1963
Headquarters: Bossier City, Louisiana
Company Description: McElroy Metal started as a single-shop operation when Thomas E. McElroy Sr. first founded the company in the early 1960s. Today, it exists as a third-generation family-owned business with a variety of product selections. In addition to the Bossier City, LA headquarters, McElroy Metal consists of 12 manufacturing centers and several service centers around the United States.
Product Offerings:
Exposed fastener panels
Standing seam metal roofing systems
Retrofit systems
Concealed fastener wall panels
Soffit panels
Canopy panels
Slit coil and flat sheets
On-site rollforming equipment
#8: Mill Steel Company
Year Founded: 1959
Headquarters: Grand Rapids, Michigan
Company Description: Founded in 1959 by Harry H. Samrick, Mill Steel has grown over the years to become one of North America's best flat-rolled steel suppliers. Mill Steel serves demanding industries, including automotive and non-automotive transport, appliances, office furniture, commercial construction, HVAC, home goods, and agriculture.
Product Offerings:
Flat-rolled carbon steel – Cold-rolled, hot-rolled, Galvalume, galvanized, pre-painted, and aluminized
Processed products – Painting, coating, pickling, slitting, leveling, and cut-to-length
#9: PAC-CLAD Petersen
Year Founded: 1965
Headquarters: Elk Grove Village, Illinois
Company Description: Petersen Aluminum Corporation (PAC) was founded in 1965 by Maury Petersen as a metals service center to the architectural metal industry. PAC-CLAD's national sales base allows it to maintain large inventories and provide cost economies to its customers. PAC-CLAD operates full production facilities in Annapolis Junction, Maryland; Tyler, Texas; Phoenix, Arizona; Acworth, Georgia; and a sales office in Andover, Minnesota.
Product Offerings:
Architectural sheet and coil
Panels – Standing seam, exposed fastener, flush wall, soffit, and horizontal wall
Metal tiles and perforated metal
Roofing accessories
Trim, gutters, downspouts, and column covers
Perimeter/roof edge systems
Fascia systems
#10: Ryerson
Year Founded: 1842
Headquarters: Chicago, Illinois
Company Description: Started in 1842 by Joseph T. Ryerson as an iron store, Ryerson has evolved into a large metal supplier with locations around the world, including the U.S., Mexico, Canada, and China. With over 70,000 different products, Ryerson offers a variety of metal products and services, including coil, plates, bars, tubes, extrusions, and more.
Product Offerings:
Metal sheet and coil – Carbon (steel), aluminum, and stainless steel
Plate processing
Custom aluminum extrusions
Tube laser cutting
Drilled bar
Final Thoughts on the Best Coil & Sheet Manufacturers in the Eastern U.S.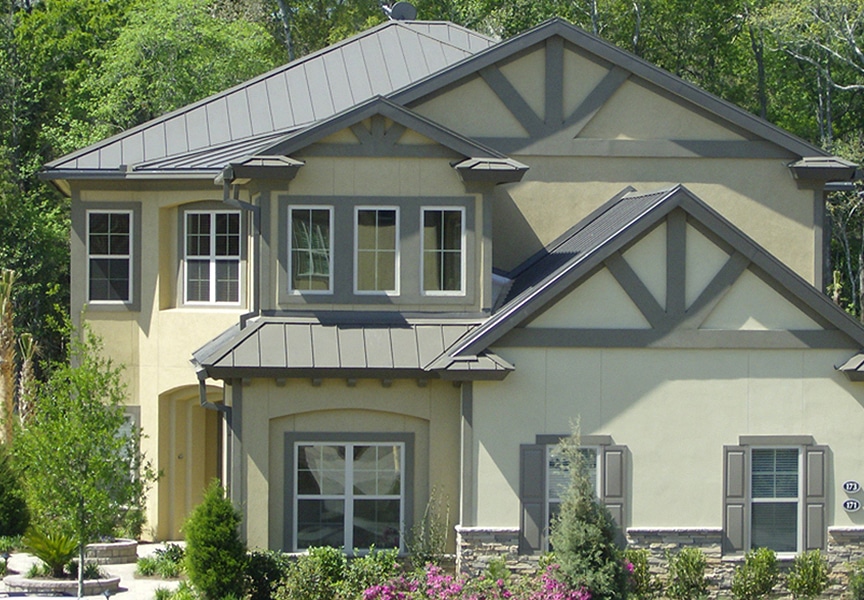 Remember: An educated consumer is a smart consumer.
So now that you're aware of the different metal sheet and coil suppliers in the Eastern U.S., you can continue doing research, compare and contrast suppliers, ask the right questions, and ultimately choose the company that best fits your needs.
Keep in mind, there's a lot more that goes into purchasing metal sheets and coil than just finding the best price. You'll also want to check the on following attributes and ask suppliers about:
Lead times

Is the metal sheet/coil supplier able to process orders in a timely manner that works for you and your business?

Availability in your area

Is there a local facility in my area? Or will it be shipped from a long distance?

Shipping and freight costs

How much will it cost to have my products delivered to my business or a job site? Is it my responsibility?

Sales/account management

Is the sales team I'd be working with and purchasing from reliable and responsive?

Technical assistance

Is there a dedicated technical department that I can contact with any product questions or if I'm having a technical issue?

Warranties offered

What warranties can I offer to my own customers based on the products I've purchased from a supplier?
Paint warranties? Substrate warranties? Weather-tight warranties?

Other support/training

Is there a dedicated customer service team?
Is any kind of training needed or offered if I become a customer?
With over 50 colors continuously stocked and many other available for custom order, Sheffield Metals offers a one-stop shopping experience for any contractor, manufacturer, or architect's needs. We know how important it is for you to choose the right supplier, which is why we offer free consultations to get to know your business and set you up for successful metal roofing and wall system projects.
If you want to learn more about Sheffield Metals or about our variety of product offerings (color, gauge, engineering, and more), contact us today to speak with our metal roofing and wall system specialists.
---
---