When Hurricane Michael hit the Florida Panhandle in October of 2018, it wreaked havoc on the entire region and left many residents and business owners with extensive property damage.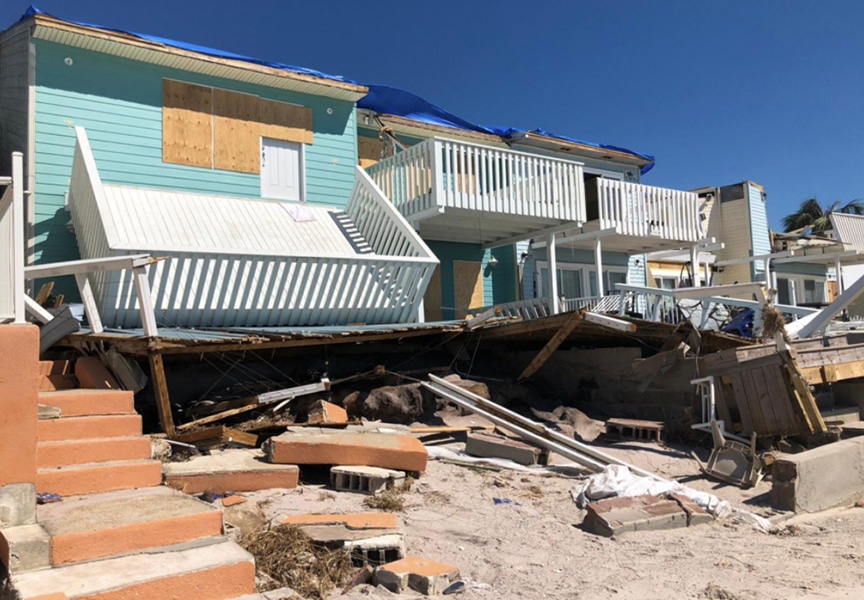 In total, the estimated destruction throughout the United States climbed above $25 billion, with $5 billion attributed solely to property loss.
One such property that sustained damage was the Wallwood Scout Reservation in Quincy, Florida.
Wallwood lies on a 600-acre portion of land along the shore of Lake Talquin in Gadsden County and is part of the Boy Scouts of America's Suwannee River Area Council (SRAC). Since 1966, Wallwood and the SRAC have engaged kids, boys and girls aged 5-18, in outdoor activities and camping opportunities that help them to develop essential life skills, such as:
Leadership
Community service
Giving back to others
About the Wallwood Scout Reservation Project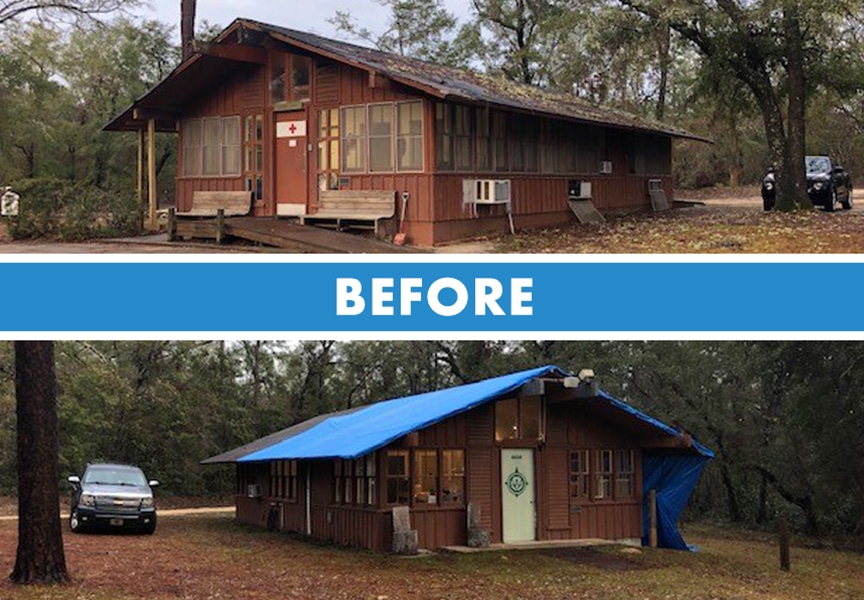 The majority of the damage at Wallwood was contained to the shingle roofs on three of the camp's buildings, including the dining hall, administration building, and health clinic. Most of the destruction was inflicted by the hurricane's strong winds and falling trees or debris.
When local roofing contractors who are part of the Capital City Roofing and Sheet Metal Association (CRSA) in Florida learned that a number of the roofs at Wallwood were damaged and leaking, they were quick to offer their installation services to the organization. Some of the CRSA members attended camp at Wallwood as kids and knew how important this camp was to their youth development.
CRSA members decided to donate their skills and labor needed to install new standing seam metal roofing on the three damaged buildings. In total, thirteen (13) businesses agreed to come together on the weekends of May 10-11 and May 17-18, 2019 to complete the installation.
Getting Involved with the Roofing Project
Beyond the donation of work crews and other financial contributions that will cover the costs of the re-roofing project, CRSA members also donated all of the roofing materials and products. That's how the donation opportunity came to us at Sheffield Metals International.
Our long-time customer Ralph Davis of Streamline Roofing and Construction in Tallahassee, Florida, is a member of the CRSA and promised to rollform the metal panels for the roof on-site during the installation. But there was still one thing missing: The metal sheet and coil.
That's when Davis urged Farley Maxwell, CRSA member and past president, Gulfeagle Supply Branch Manager, and Boy Scout Troop 117 Scoutmaster, to approach Tom Southerland, Sheffield Metals General Manager for the Southern Division.
"We were contacted in mid-April by Farley letting us know that Wallwood had been planning to install new standing seam metal roofs in the next five years," Southerland said. "But then Hurricane Michael rolled through, and they were in dire need of a new roof immediately so they could be operational this year. It was a no-brainer for us to donate the metal for this project."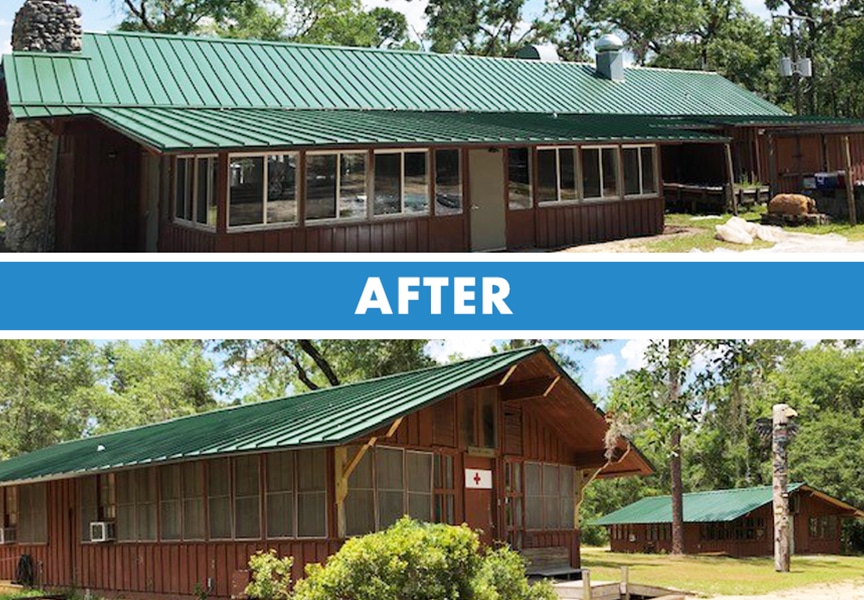 With the help of our generous partners, Precoat Metals and Sherwin-Williams Coil Coatings (Valspar), Sheffield Metals was able to donate the 14,000 square feet of painted metal coil (in the color Evergreen) worth approximately $17,000 to the Wallwood re-roofing project.
In all, the total donated cost of all the installation materials and labor is expected to exceed $60,000.
Final Thoughts on the Florida Scout Reservation Donation
While many people in the Florida Panhandle are still recovering and rebuilding from Hurricane Michael, the Wallwood Scout Reservation is one place that won't have to worry about taking a season off.
"Throughout the recovery from Hurricane Michael, I have seen so many things that I have never seen before. I have never seen so many down trees, so many tarps, so many houses destroyed, and so many lives disrupted," Maxwell said. "But I have also never seen so many people giving back in so many ways."
The new roofs at Wallwood not only look fantastic, but they are designed and engineered to protect what's on the inside, which is what matters.
"These new roofs will keep the camp buildings dry for the next two to three generations of kids. That's a lot of long-lasting memories made under those roofs," Maxwell concluded.
Links to Learn More: