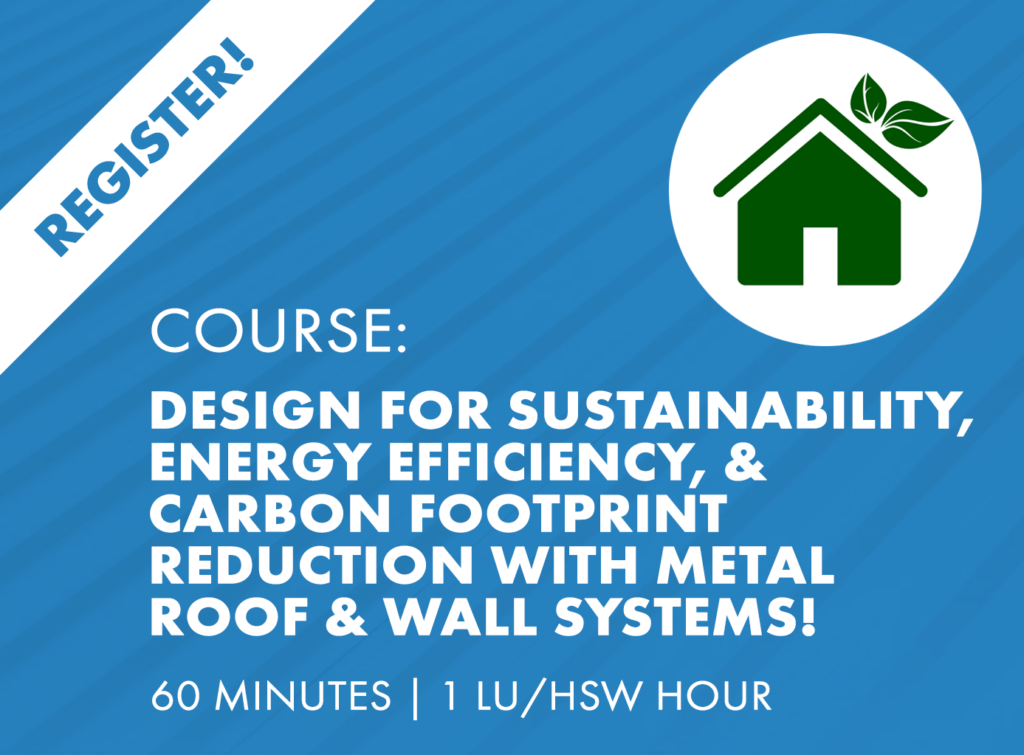 Course Summary:
---
This course reveals the benefits of metal roof and wall systems when designing for sustainability, which also includes energy efficiency and the reduction of the project's carbon footprint.
Prerequisite Knowledge – A history of designing for the building's exterior envelope to be that of a standing seam metal roof and/or a metal wall panel system. Also, familiarity with the concept of portable rollforming, both fixed and onsite options.
Learning Objective #1 – Sustainability: Describe how designing a building's exterior cladding with metal affirms the project's commitment to sustainability. This is due to metal's durability and longevity, as witnessed in Life Cycle Analysis (LCA), and the use of environmentally responsible materials, as reported in an Environmental Product Declaration (EPD). Additionally, knowledge of the recyclable qualities of metal.
Learning Objective #2 – Energy efficiency: Recognize how the metal supplied for the metal panel systems is painted with a resin-based coating, which includes solar reflective pigments that reduce the heat gain/energy load on a building. This reduces cooling costs and increases the building's energy efficiency.
Learning Objective #3 – Carbon footprint reduction: Explain how the production strategy of on-site fabrication of metal panels definitively contributes to reducing a project's carbon footprint.
Learning Objective #4 – Sustainable production of steel and aluminum: Define where the U.S. stands as compared to the global competition on the sustainable production of substrate base metals — steel and aluminum.
Additional Course Information:
---
AIA Course Number – In-Person: SMIF2F00222
AIA Course Number – Distance Learning: SMIDL00222
Credit: 1.00 LU/HSW Hour
Delivery Format: Slide show (with audio)
Device Format: Desktop / tablet
Course & Quiz Details: 10 multiple-choice questions
IMPORTANT: A score of 80% or higher is required to receive a Certificate of Completion from Sheffield Metals International.
To inquire about the in-person version of this course, please contact:
Lori Reynolds Morrow – LEED Green Associate
SMI Architectural Project Manager
(802) 431-7878
lmorrow@sheffieldmetals.com
---
To register for the Distance Learning course, please submit this short form: